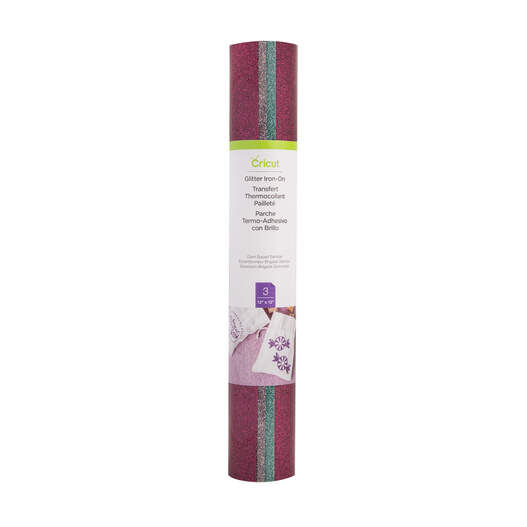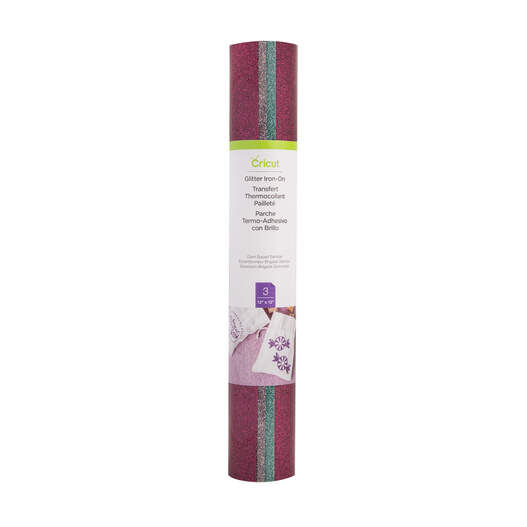 Glitter Iron-On Sampler, Glam Squad
Watch out: this trio of glamorous colors packs a punch of extra energy and sass into every iron-on project. But be warned: This is no ordinary heat-transfer material. It outlasts 50+ washes* and its stunning shimmer and shine will catch every eye that goes by. Transform a T-shirt, tea towel, or tote bag. Doll up a dress. Pretty up a pillow or fancy up a farmers' market bag. Instructions included. Use with all Cricut cutting machines. For a flawless iron-on application, use Cricut EasyPress™. Or apply with household iron.
Care Instructions
Allow 24 hours after application before washing.
Wash and tumble dry inside out.
Do not bleach.
If you need to iron, only iron on the backside of the garment.
3 sheets 12\" x 12\" (30.5 cm x 30.5 cm) in Multi, Jade, Cherry
Easily adheres to most materials to reveal a gorgeous glittery finish
Adds that extra sizzle, sass, or '70s shebang with glitter-infused hues
Outlasts 50+ washes!*
Cuts beautifully and weeds easily
StrongBond™ Guarantee* for long-lasting results that stick
For all Cricut® cutting machines
*Our StrongBond™ Guarantee means that when this iron-on material is used as directed, you'll be completely satisfied with the results. If not, we'll replace it for free.C
Cricut Maker
Cricut Explore Machines