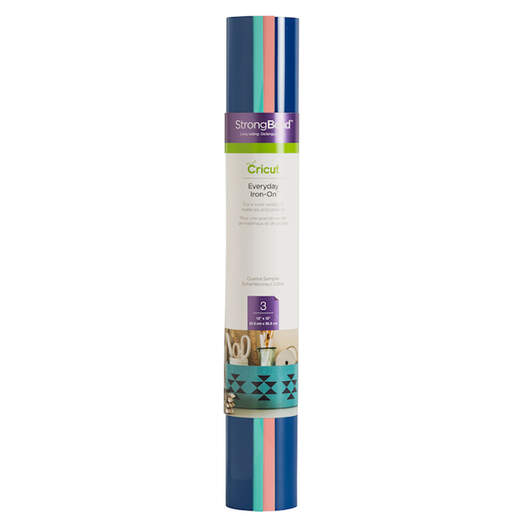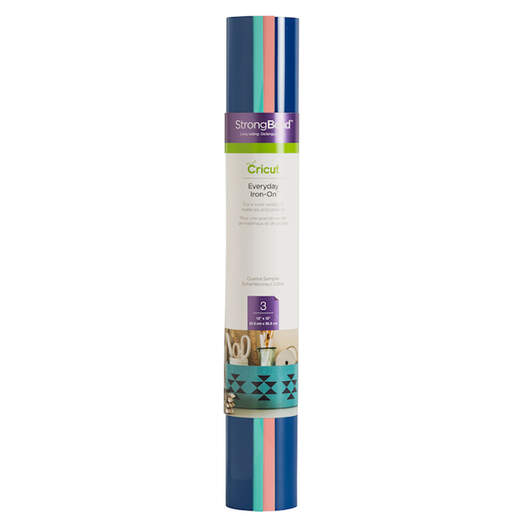 Everyday Iron-On™ Sampler, Coastal
The creative coast is clear. Outlasts 50+ washes!* Everyday Iron-On with StrongBond™ Guarantee works fabulously with the widest variety of base materials, including wood! Intricate designs are simple to cut with your Cricut machine, and you'll weed with ease to prep for flawless application. Make a T-shirt with an inspirational quote, design heartwarming home decor, embellish accessories with one-of-a-kind designs, and create handmade gifts that will leave a lasting impression. Use one color or layer up to three for standout patterns and projects. For use with all Cricut® cutting machines. For a flawless iron-on application, use Cricut EasyPress™. Or apply with household iron.
Care Instructions
Allow 24 hours after application before washing.
Wash and tumble dry inside out.
Do not bleach.
If you need to iron, only iron on the backside of the garment.
3 sheets 12" x 12" (30.5 cm x 30.5 cm) in Cornflower, Bright Teal, Petal
Excellent results on the widest variety of materials and projects
Outlasts 50+ washes!*
Cuts beautifully and weeds easily
Layer up to 3 colors for standout patterns and projects
StrongBond™ Guarantee for long-lasting results that stick***
For all Cricut® cutting machines
*Our StrongBond™ Guarantee means that when this iron-on material is used as directed, you'll be completely satisfied with the results. If not, we'll replace it for free.
Cricut Maker
Cricut Explore Machines