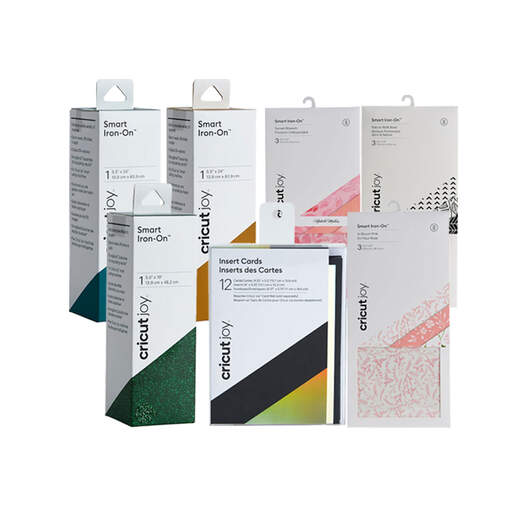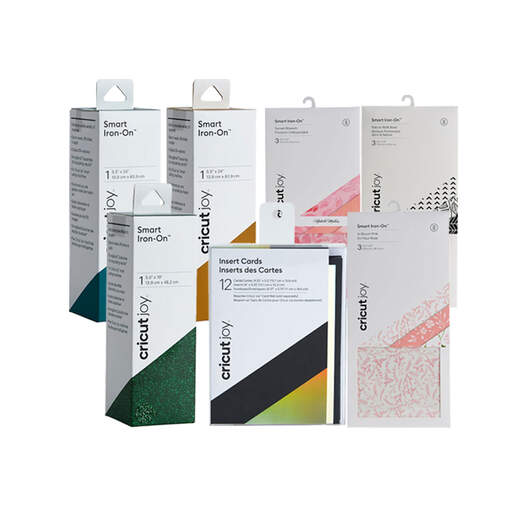 Joy Mixed Material Bundle
Wear your creativity on your sleeve, your pocket, or your pant leg with Smart Iron-On. This clever crafting material works without a cutting mat, so you can just load and go. So adding a little personality to a t-shirt, jean jacket, or a backpack is no sweat. Tackle weeding with the classic Weeder's versatile, angled tip. Perfect for removing tiny cuts, including negative pieces of vinyl and iron-on from the carrier sheet, it's the tool for every task, from simple crafts to your most detailed designs. Smart Iron-On works fabulously on a wide variety of materials and outlasts 50+ washes!* For use with Cricut Joy.
For effortless application, use Cricut EasyPress®. Or apply with household iron.
Care Instructions
Allow 24 hours after application before washing.
Wash and tumble dry inside out.
Do not bleach.
If you need to iron, only iron on the backside of the garment.
Smart iron-on material and insert card bundle for the Cricut Joy
Create vibrant two-tone greeting cards without the mess or hassle of glue
Auto-loads for continuous cuts without a cutting mat
Excellent results on the widest variety of materials and projects
Outlasts 50+ washes!*
Cuts beautifully and weeds easily
For Cricut Joy
Does NOT include the Cricut Joy machine
Cricut Joy™ Smart Iron-On, Teal
Cricut Joy™ Smart Iron-On, Patterned Nature Walk Sampler
Cricut Joy™ Smart Iron-On Glitter, Kelly
Cricut Joy™ Smart Iron-On, Pattenered Pink Sampler
Cricut Joy™ Smart Iron-On, Mustard
Joy Insert Cards, Black Silver Holographic
Cricut Joy™ Smart Iron-On, Patterned Natalie Malan Sunset Blossom Sampler