How to pick the right Cricut material for your project
Knowing which material you should use for a particular project is an age old question in the Cricut world.
The confusion is even more pronounced when deciding between iron-on and vinyl. Let's demystify those materials and help you pick the right Cricut material for your next project.
When should you use Cricut iron-on material?
Cricut iron-on is your go-to material for clothing and accessory projects. Why? Iron-on has a heat-activated backing that, when heated up, adheres to your base. Cricut iron-on is guaranteed to outlast up to 50 washes. If you want to make a t-shirt, hat, bag, etc, use Cricut iron-on – it is the perfect material for the job.
The variety of iron-on might blow your mind. Determining which of the different finishes you use is based entirely on preference.
Everyday Iron-on
Everyday Iron-on is the material you would grab for every day projects. It has the widest variety of solid colors and even comes in mesh and mosaic styles. Cricut Everyday Iron-on is also easy to layer. It can be the bottom, middle, or top of a design! Other finishes of iron-on, like glitter iron-on can only be the top layer of a design.
Glitter, Patterned, and Foil, oh my!
When you want to add a touch of bling to your iron-on projects, Cricut Specialty Iron-on is the perfect finishing touch. Any kind of specialty finish has a few rules around application, namely the order in which you can use the material. We do not recommend layering any of the other types of iron-on on top of a specialty finish. So, when deciding on which colors/finishes to use, make sure your glitter or foil iron-on is the finishing touch!
When should you choose Cricut vinyl material for your project?
Think of Cricut Vinyl as a giant sticker. Because it has a sticky adhesive back, use this material for any project you would like to apply a decal. You can use your Cricut to cut out all types of shapes and designs that you then stick onto a project's surface. Think car decals, water bottle monograms, home décor signs, and more. We even love using vinyl on cards to create very intricate sticker designs. Cricut Transfer Tape is vinyl's best friend. Grab a roll of transfer tape to make your vinyl projects even easier.
Permanent or Removable Vinyl
Once you've decided to use vinyl for your project, now it's time to choose between permanent or removable vinyl. Their names really tell it like it is. If you plan on your design sticking around for a long time, use permanent vinyl. Want your design to hold up in the dishwasher? Use permanent vinyl. Want to create an outdoor sign or decorate your mailbox? Use permanent vinyl.
On the flip side, use removable vinyl if you'd like to change up or remove the vinyl from your project's surface and don't want sticky residue left behind. Are you a renter and want to spruce up your apartment walls with vinyl decals? Use removable vinyl. Do you want to add a design to your laptop but know you'll change your mind in a few months? Use removable vinyl.
Specialty Vinyl
Specialty vinyl is any vinyl that has a specialty finish or serves another purpose. Some of our favorite specialty vinyl finishes are shimmer, dry erase, holographic, or adhesive foil. It's hard to pick the right Cricut material when there are so many colors and styles to choose from! Whatever you decide, your project is sure to shine.
Dry erase vinyl has a sticky back like vinyl, but you can use this Cricut material it to create your own dry erase board! It's super fun to leave notes on your fridge or your teen's locker.
Cricut shimmer vinyl has just the perfect amount of sparkle to it, adding a touch of bling to any project. Some specialty vinyls, like shimmer, require the use of StrongGrip Transfer Tape to apply to projects.
Now that you've learned a brief overview of some of our favorite materials, take a journey with us to help you pick the right Cricut material for your project: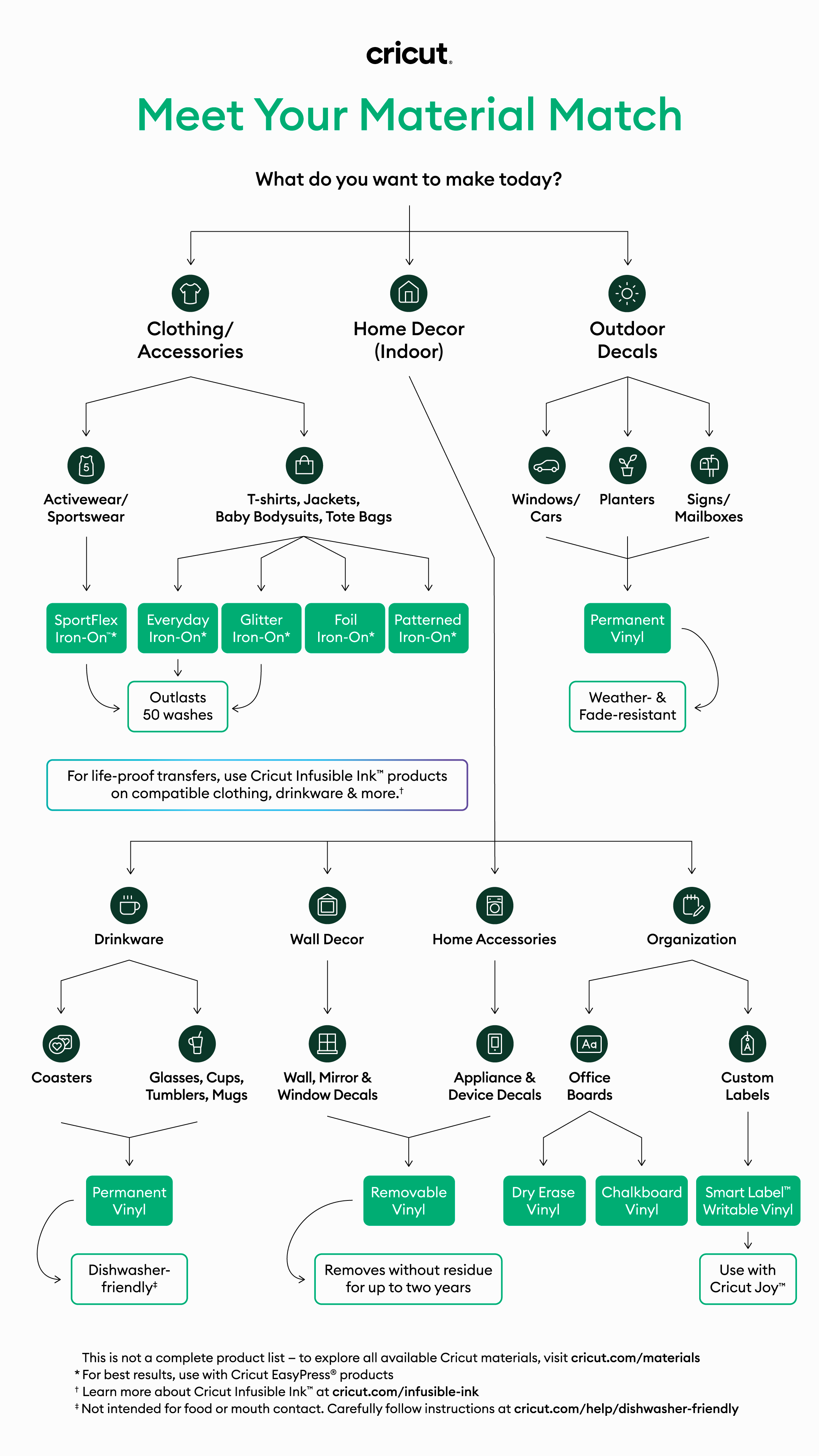 So many varieties of Cricut iron-on and Cricut vinyl, so little time! We hope you've been able to meet your material match and now know which material to use for your next project. Come back often or save our "meet your material" flowchart for future reference.
Happy crafting!