Celebrating Cinco de Mayo with custom decor
This post was contributed by Abby Carrillo of Sassy Ranita Crafts.
The Cinco de Mayo Celebration has become a part of the American celebrations here in the U.S. But did you know what it means and who celebrates Cinco de Mayo?
Cinco de Mayo is often mistaken as Mexico's independence. Mexico actually celebrates independence day on September 16. So then, how did Cinco de Mayo become an American celebration and who celebrates it? Let me share a bit of history and information. Cinco de Mayo is actually celebrated mostly in Puebla Mexico. It is not a national holiday in Mexico. It is celebrated in commemoration of a very significant battle between France and Mexico that took place in a town in Mexico named Puebla.
Puebla's army general, Ignacio Zaragoza, led his army into victory on May 5, 1862 against the large number of French army. In his honor Puebla was renamed Puebla de Zaragoza.
The news of the brave general Ignacio Zaragoza and his brave army's victory, reached California newspaper reports. Americans and Latinos heard the news and celebrated with parades where people dressed up in Civil War uniforms. This was the beginning of the Cinco de Mayo celebration. It became an official U.S. celebration in 1933 through President Franklin D. Roosevelt's Good Neighbor Policy. His focus was to establish good relationships with Latin American neighbors and create positive exchanges.
Cinco de Mayo has continue to be a Mexican-American celebration and a union of Latin Culture and acceptance in the U.S. Cinco de Mayo is celebrated in Puebla with a fiesta and re enactment of the battle between France and Puebla, as well a colorful decorations and Mexican typical food from Puebla like Mole Plobano.
As a Mexican-American I was raised in California and later lived in Texas. Two states where this celebration is more common. We enjoy the colorful decorations that symbolize the union of two countries and the combination of cultures.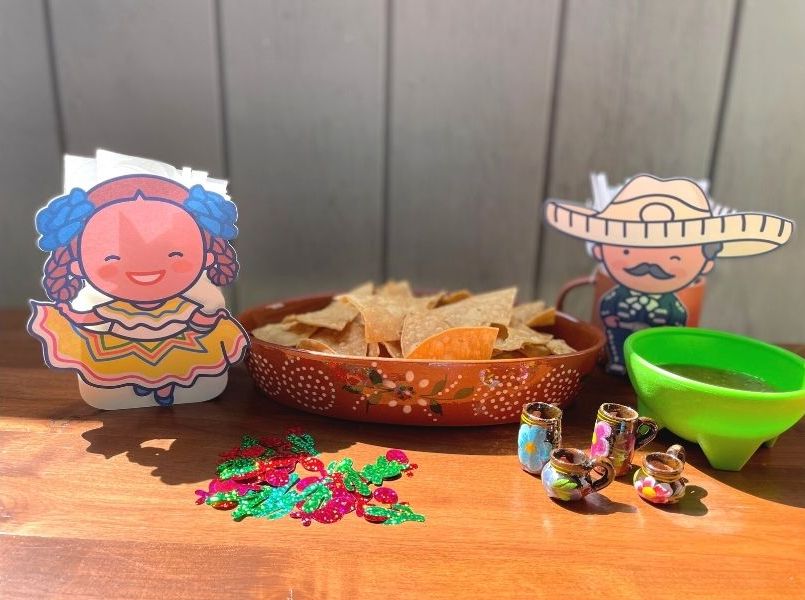 We now celebrate with colorful papel picado, cactus decor, beautiful Mexican flowers, and our Mexican Flag. All these elements adorn our meal tables filled with a mix of cultures with a combination of Mole, Tacos, burritos, chips and pan dulce. Topped with the favorite Mexican American dip, Guacamole. Let's not forget the lime and salsa!
With the help of my Cricut machines I was able to create beautiful decorations using Cricut Design Space images. Enjoy these 8 projects and let's Fiesta! Happy Cinco de Mayo.