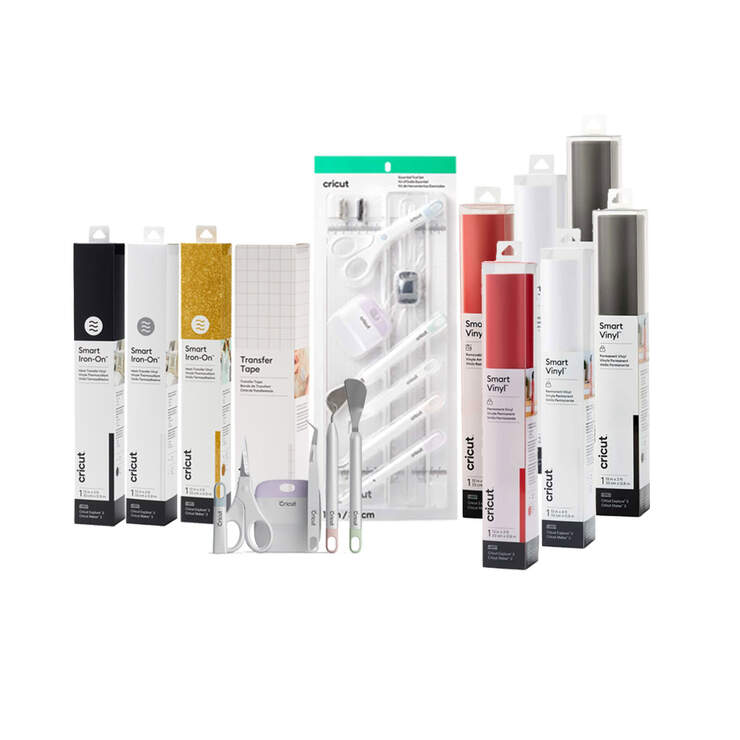 Item #
2009231
reviews, product
BV SEO Enabled: RR Not Found
Smart Materials Essentials Bundle
Access Members Pay
C$ 134.99
Save C$ 15.00 right now when you join Cricut Access.
10% off cricut.com purchases (up to $50 per item)
Unlock pro fonts, images & projects in Design Space®
Plus More
Subscription automatically renews at C$ 12.99 (excl. taxes) monthly until cancelled. Cancel at any time
here
A perfect pack of Cricut must-haves featuring the popular Smart Materials and tools to get you started.
Cricut's amazing Smart Vinyl lies flat – no tunneling or bubbling. Cut your design, weed with ease, and apply with awe. Even your most intricate designs effortlessly separate from the carrier sheet for a perfect application. It works without a cutting mat – just load & go!
Create virtually any project on your wish list with your machine and materials – 3D art, home decor, jewelry, iron-on tees, paper projects & so much more.
Create removable media covers, labels, decor, and more with transfer tape
Permanent vinyl adhesive lasts up to 3 years
Lies flat without tunneling or bubbling for a perfect cut
Easy to weed, effortless to apply
Smart Vinyl - 3' Permanent Sampler - Red, White, Black
Smart Vinyl - 3' Removable Sampler - Red, White, Black
Transfer Tape (21 ft)
Smart Iron-On, Black - 3 ft
Smart Iron-On, White - 3 ft
Smart Iron-On - Glitter, Gold - 3 ft
Essential Tool Set
Basic Tool Set
---
Reviews
reviews, product
BV SEO Enabled: RR Not Found