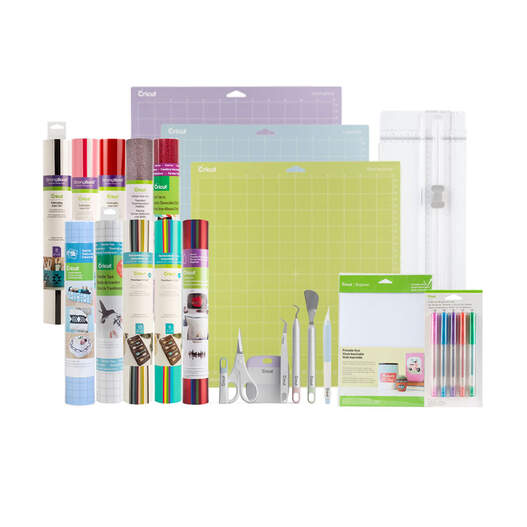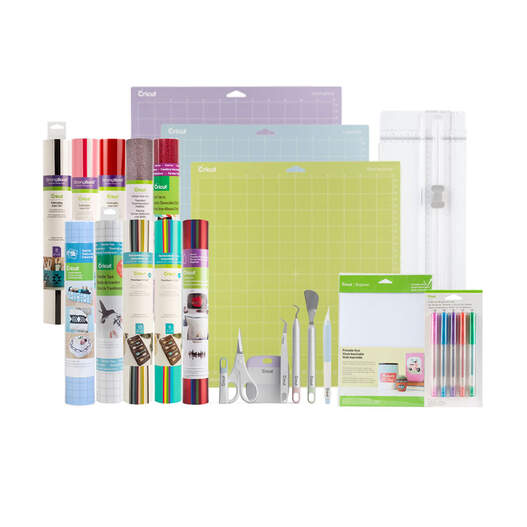 Creative Everything Materials Bundle
For the creative visionary who wants it all, and then some. Get everything you need - tools, blades, mats, and materials so you can start making magic right away.
Cricut's amazing vinyl lies flat on your cutting mat – no tunneling or bubbling. Cut your design, weed with ease, and apply with awe. Even your most intricate designs effortlessly separate from the carrier sheet for a perfect application. 
Create virtually any project on your wish list with your Cricut machine and materials – 3D art, home decor, jewelry, iron-on tees, paper projects & so much more.
Get the tools, blades, mats, materials & more that you need for tons of projects
Huge variety of materials to get you crafting right out of the box
3 reusable machine mats 12\" x 12\" (30.5 cm x 30.5 cm)
Mats formulated for best possible adhesion and longest life
Create removable media covers, labels, decor, and more with transfer tape
Permanent vinyl adhesive lasts up to 3 years
Lies flat without tunneling or bubbling for a perfect cut
Easy to weed, effortless to apply
Cricut Maker
Cricut Explore Machines
Dark Gray Basic Trimmer
Cricut Vinyl Transfer Tape 12x48
Core Colors Basic Tool Set
Cricut Cutting Mat 12x12 Variety 3pk
Truecontrol Knife Blue
Cricut Printable Vinyl 8.5x11 10 Sheets
Glitter Gel Pen Set, Brights
Cricut Stencil Material 12x48
Premium Vinyl Essentials Sampler
Premium Vinyl Tropical Sampler
Cricut Iron On Glitter Red
Cricut Iron On Glitter Multi Pink
Everyday Iron On 12x24 Red
Foil Iron On Sampler Bejeweled 12x12(4)
Everyday Iron On Sampler Tea Party 12x12(3)
Everyday Iron On Sampler Basics 12x12(6)