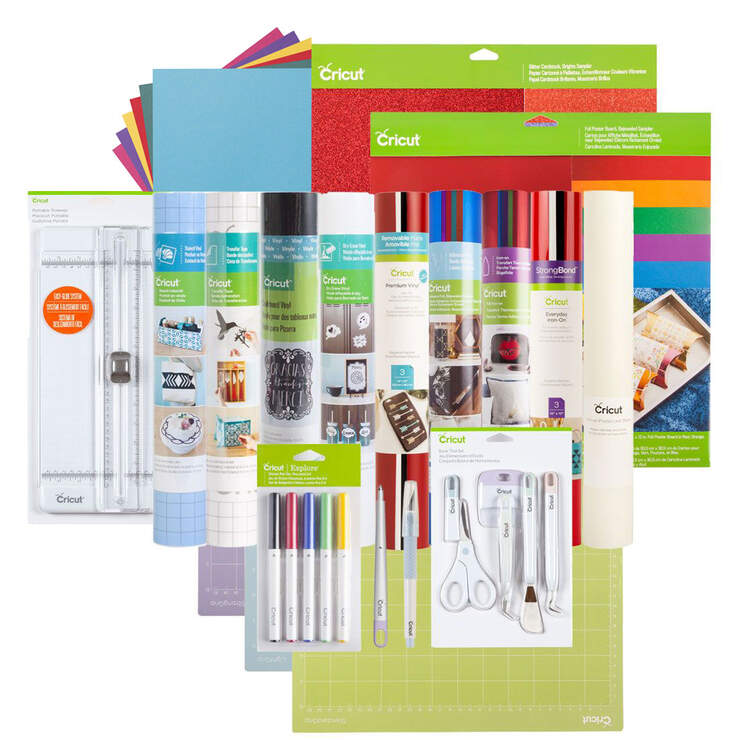 Item #
2009353
reviews, product
BV SEO Enabled: RR Not Found
Everything Materials Bundle
The Everything Materals & Accessories Bundle has everything you need to start a variety of different projects and to explore different capabilities of the Cricut cutting machines. Enjoy the most popular materials and accessories that Cricut offers in this bundle sent right to your doorstep. The crafts and projects that are possible with this bundle are endless.
Get the tools, blades, mats, materials & more that you need for tons of projects
Huge variety of materials to get you crafting right out of the box
3 reusable machine mats 12\" x 12\" (30.5 cm x 30.5 cm)
Mats formulated for best possible adhesion and longest life
Create removable media covers, labels, decor, and more with transfer tape
Permanent vinyl adhesive lasts up to 3 years
Lies flat without tunneling or bubbling for a perfect cut
Easy to weed, effortless to apply
Foil Iron-On Sampler, Bejeweled
Everyday Iron-On Sampler, Elegance
Adhesive Foil Metallic Sampler, Bejeweled
Premium Vinyl Sampler Removable, Elegance
Dry Erase Vinyl
Stencil Vinyl
Vinyl Chalkboard
Foil Poster Board Sampler, Bejeweled
Glitter Cardstock Sampler, Brights
Cardstock Sampler, Princess
Transfer Tape
Pen Set, Classics (5 ct.)
Scoring Stylus
True Control Knife, Blue
Cutting Mat Varietry Pack, 12\" x 12\" 3 pk
Tools Basic Set
 Portable Trimmer
*Materials in bundle may be substituted based on availability. 
---
Reviews
reviews, product
BV SEO Enabled: RR Not Found