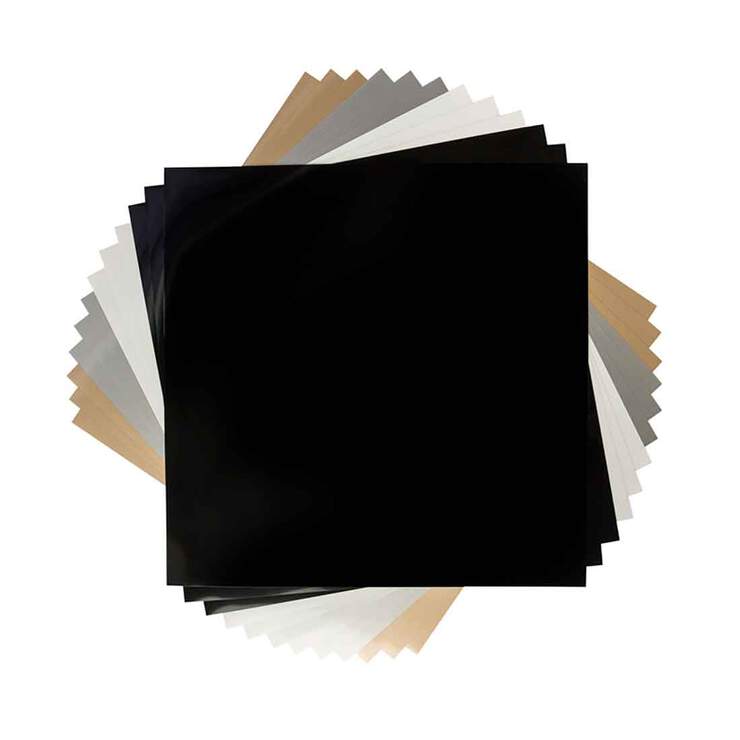 Everyday Iron-On™-Vorteilspaket, für jeden Anlass – 12 Stück
Outlasts 50+ washes!* Be ready for anything with these four quintessential colors. Das Everyday Iron-On mit StrongBond™-Garantie gibt es nur von Cricut. Es ist mit einer riesigen Palette von Grundmaterialien kompatibel, einschließlich Holz! Komplexe Designs sind einfach mühelos mit deiner Cricut-Maschine zu schneiden. Das Entgittern für die perfekte Anwendung wird dir damit leicht fallen. Von fantastischen T-Shirts über gemütliche Wohnraumdekoration und fantastische Accessoires bis hin zu handgefertigten Geschenken, die einen bleibenden Eindruck hinterlassen: Für fast jede Idee, die du in die Realität umsetzen möchtest, findet sich in diesem Aufbügelmaterial etwas. Verwende eine einzige Farbe oder such dir bis zu drei Farben als Schichten für einzigartige Muster und Projekte aus. Für alle Cricut®-Schneidemaschinen. Für die Verwendung mit der Cricut EasyPress™-Maschine oder mit dem Bügeleisen auftragen.
Pflegehinweise
Nur auf vorgewaschene und vollständige trockene Materialien auftragen.
Nach dem Aufbringen 24 Stunden lang nicht waschen.
Linksseitig waschen und trocknen.
Nicht bleichen.
Kleidungsstück nur auf der Rückseite bügeln.
12 Blätter (4 Farben, 3 je pro Farbe) 30,5 cm x 30,5 cm (12" x 12") in Schwarz, Weiß, Gold, Silber
Hervorragende Ergebnisse für unterschiedlichste Materialien und Projekte
Outlasts 50+ washes!*
Lässt sich gut schneiden und einfach abziehen.
Für außergewöhnliche Muster und Projekte bis zu 3 Farben übereinander auftragen.
StrongBond™-Garantie* für dauerhaftes Haften.
Für alle Cricut®-Schneidemaschinen
*Unsere StrongBond™-Garantie gewährleistet, dass das Bügelmaterial beim Befolgen der Anweisungen absolut zufriedenstellend haftet. Wenn nicht, ersetzen wir es kostenlos.
Cricut Maker
Cricut Explore Machines