Why creativity matters more than ever according to teacher Courtney Jones of #ClearTheList
Courtney Jones fell into teaching when she discovered science education often got pushed out of elementary school curriculum due to high stakes testing. As she was providing the quality science education she dreamed for her students in Woodville and Beaumont, Texas, Courtney became frustrated at the amount of money she spent shopping for back-to-school items and wanted to do something about it.
Unexpectedly, the viral pay-it-forward initiative she started, #ClearTheList, took off like a rocket ship with a mission. A recent National Teacher and Principal Survey notes teachers spend at least $479 of their own money to supply their classrooms. Courtney has known first-year teachers to even spend more than $2,000 on the essentials.
"I figured if teachers had to spend their own money, there could be a way to raise awareness for this issue while spreading kindness."
With humble beginnings as a private Facebook group for educators, #ClearTheList quickly grew into a social media movement. Millions of dollars in back-to-school supplies have been donated to teachers and educators looking to #ClearTheList.
"So many recipients have shared their stories with me," says Courtney. "It's incredibly rewarding to hear about how #ClearTheList has brought a smile to their face, and even helped them through stressful times." However, Courtney recently discovered something else that has helped many of her peers work past the stressors of teaching: crafting.
How creativity can boost mental wellness for teachers
According to a recent survey of Cricut machine owners, 74% of teachers who responded crafted as a form of relaxation during stressful times. Tapping into that sort of creativity even helps improve overall health.
"Writing, drawing, and oddly enough, organizing, are very therapeutic for me, but I'm not very creative," admits Courtney. Though, this changed when she found the must-have #ClearTheList item she never knew existed: her Cricut Joy™. It's a compact smart cutting machine designed to bring anyone's creativity to life.
"My Cricut Joy has not only helped me organize everything in my new home, but it has also sparked so many ways for me to get lost in projects and take my mind away from the stresses of teaching and life in general."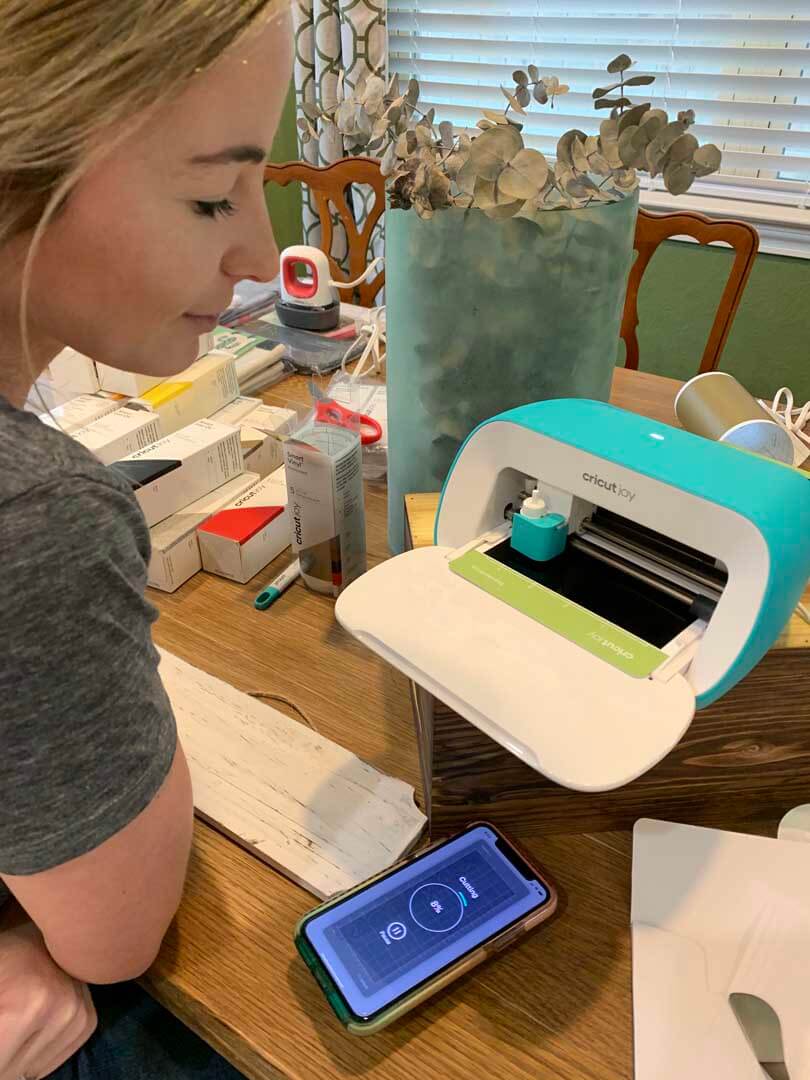 Five tips to stay creative
Find inspiration in your surroundings: "The compact nature of the Cricut Joy lends itself so well to a newbie like myself. It's easy to surround yourself with inspiration wherever it hits."
Take it easy and utilize what's already available: "When you aren't feeling very creative or hit a wall, use the Ready-to-Make projects in Design Space®. It breaks down the wall and helps the creative juices flow through."
Soak in the creativity of others: "I pulled my sister in to create projects for my niece. My husband is also an artist and we often work on projects together too."
Make a mood board: "Since I'm not super creative, I like looking through the Cricut® community to find ideas. It helps me shape an idea of what I could do and how I could make a project so that I can find my own style and design."
Mistakes only make you stronger: "Mistakes are an inevitable part of life and you become wiser with each lesson. I was truly an expert in implementing this strategy when I first used my Cricut machine, too! I have to say that using transfer tape is life-changing."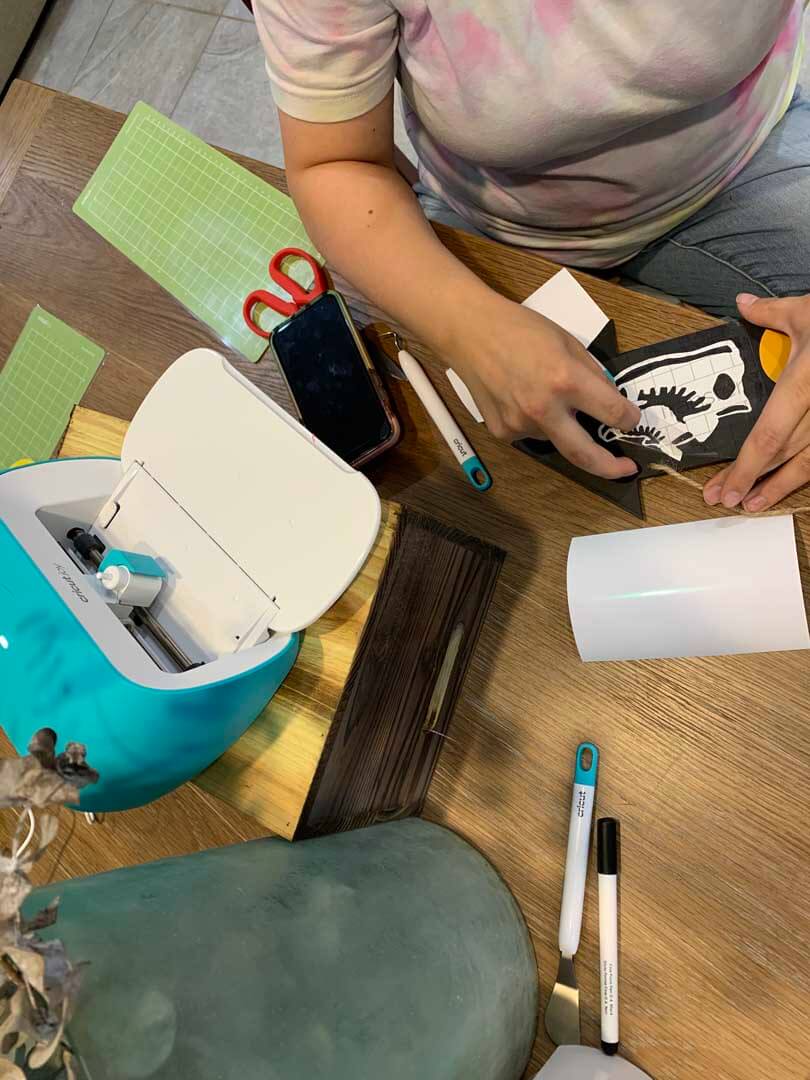 Since receiving her Cricut Joy, Courtney has made numerous projects such as greeting cards, peel-and-stick labels, personalized apparel, and custom decorations with Cricut Joy. Here are some of her favorite back-to-school projects. Alternatively, you can skip to a simple organization tutorial that Courtney wrote or get right down to it and enter the teacher giveaway.
---
Back-to-school Cricut project ideas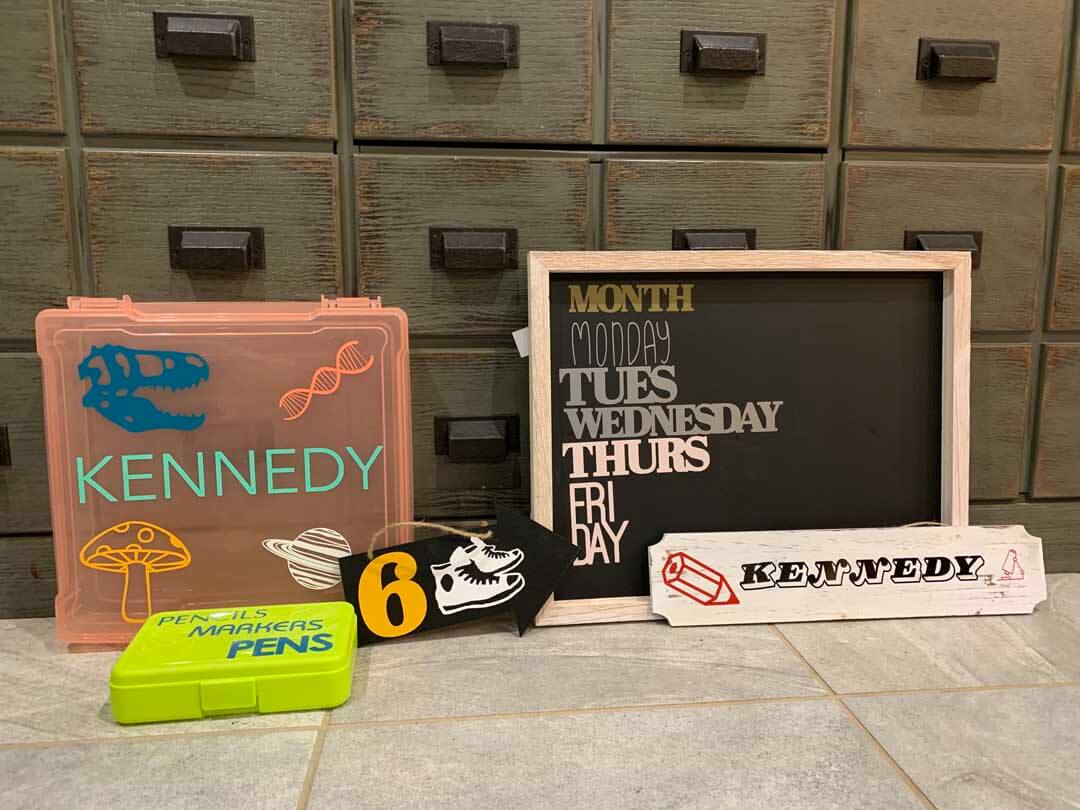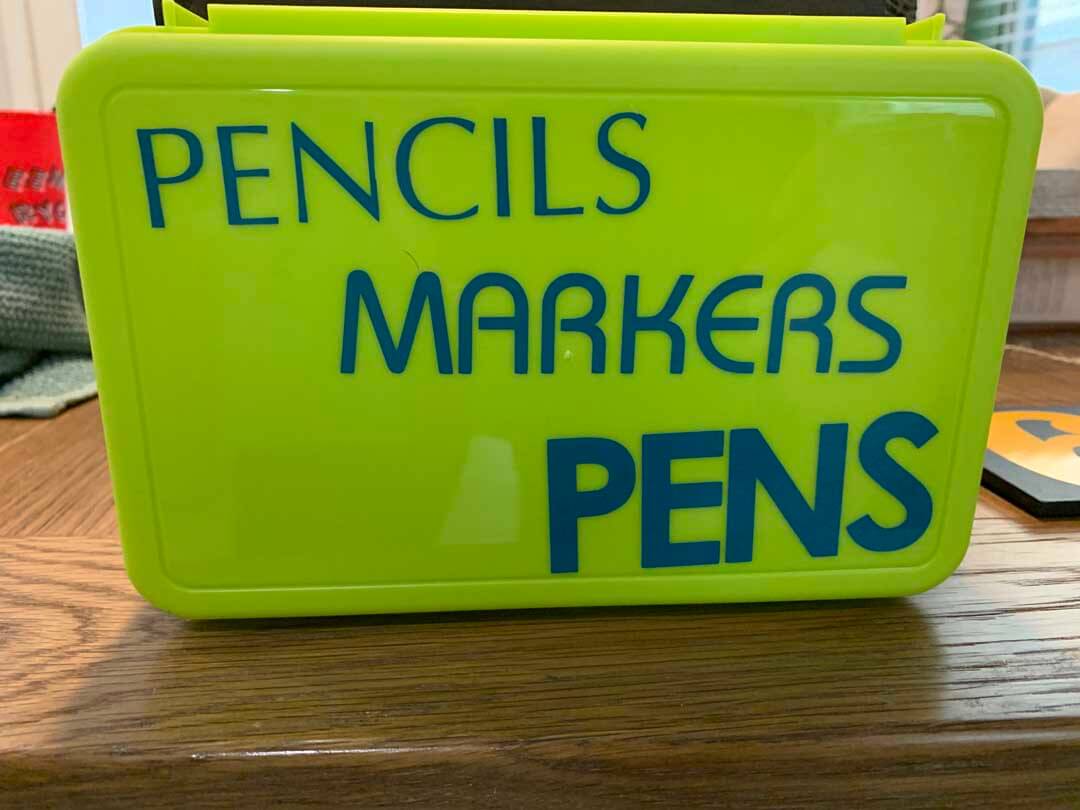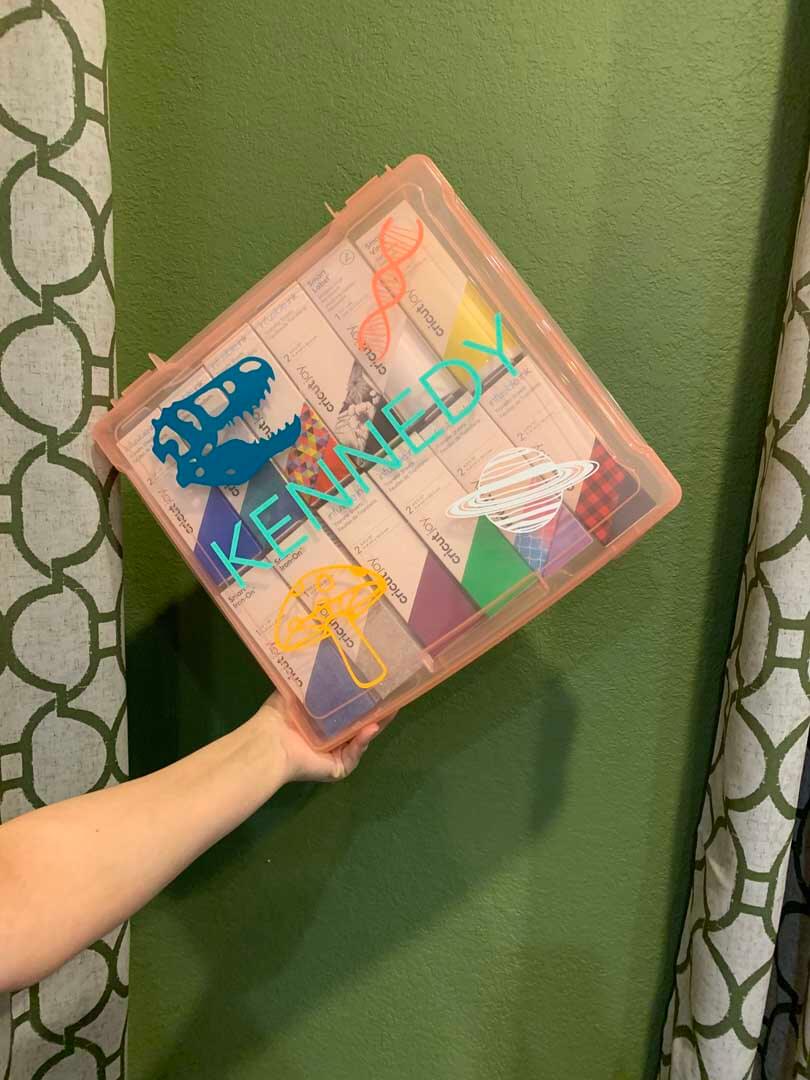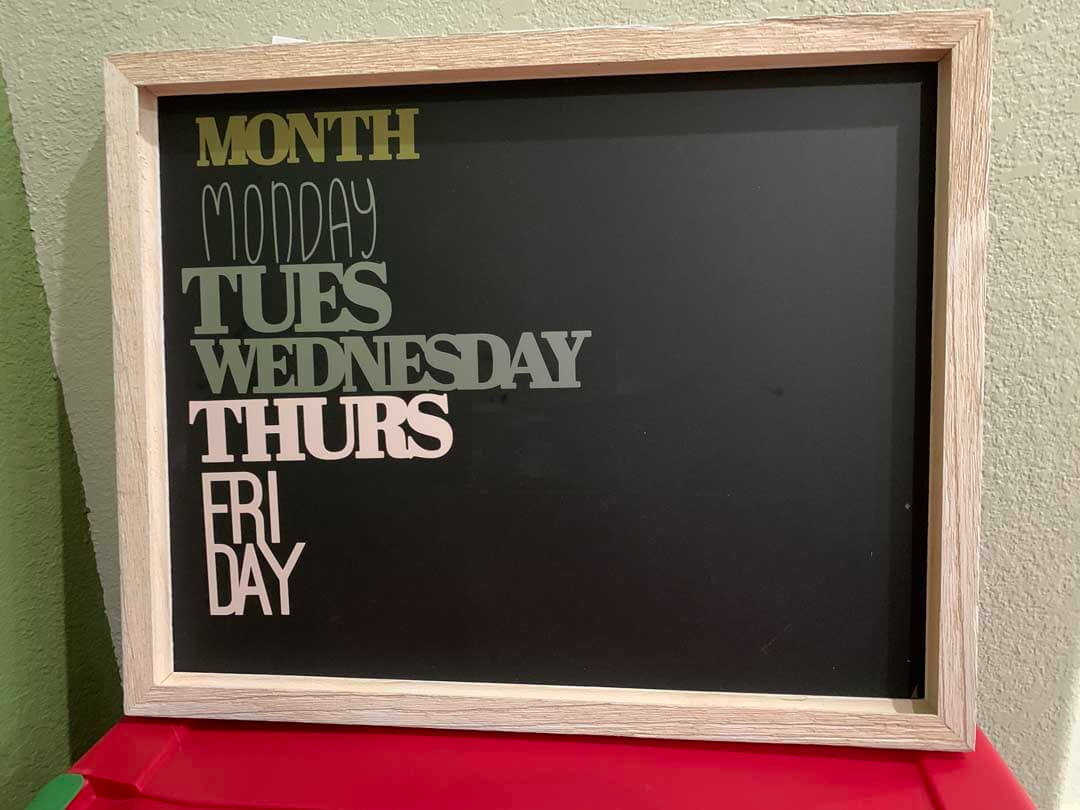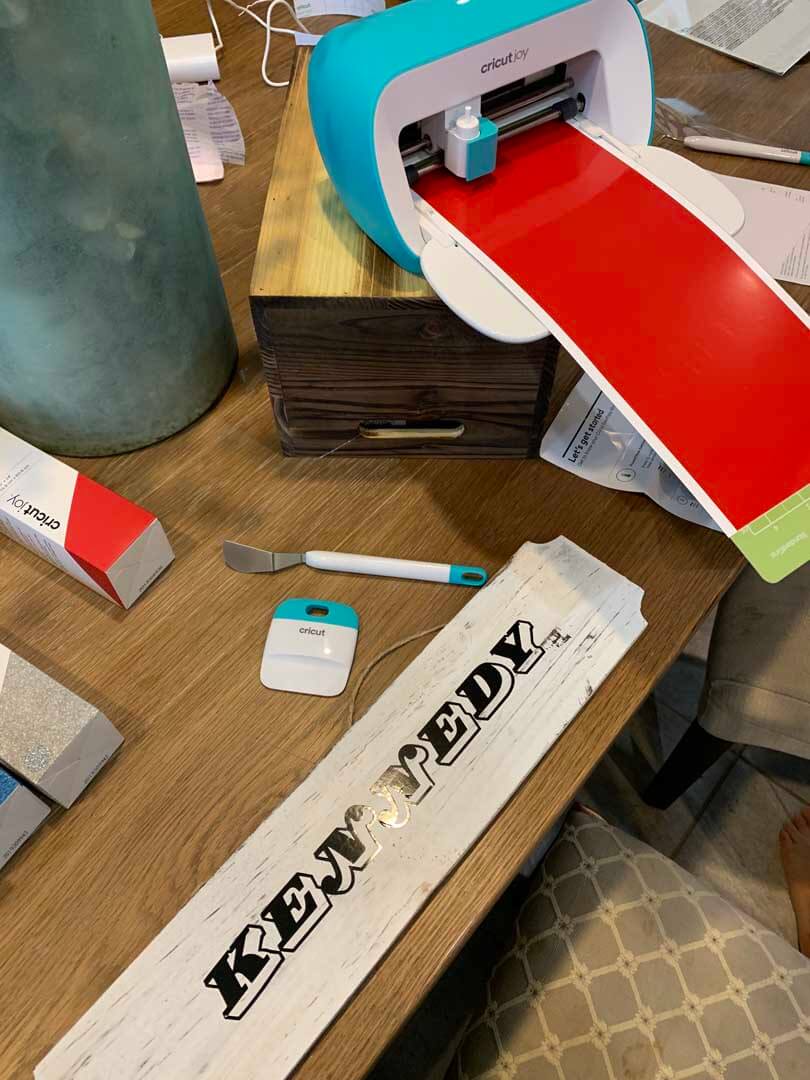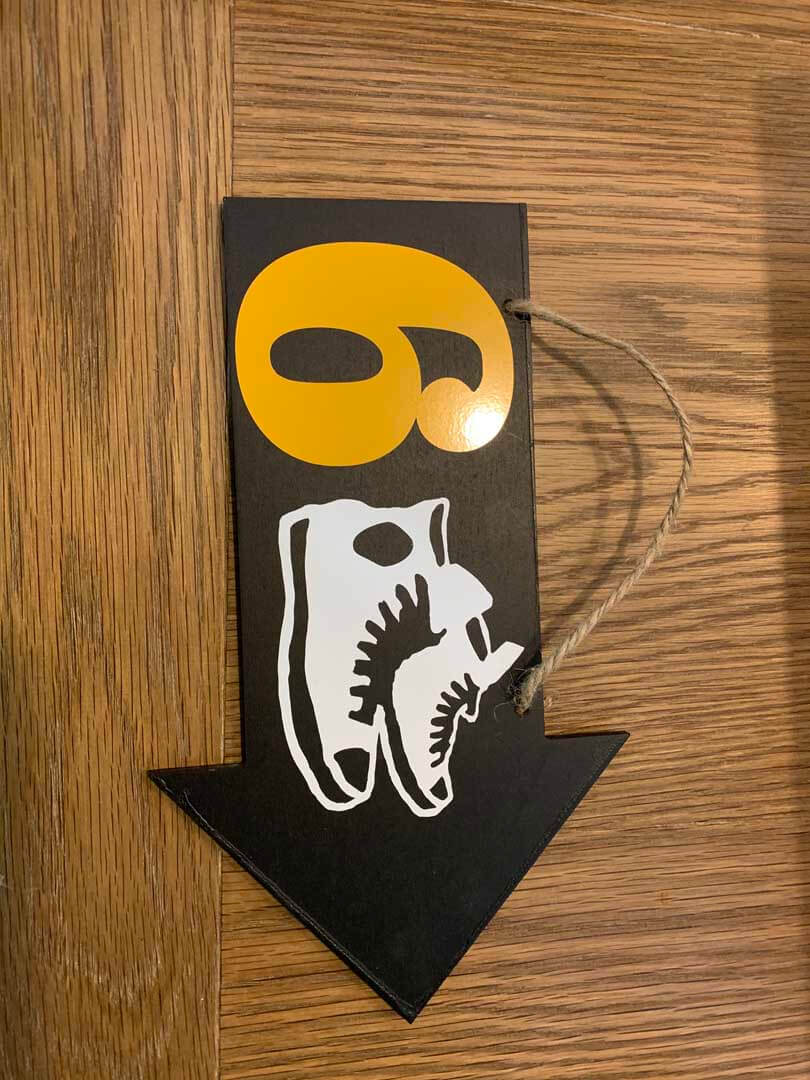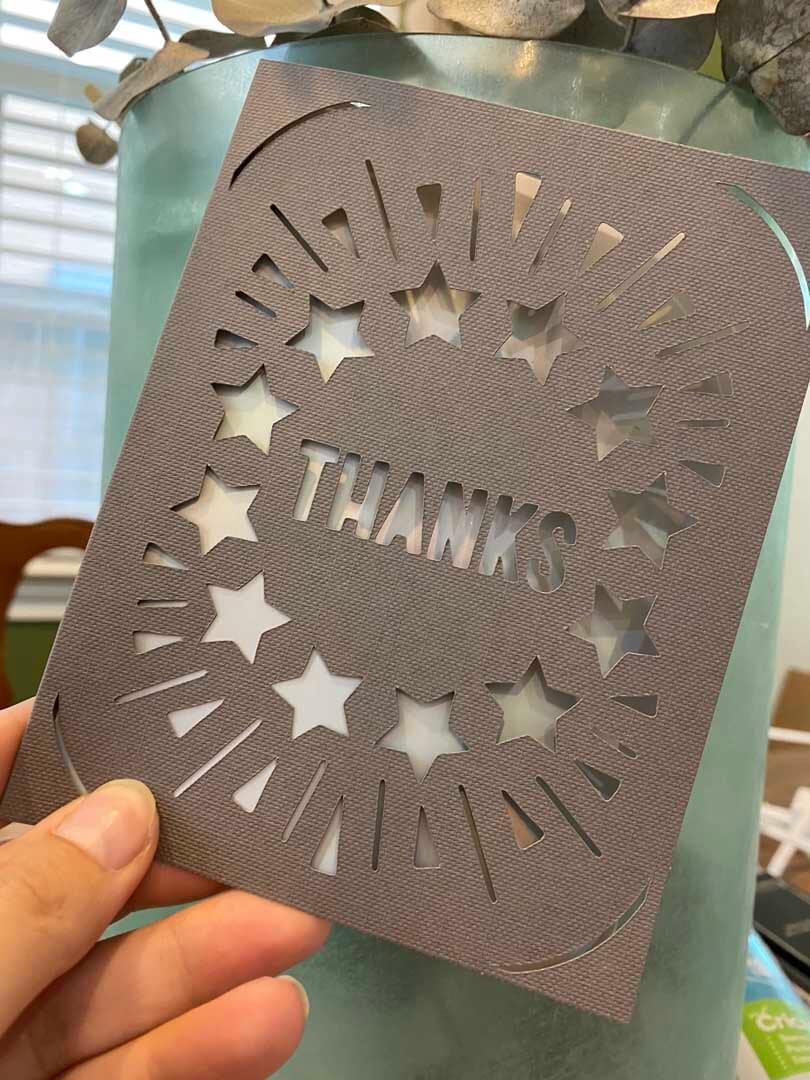 Are you putting Cricut on your #ClearTheList now? Or, perhaps, you already did? Well, enter below for Cricut to help #ClearTheList for you!
---
Beginner's organization project with Cricut Joy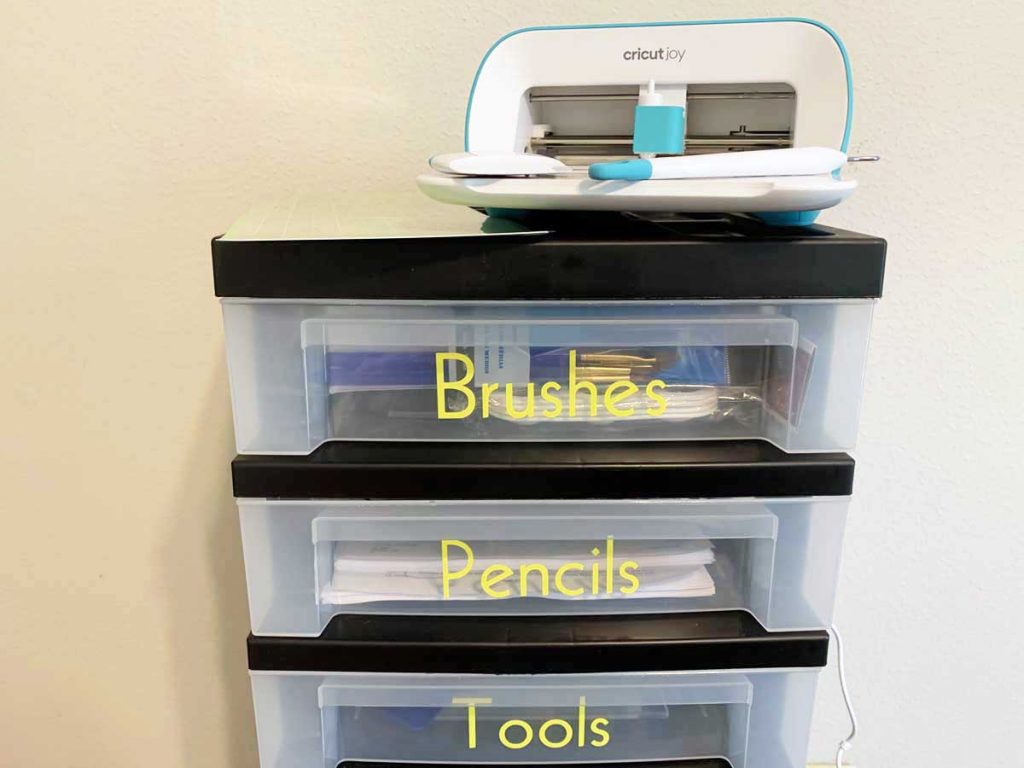 The following section is written by Courtney Jones, Clear the List Foundation.
Earlier this summer, I moved back to Texas so that I could focus on building the nonprofit I started, Clear the List Foundation. It has been a whirlwind!
Moving into a new home brings so many projects to light that I need to complete! My husband is an artist and I'm an educator, which often means school and art supplies are all over my house. I love a simple and organized home, so, whenever I saw our art and school supply cart sitting there, without any labels, I knew I needed to use my new Cricut Joy to jazz it up and aide in organizing our supplies. Did I mention that I love organizing?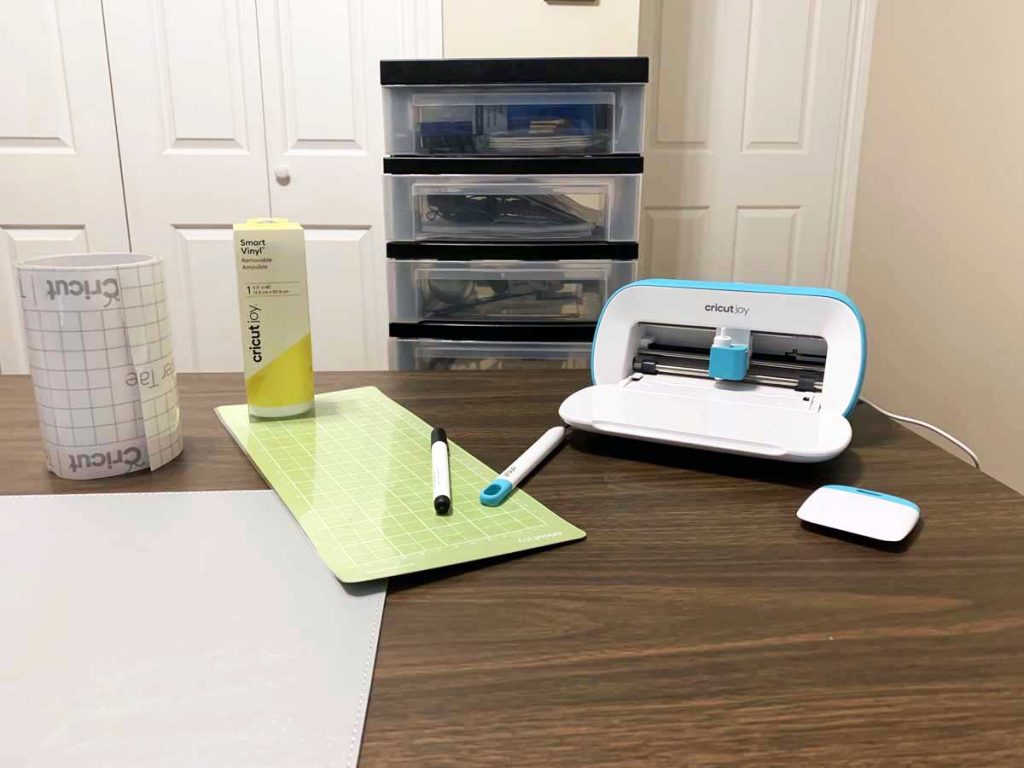 When I first began searching Cricut Design Space® for ideas, I kept my eye out for something simple, yet effective. I ultimately decided that using a font would be simple and effective for what I wanted to achieve. Kabel was bold enough to catch your attention, but still had a little flair to add some character.
I used a yellow removable Smart Vinyl™ that would stick out against the black and grey drawers. If I ever changed the color scheme in the room, or decided I wanted to move the drawers into a new room, I could easily remove the vinyl to create new labels to match!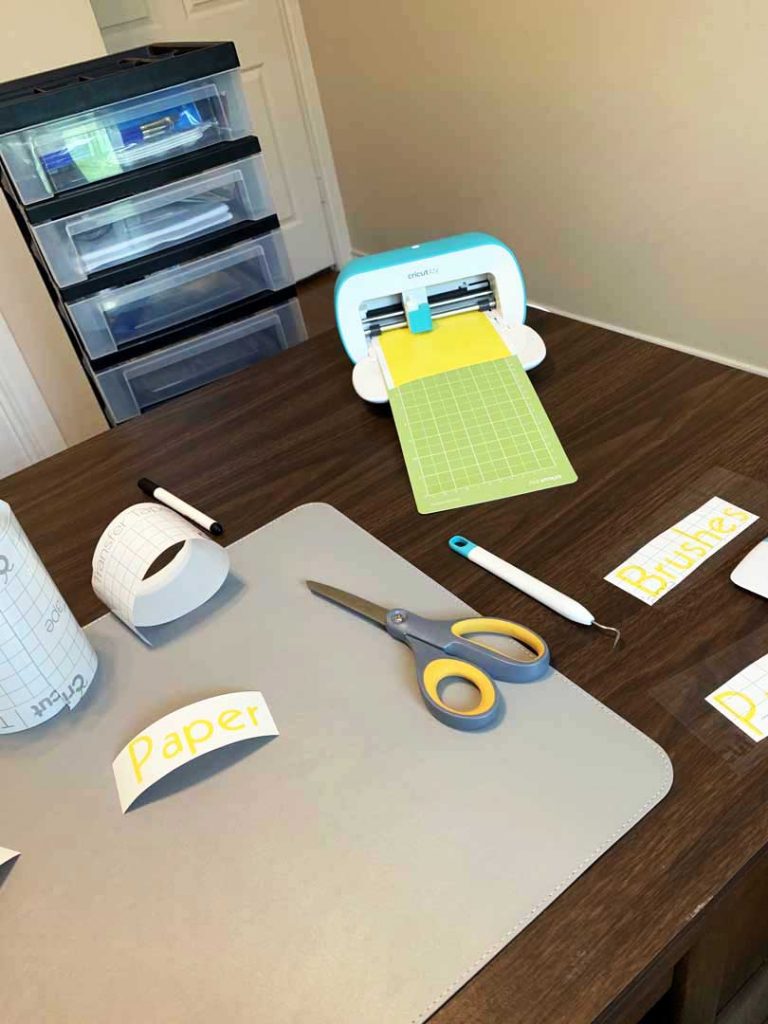 I wrote down a list of vinyl decals I needed to create for the drawers and started working away. I used the Design Space app on my phone and added the text but learned (after-the-fact) that Cricut Joy App actually walks you through all the steps of creating a custom vinyl decal! For my next project, I'll definitely be taking advantage of that easy-to-use application.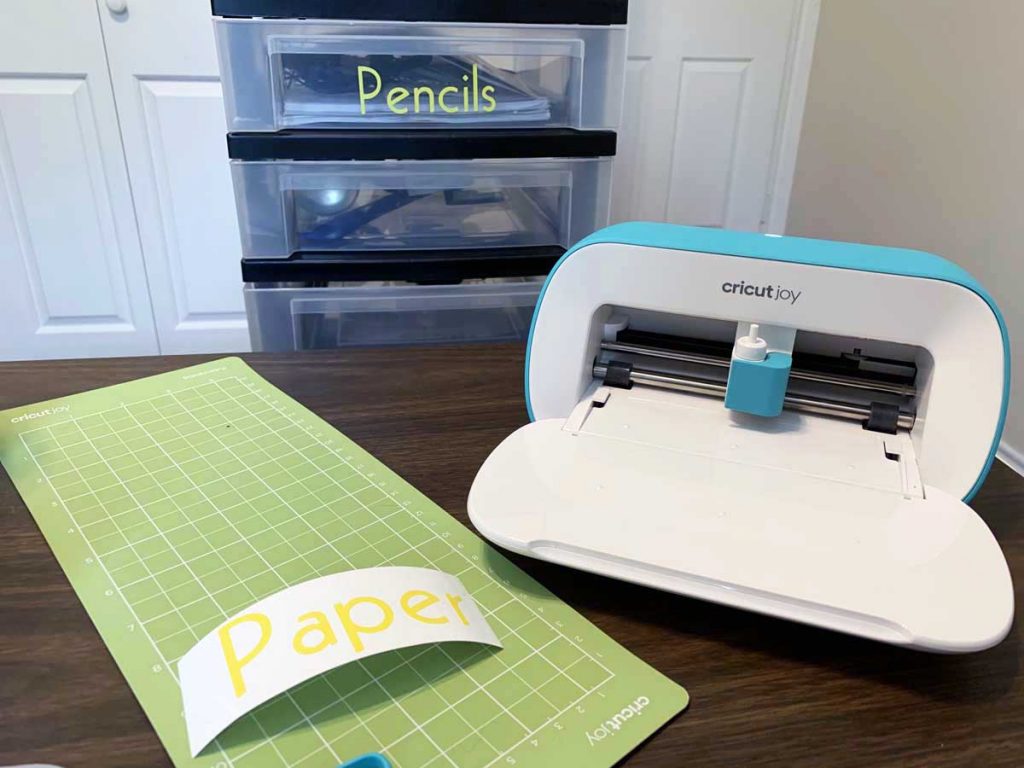 After all of the words were cut, I started weeding, or picking out the extra pieces from the vinyl, to reveal the text. I put transfer tape on all of the words at the same time, and then added them to the drawers, one right after the other.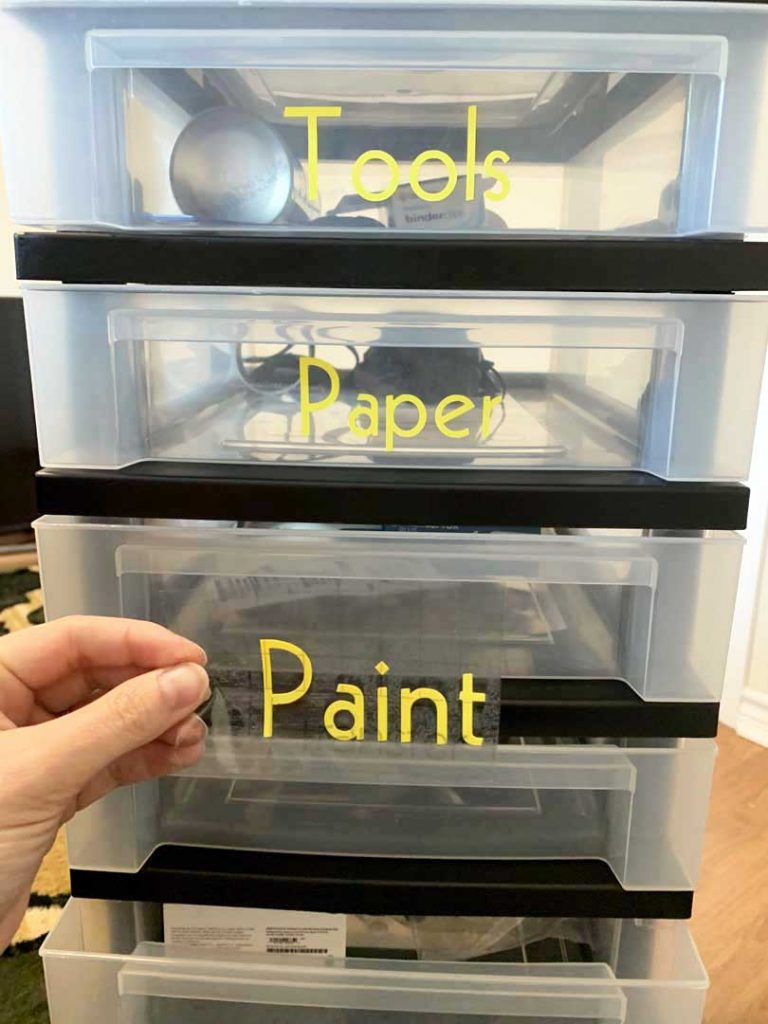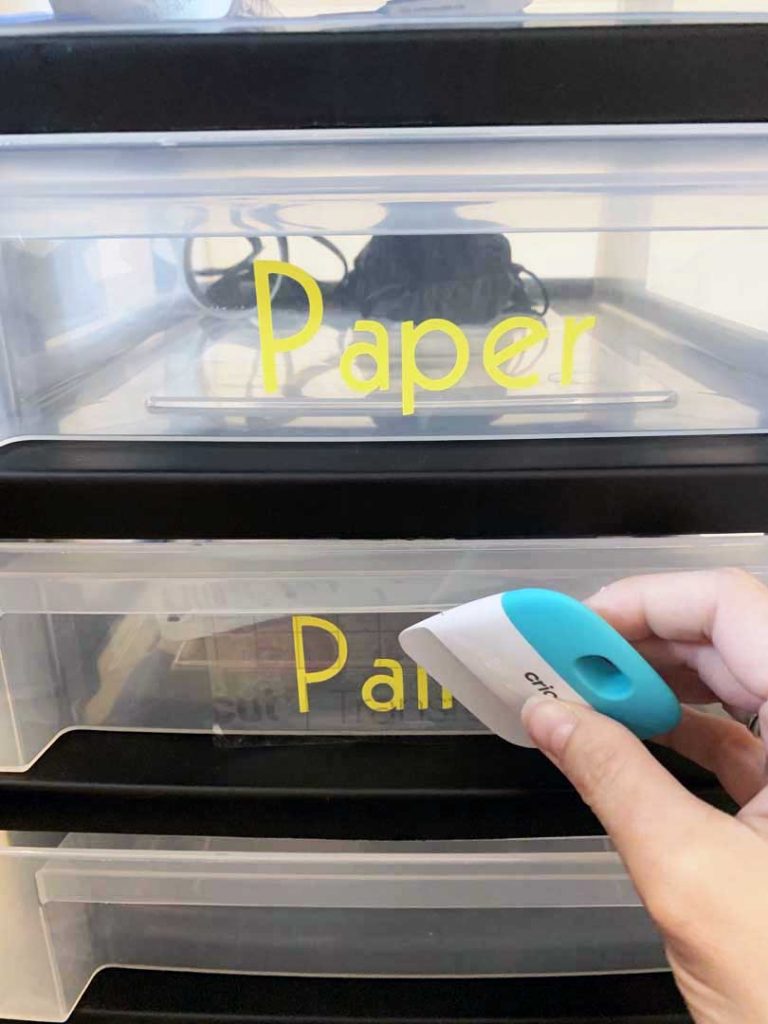 I liked this methodical approach because I was able to really dive into each step deeply. I am so new to Cricut, so I was able to get comfortable, practice, and get a good rhythm for the project.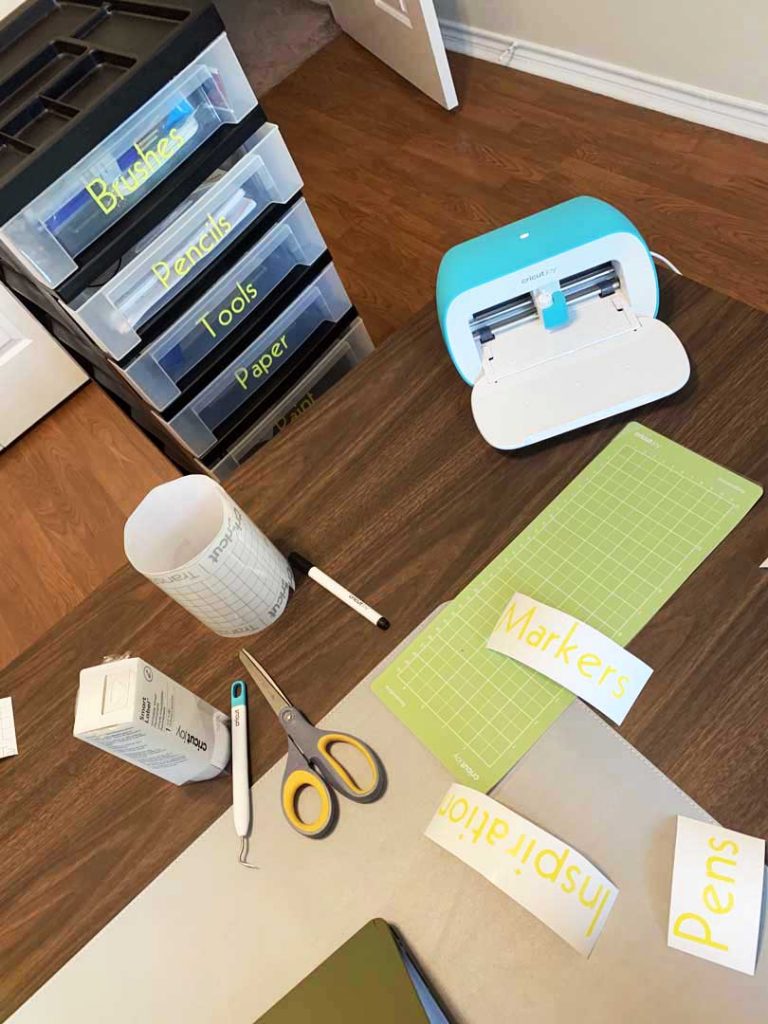 All in all, it was fairly easy to transform our supply cart into an organized storage system. Cricut Joy helped me create a fantastic system that keeps our supplies in one area, sorted by type or theme, that can easily be stored away if need be!
My next challenge is to create Smart Labels for my next organization project! Anyone have tips for me before I get started? Please leave them in the comments!
---
Cricut Joy teacher giveaway
Inspired by Courtney's movement, Cricut is supplied teachers with Cricut Joy machine bundles to help #ClearTheList. We gave away 50 machines (winners announced weekly) with accompanying materials.
Find a list of confirmed winners here.
*All giveaway submissions are subject to terms and conditions. Each entrant or nominator must be a legal resident of the United States or Canada and at least eighteen (18) years or older. NO PURCHASE NECESSARY. VOID WHERE PROHIBITED.
+When nominating, you agree not to share any personal details about your friend without first receiving their consent.