What is Cricut Access?
Whether you are a long-time Cricut user or new to the crew, welcome!
With Cricut Access, unlock an ever-growing library of projects, fonts, and images – plus everyday savings on Cricut products, and more.
Maximize your making with Cricut Access subscription
What is Cricut Access, you ask? It is a monthly or yearly subscription that unlocks access to unlimited use of a growing library of beautiful fonts, images, and projects in Design Space. In addition, you get exclusive savings when you shop Cricut products on cricut.com. From time to time, you'll also notice subscriber-only features that help simplify your design process. But wait, there is more.
250,000+ images
Find all the images you need in an ever-growing library of amazing images.
700+ fonts
Use professionally designed fonts for cutting and writing.
1,000+ customizable projects
Make pro-looking projects for every reason and season.
Everyday savings
Score 10% offcricut.com purchases up to $50 per item, plus exclusive sales on cricut.com.*
Exclusive Design Space features
Experience design superpowers with subscriber-only features like Automatic Background Remover and more.
Priority Member Care
Need help? Just getting started and have a question? Jump the queue to chat with a friendly human during Member Care hours.
Frequently asked questions
I am thinking about purchasing a Cricut machine, do I need Cricut Access to get started?
Design Space (our full-featured design app that connects to any Cricut smart cutting machine) is free and you can jump in right away to start making. With Access, you get all the perks listed above. Those new to Cricut can (and highly recommend) take advantage of the free 30-day trial to Access. When registering your Cricut machine, you will be presented the option to sign up for the free trial.
Is a Cricut Access subscription worth it?
If you expect to craft routinely, let's say every month or so, you will discover that a Cricut Access subscription easily pays for itself. Also, with Cricut Access, the more you make, the more you save. With the money you save, it will be easy to make up the cost of your subscription. Lastly, subscribers love the freedom of having so many options to use every time they sit down to make something — especially those just getting started.
In Design Space, how do I find an image, font or project that is included in Access?
All images, fonts and projects included in Cricut Access are marked with one of these two symbols:
As you scroll through the image library or the ready-to-make project library, you will notice that the vast majority of images and projects are included.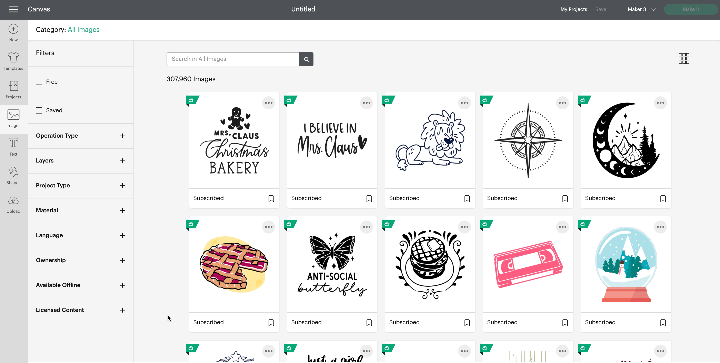 What's the difference between Standard and Premium?
There are two different subscription plans to choose from: Standard and Premium.
Cricut Access: Standard. This subscription allows you to access 700+ fonts, as well as 250,000+ images and cut files. Additionally, this subscription offers a 10% discount on images and fonts not included in the subscription as well as on product purchases, with some exclusions.
The Standard subscription can also be billed monthly or annually. Standard memberships start at $7.99 per month billed annually or $9.99 per month billed monthly. Annual subscribers save $24 on this plan!
Cricut Access: Premium. The Premium subscription is just that, premium! It includes everything mentioned above plus Premium subscribers get free Economy shipping on orders over $50 on cricut.com and 20% off materials! This is an annual-only purchase for just under $120. See simple breakdown below.
If you have more questions or are ready to subscribe, visit Cricut Access on cricut.com.
*Exclusions apply. See terms and conditions.