Skip to instructions
Valentine's Day (or Galentine's Day) may be over this year, but it can be an inspiration year-round.
We see our community creating projects out of love not just on this one holiday, but for multiple occasions. Whether it's for an anniversary, a birthday, a holiday, or just because, here's a little inspiration from the community for that someone special with a little something unexpected.
---
For the little ones
Project created by Melissa Barr.
Melissa wanted to create something special for her little ones to wear on Valentine's Day and any time of the year.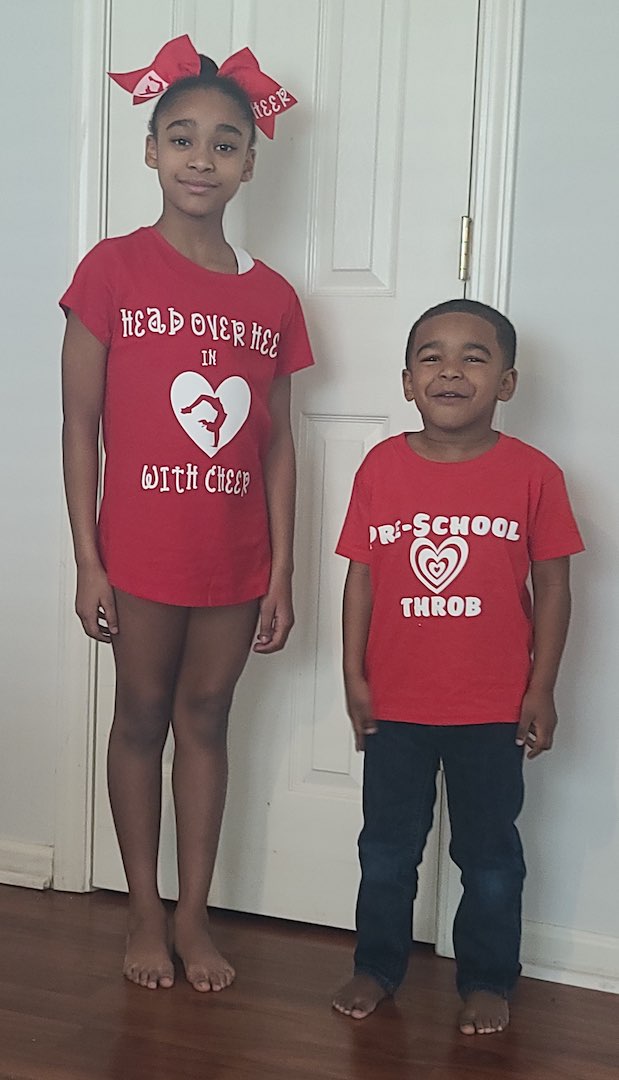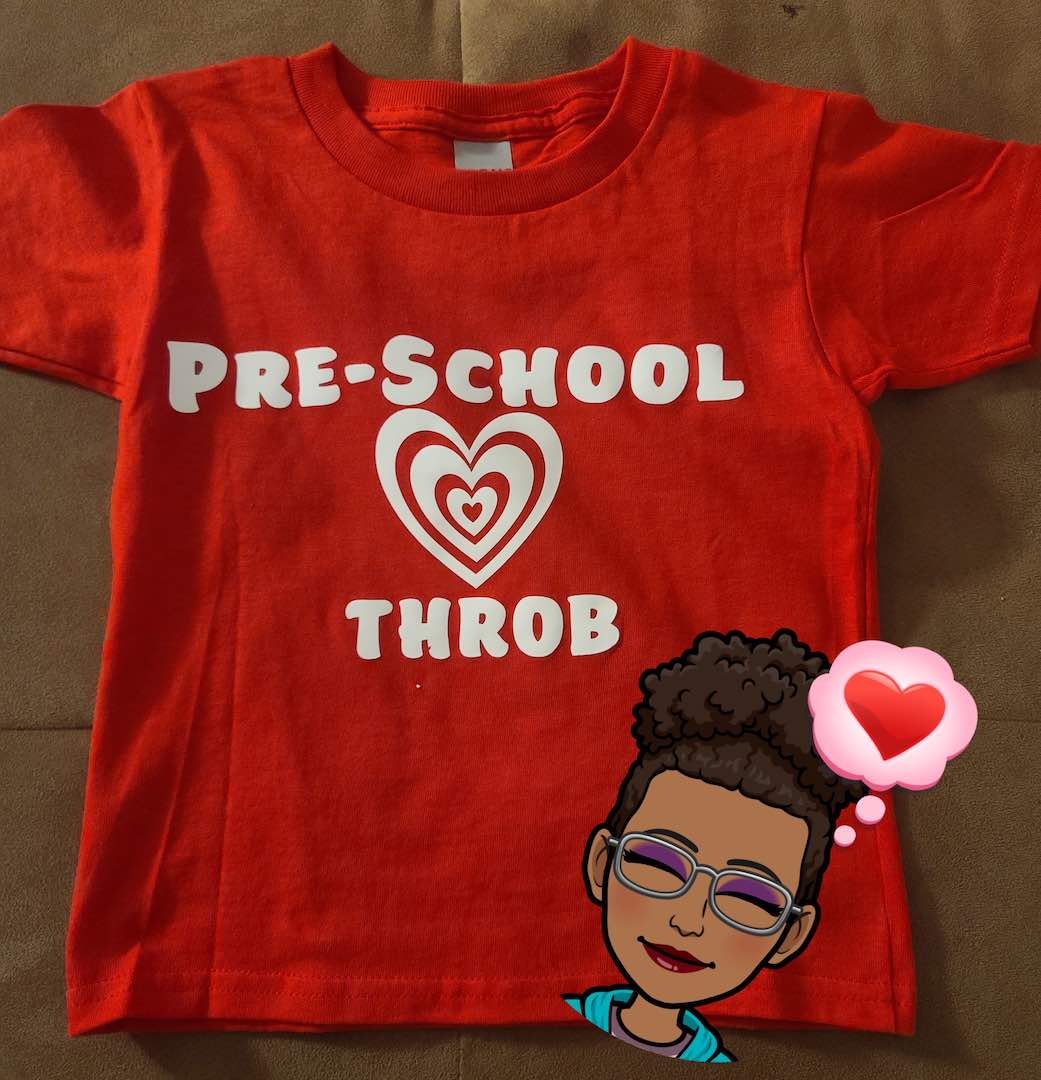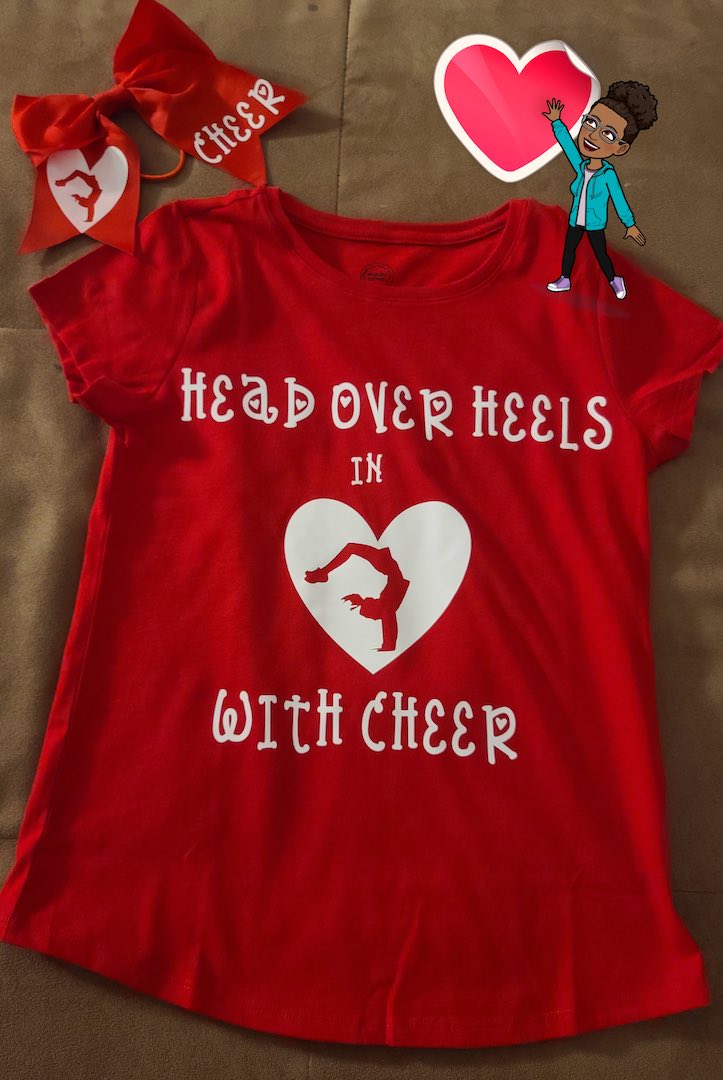 [My daughter] loves cheerleading so I came up with the head over heels in love with cheer shirt. Of course, I could not leave my little guy out, so I came up with something for him too. Since my son just turned 4 and would be heading to Pre-school this year, I made him a pre-school shirt. He always gets attentions from the girls/ladies because he is a little cutie…
Melissa used her Cricut Maker® and Design Space® images to create these shirts with iron-on. She typed out the text and searched for a font she liked in the Cricut Access library. Then, she used shapes and an uploaded image to create the designs.
---
3D gazebo using cardstock
Project created by Joey Eskridge.
Flowers and candy were never of interest to Joey's wife. "She is very non typical when it comes to gifts," he says. And, "she loves the type of things that have the sentimental meaning and the thought behind it."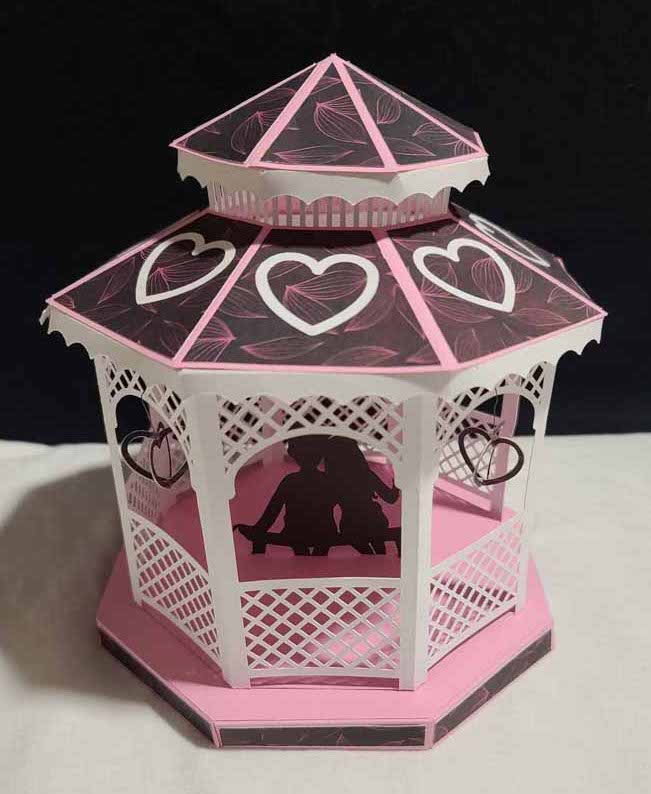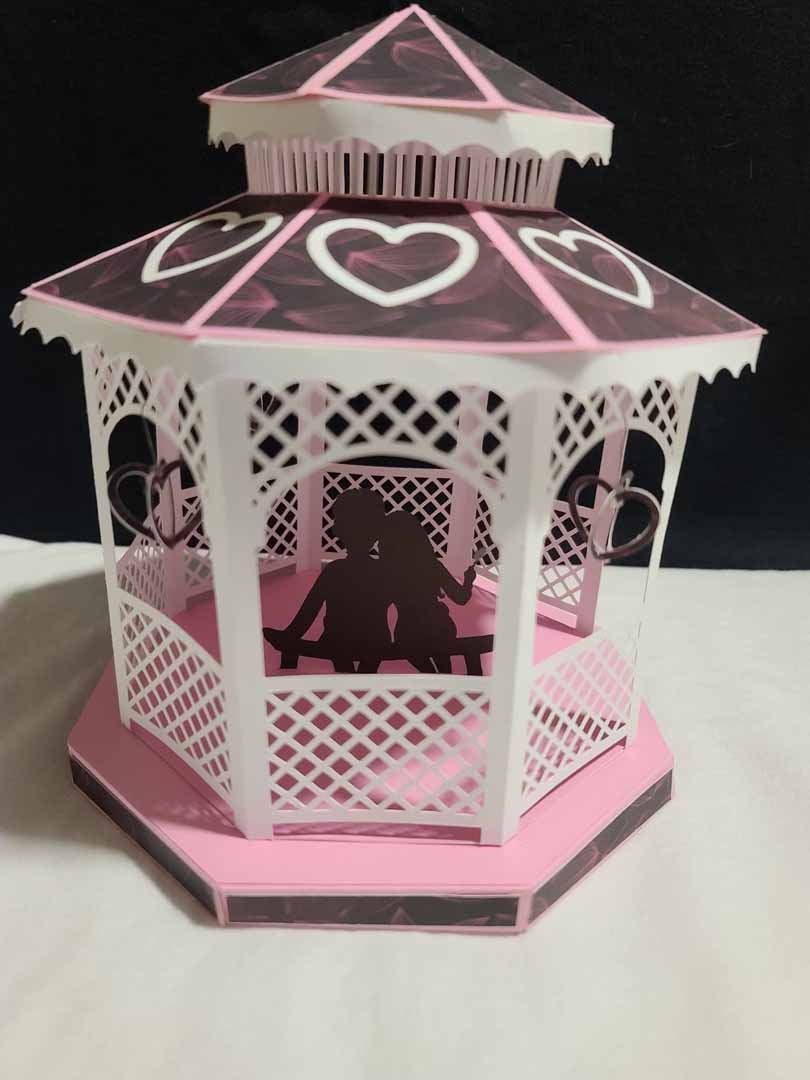 This gazebo has so far been my favorite project because of the reason it was created in the first place was out of my love for my wife! We have been together for 20 years and being able to give her a gift this unique is awesome!
Joey created this project in Design Space pulling heart designs and the silhouette from the Cricut Access library. Use this SVG design from Joey if you would like to recreate* the project.
*Note that it does not include the silhouette couple in the gazebo, the hanging hearts, or the hearts on the roof. It also only includes one single image of the panels on the roof and around the base. You will need to duplicate the number of panels needed but they are all sized appropriately to the rest of the design.
---
"Happy Love Day" lock and pop gatefold card
Project created by Mary Ann Penn.
It had been a while since Mary Ann got to hang out regularly with her girlfriends of over 20 years. They all met when their, now, adult children were together in preschool. Unusual circumstances encouraged Mary Ann to send out a little love this year.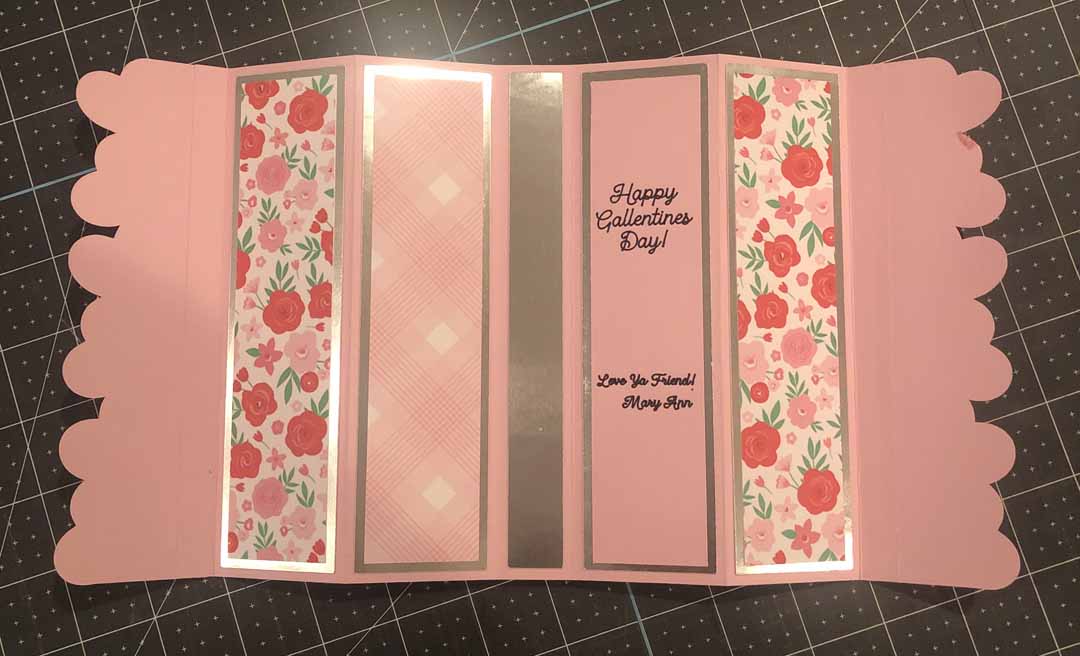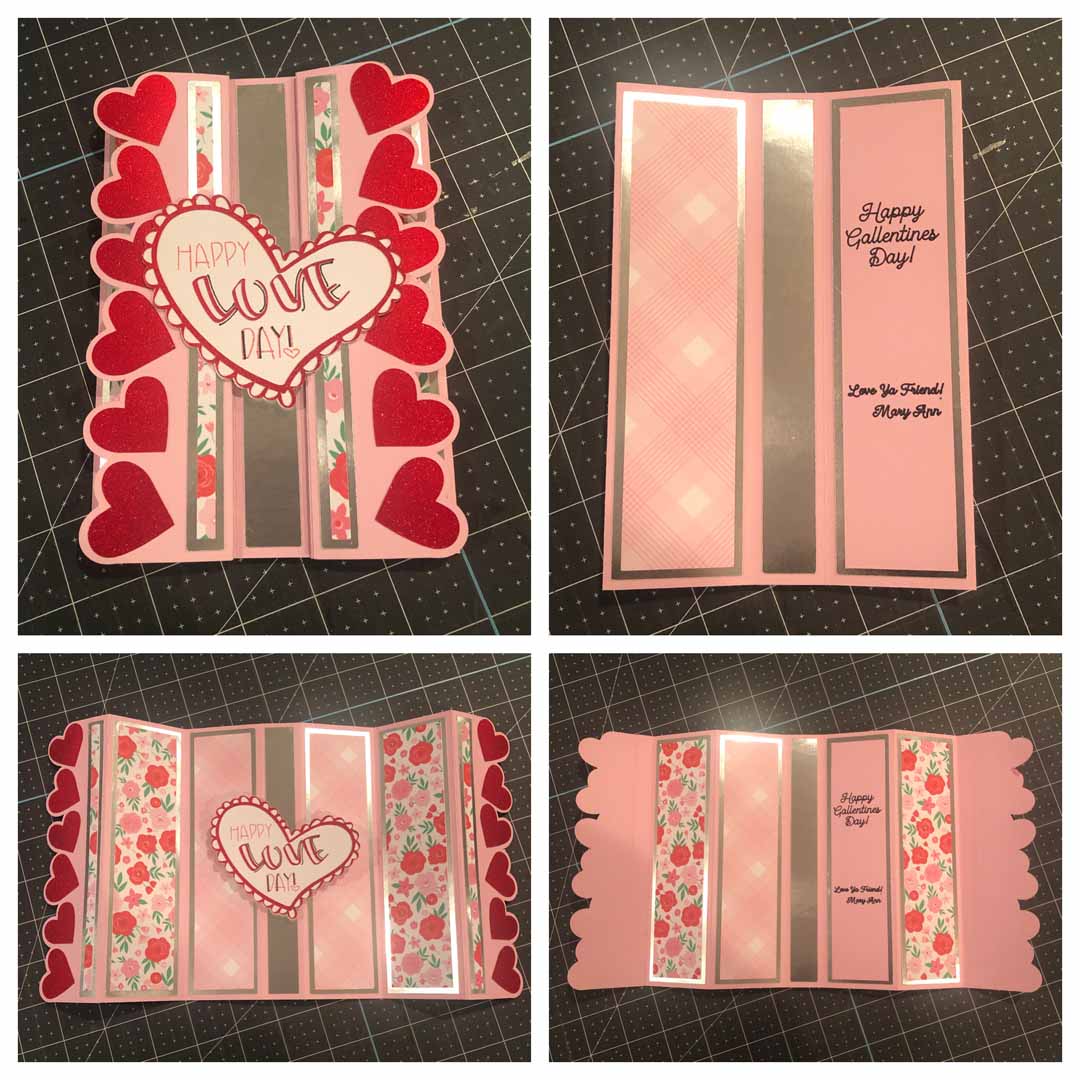 I usually don't send them Valentines. We haven't gotten to see much of each other this year so I thought I'd send them a Galentine.
Mary Ann learned to create this design from simple shapes and a little inspiration from the internet. She used posterboard, sparkle paper, and white cardstock. Note that Mary Ann printed the patterns/colors with a wide format inkjet printer onto white cardstock first before letting her machine cut it. Recreate her project with this community Design Space project link.
One tip she has after making the cards? Use a .3 pen for writing on the back instead of a .4 pen. "It looks much nicer."
---
Mapping out our journey in love
Project by Kaitlyn Reser.
On the 9th year of celebrating Valentine's Day together, Kaitlyn wanted to create a gift for her husband that would reflect some of the more important moments of their life.
I was inspired by some other projects I had seen where people made stickers or canvases using mini maps of important locations to couples or friends. I picked these special moments because they are such meaningful and important moments for us. It's been a crazy year and it was nice to reflect on these important moments in our lives!
Kaitlyn created each of these individual maps on her own and uploaded them to Design Space. She sliced the heart away from the map to cut it in red. Then, she used removable vinyl to cut the images on her Cricut Explore Air 2. She placed the vinyl cuts by hand on the inner piece of the picture frame to create this project.
---
In case of emergency
Project by Tuquisha Starks.
Tuquisha's husband was not a romantic until after having numerous talks with Tuquisha. "I think he understood and from then on" he worked on being more affectionate, romantic, and even a being a better gift giver. In fact, he gifted Tuquisha a Cricut machine the Christmas before their first wedding anniversary. However, all of a sudden, Tuquisha struggled with finding "those heart dropping gifts."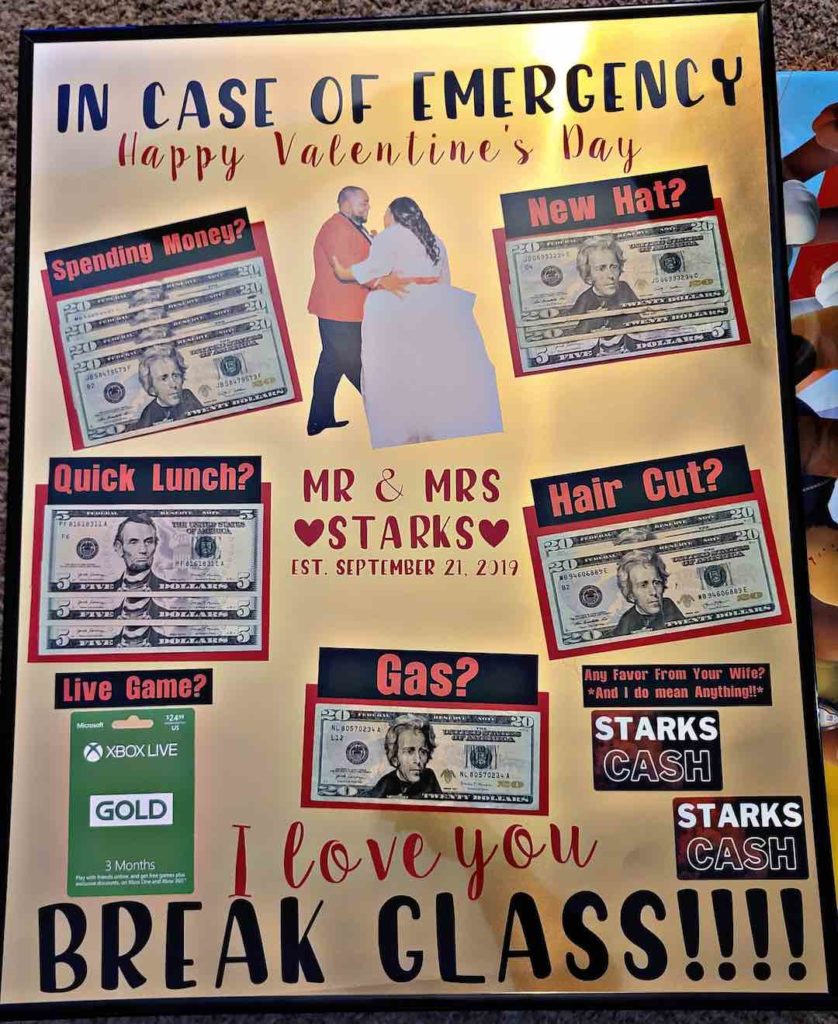 I wanted to do something that would make him feel just as wonderful as I did when he gifted me. I saw this idea on Facebook and decided to add my own love twist…He was absolutely speechless, grateful and filled with everything I had hoped.
This "In case of emergency" project was created with a frame and poster board. Tuquisha used permanent vinyl to decorate with text and shapes. Then, she added a Print Then Cut sticker of her and her husband.
Personalized love locks
Project by Mona Falcon.
After a visit to Enoshima Island in Japan, Mona and her husband wanted to commemorate their 22 years together with a symbol that lasted just as long.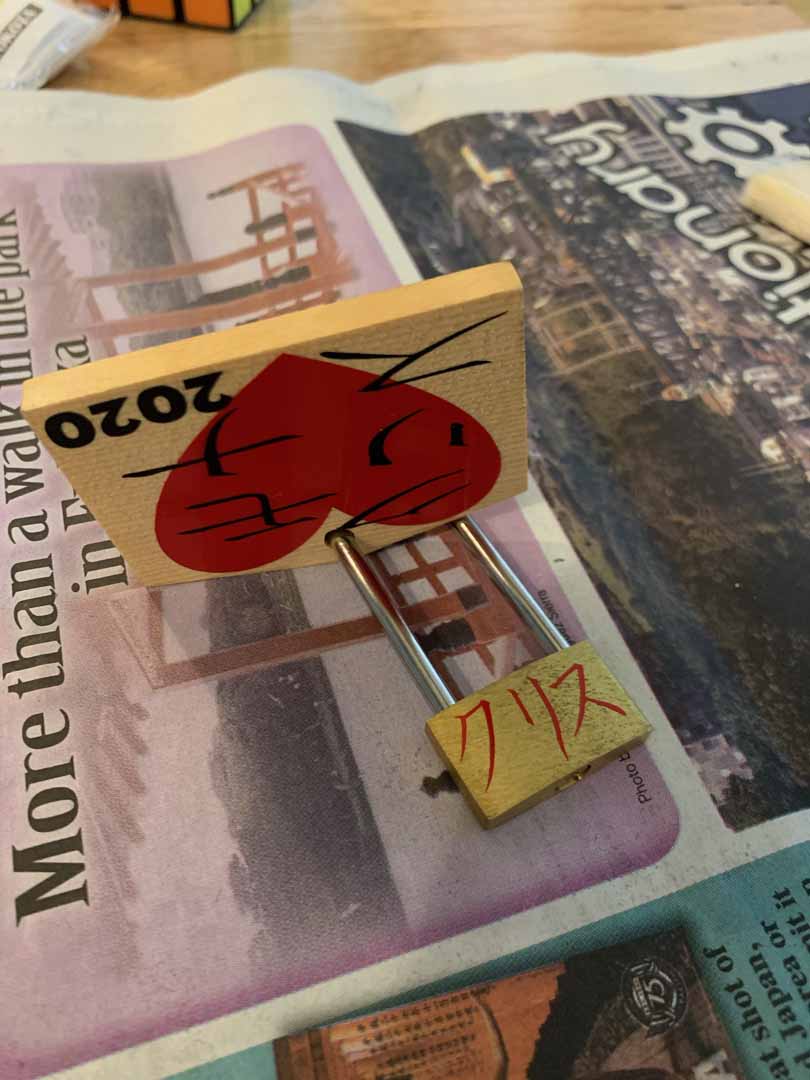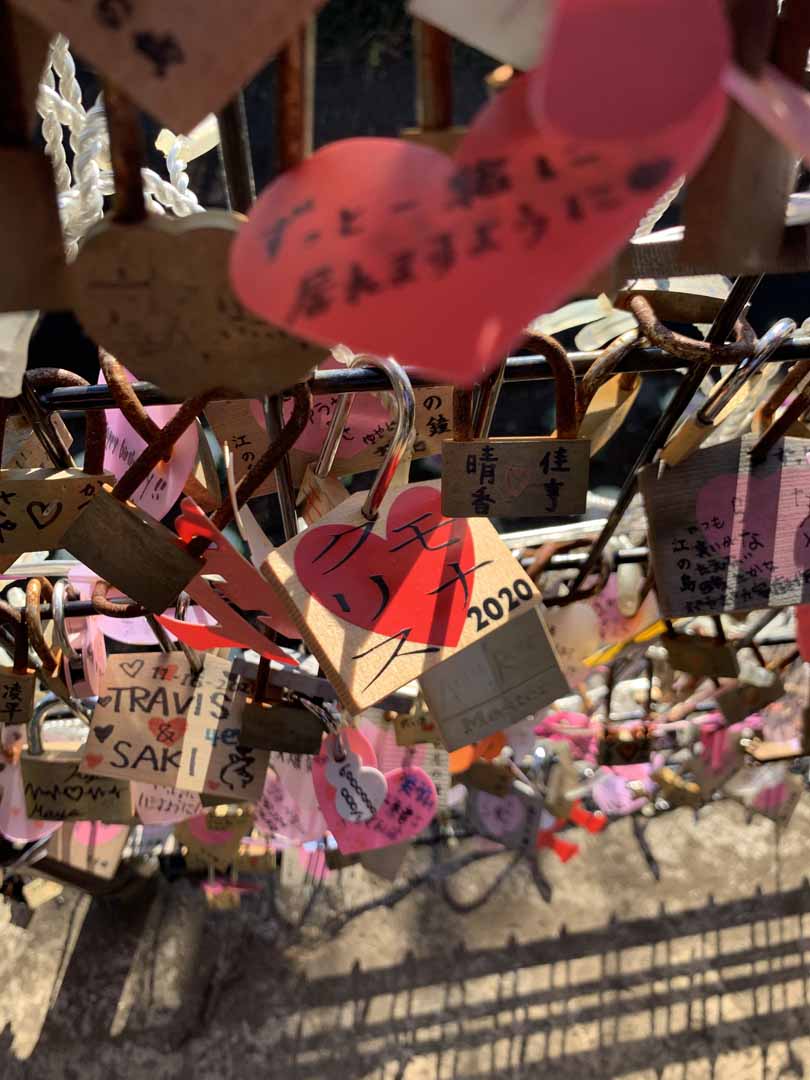 There is a location on the island that allows you to purchase locks to lock on a "love fence". We wanted our lock to stand out and last the weather. We did this as a celebration of our 22nd wedding anniversary and wanted to express our love to the local Japanese community in a way that they could understand. We also wanted the lock to last just as long.
Mona and her husband brought the lock home to customize the wooden plaque they purchased with the lock while on the island. The names were converted to Japanese characters and uploaded into Design Space as images. She cut the letters using her Cricut machine and vinyl. Then, she added a protective coating to help protect it from the elements. "I love how it came out and hoping when we come back in 20 years it would still be there!!"
Tips from Mona:
Add a base layer of poly-acrylic to the block before applying the vinyl.
After applying the vinyl cuts to the lock, cover it with 3 protective layers of clear poly-acrylic.
Let the layers of acrylic dry for approximately 30 minutes in-between coats.
---
Wedding frames to home decor
Project created by Haley McDermott.
This forever project was made in order to avoid printing out individual programs for wedding guests. After having to move their wedding date, Haley created #cricutmade decorations in lieu of having to buy them.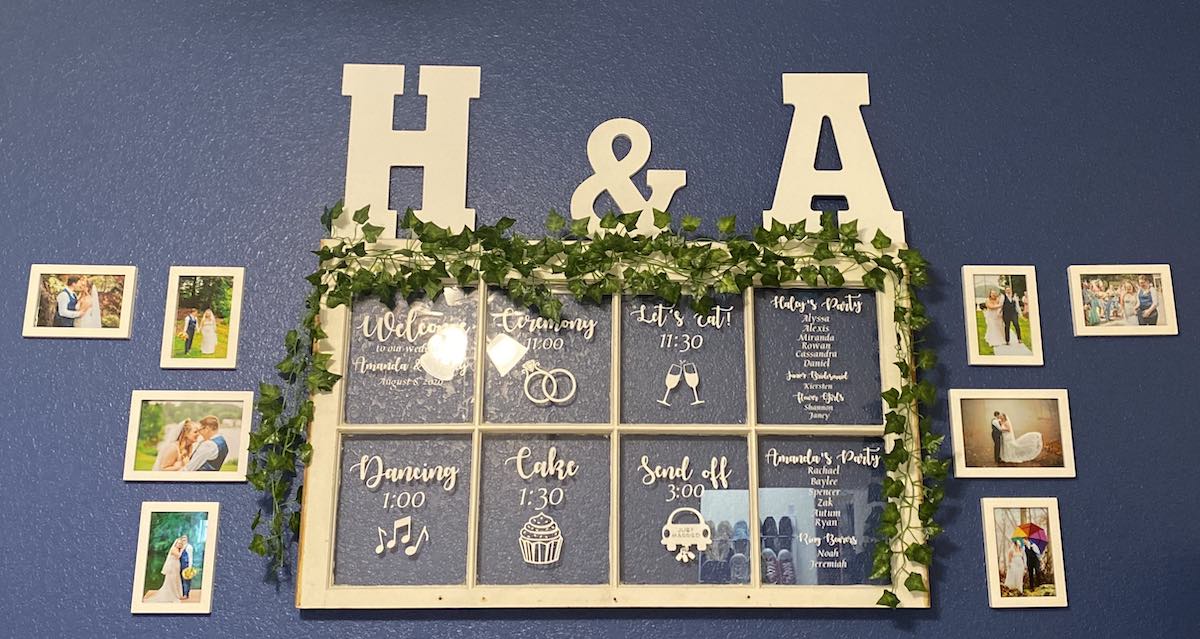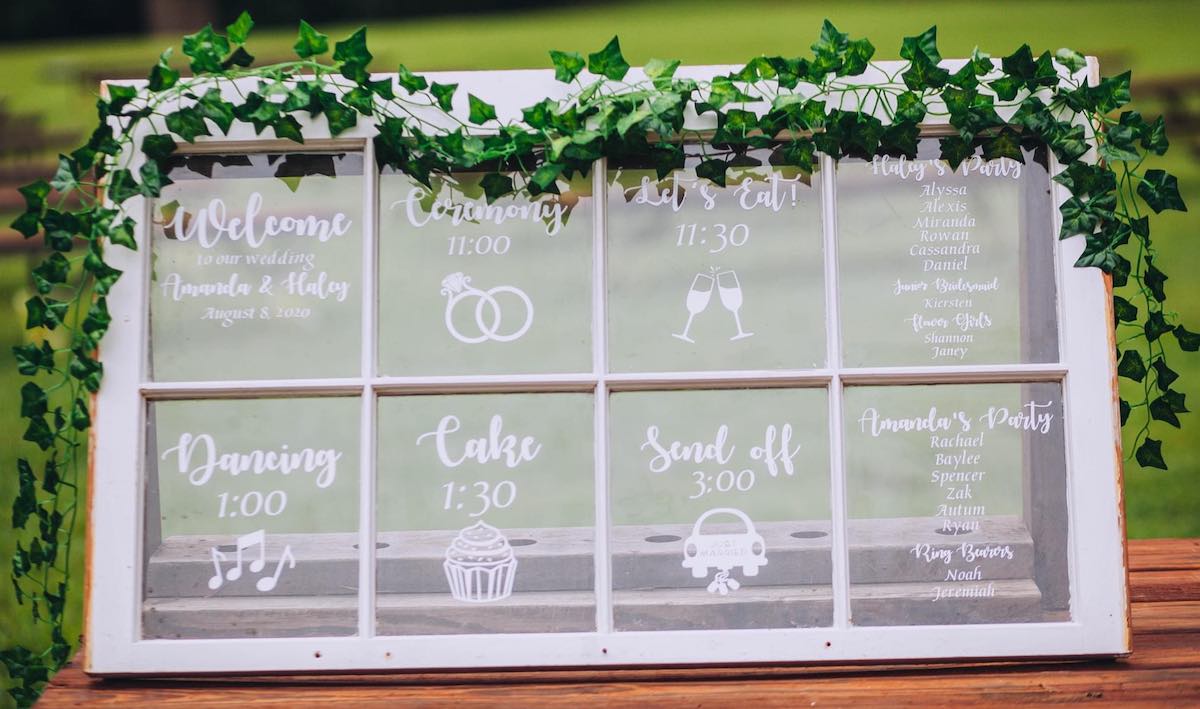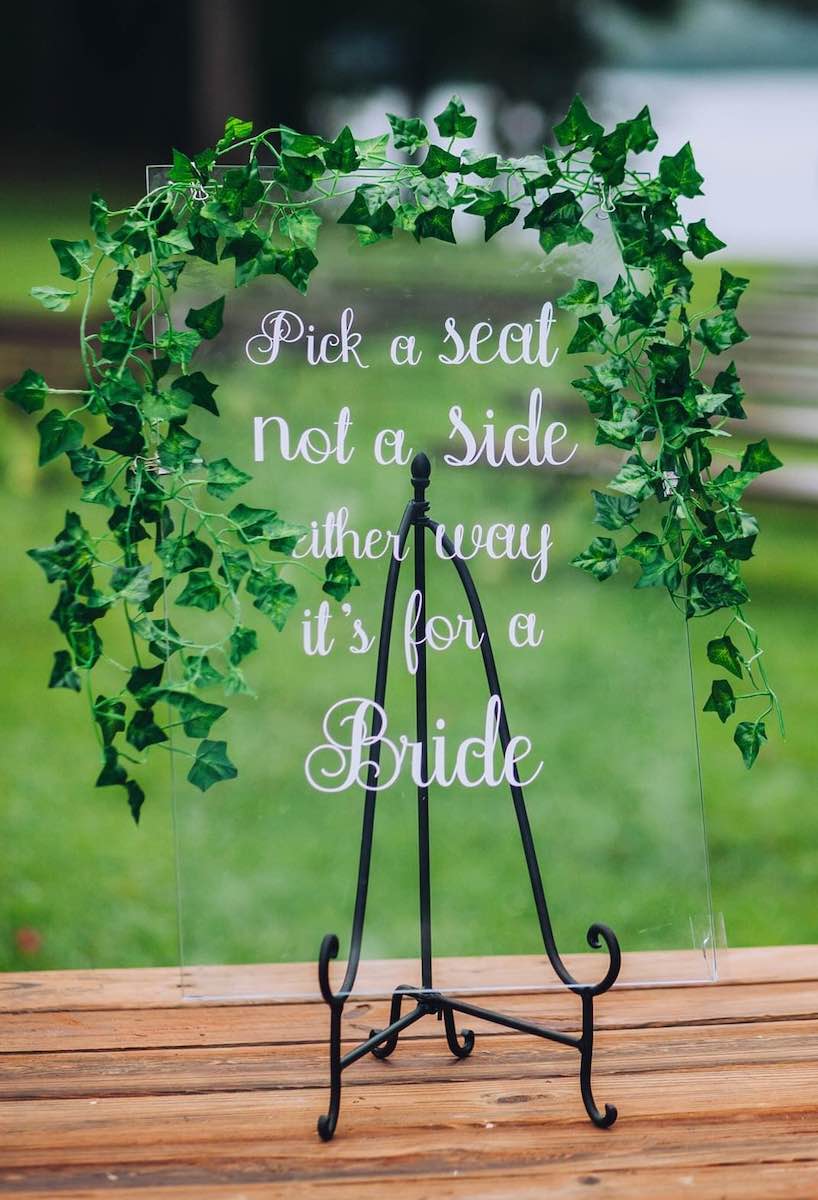 Having our wedding at camp was special to us. It is where we met, and fell in love. It is an integral part of who we are as a couple, and individuals. Moving the date took an emotional, and financial toll on us…This was obviously more cost effective and more environmentally friendly.
Haley created a wedding "program" with the help of her wife, who's "better at lining things up straight" using a vintage window, white vinyl, and her Cricut Explore Air 2. It currently lives as part of their bedroom adorned with pictures in white frames to accent the wall space surrounding it.
---
Love each day advent calendar
Project created by Holly Cox.
Holly was looking to gift outside the box this year, and the idea of sharing a little note everyday about why she loves and appreciates her husband was the "perfect idea."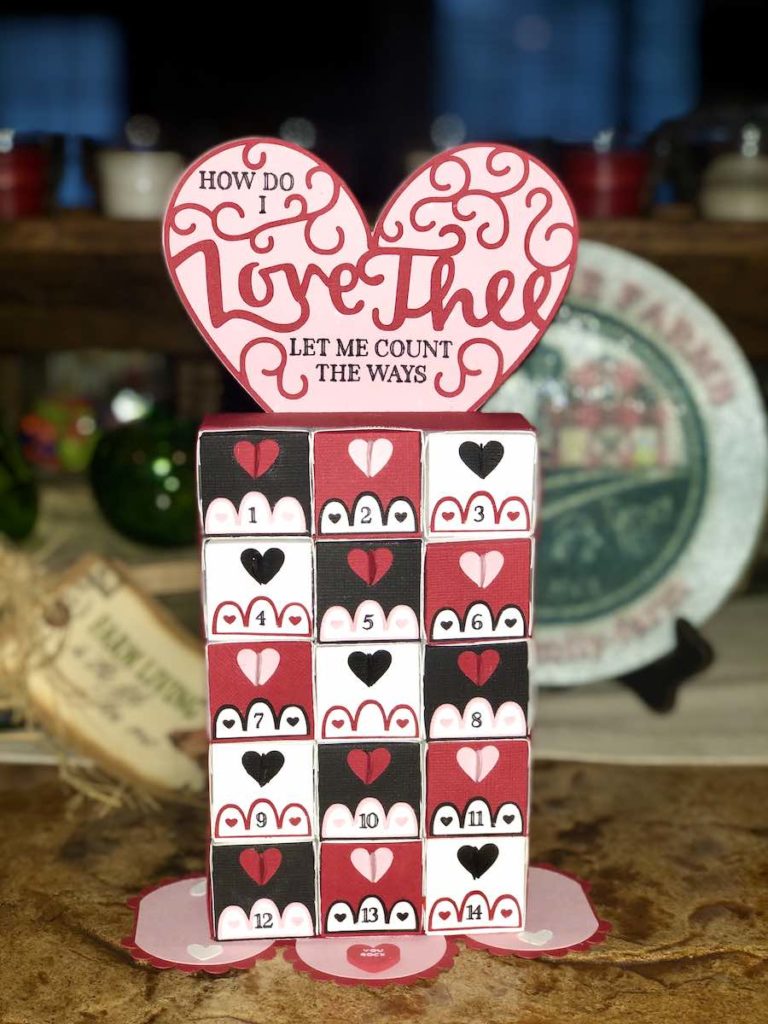 The idea of sharing a little note everyday about why I love and appreciate him was a perfect idea. I think the project turned out great and my husband was so excited to get home and read the little note for that day (and, of course, eat the sweet treat I put in there as well). He was touched by the thoughtfulness and even shared it on his personal Facebook page.
Using cardstock, the Cricut Maker scoring wheel tool, and black pen, Holly used her machine to cut, score, and draw this Advent Calendar project from Design Space. She assembled the project with help of a glue stick.
Search How-To
I want to make...