Introducing Erin Wilson: lettering and illustration artist
This post was contributed by Erin Wilson.
I truly can't remember a time when I didn't love writing things by hand. As early as elementary school, I practiced and perfected several different styles of handwriting, which, of course, I used to pass notes (folded into triangles!) to my friends. There were bubbly, cute styles, as well as tall and severe ones. I loved cursive and occasionally used my essays as good practice, to the surprise of my teachers. Sometimes, I tried to write exactly like my mother, whose handwriting I still adore…
For years, I basked in the praise that came from my carefully formed letters. At the time, I would have called it a hobby, or maybe even just an interest. I never imagined that one day, my nice handwriting would become my career.

---
Finding a career in lettering
While I've always loved writing neatly, I didn't pick up lettering until I found calligraphy in 2014. I was looking for a hobby after the birth of my second child. My sweet baby was very colicky in her early months, and even after the evening meltdowns had mellowed, she was a baby with opinions and demands, all day long. She had a difficult personality and after being with her all day as a stay-at-home mom, I needed an outlet.
With my nibs and vellum paper in hand, I started lettering everything from pantry staples to office supplies while sitting at my basement desk. I couldn't make more than one word at a time look halfway decent, but late one night, I took one of those words—love—and scanned it into the computer.
My husband walked me through Adobe Illustrator years earlier, in the days when every new family had a blog and everyone needed cute blog headers. Am I dating myself too badly? I only knew the basics: how to put in pictures, how to add a text box. But, I taught myself how to use the "Image Trace" feature and used it to turn "love" into a holiday card.
I submitted that card to Minted, a stationery company I had randomly stumbled across on the internet. To my surprise, they selected my card for sale that holiday season! Though I didn't realize it at the time, my career as a lettering artist had officially begun.
---
From music to art
If you had asked me in high school what I'd be doing for a career, I would have answered music, rather than anything art-related! In my teen years, if it related to music, I was involved. I was in band, jazz band, orchestra, and choir. I even accompanied all the school choirs that I didn't sing in. I was studied music in college and received a degree in secondary instrumental music education. In short, I became a middle school and high school band teacher. It was an experience that gave me deep respect for what is required of music educators.
I had classes that started at "zero hour" (6am jazz band) and was often at school until 10pm leading pep band for basketball games. During summer break, a perk for most teachers, I was leading the marching band. While I loved and adored the kids and the music, I didn't want to spend every waking hour away from my house and family. I never did teach in a school after my student teaching. Instead, I used my degree to teach private piano students over the years. Running a piano studio gave me the first glimpses of life as my own boss. I had ultimate flexibility to schedule work when it was convenient for me, and I got paid for doing something I loved. What more could I ask for?
My career as a lettering artist was born with that small taste of entrepreneurship. When that first holiday card made it to "the big leagues," that touch of success turned me into a stationery fanatic. I snuck whatever (little) time I had during naps or after bedtime to letter and create as much as possible.
---
Forging the path to success
Calligraphy quickly turned into brush lettering (much less messy!) and I started submitting more regularly to stationery challenges. In 2017, one of my designs won a $1,000 prize that finally allowed me to purchase an iPad Pro, the standard in digital illustration. Ever so slowly, my hobby turned into a part-time job.
In 2019, I saw my art in a retail space for the first time when one of my greeting card designs made it to Target. I was actually stunned to find out it was there. In a strange deviation from normal procedure, I wasn't notified ahead of time that it would be sold in Target stores (an e-mail oversight!). When I realized, I drove almost an hour to the nearest store that had the card in stock and must have taken a hundred pictures. I even had my kids take a few more for good measure!
Now, my work can be seen on greeting cards at Target and Trader Joe's; digital media for Real Simple, the covers of Golden Coil planners, stationery and art prints at Minted, and now, in Cricut Design Space®—which is so different.
It's amazing to illustrate for Design Space because I'm not creating an end-use product. I'm creating a tool for someone else to turn into something else. My illustrations and lettering are just the start of a project. Someone using what those images could change all the colors, use different mediums, or make a hat, a shirt, or a mug! I love seeing the "next step" of creativity that my designs inspire.

---
Full of meaning
As an artist, I'm driven by positivity, beauty, kindness, and inclusivity. I often start by thinking through common words or phrases for a given category and then begin lettering things out to see what styles feel good for that theme. I'll also try to think of end applications. What would be fun for a mug in this category? What about a sticker or a card?
I like to ask questions, think deeply. I am extra sensitive and it's getting worse with age—anyone else cry over everything even vaguely emotional? I like to create things that bring beauty to everyday occasions. I believe we're all brothers and sisters, and that we ought to act like it. I'm glad that I get to make image sets for Cricut® that celebrate and recognize so many different lived experiences.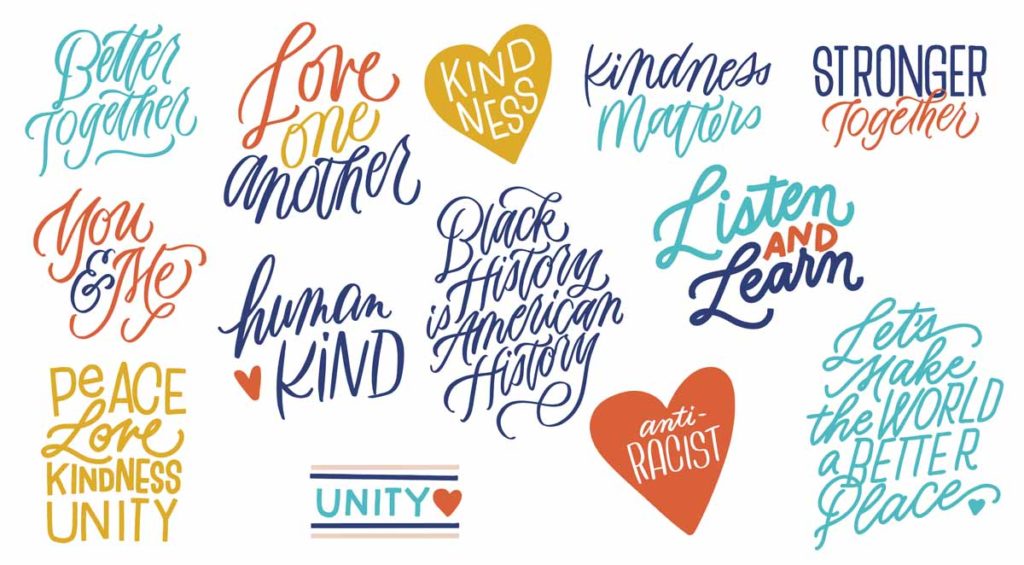 Like many of you, I've struggled with the tenor of conversations in my communities (local and religious) surrounding race over the last year. I've been trying my best to listen to the experiences of those around me and reach out in love and service wherever I can. I feel passionate about speaking from a place of empathy and civility, and encouraging others in my community to do the same.
My husband is a playground designer that specializes in inclusive playgrounds for children with disabilities. The pandemic forced us to share an office for several months last year, and I had a front row seat to the work he does (and the hours and hours of calls and meetings that helped introduce me to noise-canceling headphones). He and his colleagues have taught me so much about the differences between accessibility and inclusivity. They've taught me about how valuable it is for all of us, but especially for kids, to have meaningful interactions and relationships with people of varying abilities. It's brought greater meaning to creating assets that celebrate these communities!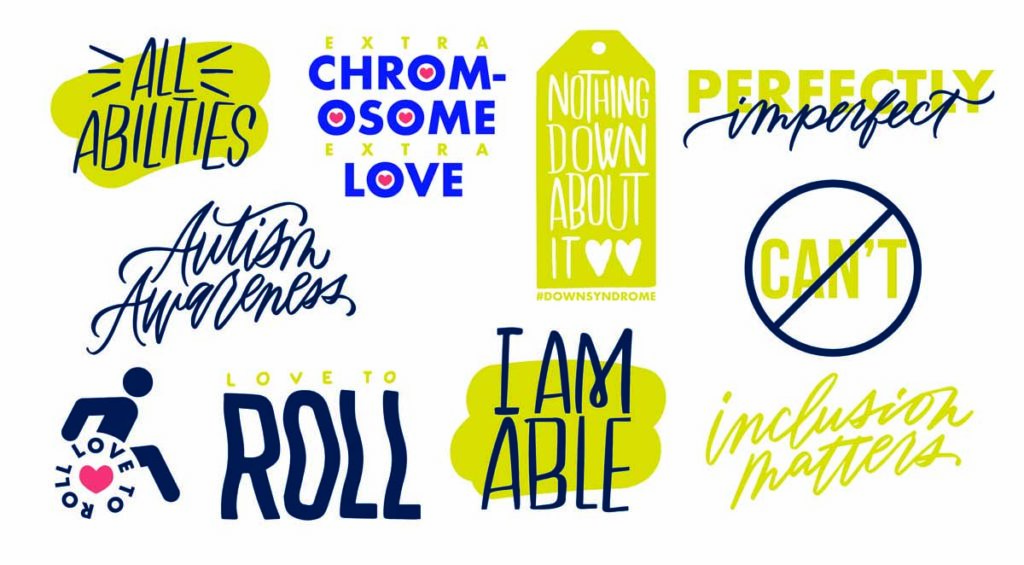 ---
Defying expectations
As a child, and even a young adult, I always wanted to be a stay-at-home mom and never imagined myself working full-time in an office. My mom didn't work outside the home, and neither did many of my friends' mothers growing up. I come from a pretty traditional upbringing and staying home was just what was expected.
As my little lettering hobby turned slowly into a career, I struggled with my desire to work outside the home. I knew many people who thought my working meant I was ignoring my kids and not being a "good mom." I had to spend so much time really evaluating the meaning of being a good wife and mother. For me, continuing to have personal passions and pursuits only increased my fulfillment in these familial roles, and it also strengthened my relationships with my kids.

My mental health is so much better when I have a project and goals to be working toward. Before I started working as an artist, my children were the only outlet I had for that drive and perfectionism. Pursuing interests alongside child-rearing has really helped me disassociate my children's successes or failures with my own as a parent (and person). Previously, my thoughts would spiral out of control so quickly. Why wasn't my baby sleeping longer? Should I have closed the curtains to help keep the baby asleep?
Cutting through a mess of poor reasoning and sky-high expectations for myself really shouldn't have felt so groundbreaking, but it was for me. Working toward personal goals outside of mothering helped me reduce my perfectionist expectations for my kids by giving me an outlet where I could feel successful regardless of their behavior. Now, I consider my parenting a success when I am able to teach my kids something new, encourage their independence, and spend time connecting with each kid every day, rather than only considering myself a success if my children behave like perfect robots. Because of these experiences, I'm always excited to support young girls and women in whatever their interests are! As I learned with my handwriting, you never know when that one hobby you love could turn into a fulfilling career!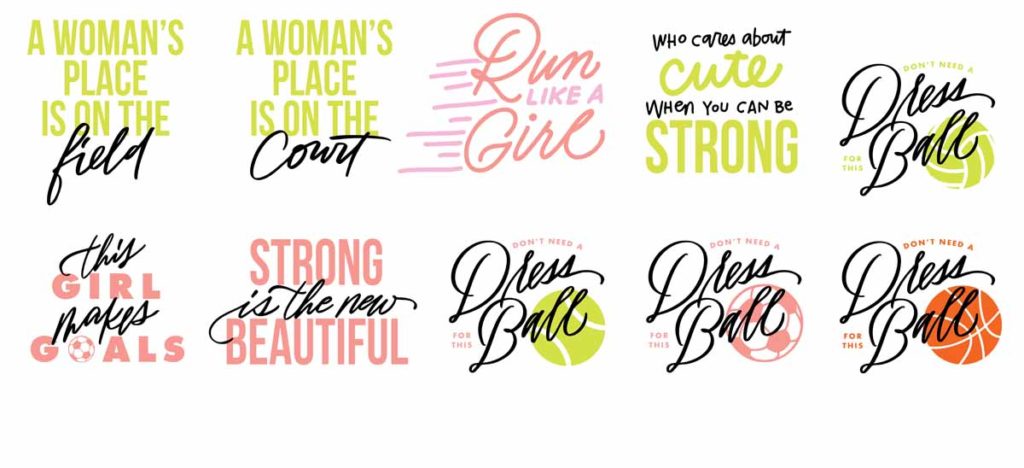 ---
I'm so grateful to have been able to share some of my story with you here, and to be able to share my work directly with the Cricut Community through Design Space. If you make something with one of my images, I'd love to see you tag me on Instagram! I would absolutely love to see what you do with the images. Find me @erinlwilsondesign (don't forget the "l" in the middle). I look forward to being a positive part of this community and can't wait to share lots more assets with you in the future.