Introducing Emma Jewell: crafts ideas from a stylish British artist
This article was contributed by Emma Jewell.
Crafting was always just a hobby, as I pursued a degree and career in Dance. I worked as a professional dancer for a couple of years, dancing in music videos and pantomimes before an ankle injury made me re-evaluate my career path. On a winding road that took me from being on a make-up counter in Harrods, being a TV extra, and dressing up a Sylvanian family (Calico Critter) cat to working backstage in the west end on Mamma Mia! The Musical, I realised my one true love was crafting! So, I worked hard to make it my full-time job and took the leap four years ago as a freelance professional crafter.
---
My journey to crafting
Crafting has been a steady part of my life for as long as I can remember…
I like to think that crafting has always been there for me, just waiting in the wings until I was ready to fully embrace it as my one true love.
We always had a junk drawer as kids at home that would be used all the time for various projects—a snow globe made from a sauce jar featuring cutouts of the band East 17 and a pillow made from two tissues stapled together and filled with more tissue. I'm sure my mum was absolutely thrilled to have been given a bunch of tissues as a gift!
As a teenager, I would draw on my jeans with fabric pens (I thought I was so cool!) and make collages from teen magazines.
In my early twenties, I owned a jewelry business creating glittery resin jewelry. Then, I worked as a costume designer for youth theatre productions which was an incredible creative outlet.
Nowadays, I make a wide range of projects. I always say there isn't a craft I'm not into except crochet… crochet is my craft nemesis! It's hard to choose my favourite projects as I always say the last thing I made is my favourite.
These days, I find myself reaching more and more for iron-on vinyl as I can create professional-looking results in a matter of minutes. These projects come together quickly but look like they took maximum effort. I've been lucky enough to have created tutorials for many UK craft magazines and worked with brands like Hobbycraft, Laura Ashley, Canon, and Ryman in the four years that I have been a professional crafter.
---
Meeting Cricut
There are a pair of velvet boots I decorated with stars, planets, and rockets that always come to mind when I think of my fave Cricut® made projects. The first time I ever saw a Cricut machine, I had to sit down through absolute excitement. I was about to turn off the TV after turning it to a craft shopping channel and there it was!! I sat back down on the sofa in awe of this machine that would answer all of my craft dreams. I knew I had to have one.
Six months later, I was the very proud owner of a Cricut Explore Air® machine.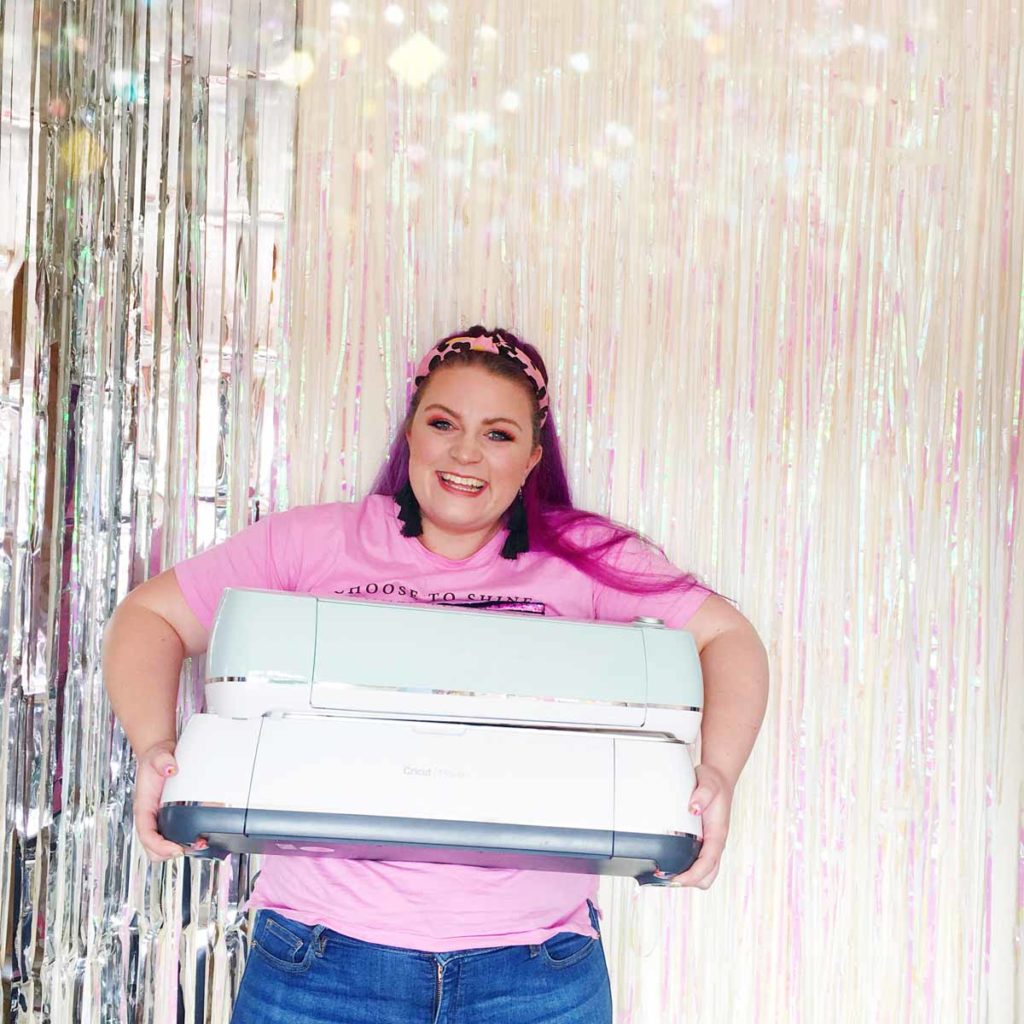 I just love everything about Cricut, it's a bit of a joke among my crafting friends that if you cut me open you would just find scraps of cut out vinyl, iron on, and cardstock inside me. My friends also joke that my brain is now 90% Cricut knowledge. I'm not sure how I know all of the stuff that's in there, but just like lyrics to all of the Spice Girls songs… I've got you.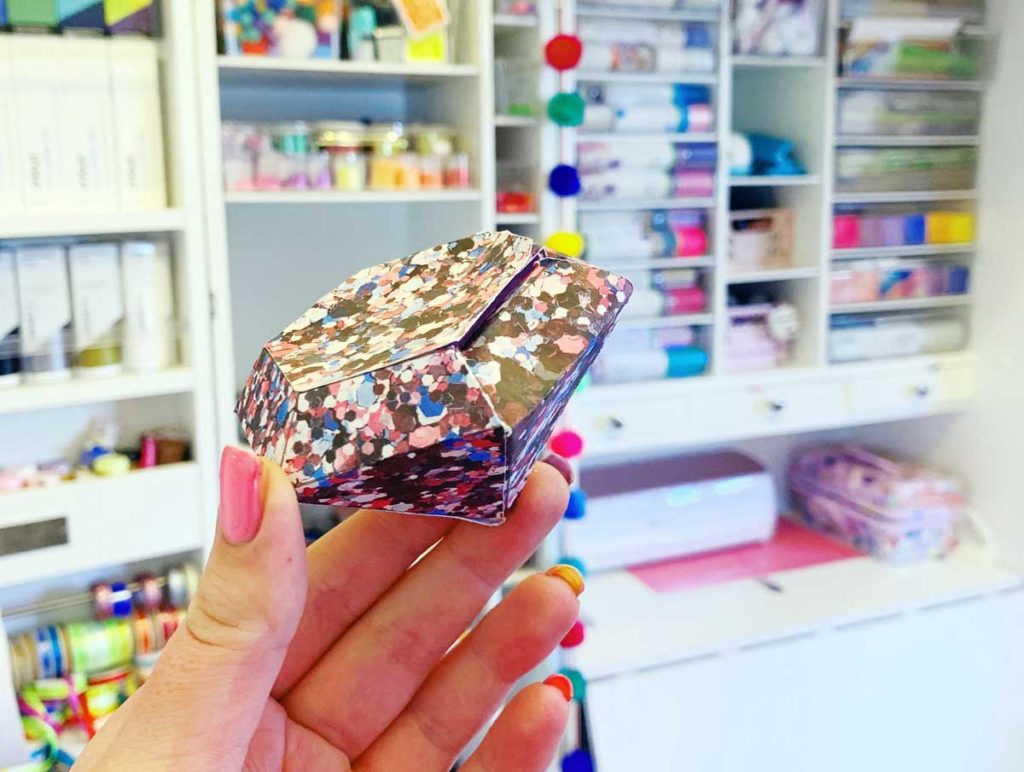 My first ever make with my machine was this 3D paper gem pictured above (which I still have in my craft room as a reminder of how far I have come). There's no limit to what I make with my machines now. I could be cutting balsa wood in the morning, foiling a gift tag at lunch, adding iron-on to a shirt in the afternoon, and then creating a quick card before bed! As a spur-of-the-moment crafter, I like that I can drop elements in Cricut Design Space® software and make it up as I go. My Cricut machines make everything look professionally finished. It really gives that extra level of finish I wouldn't be able to achieve by hand.
---
Dreams come true
Just over a year after I bought my machine, I won a Craft TV show called Kirstie's Handmade Christmas. On the show, I used my machine to create a 3D gem advent calendar that hung up like a chandelier.
The Cricut UK team contacted me after seeing the show, and I have worked alongside with the team ever since. I present monthly shows on the Craft shopping channel, The Craft Store (a funny coincidence since it was a craft shopping channel that started my Cricut journey). I also present live videos, create content, help with events, and even have my own Facebook group, The Cricut Club.
From the moment I first opened the Design Space software, it became a dream to have my own designs in the image library. There wasn't as many gorgeous images as there are now—I remember searching "unicorn" and seeing only 2 images come up. I just started doing little illustrations and rekindling my love of drawing and designing so it felt like a pretty big goal to set myself. The Design Space library has so many aspirational projects and fabulous images from crafters and designers I admired, I knew it would be the icing of the cake if I could be among them. It's an absolute dream come true to be here 6 years later, and see that as a reality.
I still pinch myself every time I open up Design Space to create a project or see a project made with one of my designs…




---
Adding my own
My style has always been glittery, sparkly, and all of the sass you would expect to come with that much sparkle! I'm a magpie for anything shiny, holographic, or covered in sequins. If you spend any time with me, you will go home and find pieces of glitter about your person. My poor boyfriend has to endure constantly finding sequins stuck to him and everything he owns!
My signature style is really a sassy over-the-top colourful disco! I'm also a tiny bit of a diva. I can't help loving a dramatic exit.
---
From experience
I really wanted to create designs that filled the gap for Cricut users here in the UK, things like our love of roast dinners and pasties and random British sayings that we've searched for in the image library and couldn't find. It's hard to explain why these things are iconic, but I guess they are like the British equivalent of American Thanksgiving dinner and corndogs.

I have been lucky to experience a wide range of cultures in the UK. I grew up in Cheltenham, then moved to London when I was 11, and now, I live back in the Midlands. We have such a diverse tapestry of accents, cultures, and traditions crammed into a tiny country! There are so many things that make some British, and maybe an overwhelming feeling to constantly comment on the weather.

When creating these images for Design Space, it was really important to me that they were things that me or my friends would actually say or use. There are no "live, laugh, love" phrases in my designs, instead I like to create funny puns, down-to-earth sayings, and all-round sass and girl power images!

As an obsessed Cricut user, I love that I'm able to design the kind of images I need for my projects. I'm seeing the Cricut community need too! I've seen a lot of girl power images used for T-shirts and gifts for young girls, which makes me really happy. Members in the UK are also showing loads of love for the British food images. With my experience as a member of the Cricut community in mind, I've been really careful whilst drawing my designs to account for weeding. I know how much I prefer a design that isn't full of fiddly tiny parts!
I'm beyond excited to have my images in the Cricut Design Space Library and to know that they are being made into fabulous projects around the world!
---
Find Emma at Emma Jewell Crafts.