Skip to instructions
Custom-etched glasses with Cricut make easy, professional-looking, personal gifts for friends and family.
Are you looking for an easy, inexpensive, thoughtful gift idea? Cricut community member Vanessa Teran created a custom-etched wine glass for her son's teacher's birthday. Not only was this her first time etching glass, but it gave her results "beyond" what she expected. It's simple and straight forward with no special after-care needed – a professional-looking personalized gift for less than $5!
Wine glass: $4 for four (minimum) from Dollar Tree
Etching cream: ~ $10 for a 3 oz. bottle from Joann, Michaels, or Amazon
Cricut vinyl: starting at $2.99 per roll
Total cost per wine glass: $4.25 or lower.
The etching cream and vinyl will last more than four glasses so as you create more custom gifts, it'll cost less per item!
---
Here's how to make a custom etched glass of your own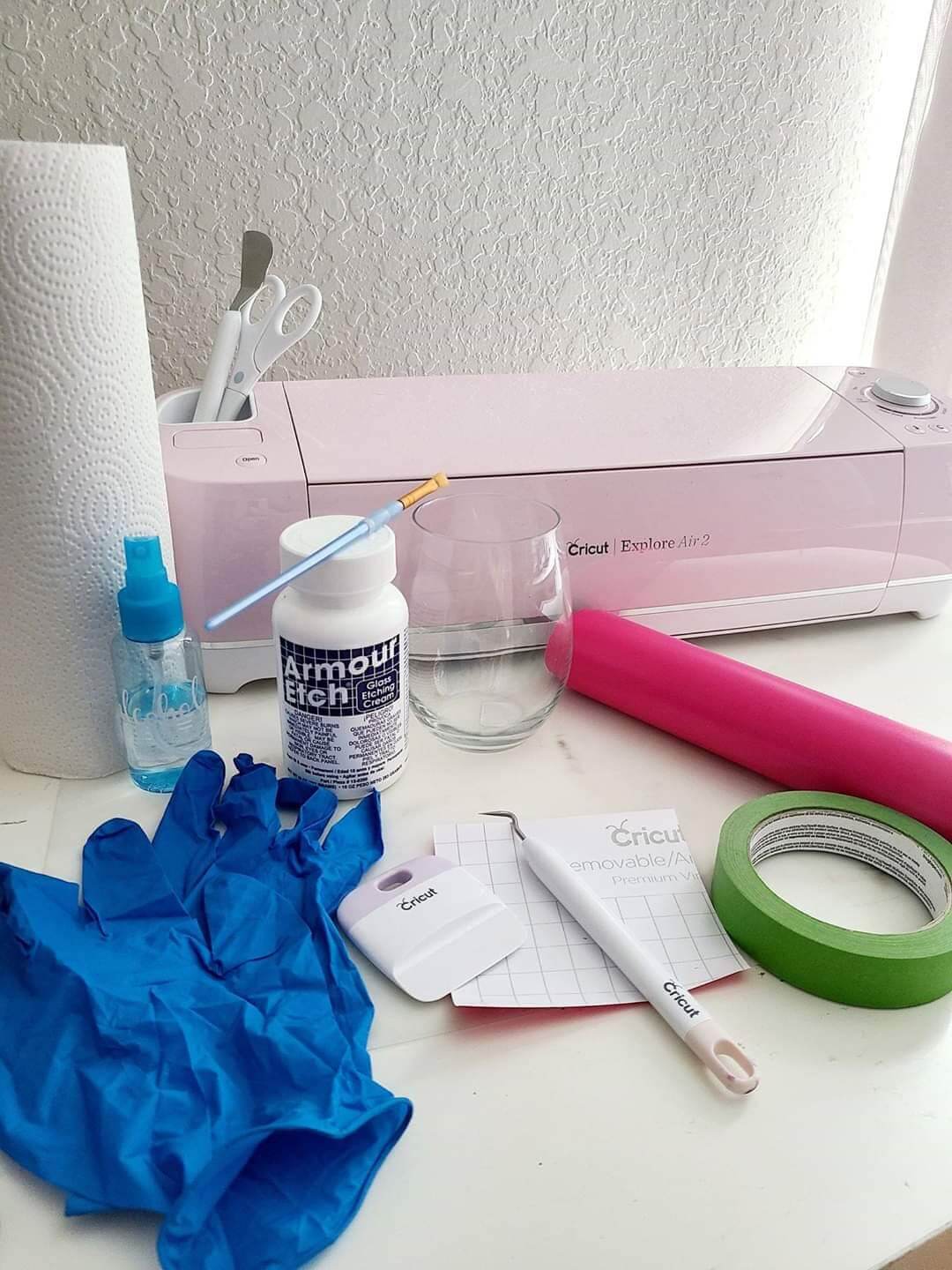 You'll need the following for this project:
*Colored glass may not etch. Colored glass that has been treated with a coating prevents the etching cream from working. However, true colored glass, where the glass is colored through and through, typically still reacts to the etching cream.
+Note that these instructions are specific to creating a stencil with a Cricut. You don't necessarily need a Cricut machine to make this project, but it'll help create a more precise stencil for better results.
Clean the surface
First, prep you glass surface by cleaning it with the isopropyl alcohol to remove fingerprints, dust, and grease. Let it dry completely after a thorough cleaning.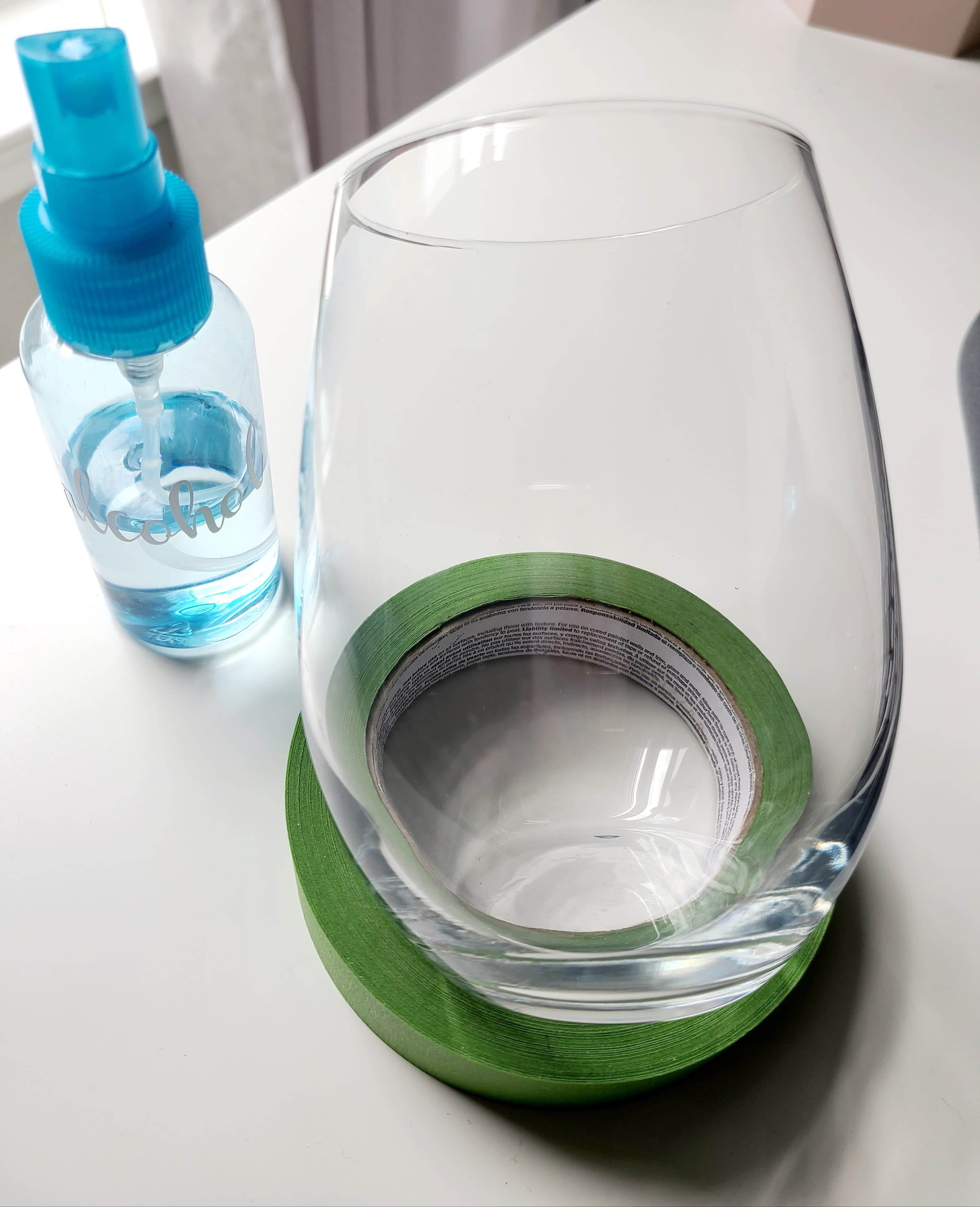 Make a vinyl stencil with your design
To cut a stencil with your Cricut machine, you'll need to put it on a canvas in Design Space. Vanessa chose the phrase "lesson planning juice" for her son's teacher, Mrs. Ortiz. She'd accompany the custom-etched glass with a bottle of her favorite wine.
Vanessa used a free font from dafont.com. Recreate the same look with the Simple Script font.
After you place your text in Design Space as you want it to appear, outline it to make your stencil a "sticker." Don't forget to size the entire design to your surface! The outline will make it easier to attach to the surface of your glass and limit your weeding surface.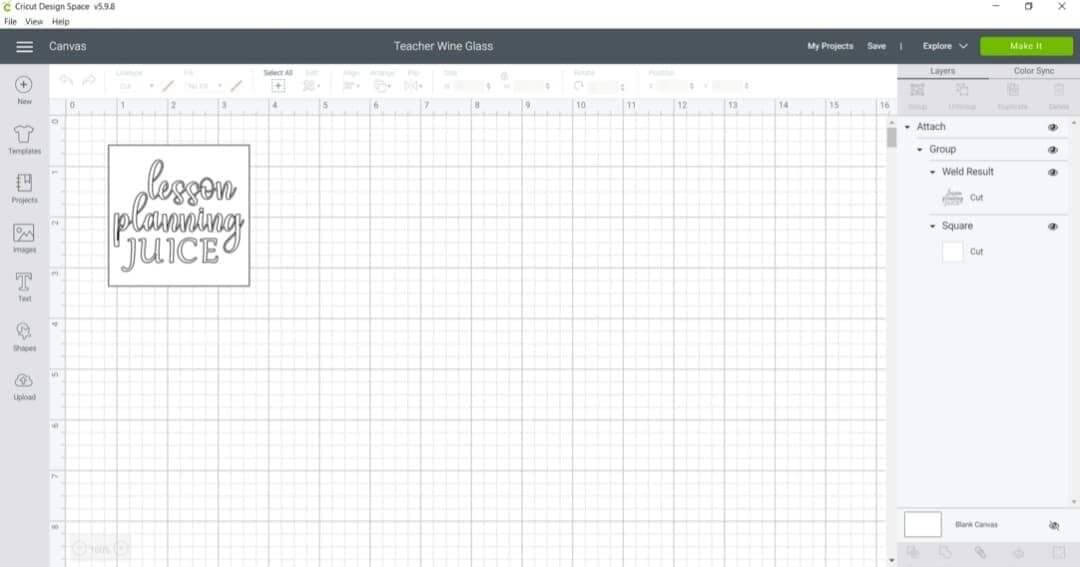 Then, "make it" on your Cricut machine, and weed your design by removing the negative spaces of vinyl.
Apply your stencil
Take the weeded design and apply it to the clean glass surface using transfer tape. Carefully adhere the stencil to the glass surface by pressing firmly to smooth over the entire design. Push the bubbles down and smooth out the design as best as you can. You can also curve the design which may help it adhere better to rounded surfaces. Border the design with masking or painter's tape to protect the rest of the surface.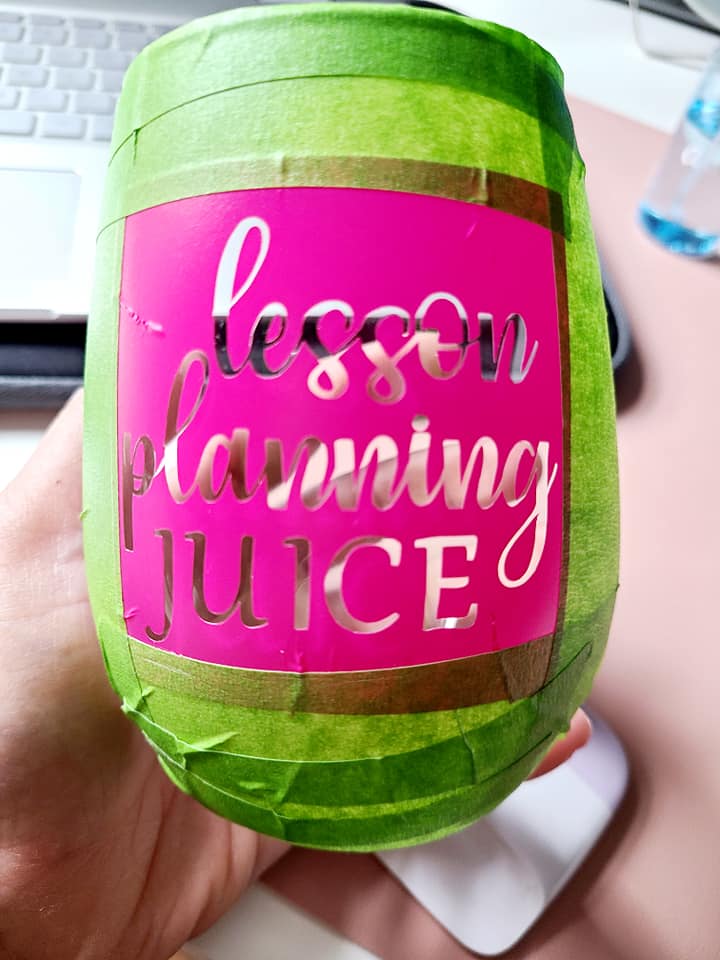 Pro tip: Hold your stencil and glass up to the light to see if there are any accidental holes or tears in the vinyl. These spots may accidentally get etched along with your design if it is exposed to the etching cream. Cover them with tape to prevent unsuspecting etches.
Etch the glass
Safety first. Dawn your protective gear before handling the etching cream. It is an acid, after all, that uses a chemical reaction to remove the surface of the glass to etch it. Make sure your work area is room temperature (about 70°F / 21°C), well ventilated, and easily accessible to running water.
Shake the etching cream to redistribute anything that may have settled in the container. Then, use the small paint brush to apply a thick coat of cream to the stenciled surface making sure to fully cover it. Keep in mind that the the cream reacts the minute it hits the surface. Try your best to safely quickly and evenly apply the cream for best results.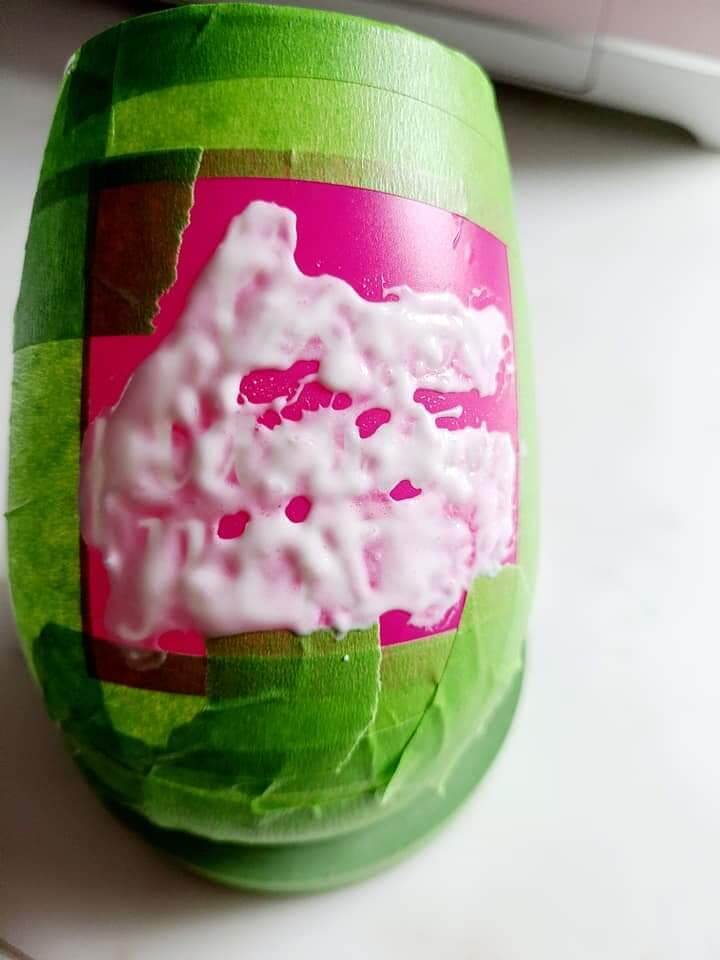 Let the cream sit without disturbance. Vanessa left the etching cream on for exactly three minutes and found perfect results. Armour Etch actually recommends anywhere from one to five minutes depending on the product. A little trial and error will help perfect your results as they will vary with the amount of cream you apply and the base material. High leaded glass, such as crystal, is more resistant to the cream (and in some cases, may not etch at all).
Leaving the etching cream on too long will cause it to "scorch" the glass. Not leaving it on long enough may not allow it enough time to etch properly. Prolonged exposure will also eat away at the vinyl. We recommend referring to manufacturer directions and advise not leaving it on for more than five minutes in general.
Remove the etching cream
Rinse the etching cream off when ready to move onto the next step. Vanessa washed the cream away with the addition of dish soap, not just water. This worked well for her.
Stainless steel sinks or a plastic pail with water are preferred. Porcelain and enamel sinks may dull over time due to the chemicals present when washing away the etching cream. Use your paint brush to help wipe off the etching cream, if needed, or double this time as an opportunity to also rinse the brush.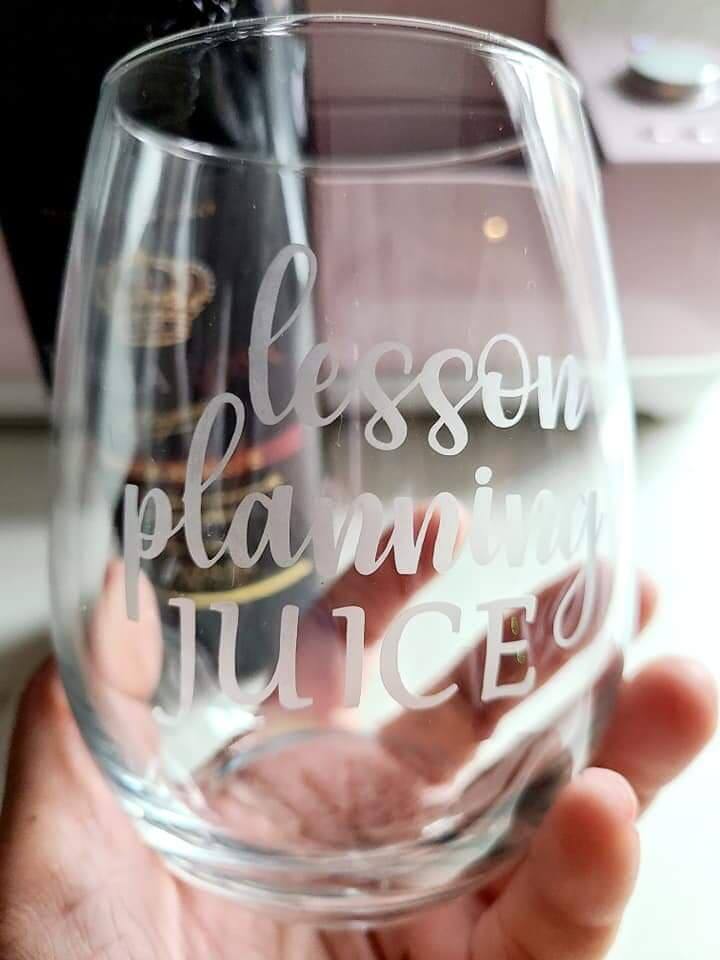 Reveal the final etch
After the glass has dried, remove the tape and vinyl stencil to reveal your etch. Clean the glass again with isopropyl alcohol.
The etch will be at its best look after it has been rinsed and completely dried.
No special after care instructions needed, Vanessa promises. Just wash the glass as normal. No need to coat the etch with anything, either. The effect is as seen in photo.
This was Vanessa's first time etching and it was so simple that she has become "obsessed with the results." She'll be etching a Father's Day present next that her son helped design.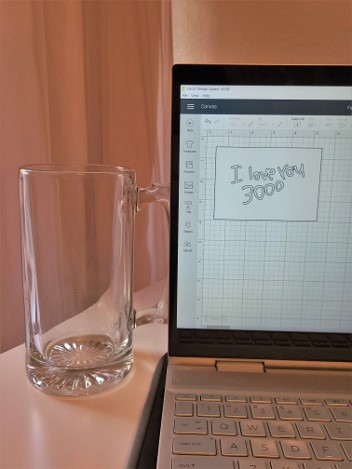 "For my next glass etching project, I will attempt a personalized father's day gift for my husband. He and our 6-year-old son share a love for the Avengers series, so our son created this design in his own writing."
Search How-To
I want to make...