Skip to instructions
It's hard to see good things go to waste. Especially as Earth Day draws near, we just can't bare to throw away that weeded vinyl or leftover Infusible Ink. What do you do with leftover scrap materials?
It's a question we often see in the community, but there are numerous creative solutions we've seen from our members, too! Below are a few, fun ideas to reuse/repurpose scraps you might have lying around or tucked away for when inspiration hits next.
---
Vinyl scrap ideas
Large and little bits of vinyl from weeding that you just can't bring yourself to throw away?
Carrie Chapline
Carrie repurposed her vinyl scraps to create an educational game for her 3-year-old daughter.
I love using my Cricut to create fun ways for her to learn. We can act goofy and play charades while she's also practicing self control (not blurting the word out), using her creative mind, experiencing healthy competition, and I'm hoping seeing the words spelled out will help her with reading too. We have had a lot of fun playing as a family.
---
Krystina Erickson
Krystina took strips of vinyl scraps to decorate her Cricut Maker.
I was gazing over at my little box of scraps that I don't have the heart to toss, and I thought to myself, why don't I make something cute from them? So I cut very small slits of each scrap I had and lined them up in a repeat pattern and taped it all down on the Cricut mat to make sure they don't move while being cut. It was very meticulous but the reward was so great!
---
Diane Jordan
Diane used her vinyl scraps to refresh her son's chair.
My son has a chair that he loves but it was in really bad shape. He didn't want to get rid it, so I decided to use some vinyl to create little faces on the chair to prolong the life of the chair. It's just like new for him. My son loves the "new" chair so much and uses it Monday-Friday for school! Saturday and Sunday for gaming.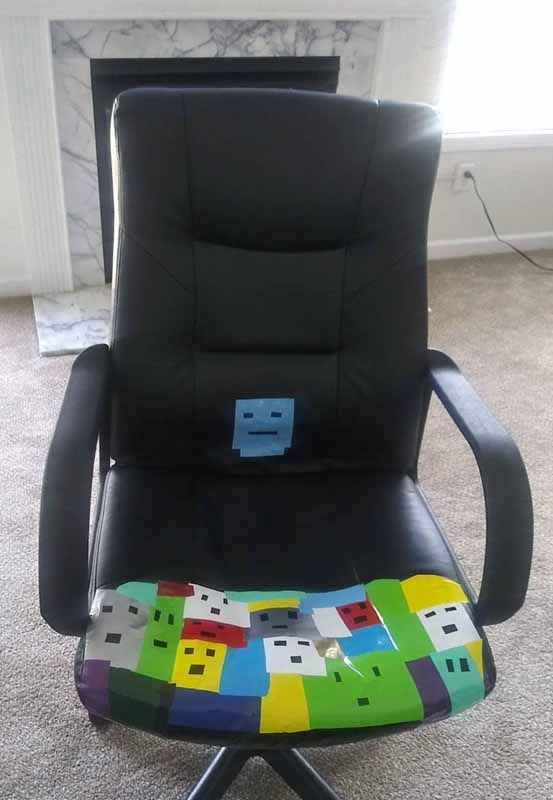 back to top
Iron-on (HTV) and Infusible Ink scrap ideas
Looking for a bit of inspiration to utilize that excess iron-on vinyl or Infusible Ink?
Angie and Tuan
When Angie got her machine in 2018, she jokingly told Tuan he was only allowed to make with her scraps. He made it his mission to make that happen, and no piece of HTV has been too small for Tuan since…
Connect with Angie and Tuan in their Canadian Cricut group.
---
Dezirae Shutt
Dezirae made her daughter a paint shirt for art class using glitter iron-on scraps to create splatters.
(It) sparked my mind when she said she need an art shirt so I was like ok. (And), she absolutely loved what everyone said (about her shirt)!!
---
Monique Robertson
Monique created also created a school shirt for her daughter.
I save all my scraps from all my projects but never really had a use for them until I had to make a last minute shirt for my daughters 100th day of school shirt. They basically could do any type of art or project of their choice so we made a shirt and it was something we could make together.
---
Megan Riedinger
Megan layered HTV scraps to create end-of-the-year shirts for her children.
It took time, but designing, weeding, and making shirts is my stress reliever. I'm so happy with how they turned out.
She enjoyed using the scraps so much, she decided to also make a "Be Kind" shirt.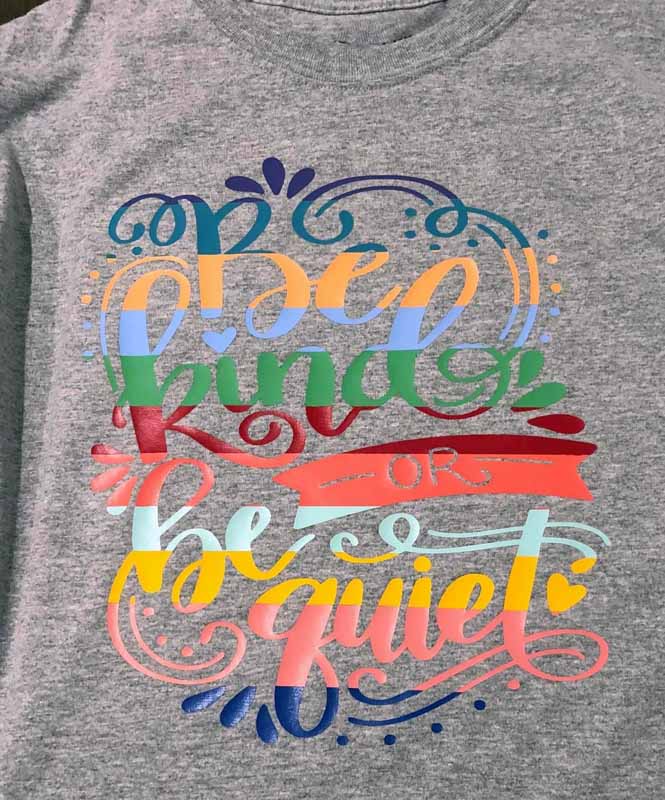 Here are a few personal making tips Megan provided from her experience:
line the scraps up onto a StrongGrip Mat
do NOT overlap; just align them super close together
cut with machine using the iron-on setting
weed the design on the mat as it helps hold down the individual pieces and allows you to better see the overall design
center the weeded strips of vinyl onto the shirt one at a time
lay a scrap carrier sheet over all the strips to protect from heat
makes sure they don't shift while pressing
---
Amy Earnshaw
Amy used Infusible Ink scraps to decorate a silicone watch band.
This is a game changer! I didn't expect it to work so well!
back to top
Other scrap material ideas
Jolene Szapowal
Using a pattern in Design Space, Jolene made reversible hair barrette with leather scraps and extra takeout chopsticks she had on hand.
---
Louise Beauregard
Louise repurposed a multiple of scraps to create this #cricutmade wheeled travel case.
The beauty of using bits and bobs to assemble this project means that I didn't feel guilty using up some of my much coveted faux leather, which really gives the case its look of luxury.
Can you count the number of materials Louise purposed to make this travel case? Here's the description she provided on how she made the project.
What to do with all those cardboard boxes that my Cricut Mystery Boxes are shipped in?

Well, some of that strong cardboard was used to make the shell of this little wheeled travel case. I designed a template in Design Space and with my True Control knife, I cut out the shapes in cardboard for the body and the handle of the case.

The handle is retractable. I used brads and small pieces of leftover foil acetate to reinforce the holes for the mechanism that allows the handle to extend.

The wheels are made of the cardboard tubes, from my large collection of spent vinyl rolls, that were sliced and covered in scrap pieces of black vinyl. The wheels are functional thanks to craft dowels forming the axles and are held in place with kraft board and more surplus acetate to strengthen the holes and prevent the spokes from tearing the arm that is holding it in place.

More tiny remnants of black vinyl were wrapped around the dowels to prevent the wheels from falling off. The mounting plate is also reinforced with additional acetate.
---
Rebecca Woloweic
Rebecca not only repurposed her paper scraps, but she also repurposed a project in Design Space for a flower mobile to create this planter project.
I don't like making a lot of waste when I craft. I save all the scraps I have from other projects, sorted by size and I will have a scrappy craft day. It's spring, so I wanted to make some flowers. So I started looking through Design Space for ideas. I saw the flower mobile and decided those would a cute planter. I resized all the flowers to the appropriate size for the scraps and cut them out… and put it all together.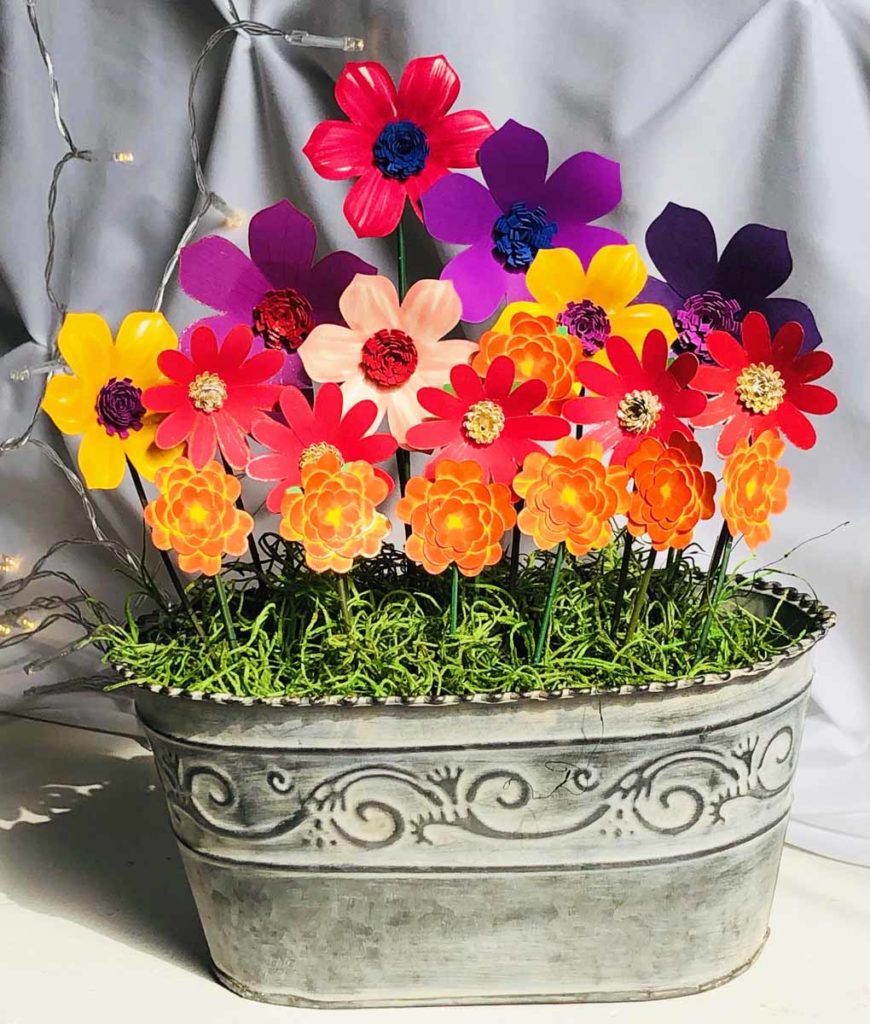 ---
Melle John
Melle took paper scraps to create a birthday card for a friend of a friend.
I keep all little scraps and use them rather than cutting a new 12×12 sheet every time. My design colours are very random!!!
back to top
---
Feeling inspired yet? How will you be using your scraps?
Search How-To
I want to make...