Fall décor your whole family will love
With the changing season comes an opportunity to spruce up your home for fall decor fit for the whole family.
Leaves change color, the weather gets crisper, and holiday prep kicks off with cozy gatherings. This takes a whole new meaning if you have kids, as you start to see the wonder of the change of season through their eyes. Below are some simple, kid-friendly ways for cost-effective fall decor to celebrate the cooler weather and spice up the season.
All of the projects were made with a Cricut Explore 3 and Smart Vinyl, as warranted.
Felt fall banner

This banner is so cute and colorful and can be placed anywhere in your home. It seems complicated, but don't get intimidated! This is so easy to make, you'll be surprised at how quickly it comes together.
This is a ready-to-make project that can be found in Design Space. Once you decide to take this on, make sure to get some felt, ribbon, and some Smart Vinyl – permanent or removable will work.
PRO TIP: Make sure you have a Rotary Blade to cleanly and crisply cut felt.
Apple trucks and thankful trees
Apple harvesting is a seasonal tradition that parents and kids alike look forward to. This is the perfect time of year to make apple sauce, apple pies, and apple butter.
To decorate the kids' room, we put up an apple tree with falling leaves, along with a blue truck that is harvesting the apples.
Blue truck
Cutting this blue truck is so simple and can be found in Design Space (Pickup Truck Carrying Apples – #M272A5063). The tricky part is assembling the truck, given the different vinyl colors. What you'll need are the Smart Vinyl colors you desire for the truck, Transfer Tape, and your Cricut Basic Tool Set.
PRO TIP: When picking Transfer Tape, make sure to use regular Transfer Tape and not StrongGrip Transfer Tape, for vinyl. Another great resource is the Transfer Tape Instructions available on Cricut.com.
Thankful tree
The tree is a symbol of the season. This tree in particular will be a "Thankful Tree." Each leaf will include something the kids are thankful for throughout the season. When Thanksgiving nears, the kids will start to take down the leaves and revisit all the things they are thankful for.
Cutting the leaves and apples is as easy as 1-2-3. Choose a leaf in Design Space, cardstock (colors of your choosing), place on a mat and cut away.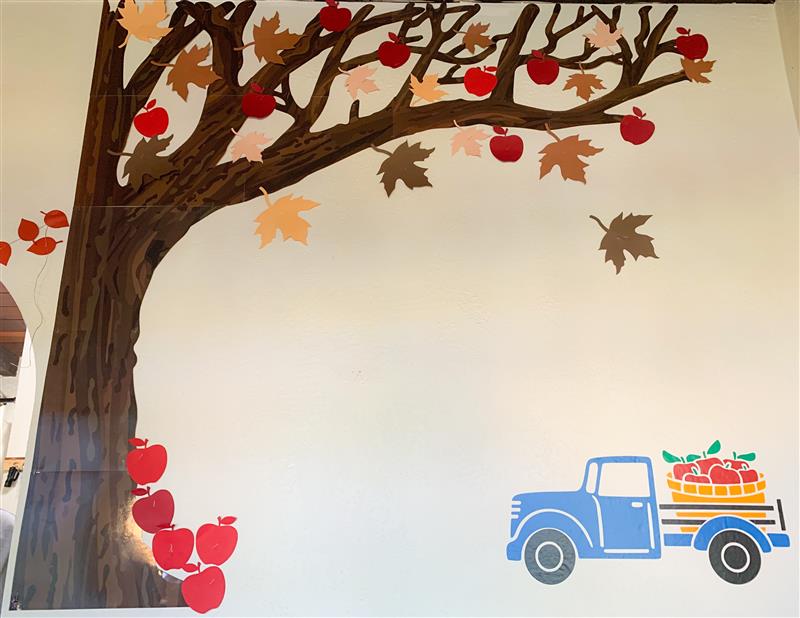 PRO TIP: When removing cardstock from the mat, bend your mat so the cardstock pops off the surface. This #ProTip was shared by @TheHowToGal and has been a L-I-F-E-S-A-V-E-R!
Leaf garlands
Lastly, nothing says festive like a good ol' leaf garland. Hang this in the kids' room, family room, or anywhere to add a pop of color. Choose cardstock in fall colors, choose leaves in Design Space, string, load up on a mat, and cut, cut, cut! For these garlands, the string adhered to the back of the leaves with a glue gun and BOOM – simple, easy, and fun fall decorations for kiddos.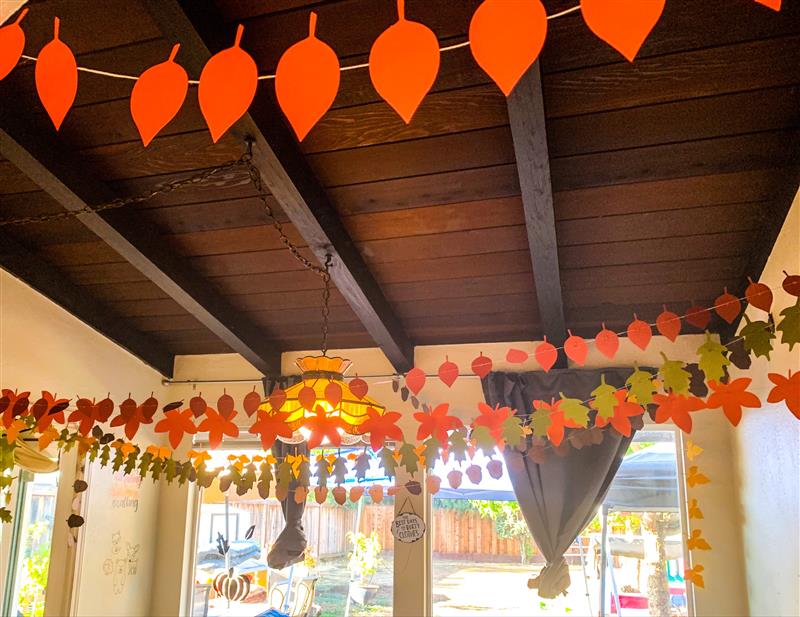 And more!
Trust me, this is just the tip of the iceberg. With a Cricut Explore 3 or Cricut Maker 3, you can cut fall signs up to 12 ft long, spend hours in Design Space finding adorable fall decorations, and unearth ready-to-make projects to make your home look straight out of Pinterest
All this aside, what's most important is spending time this season with your loved ones, holding them close, and welcoming the second half of the year together. Welcome, Fall!