Chelsea Hentkowski wanted to update their first home with a shabby chic country cottage feel but couldn't find the right stencil size online or in stores. While home improvement projects may feel overwhelming, Chelsea found that she could accomplish exactly what she wanted with a few tools and a little DIY inspiration.
Chelsea and her husband, Brandon, recently moved into a house built in the 1950s. The house was updated in the early 2000s, but the previous owners placed the television too high above the mantel to view it from a comfortable position. So, Chelsea's first project was to renovate the fireplace.
First, Chelsea removed the top row of tiles with a Dremel and grout removal blade. The damage from the removal was repaired with plaster, followed by a fresh coat of paint. Then, she sanded and repainted the white wall as the mantel was given a new lower position.
After bringing down the mantel, Chelsea wanted to repaint the stone tiles with a white finish using a custom stencil design.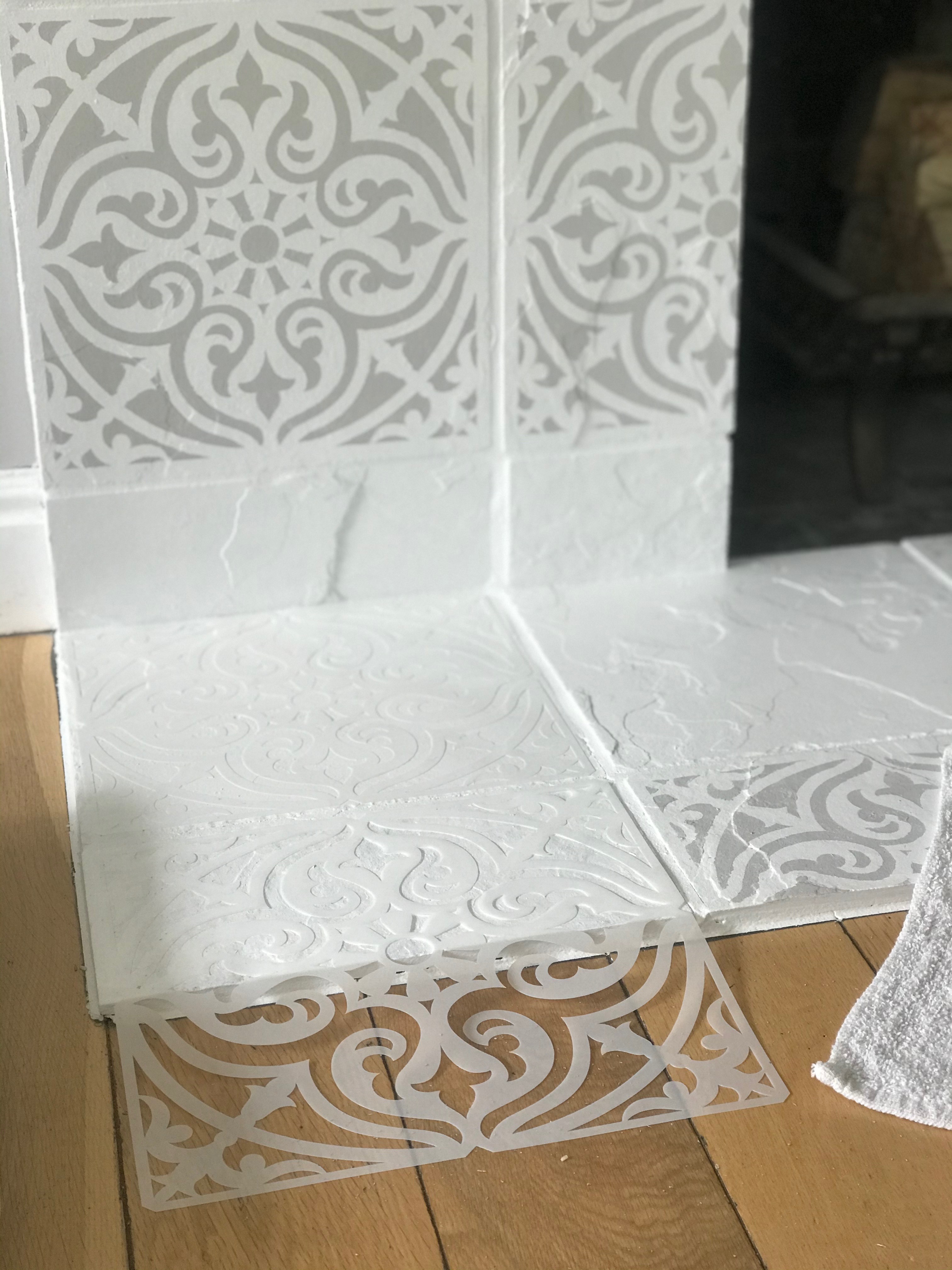 After searching Pinterest for inspiration and failing to find the right stencil design, Chelsea pulled out her Cricut Maker. Not being able to find the exact size stencil she wanted for her fireplace, Chelsea created the perfect design with her Cricut. She made several cuts in different sizes to provide a custom fit for the tiles on her fireplace.
With many of us still at home tackling spring cleaning and home improvement projects, Chelsea offered a tutorial for easy custom-made stencils for your home. She assured me that anyone can take on DIY projects and advises:
Do your research and be confident. You will be amazed at what you can take on yourself.
Here's how Chelsea gave her fireplace a makeover with a DIY stencil.
Make a custom stencil with your Cricut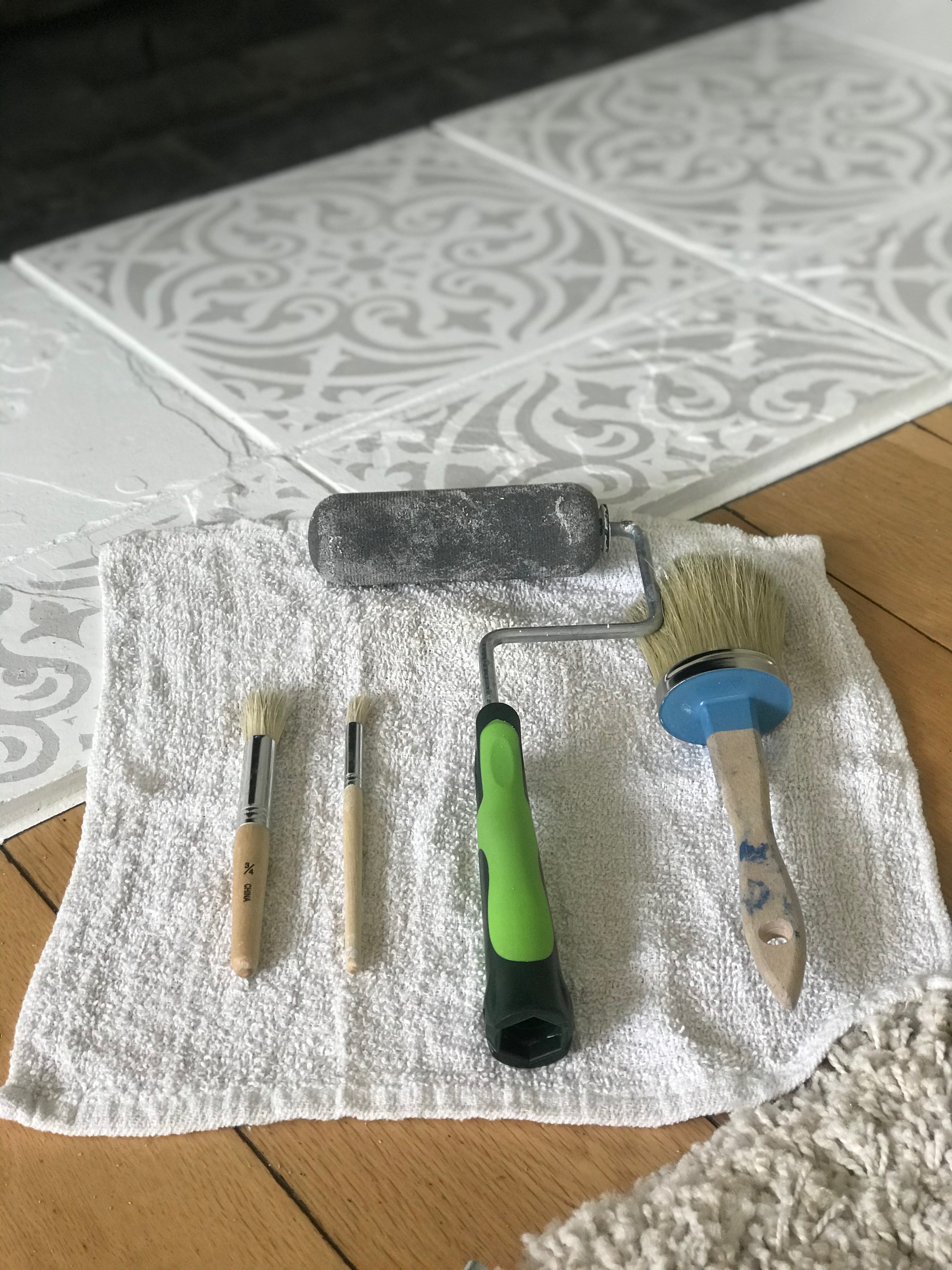 Items You'll Need to Create a Custom Stencil
Paint brushes to fit your project

Variety of sizes – small, medium, large

Paint roller or brayer (to help stick the stencil onto the tile)
Your choice of acrylic paint
Cricut machine
Cricut Stencil Vinyl or other stencil material such as Mylar
*Without an adhesive stencil material, we suggest using painter's tape or adhesive spray to secure the stencil to the working surface.
You may also create a custom stencil without a cutting machine by tracing the pattern onto stencil material and using a cutting knife or scissors. However, this will likely take more time and may not produce the most precise results.
If you plan to paint your surface, do this first before cutting your stencil so it has time to dry. Here's how Chelsea did it: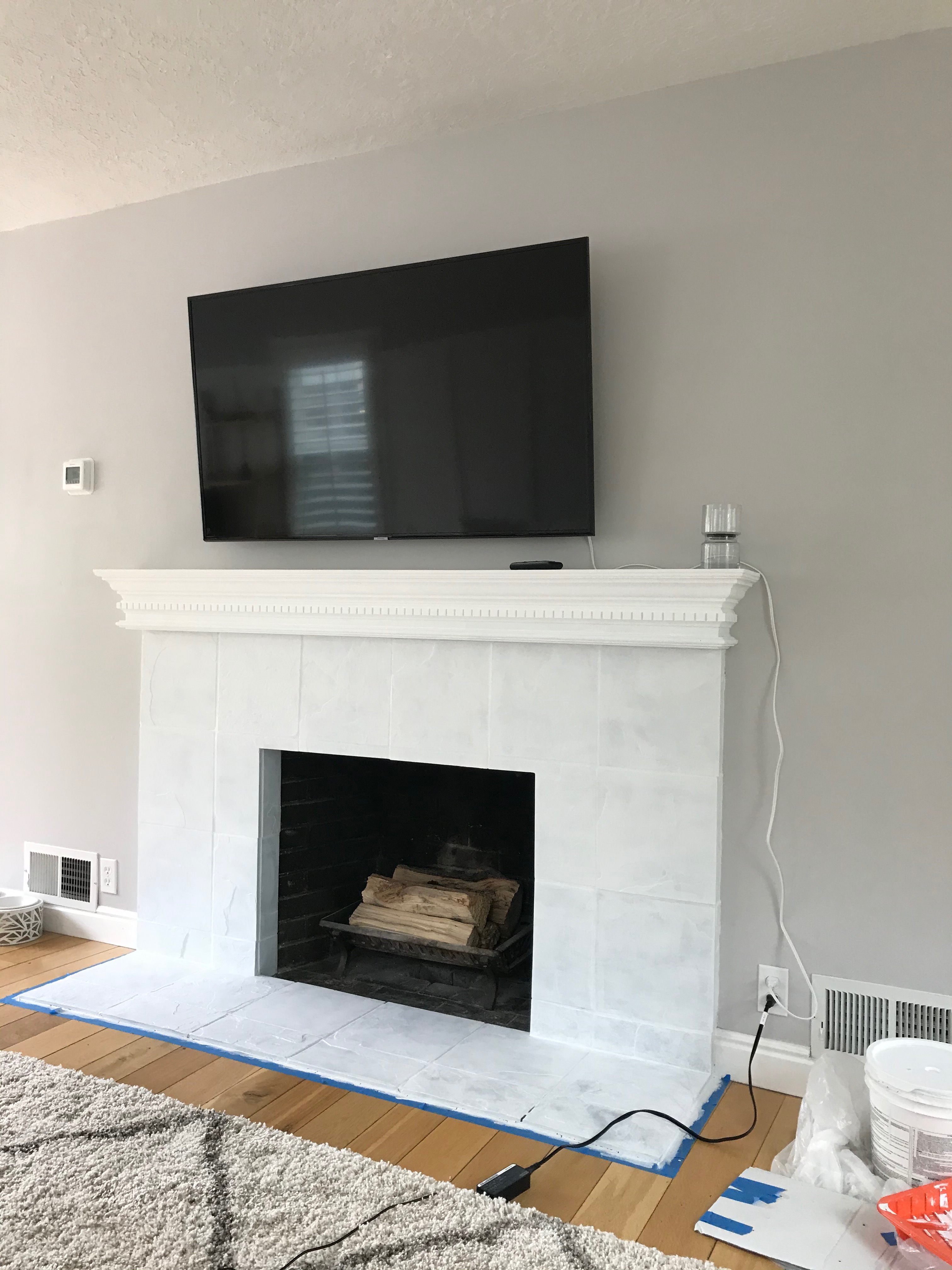 Step 1: Cutting your stencil
Create your stencil design in Design Space and follow "Make It" instructions to cut it using your Cricut machine. Check out the "Edge-to-Edge" and "Edge-to-Edge 2" images for a little tile pattern inspiration. Or replicate Chelsea's fireplace stencil design.
If you have different sized tiles or work surfaces, remember to adjust the design accordingly and cut stencils to match each surface. Cricut Stencil Vinyl or other vinyl products may work if they adhere well to your surface without leaving a residue when removed. You can also use non-adhesive materials in conjunction with a spray adhesive or painter's tape.
Step 2: Place the stencil onto your work surface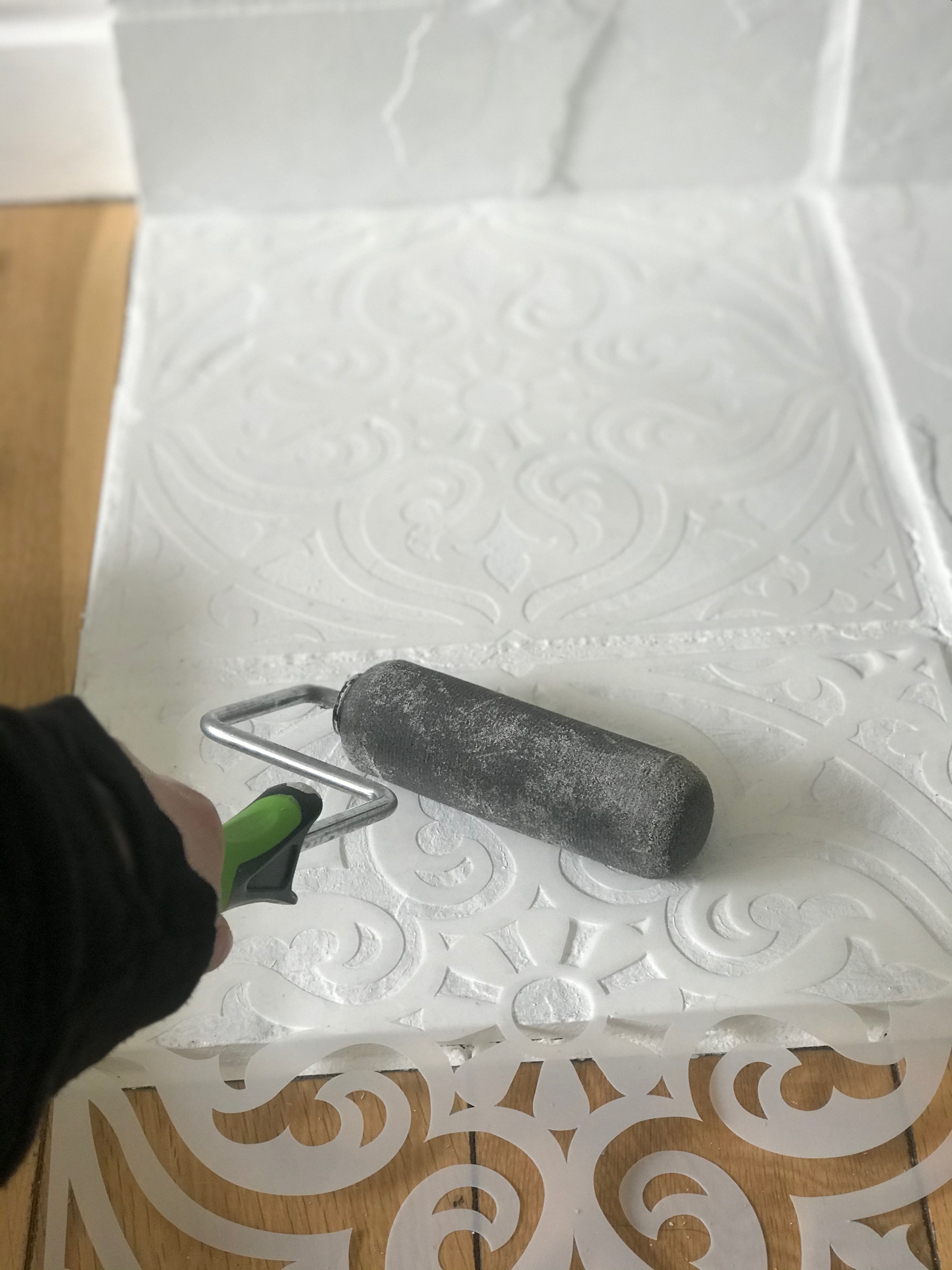 Adhere the stencil onto the tile and use a clean paint roller to smoothly adhere the stencil onto your work surface. Make sure the stencil is pressed firmly across the surface to avoid bleeding when you paint the stencil pattern.
Step 3: Paint over the stencil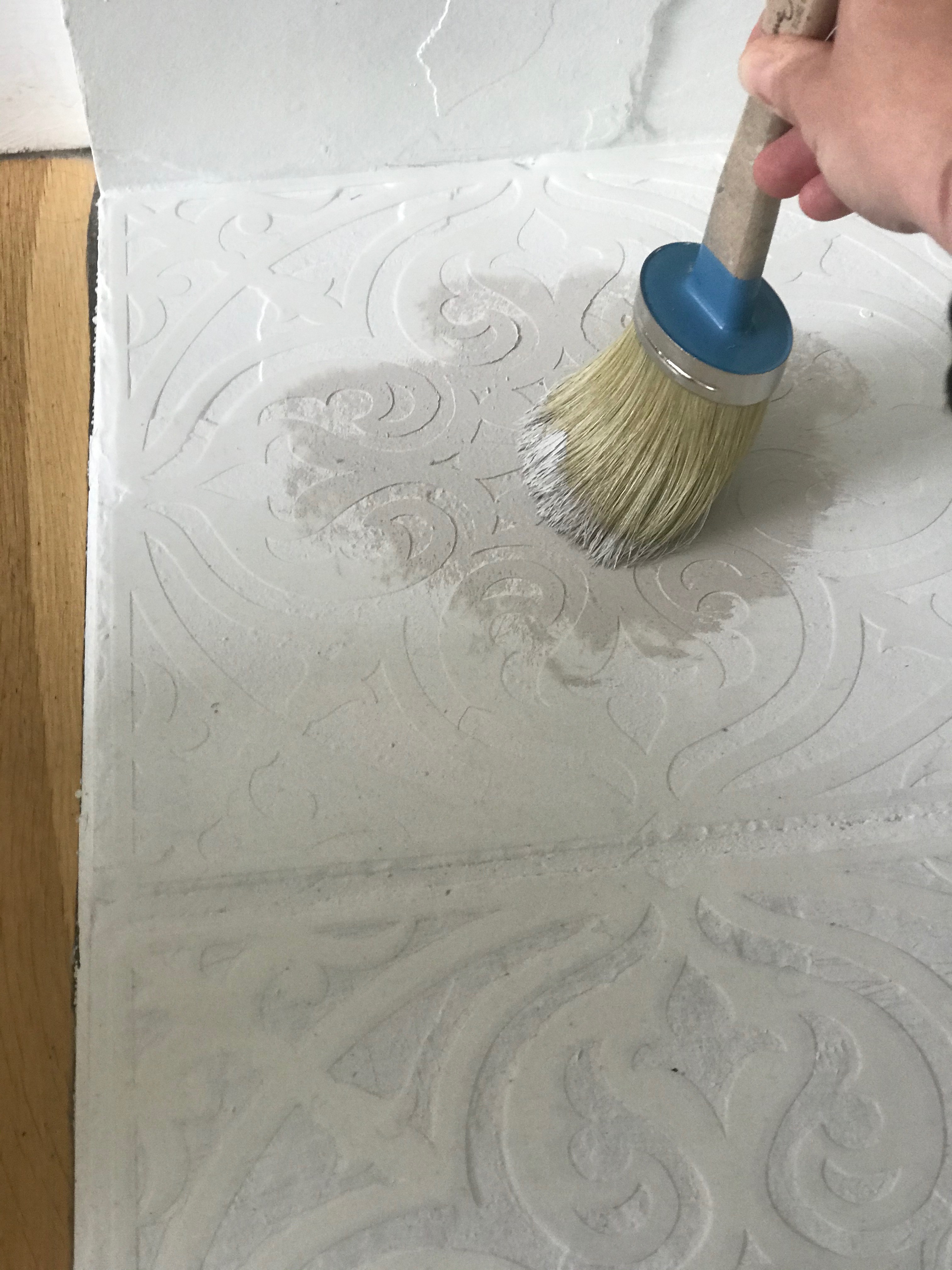 To avoid paint bleed when stencil, cover the brush of your choice with as little paint as possible. Dab it onto a towel or in a dry paint tray to remove any excess paint.
Start painting from the middle of the stencil using a medium-sized brush in a dabbing or stamping motion. Then, work your way out to the edges. Take your time and use a bit of pressure.
As you work toward the edges, use the smaller paint brush for any detail work that may be hard to reach with a bigger brush. Don't hesitate to go over the entire stencil again with a light coat of paint to ensure no spots were missed.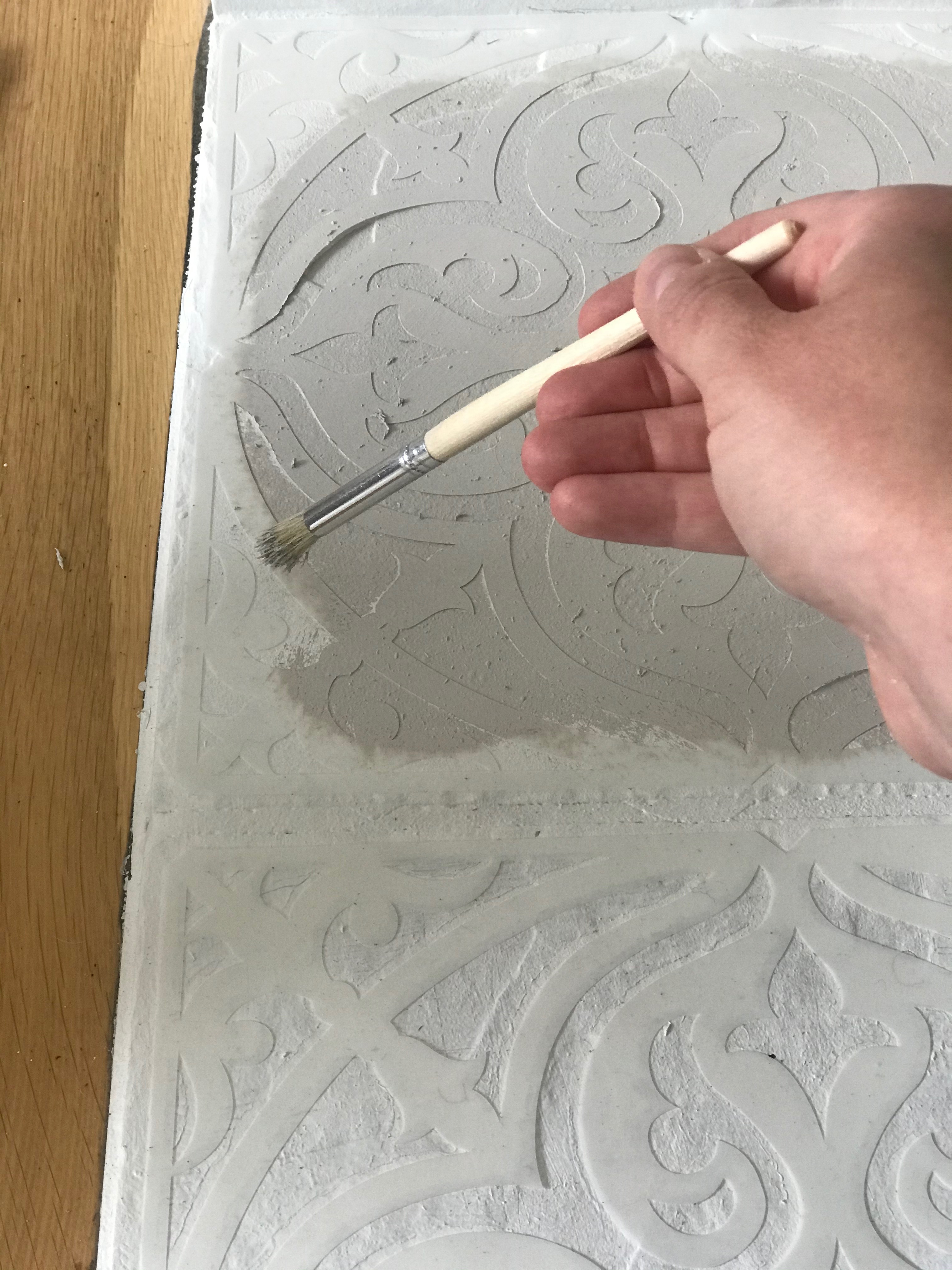 Step 4: Let your stencil dry
Before removing the stencil, it is important to allow enough time for the paint to dry. As different paints have different recommendations, follow the instructions that came with your choice of paint.
Step 5: Remove the stencil from the surface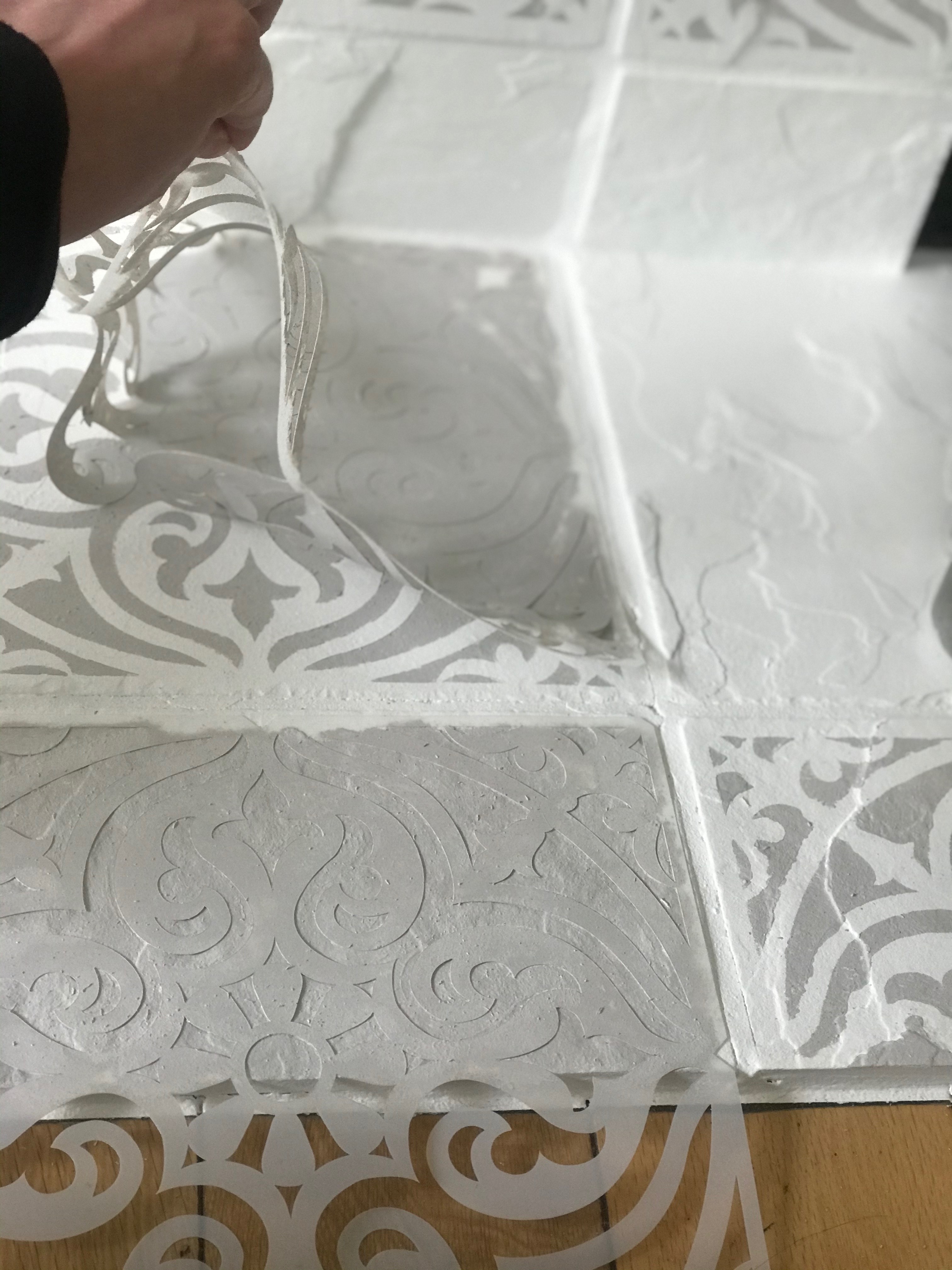 Slowly lift your stencil from the surface to reveal your personalized design. Don't worry about areas that didn't transfer well. Easily fix those areas with your small paint brush to smooth out any imperfect lines.
Step 6: Repeat and continue
Whether you're making one stencil or a number of stencils to create a pattern, like Chelsea did, likely you'll have to resize your design and cut different stencils. It's also a good idea to cut a couple stencils of each in case you need to redo anything after the transfer.
The finished fireplace mantel makeover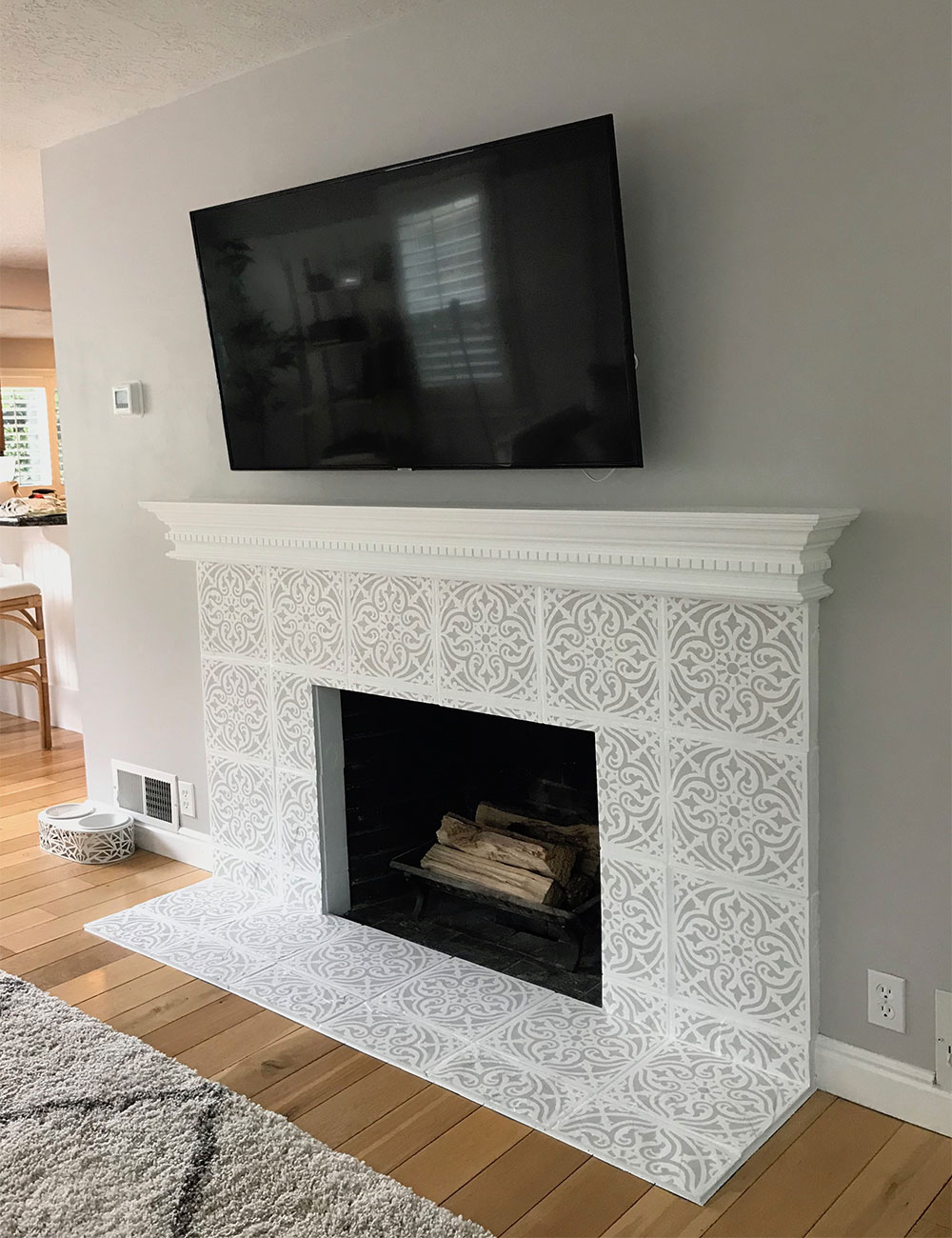 It only took Chelsea one afternoon to cut custom stencils, apply them, let the mantel dry, and ultimately, enjoy her beautiful DIY renovation. These before and after photos of her fireplace makeover speak for themselves.
Tell us what home improvement projects you're doing this year. Are you using custom stencils? Share your patterns and inspiration with us.
Search How-To
I want to make...