Skip to instructions
Like any avid party planner, the change of the seasons always leaves us itching to entertain.
It's been a minute since we've been able to safely gather with friends and loved ones over good food (and good weather). With distanced outdoor parties now commonplace, what better way to celebrate these reunions than in your backyard across a fabulous dinner party tablescape.
Though most people enjoy a good party, not everyone necessarily enjoys the planning portion of it. No sweat everyone – we're here to offer the tips and tricks behind creating the perfect setting for your next savory soiree.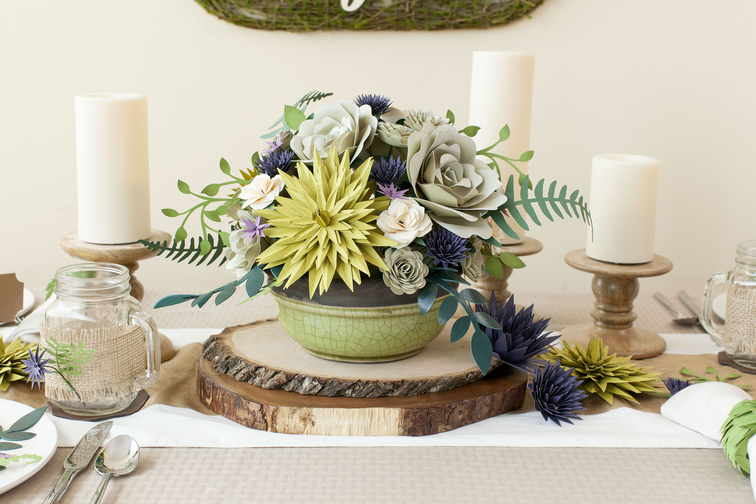 Craft an eye-catching table centerpiece
Create a focal point that invites guests to gather around and enjoy the ambiance. A gorgeous table centerpiece is key to elevating your tablescape décor and tying together your theme. Try adding elements of height, texture, and greenery to transform an otherwise flat, uninspired scene into a conversation piece.
You can add some seasonal flair to your table decorations with Spring or Summer bouquets. Still feel like something's missing? Add an extra bit of "oomph" by surrounding your centerpiece with a lush garland table runner.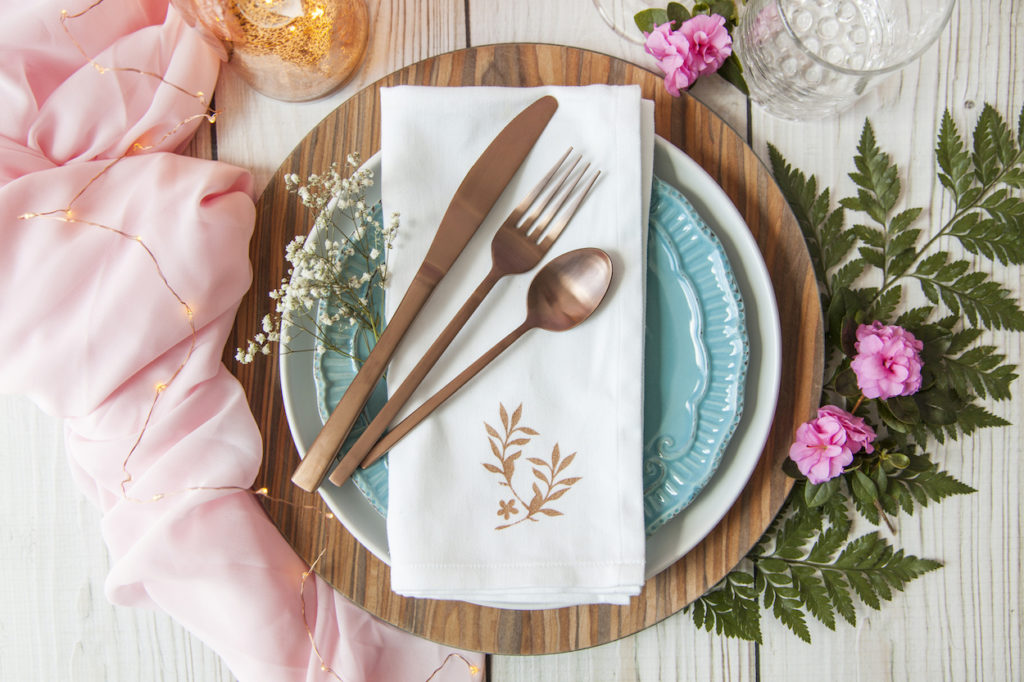 Pay attention to place setting
It's all about the layering! Balancing a mixture of materials like wood, glassware, ceramics, and linens can keep your table from appearing one-note. Differing colors and textures can also add a vibrant, sensory experience to your meal. Try topping it off with standout gold or copper flatware for a rustic yet refined look.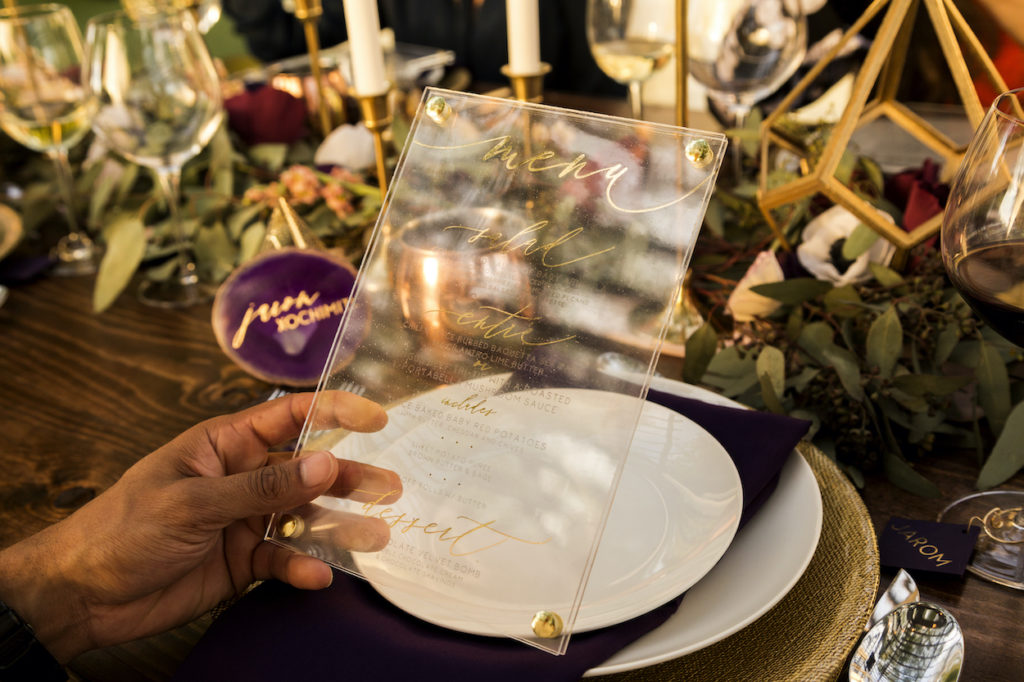 Mind your menu design
Adding a menu to your table settings is an easy way to bring an upscale vibe to any occasion. Keep the meal a surprise, then wow your guests with a list of dishes that'll keep them excited from appetizers to desserts. The menu design should be an extension of the overall theme of your tablescape and fit seamlessly into its unique arrangement. Embellish your setting with a customizable cardstock menu or go the extra mile with glass etching or vinyl script.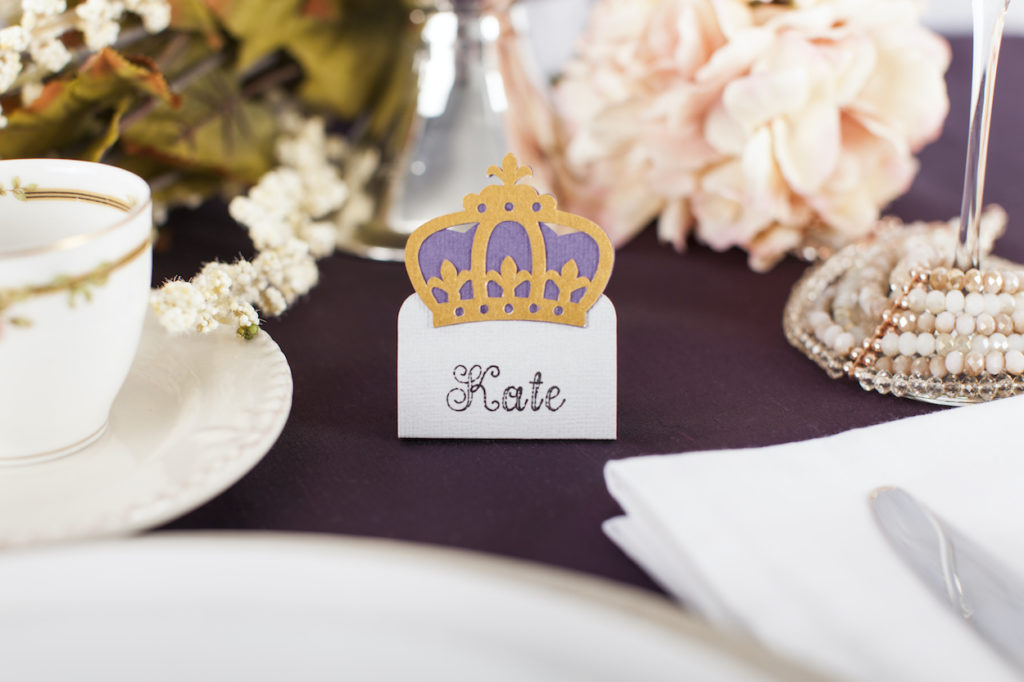 Welcome your guests with personal touches
Name cards help to distinguish seating and make friends and family feel like A-listers. Incorporating other elements of personalization (like these custom drink tags) will offer your guests new surprises at every turn.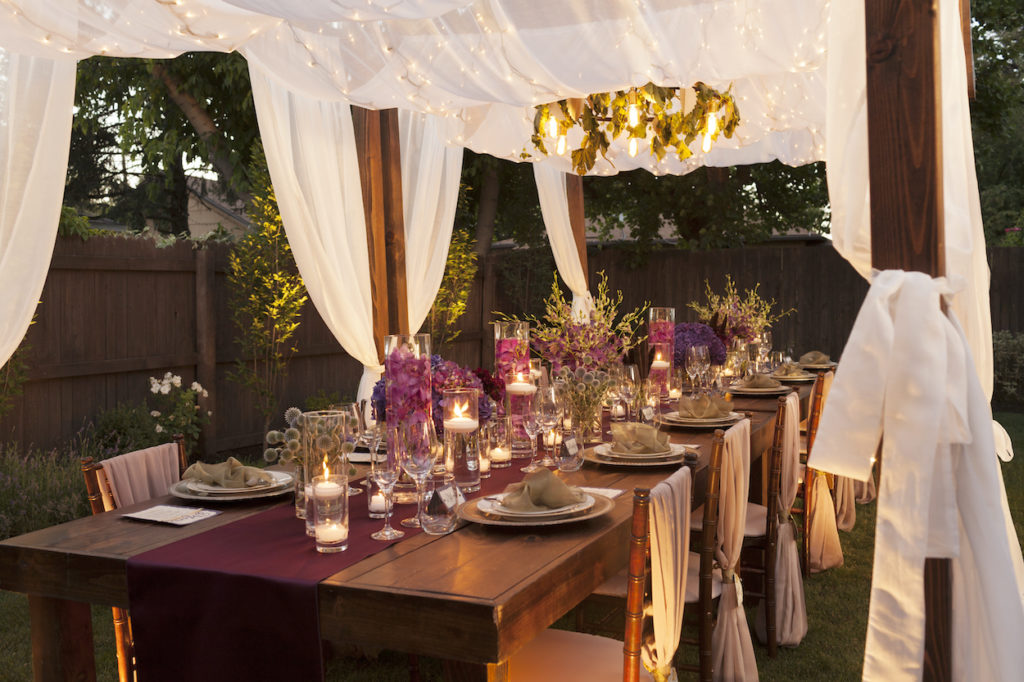 Create a cozy atmosphere with candlelight
Whether indoors or outdoors, a candlelit table setting instantly ignites a feeling of warmth and comfort. Sprinkling candles of varying sizes across your table will set the mood and offer a beautiful glow to compliment your crafted décor. With an array of little luminaries or colorful lanterns, your guests will want to chat and cheers by the flickering lights all evening.
Looking for additional dinner party inspiration? Check out our list of dinner party finishing touches, easily crafted with the Cricut Maker!
Search How-To
I want to make...