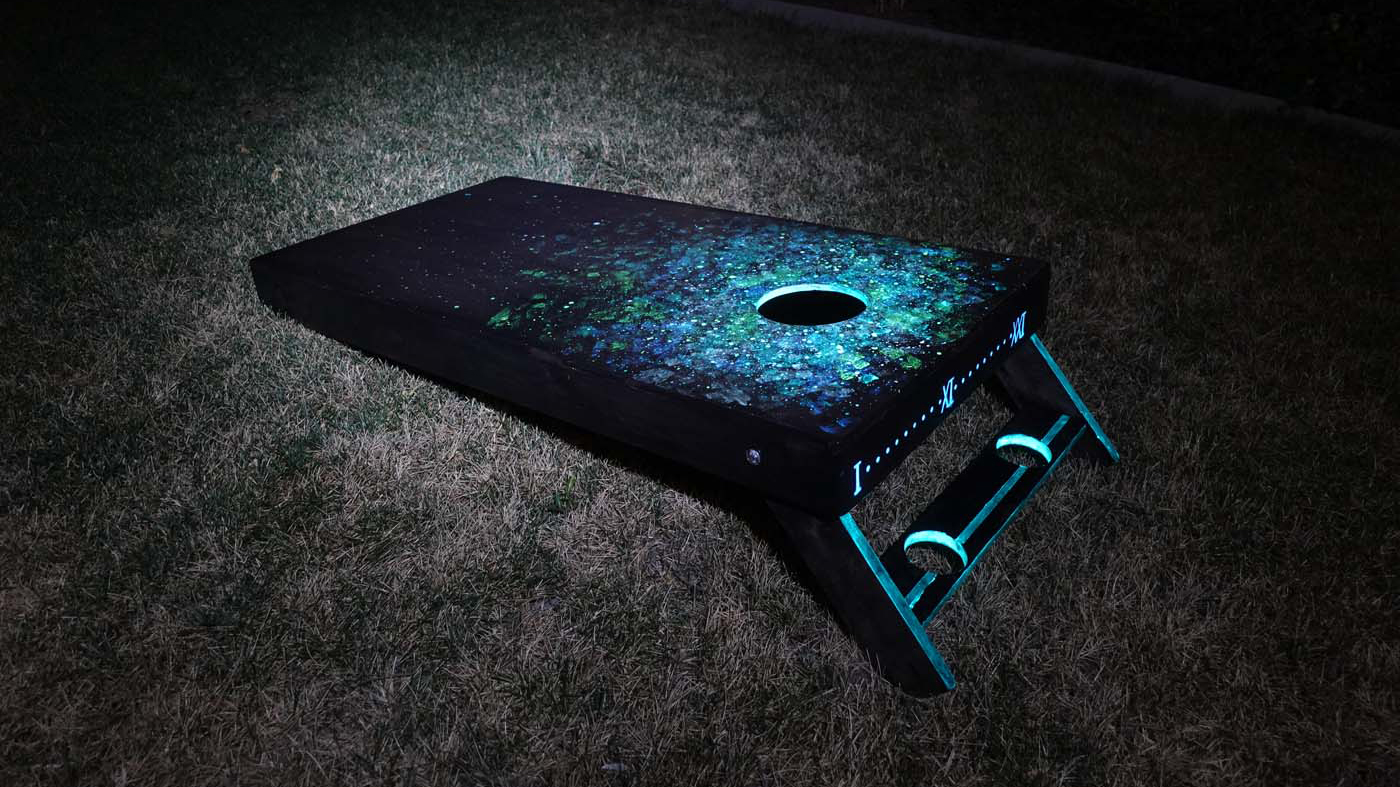 ---
Cricut friends: bear with me. This is a long tutorial, so feel free to skip ahead to the section that most interests you below.
Or, continue to follow along for the whole she-bang (plus a few anecdotes). This tutorial will run through how I made glow-in-the-dark cornhole boards from scratch using my Cricut machine to add a little customization.
---
This was my first venture into anything like this! That being said, I did weeks of research and practiced all my decorating applications on a 1″ x 4″ similar to the lumber I used for my cornhole boards.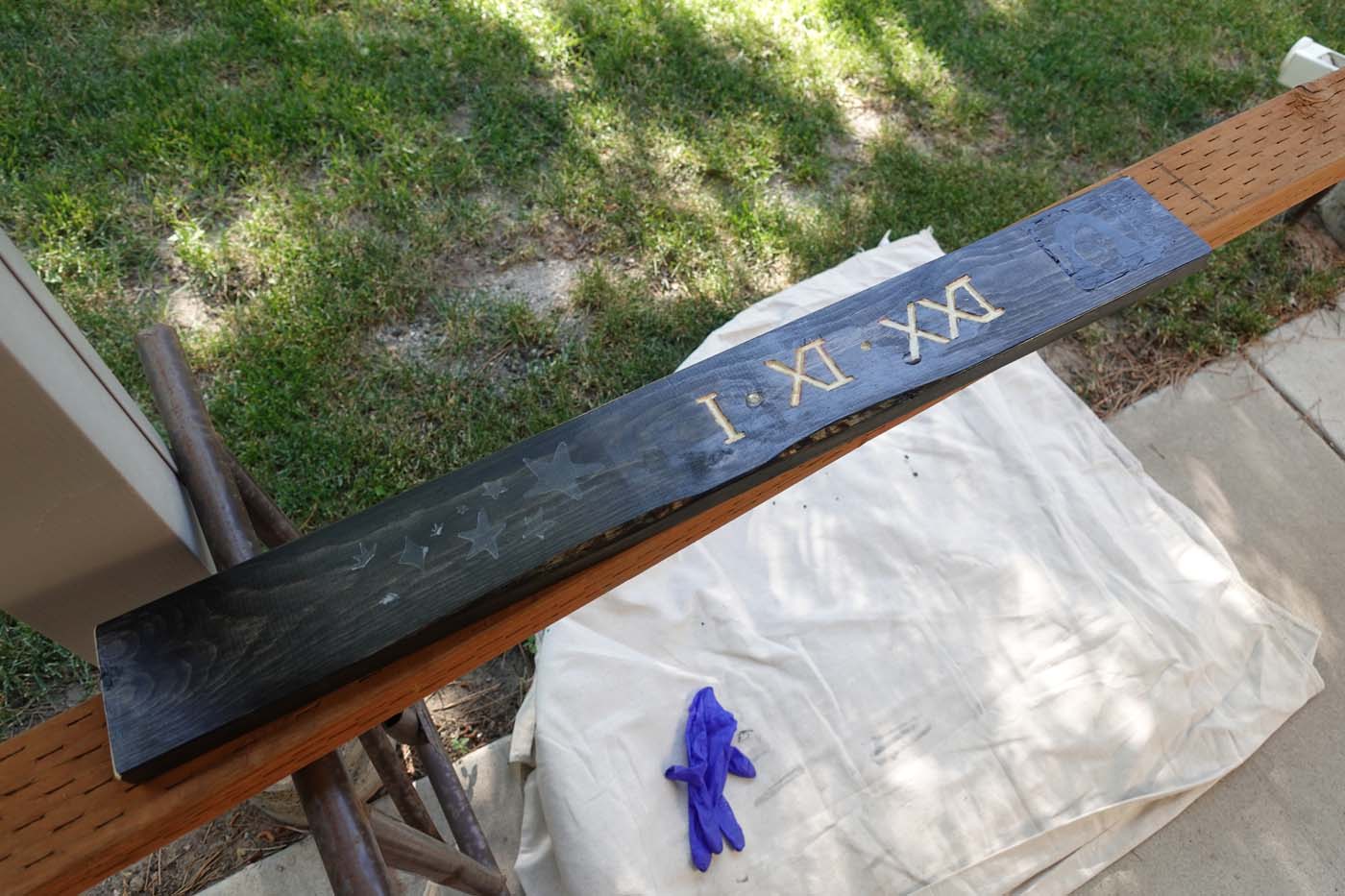 Yet, I still have so many questions – just not enough time! So, here's my best stab at it. Be gentle, I'm a total amateur.
---
I've wanted cornhole boards for a while now, and this was it. Of course, what better way than completely personalized? My boards were specifically customized so I could have:
regulation standards (in case I get so good, I want to go pro – ha!)
lighter weight boards
a way to keep score
beverage holders
bottle openers (to open those beverages, just in case)
glow for nighttime gameplay
easy carry features
personalized branding
Hence, why this tutorial is so long. Well, let's get to it! I'll share my research and newfound knowledge as we drudge along together below.
Here's what you'll need:
Cornhole boards
Miter saw (or circular saw or hand saw)
Drill
Sander

Sandpaper (at least 120 grit recommended)

Plunge router (or jigsaw or hole saw at 6 and 3 inches)
Kreg jig* (like this Kreg R3 system)
Tape measure (or ruler)
Pencil
Round object that measures about 3.5″ in diameter (or compass)
Clamps (optional)
(2) 2′ x 4′ plywood board, 1/2″ thick
(4) 1″ x 4″ x 8′ long boards
(4) 3/8″ carriage bolts, 2.5″ long
(4) 3/8″ washers
(4) 3/8″ wingnuts
Box of 1.25″ Kreg pocket hole screws*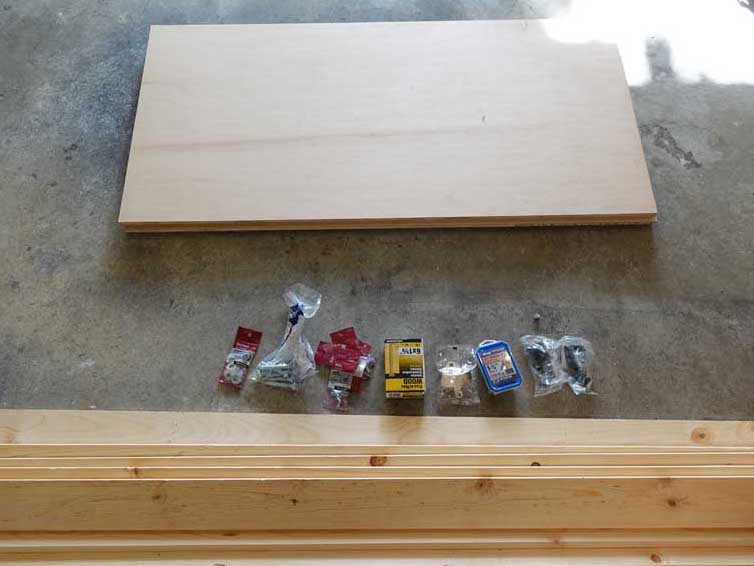 Stain and glow-in-the-dark decoration
*If you don't have a Kreg jig to make pocket screws, you can opt to drill normal screws into the boards instead. Grab a box of 1.5″ long #8 Star bit screws to replace the Kreg screws.
---
Step 1: Building the cornhole boards
If you want to skip this step, you can purchase a set of generic unfinished cornhole boards from Amazon, Home Depot, Etsy, and other places. I believe I even saw some at my local Target.
My boards are built using these instructions from DIYPete.com then customized with a few modifications. DIYPete gives great directions, provides photos, and has a video, so I'll give quick glances at building and only speak mostly on my modifications.
Cutting the wood
I enlisted the help of my friend, Chris, who owns a garage full of power tools. We He cut the 1″ x 4″ boards to size using a miter saw.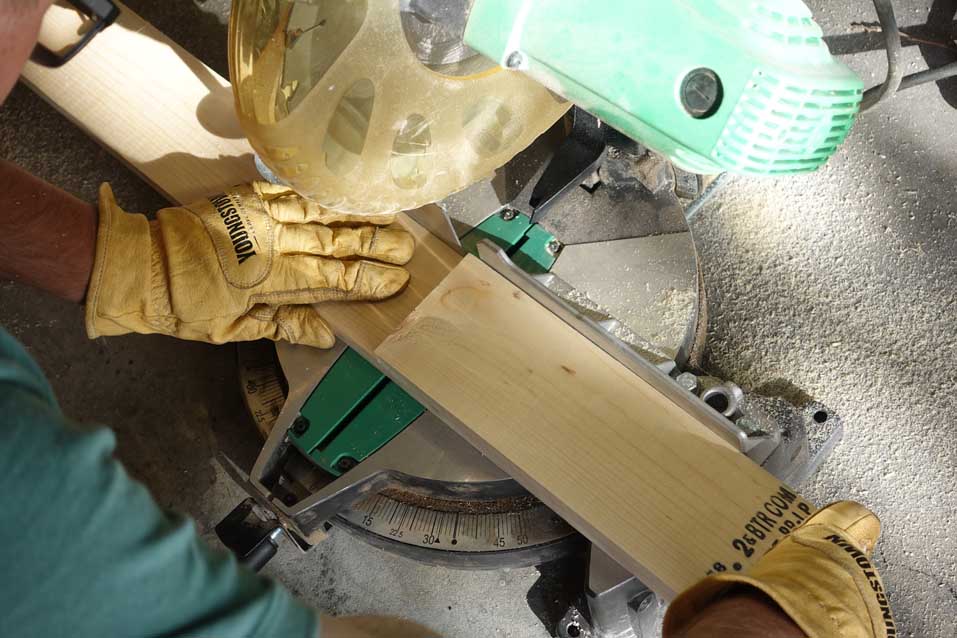 However, I wanted the board legs to sit at more of an angle so when drinks were placed in the "cup holders," they didn't hit the board. I also didn't want to cut more semi-circles into the board to accommodate the drinks (like DIYPete did), so I cut longer leg boards and used a bigger spacer.
Here's a revised cut list that includes my modification:
(4) 1″ x 4″ boards cut at 48″ long for sides of platform (same as DIYPete.com)
(4) 1″ x 4″ boards cut at 22.5″ long for short sides of platform (same as DIYPete.com)
(4) 1″ x 4″ boards cut at 15″ long for the legs
(2) 1″ x 4″ boards cut at 21″ long for the support between legs (same as DIYPete.com)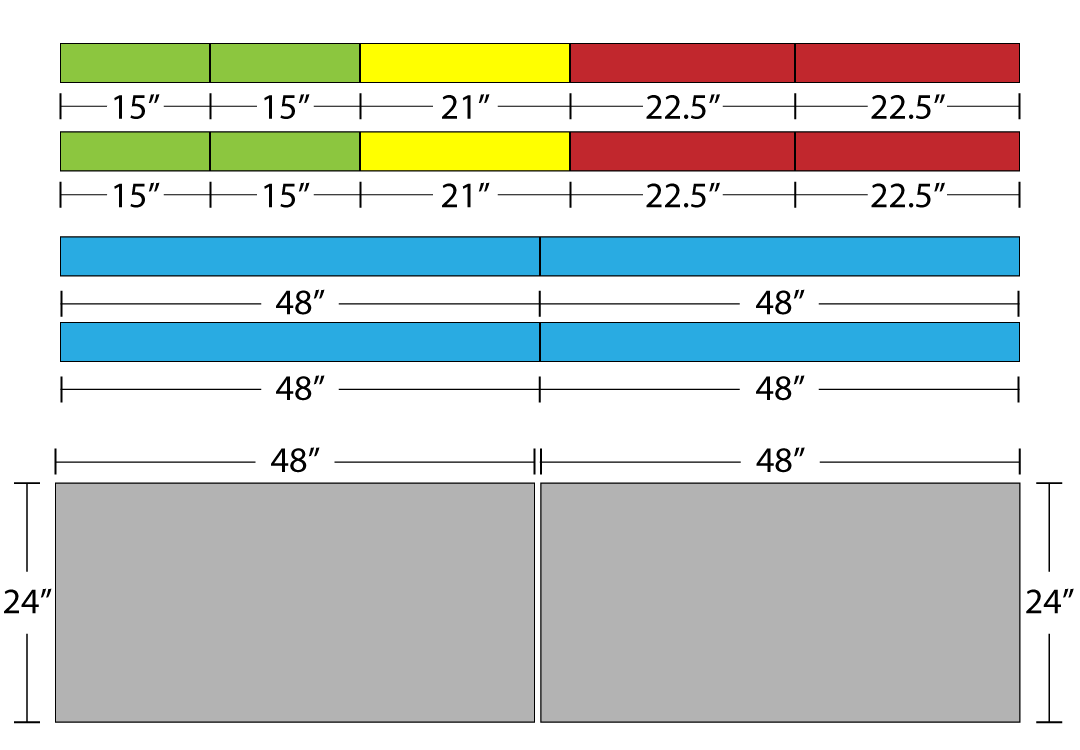 Keep in mind that you lose 1/8″ each time you cut, so the wood may not be perfectly cut to size. I actually ended up buying another 1″ x 4″ board because I cut to DIYPete's instruction before deciding to change it.
Assembling the boards
After all the pieces were cut, we drilled pocket holes into the boards. We used pocket holes because they provided stronger support and didn't require drilling into the top of the platform. It didn't hurt that Chris already owned a Kreg jig, too.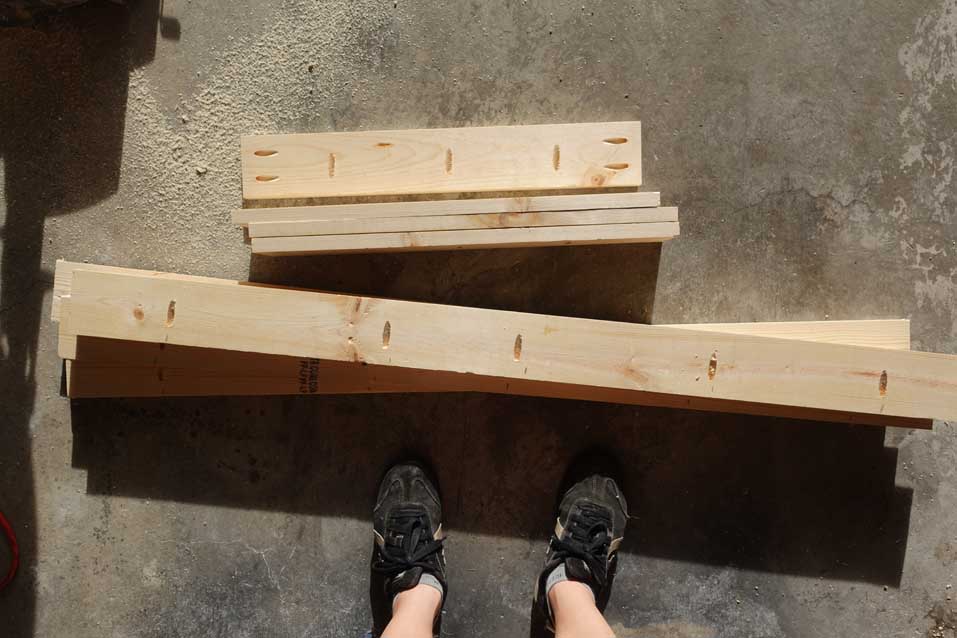 Then, we began the assembly. If you don't have a Kreg jig and prefer to drill straight through the top, DIYPete has those instructions.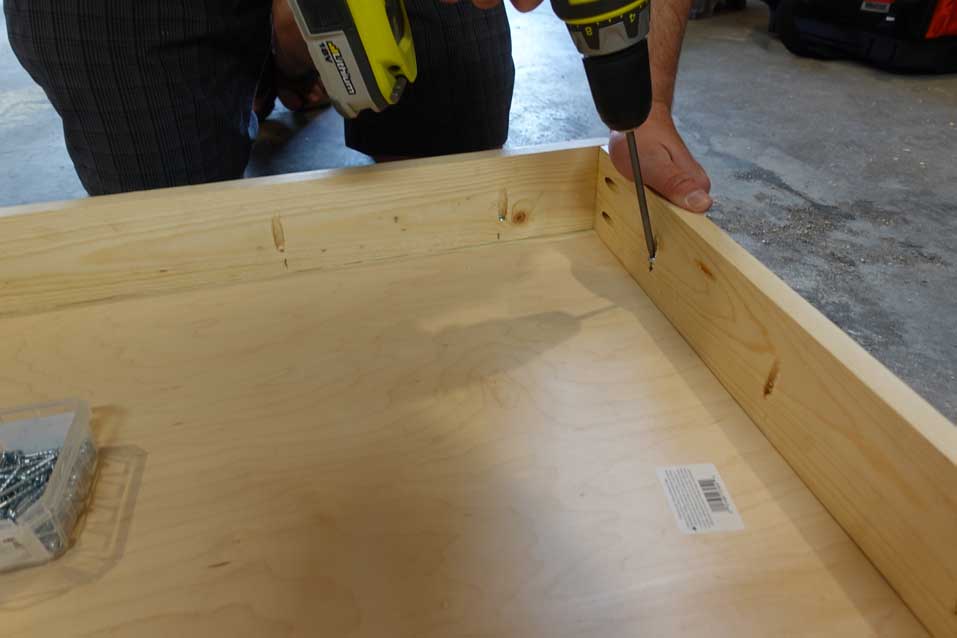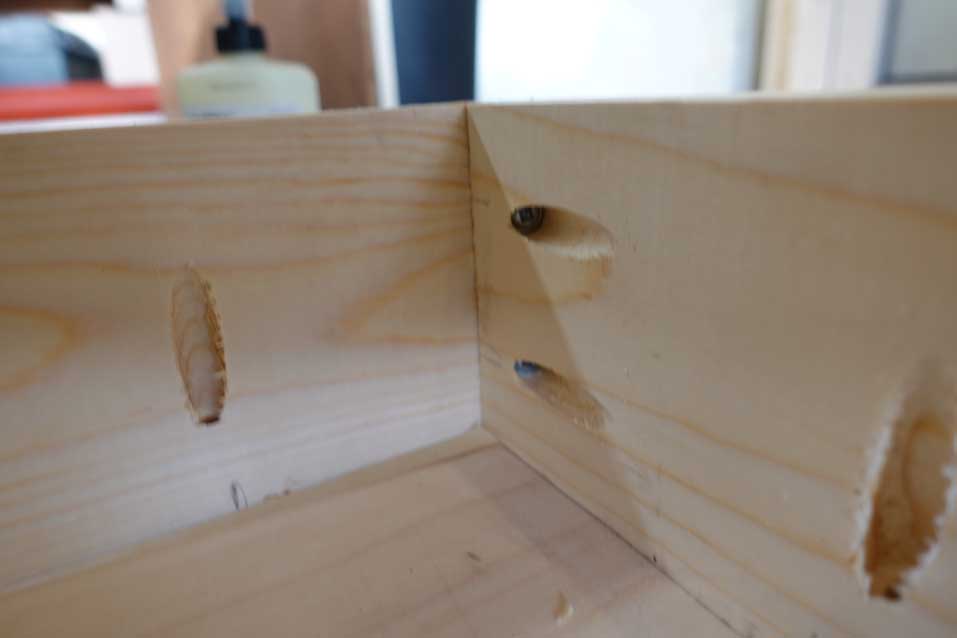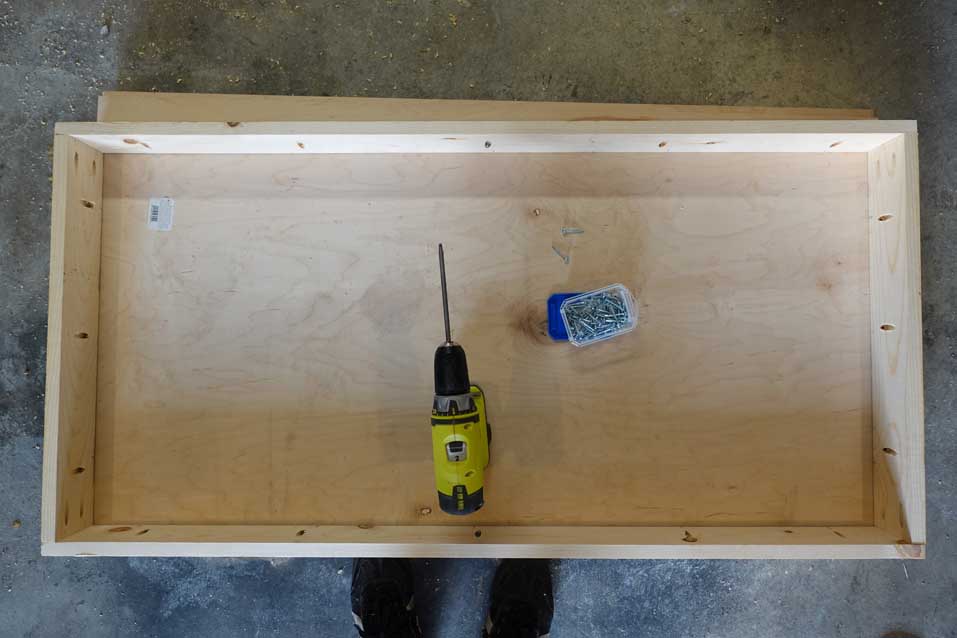 Attaching the legs
After the platform was assembled, we worked on the legs. I drilled a hole as DIYPete points out and then, I used a roll of duct tape that fit the width of the leg board to outline the semicircle. You can use a cup or compass to do this too. See DIYPete's instructions for more details.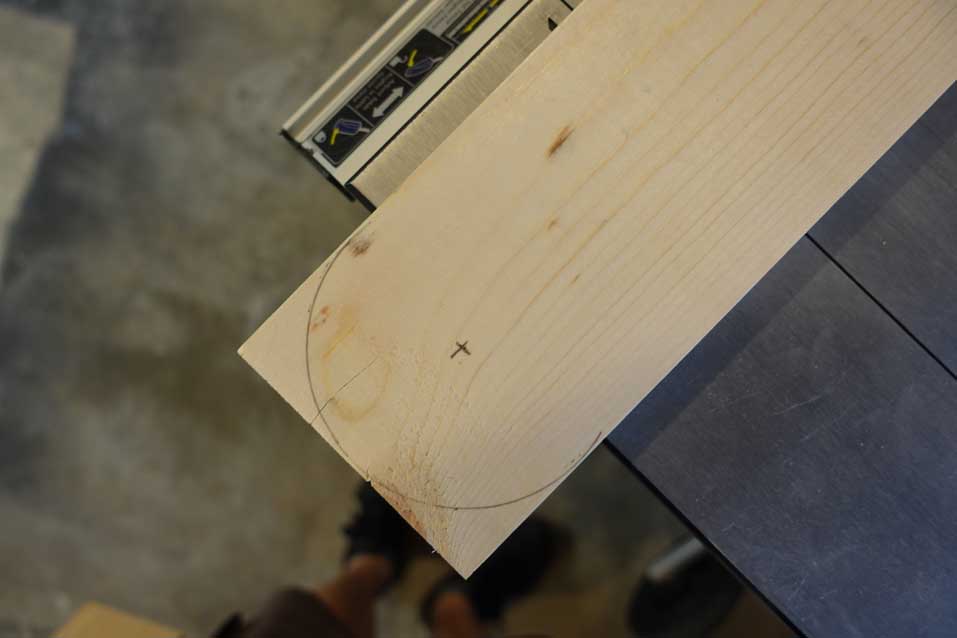 I had never used a jigsaw before so I practiced on a scrap piece of wood first. This gave me a sense of pressure and accuracy before cutting the legs. After a quick test run, I sawed each leg one at a time.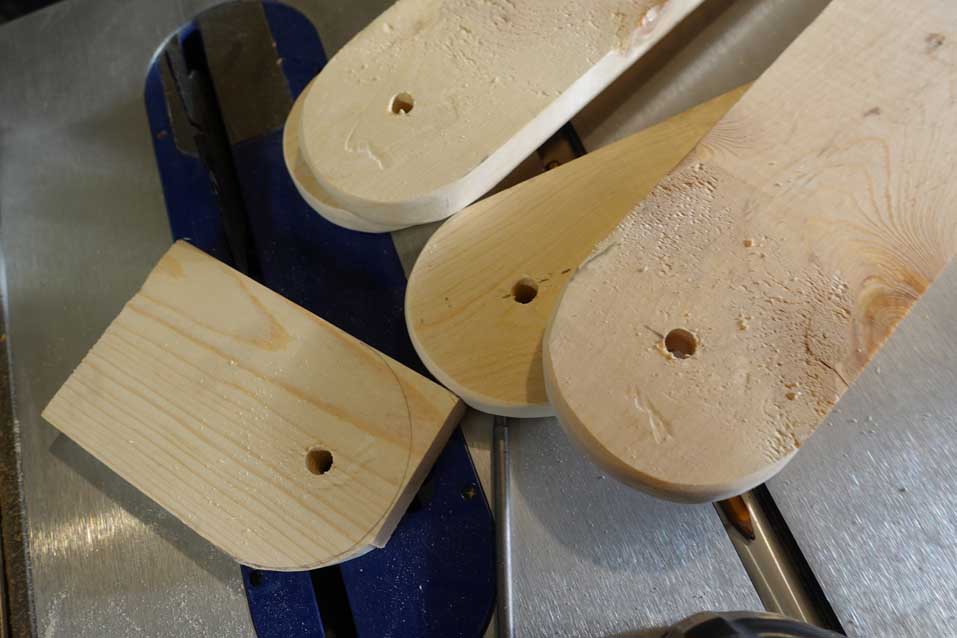 Chris did them two at time. He hates jigsaws.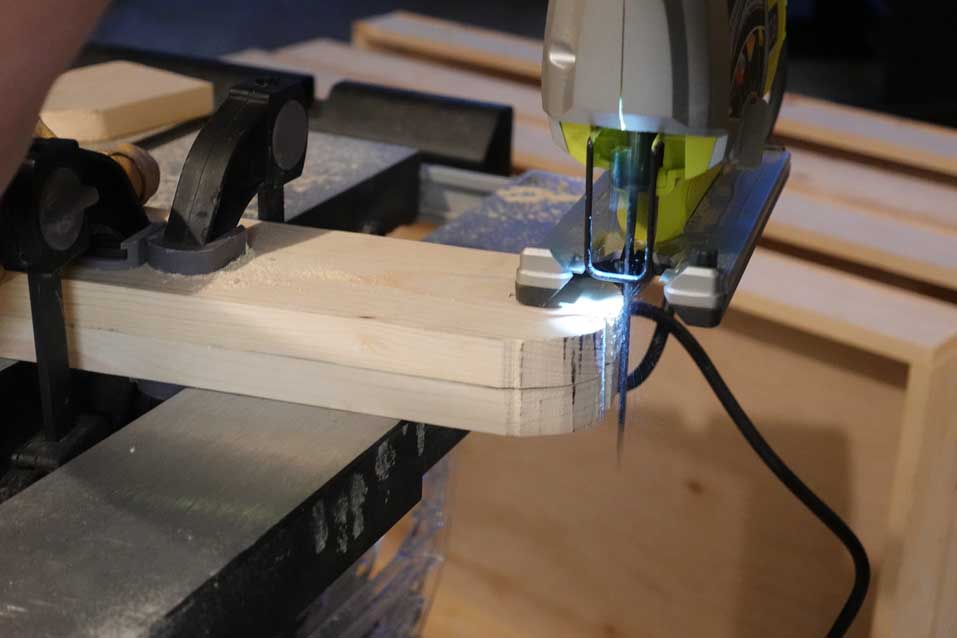 We sanded down the legs and placed them against the inside of the assembled platform boards to assure they moved without too much rub.
I added a 1.5″ spacer so I could increase the angle on the legs.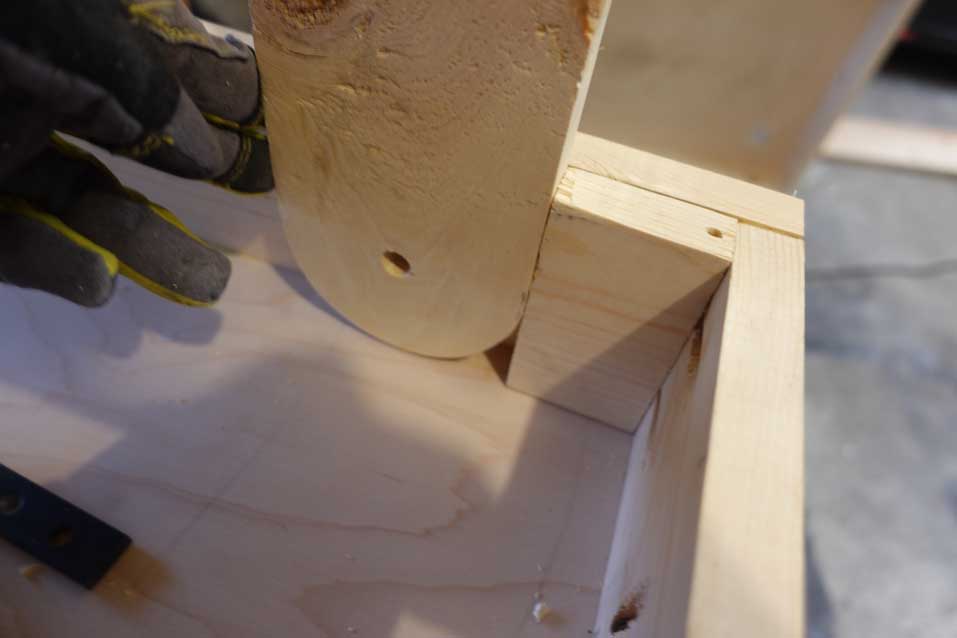 Then, I proceeded to drill the leg into the assembled platform boards. I used a clamp to help keep it in place.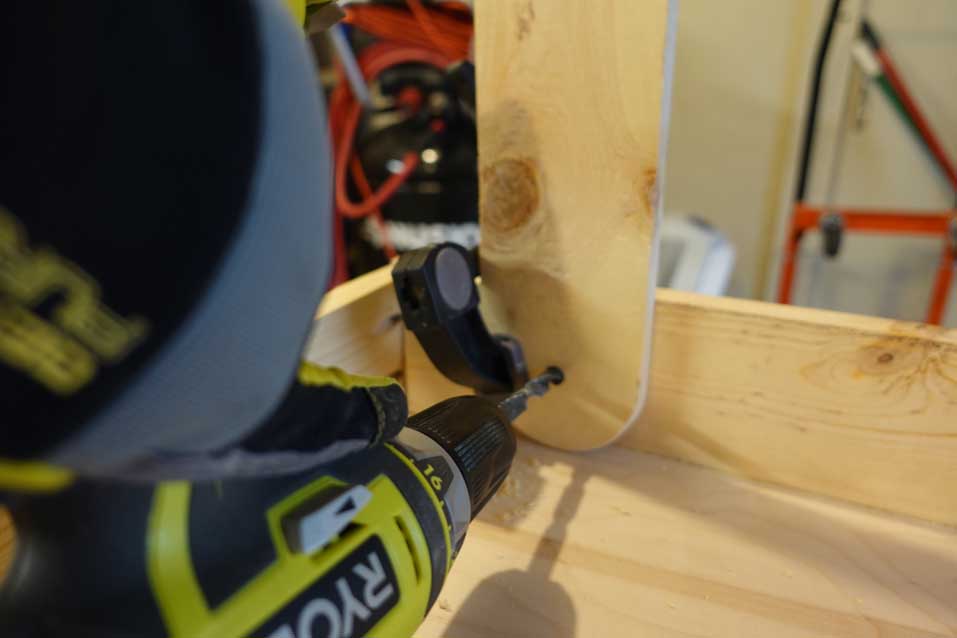 Since this angle would be different than DIYPete's instructions, I set the boards on a stand to mark the regulation 12″ from the top of the platform to the find the correct angle for the cut on the legs. Here's a great video that explains this process: see mark 3:32 to skip to it. Chris cut that mark with a miter saw.
This was our third day working on the boards together, so we got a bit lazy. We held the supporting board where we wanted it to sit between the legs and marked it with a pencil.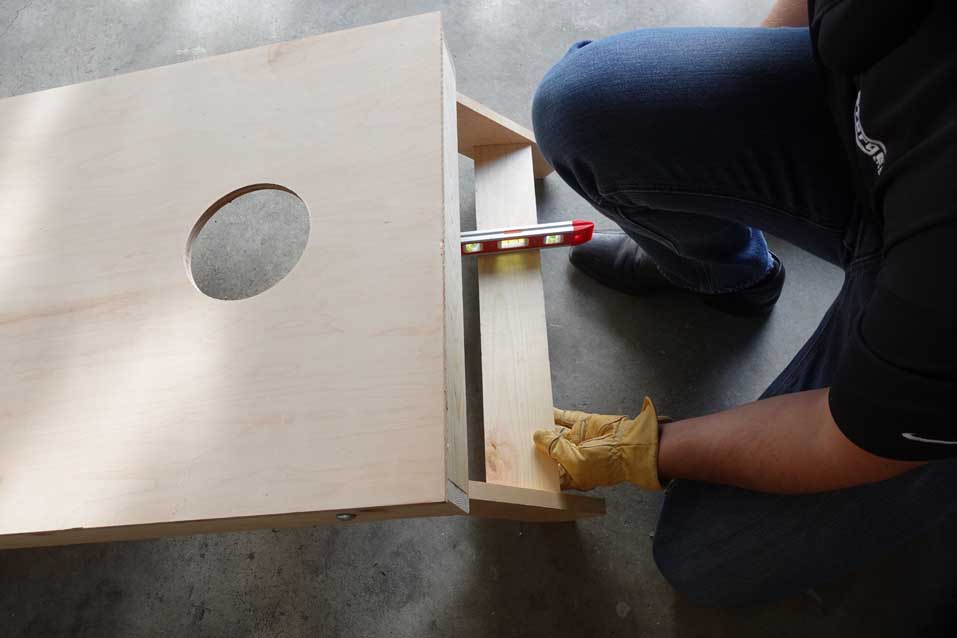 I drilled pocket holes into the support board and then, Chris used the plunge router to cut out circles for beverage holders. Alternatively, you can use a 3″ hole saw or measure out the hole to use a jigsaw.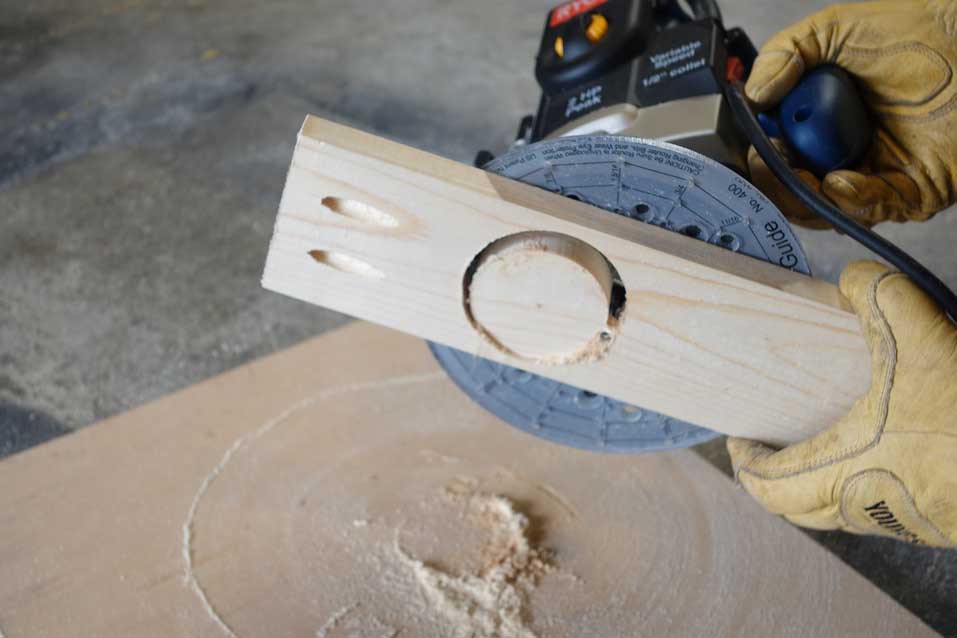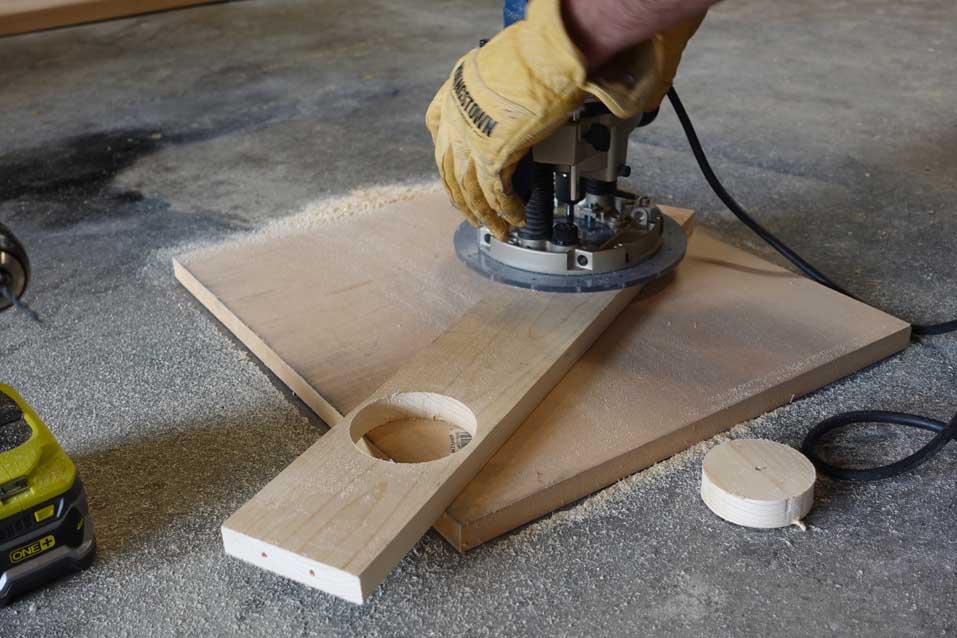 I drilled the support boards in-between the legs using pocket holes.
Next, we worked on the cornhole hole. Chris adjusted the plunge router to a 6″ hole for the platform and starting sawing away. Again, you can use a 6″ hole saw or measure to use a jigsaw.
The plunge router uses a small pin to guide it in a circle. To place it, I drilled a small hole onto the board at the regulation position: 9″ down from the top and 12″ over from the sides.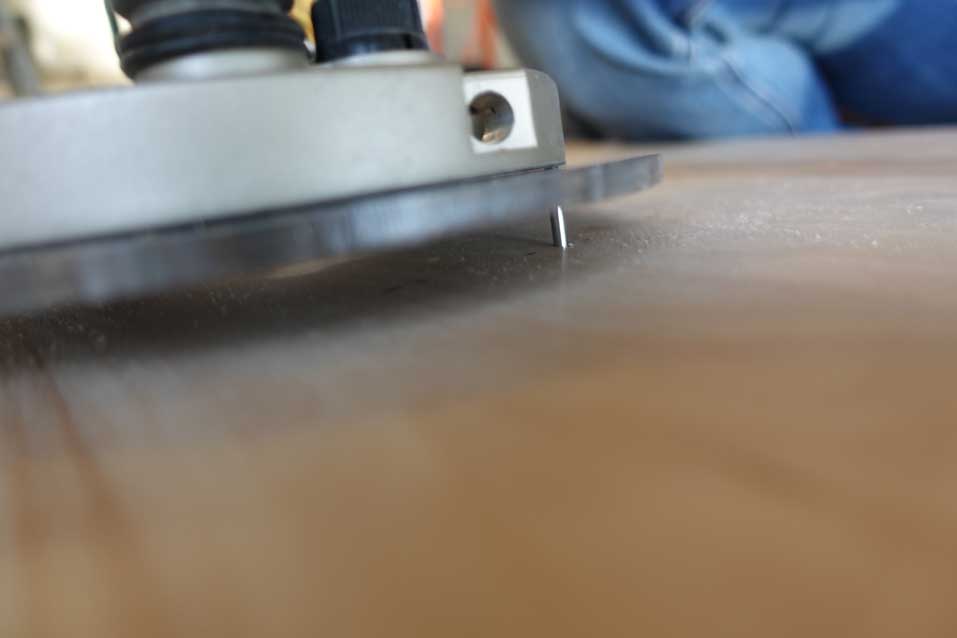 It took about two rounds to complete the cut. After the first round, adjust it to meet the new depth and cut again to finish the hole.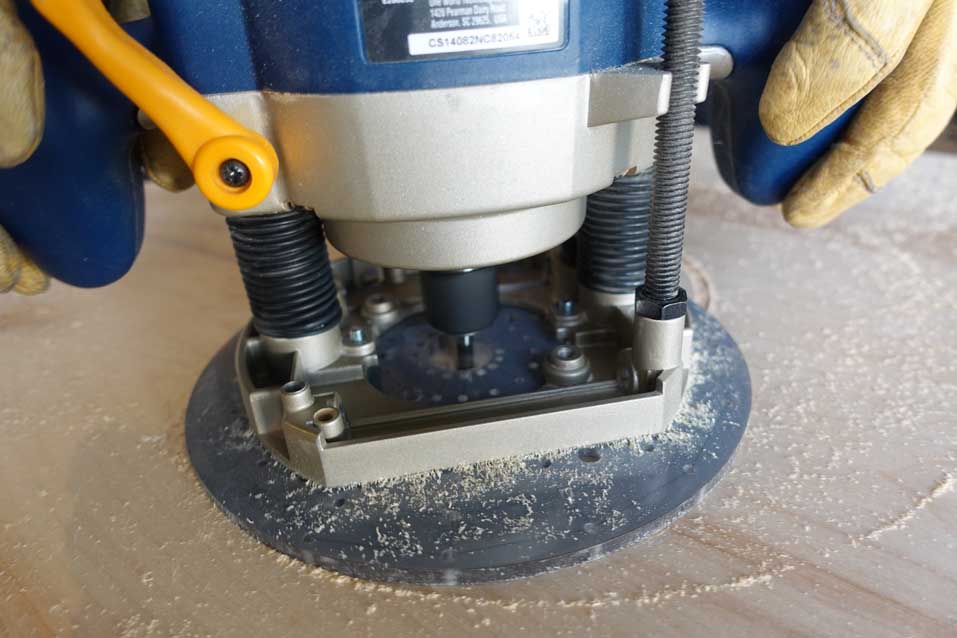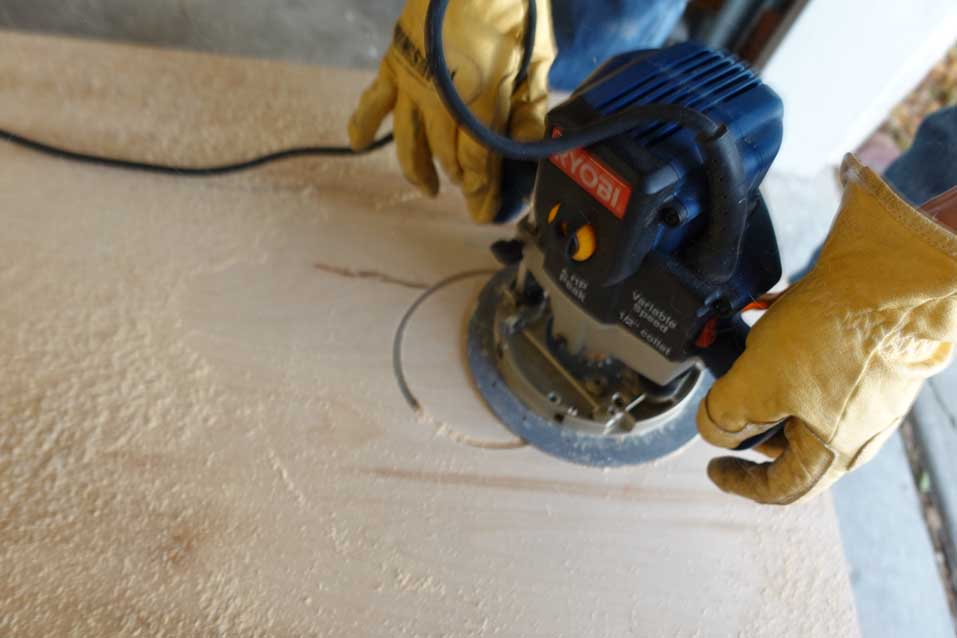 Chris also used the plunge router to flush out the edges. This was purely aesthetic and just added a nice finishing touch.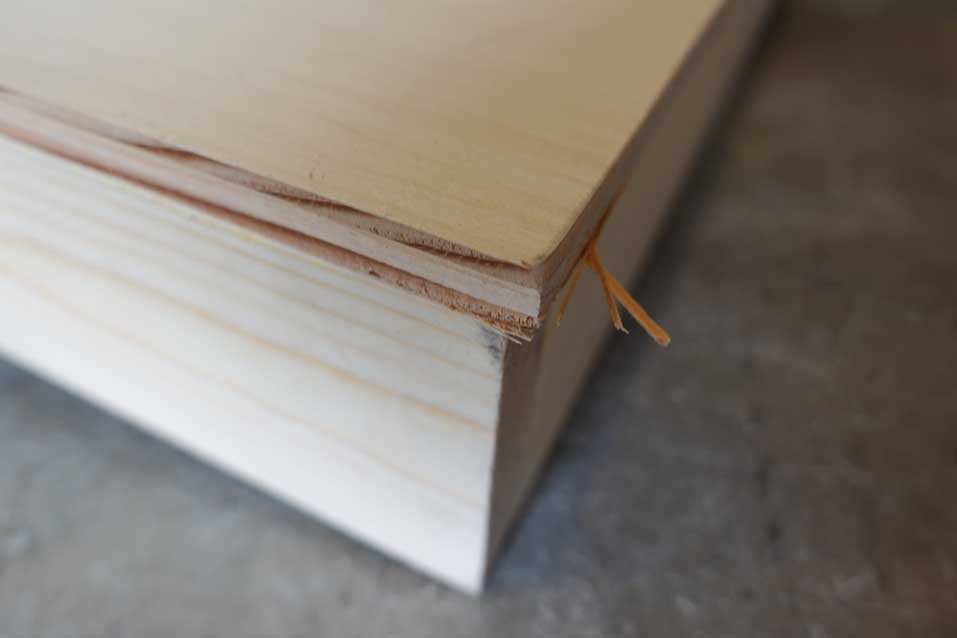 Then, I started sanding everything down. I rounded out corners and finished off the edges.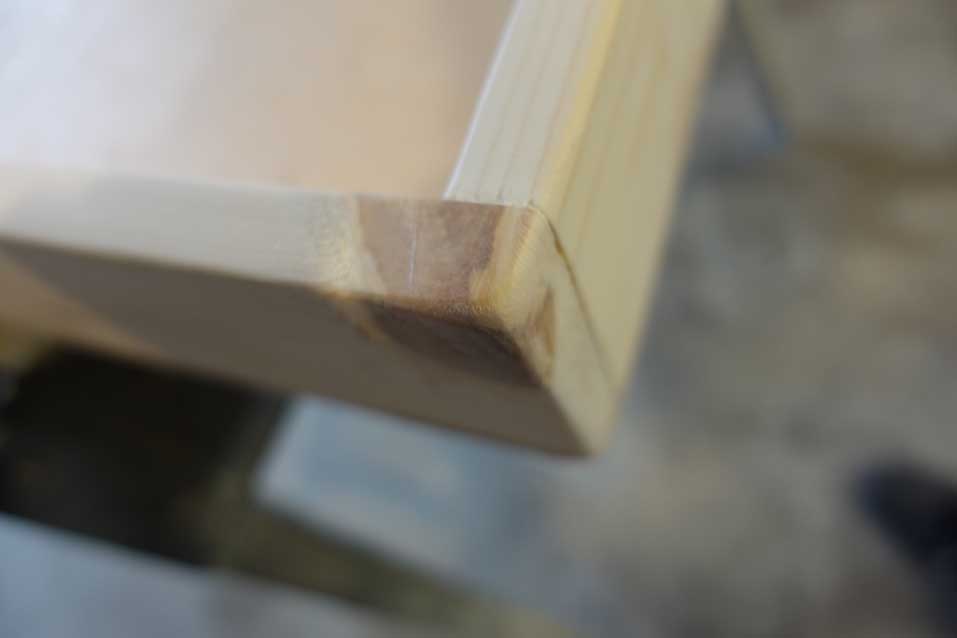 I used an orbital sander with fine grit (180) and went over harder-to-reach areas by hand with a block sander. As long as it felt smooth to the touch, I felt satisfied.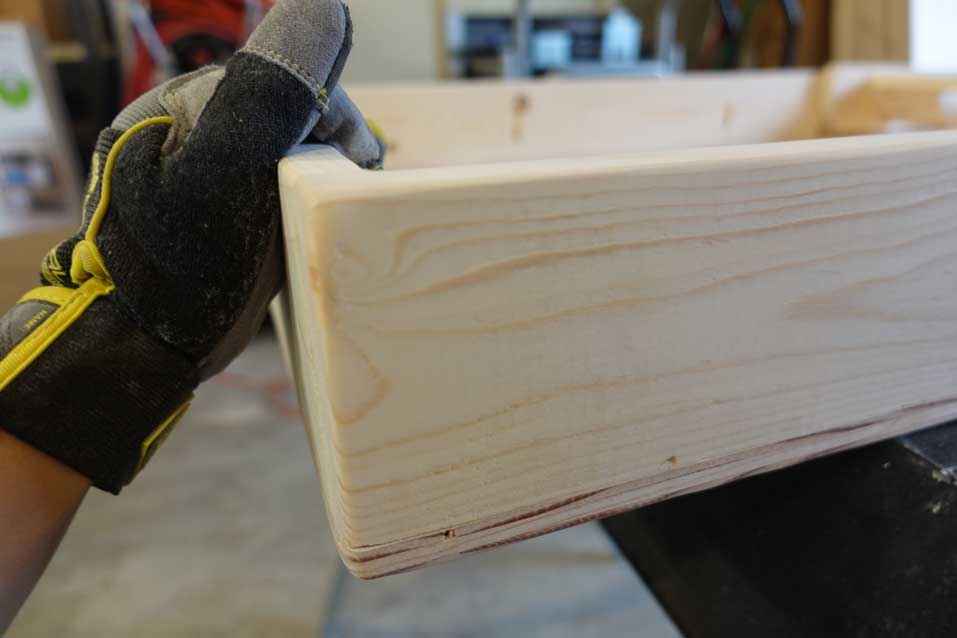 Between sanding, I noticed a few small imperfections in the wood. I slightly over-filled the holes and spots according to the directions on my wood filler.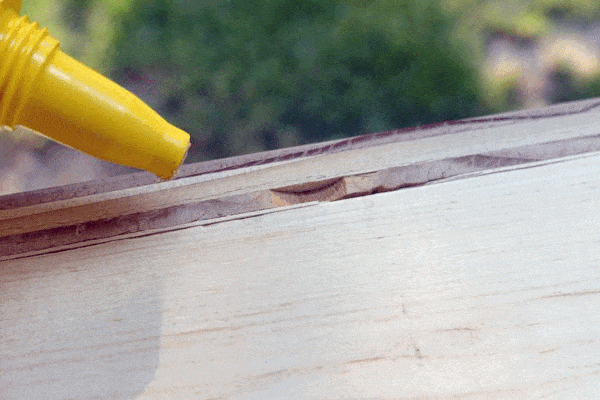 Let it dry. Then sand it down to get a smooth surface.
Step 2: Staining the wood
From the beginning, I wanted to use glow-in-the-dark so that I could use the cornhole boards at nighttime (and because it's so cool). I did a lot of research into paint vs. stain, but ultimately, my decision came down to:
I liked the look of stain more.
I fell into too much of a rabbit hole with paint.

What colors did I want?
What design did I want?
How many colors would I use?
Choosing paint vs. stain
In case you prefer painting, here's a quick highlight of what I learned in my research for paints:
Many cornhole board makers (both professional and DIYers) use a semi-gloss or gloss paint.

Water-based products are easier to clean than oil-based, but either work just fine.
Oil-based products may also yellow over time.
A local professional maker told me he uses latex paints.
You can also use spray paint.

Interior paint will work if you are adding a poly coating (and you'll typically want to add this for slicker gameplay and protection).
Exterior paints may last longer, particularly because they are not meant to fade as quickly in the outdoors.
It's recommended to prime first, and stir your paint can rather than shake (so bubbles are less likely to develop).
In addition to painter's tape, you can cut a border with a razor blade to help you stay within the lines. The poly coat can fill that gap in afterwards.
Sand down the boards so they don't give you splinters and so that the paint can grasp onto the texture created from sanding.
This forum has more great information on painting cornhole boards.
---
My research into stain fell into similar theories: water-based is easier to clean; interior or exterior stain would be fine; sand beforehand.
For my design, I wanted to bring out the glow-in-the-dark as much as possible by using a dark-colored stain. So, I settled on Varathane water-based interior wood stain after a lot of research online and multiple discussions with the Home Depot paint department who helped me tint it to "midnight."
Rather than telling you what I did (it's so embarrassing), I'm going to reiterate what I learned and how to apply it to your project! Oh, but first, remove the legs from the board so you can stain and work with the two parts separately.
Originally, I wanted to stain the wood darker so the glow would pop, but I learned that stain penetrates rather than coats so one layer is usually all it takes. After staining two coats and waiting over 24 hours, my stain was still quite tacky.
So, I used more stain to wet down the previous coats and wiped off the excess. Eventually, I ended up using water to help with this process since my stain is water-based. This worked well for me. Wet the board with one rag, then wipe the excess stain off with another rag. Here's a good process (for oil-based stain) and (general) explanation.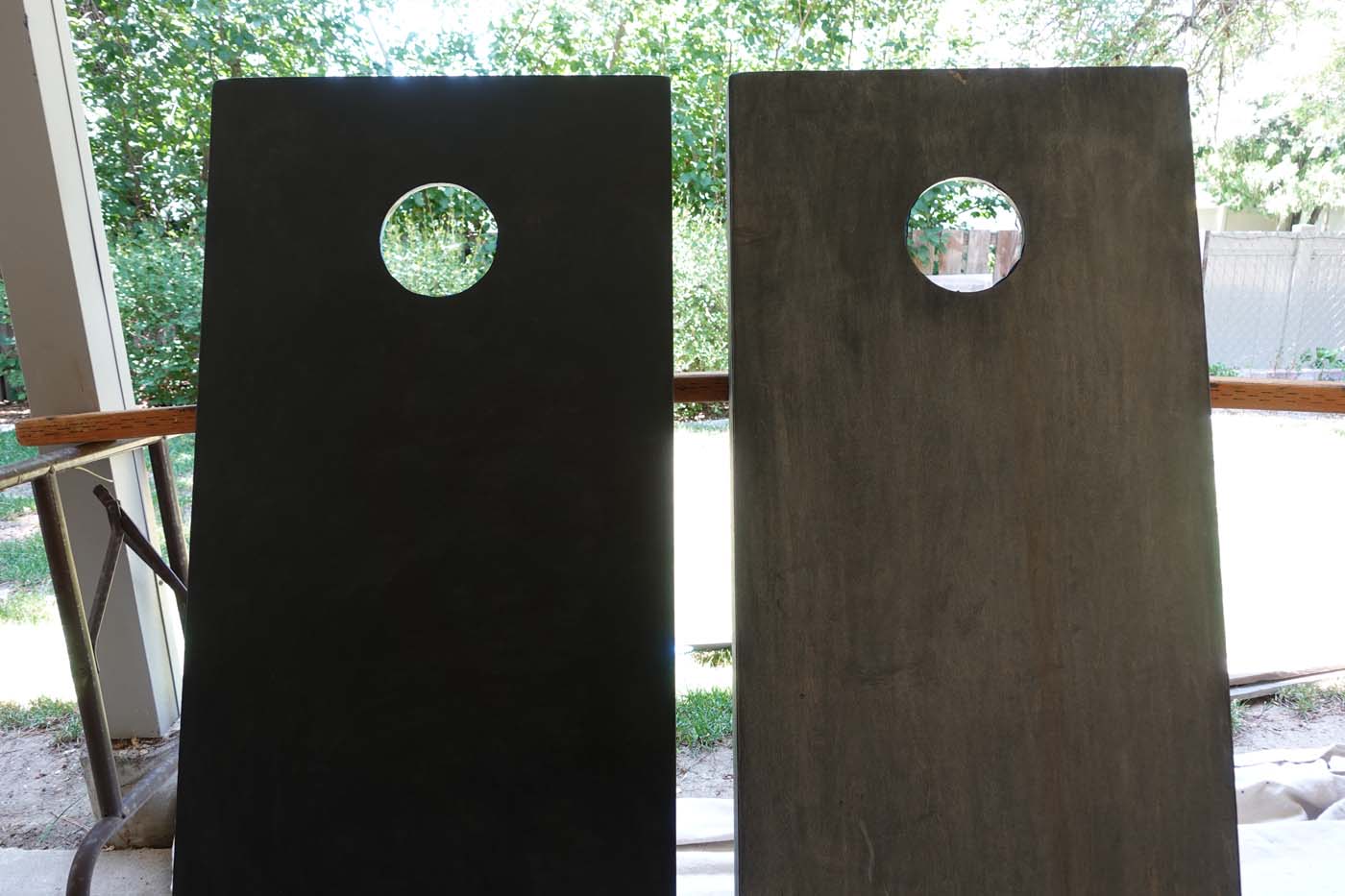 The resulting stain that dried completely was much lighter than I originally envisioned but a blessing in disguise. Glow-in-the-dark pops more against a lighter background because of how it reflects against the surface. Plus, lighter boards also meant it wouldn't get as hot in the sun.
Step 3: Designing the boards (and cutting it out)
There are three designs for my cornhole boards:
a scoreboard design for the back
a star and galaxy design for the platform
branding for the sides
Scoreboard (cut using stencil vinyl)
Using just shapes and text in Design Space®, I created a design to keep score with golf tees. Peg holes above corresponding numbers where golf tees could be held would keep track of the score.
I evenly spaced out the first, middle, and final score numbers to keep the carving and resin work to a minimum. I used roman numerals due to their lack of curves (curves are much harder to carve into wood than straight lines). Then, I added dots to represent the numbers in-between the roman numerals. The smaller dots on top are a guide for drilling the peg holes.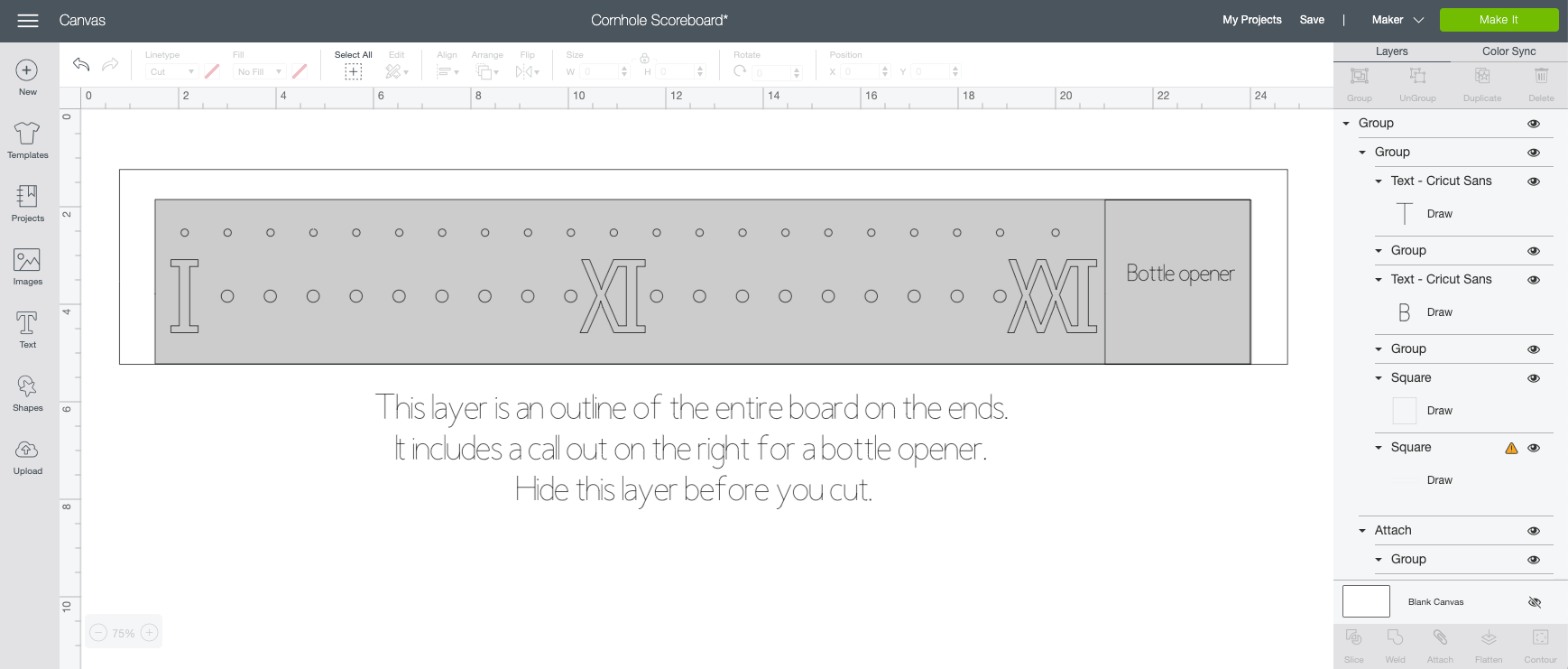 Here's my community design project for the scoreboard.
Or, here's a SVG file if you don't have a machine. Remember to resize it to your project accordingly and hide the bottle opener layer!
Note: I left a 3″ space on the right to mark where my bottle opener will get fastened onto the board. If you don't add a bottle opener (or you don't add one the same size), you may opt to adjust the spacing. Redistribute the dots by putting one at each end where you want them to start and end. Then, select all the dots and "align" them with the "distribute horizontally" option in Design Space. This function will spread them across the first and last dot positions evenly. "Center vertically" to place them into a straight line.
Platform (cut using stencil vinyl)
Before creating a design, I made a template for myself. A simple 2′ x 4′ rectangle with a 6″ circle at 12″ down from the top and 9″ in from the sides to mimic the cornhole board platform.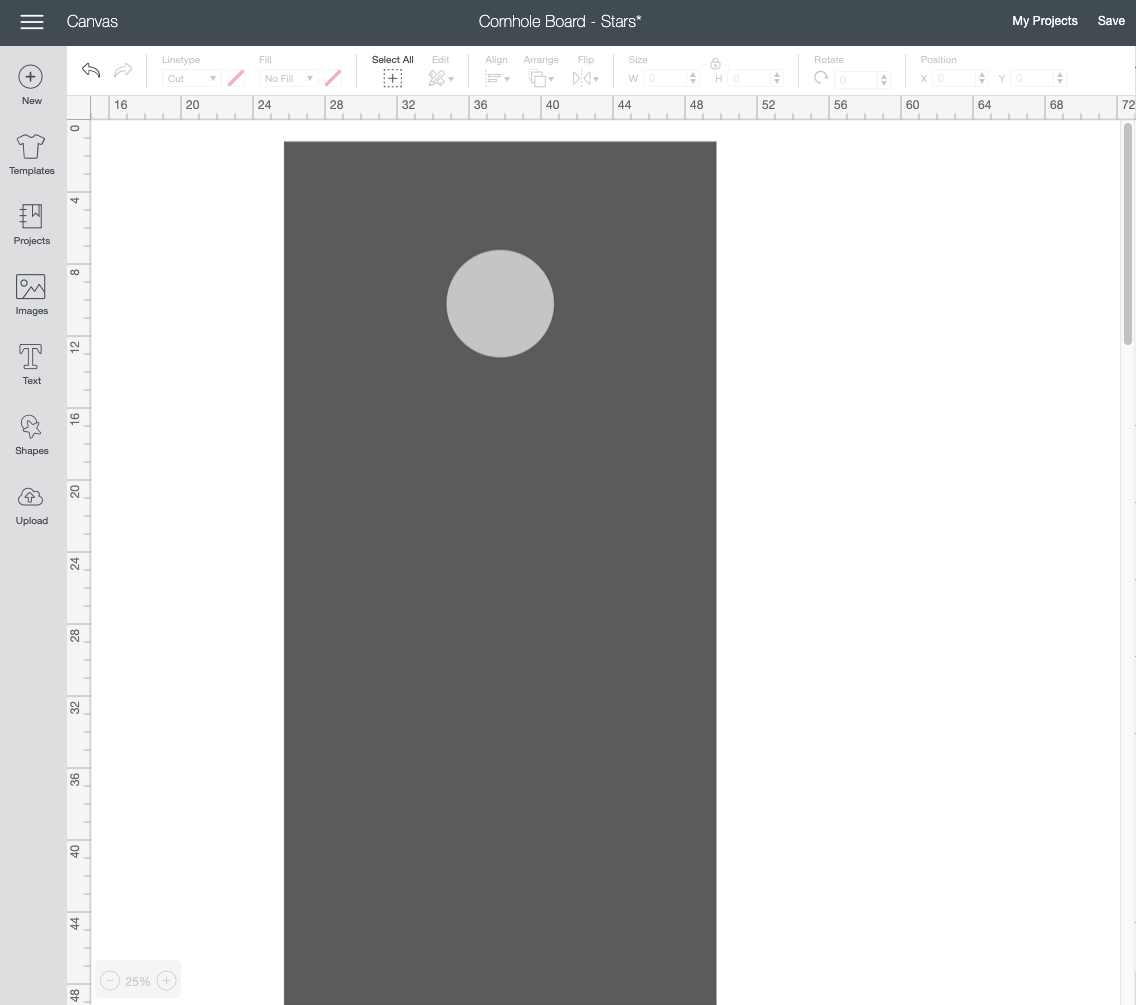 As I looked at paintings for inspiration, I found one common element – dots. Not many galaxy or milky way paintings included stars so I decided to keep it simple with just dots.
I found a great sunburst image (#MBC23498) on Design Space but didn't like how busy it looked so I gave it some heavy contouring.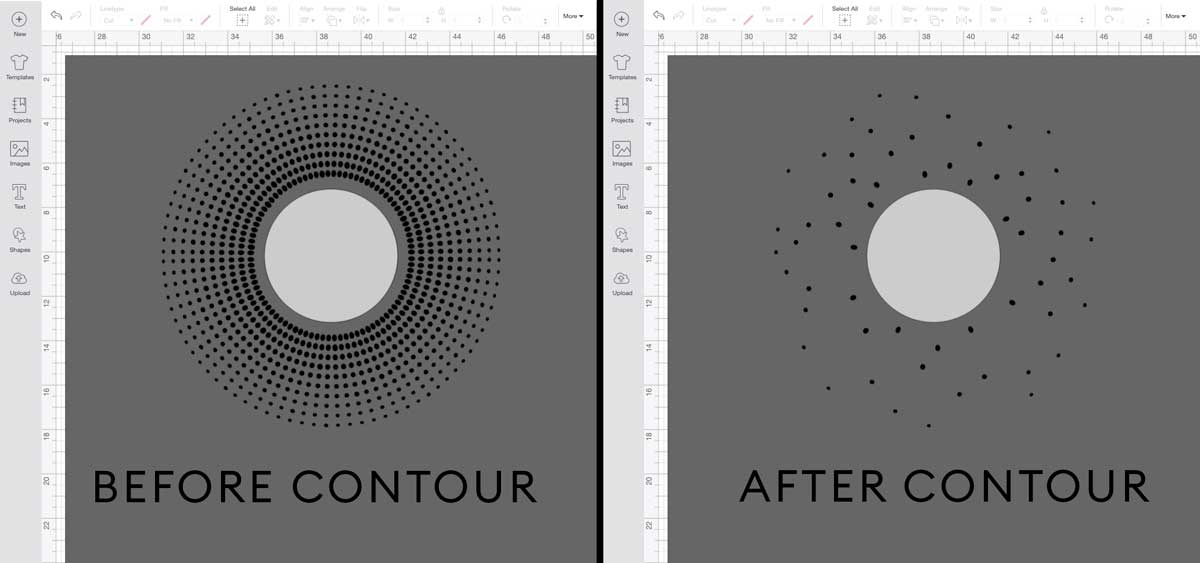 I removed most of the dots to give it a more subtle look. Then, I randomized the visible dots to mimic the reference images I saw online. Check out the tutorial video for a run down of how did this.
Don't forget to hide the platform template if you are using the Design Space pattern! Keep in mind that I "sliced" the image because it was too large for the machine mats. It'll cut in two parts, but you can use the circle as reference when matching the parts together.
Personal branding (cut using iron-on)
This design, I'm holding secret. However, I'll share that it's a custom creation based off a photo with a stamp filter and added text.
I'll use iron-on vinyl to adorn the sides with this design, my subtle branding on the boards.
Step 4: Carving out the design
To carve the scoreboard, I placed the stencil directly onto the board to use as a guide. You can use a Dremel here (perhaps a bit easier to control?), but all I had were carving tools from junior high!
Carve the design as outlined in the stencil, except the top dots! Use the drill to make those peg holes. Instead of placing the stencil again when I drill those holes, I used a red Sharpie to mark a reference point.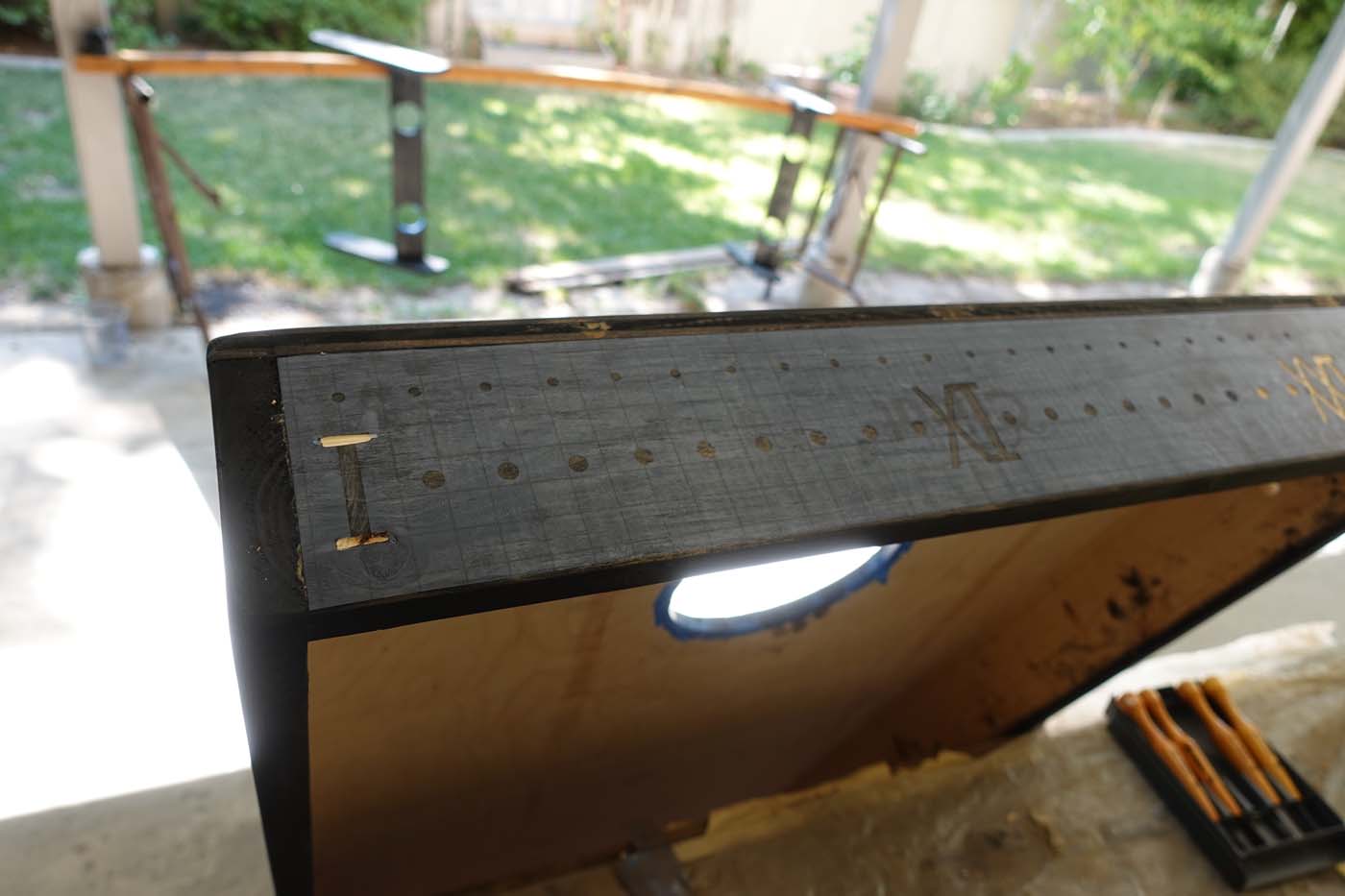 Afterthoughts and tips:
Go slow, take care and press firmly.
Use your non-dominant hand to help guide the tool with your fingers.
Use a rounded tool to make the circles. I outlined with a larger rounded tool then used a smaller one to carve it out little by little.
No need to go too deep but you want a bit of a crevice so that the resin can sit into the carving properly. I went about 1/8″ but probably could've done just a tad more so the resin didn't drip out as easily.
Be aware of how deep you go – you don't want to push through to the other side!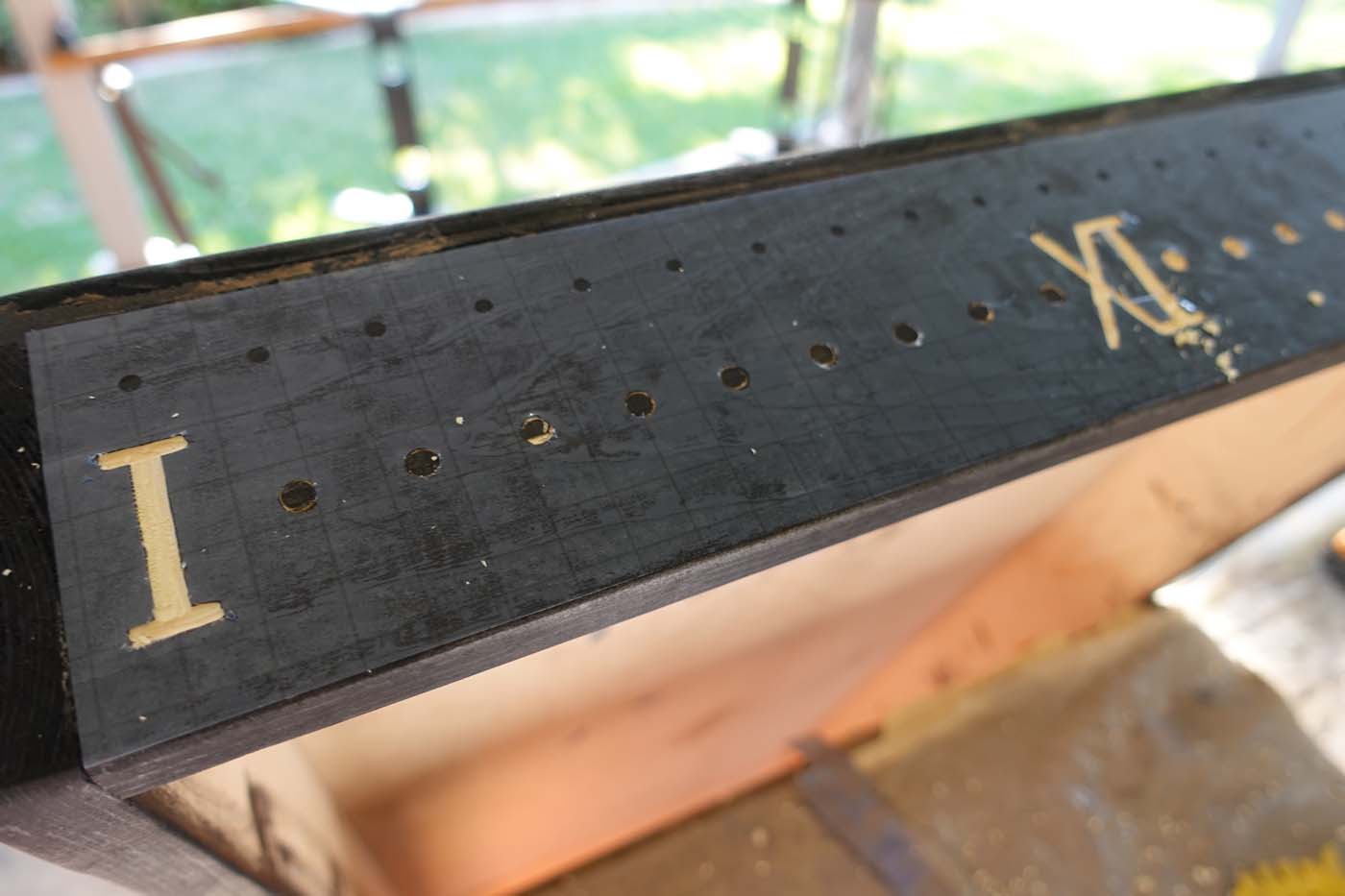 Step 5: Applying the iron-on design
After weeding the design, I used the Cricut Heat Guide to apply my iron-on design to the boards. I used an EasyPress Mini due to the unevenness of the boards. Being able to move the press around would allow me to best adhere the design onto the textured surface.
Preheat according to the heat guide. In my case, it was 5 seconds. Don't forget to use a piece of parchment so the stain doesn't stick onto your press.
Stick the design to the surface. Since my design wasn't very sticky, I used heat-resistant tape to adhere it to the boards.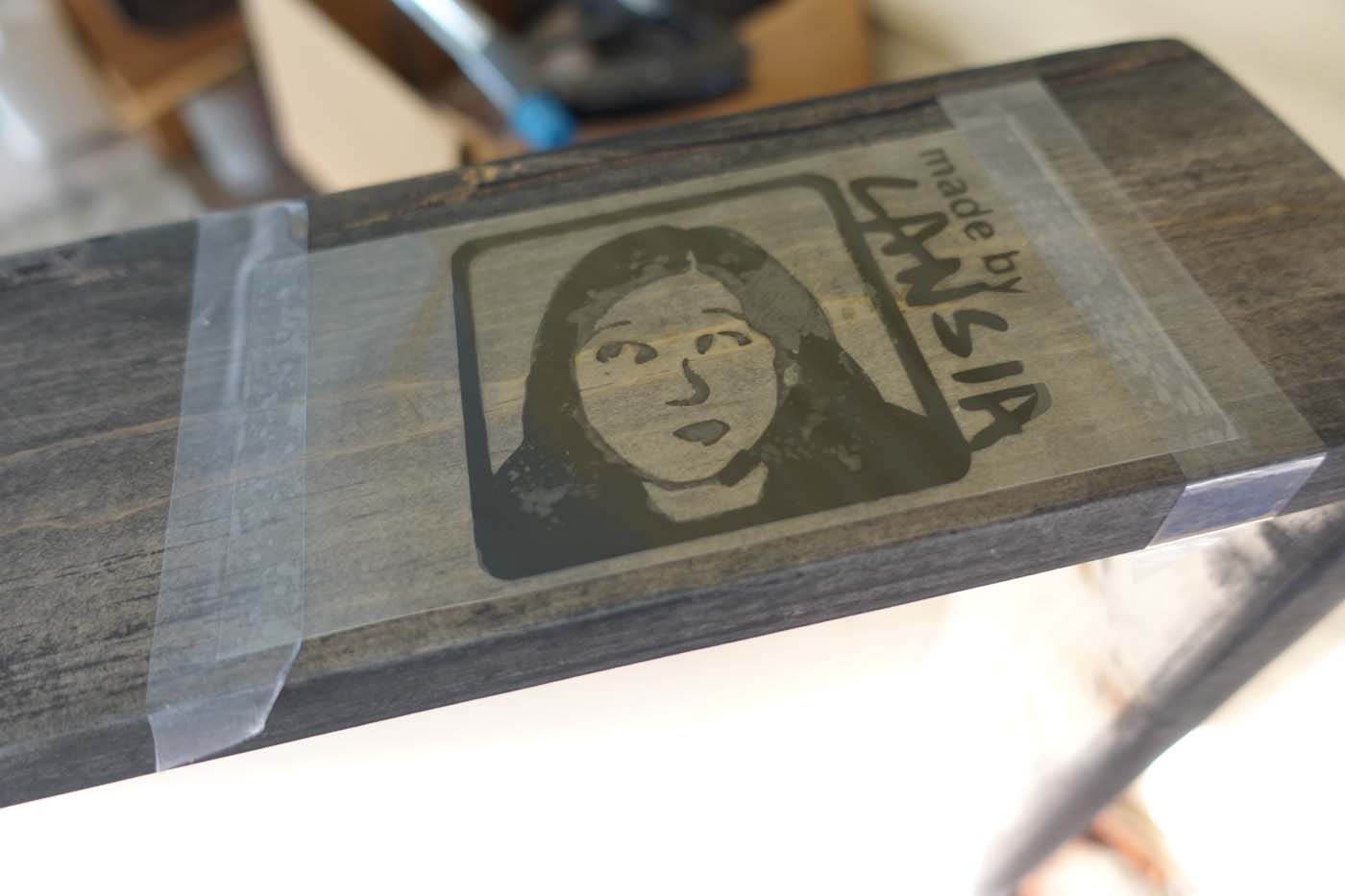 Then, press firmly as you heat and move it around according to the heat guide. In my case, I needed to heat it for 40 seconds. DO NOT HEAT IT LONGER THAN REQUIRED. If you heat in excess, I found that the adhesive material leaks across the surface and melts away the adhesion.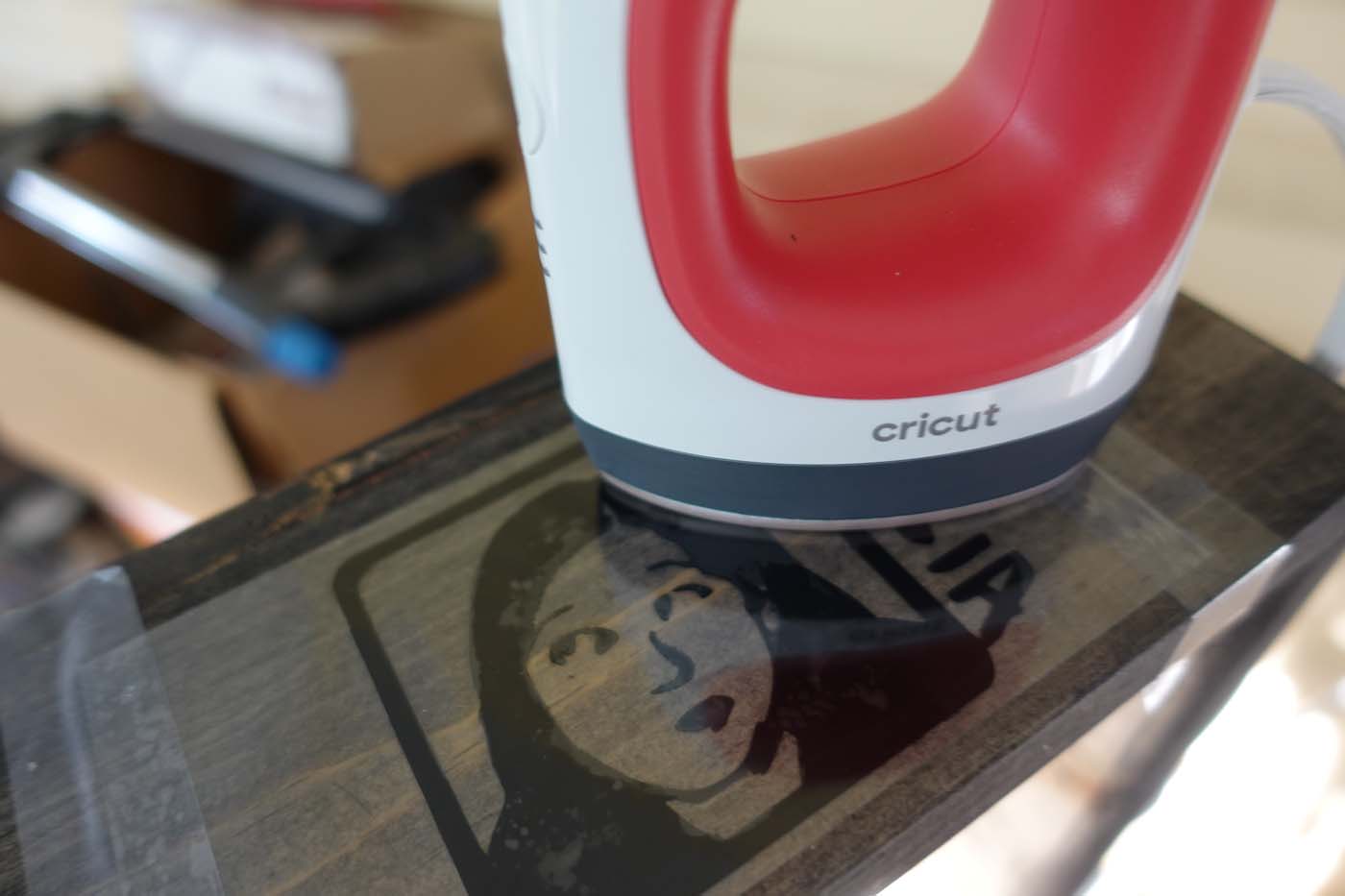 Peel when cool. This is like letting your meat rest after you've taken it out of the oven. You don't want the juices (or the glue from the iron-on) to spill out while it's hot. Give it a few minutes to cool (and "coagulate" to keep the "juices" in) before you pull off the backing.
Step 6: Adding glow-in-the-dark epoxy resin
Mix the resin and hardener according to instructions. Likely, it will be similar to what I had: equal parts and stir for at least 3-5 minutes.
Then add the glow-in-the-dark powder and mix until smooth. The Art 'N Glow kit I purchased gives a 40 minute window before the resin begins to harden. This timing could be more and less depending on what you buy – work fast!
Using a toothpick, slowly dab the resin into the carvings. Dip the toothpick in the resin, then dab it into the voids of wood until it's full. Keep the boards as upright and flat as possible. The resin will flow with gravity and may pour out on top of the boards if it's not flat. This happened to me! No worries, the glow will not be as prominent against the black stain so…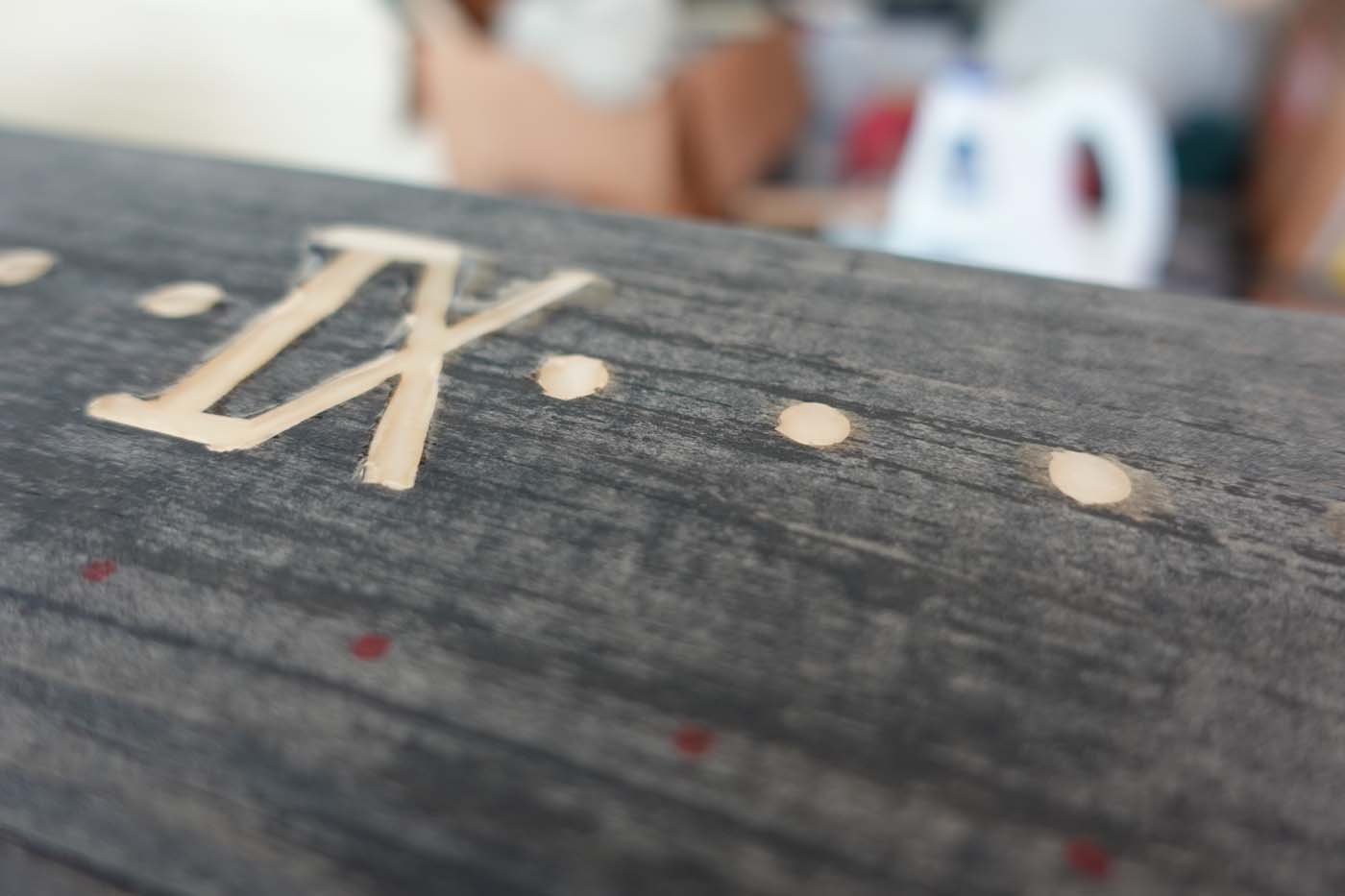 Let cure 24 hours (or according to directions) as flat and upright as possible.
Step 7: Painting the decoration
Stencil painting: After placing the stencil onto the boards, paint quickly and remove the stencil before it dries. Acrylic paint dries quickly so I brushed 2-3 layers of paint then pulled off the stencil while it was wet.
Removing the stencil before it dries keeps the paint from peeling off the surface with the stencil. When the paint dries, it tended to peel off along with the dried paint on the stencil since the painted surface area is so small.
Sponge painting: Using a household sponge, I dabbed paint onto the surface to create the galaxy. Then, I repeated this process throughout the surface of the boards with various paint colors.
Adding more stars: To layer the boards with more "stars," I used an acrylic paint brush to flick paint onto the surface. Each of the flicks created randomized dots of different sizes.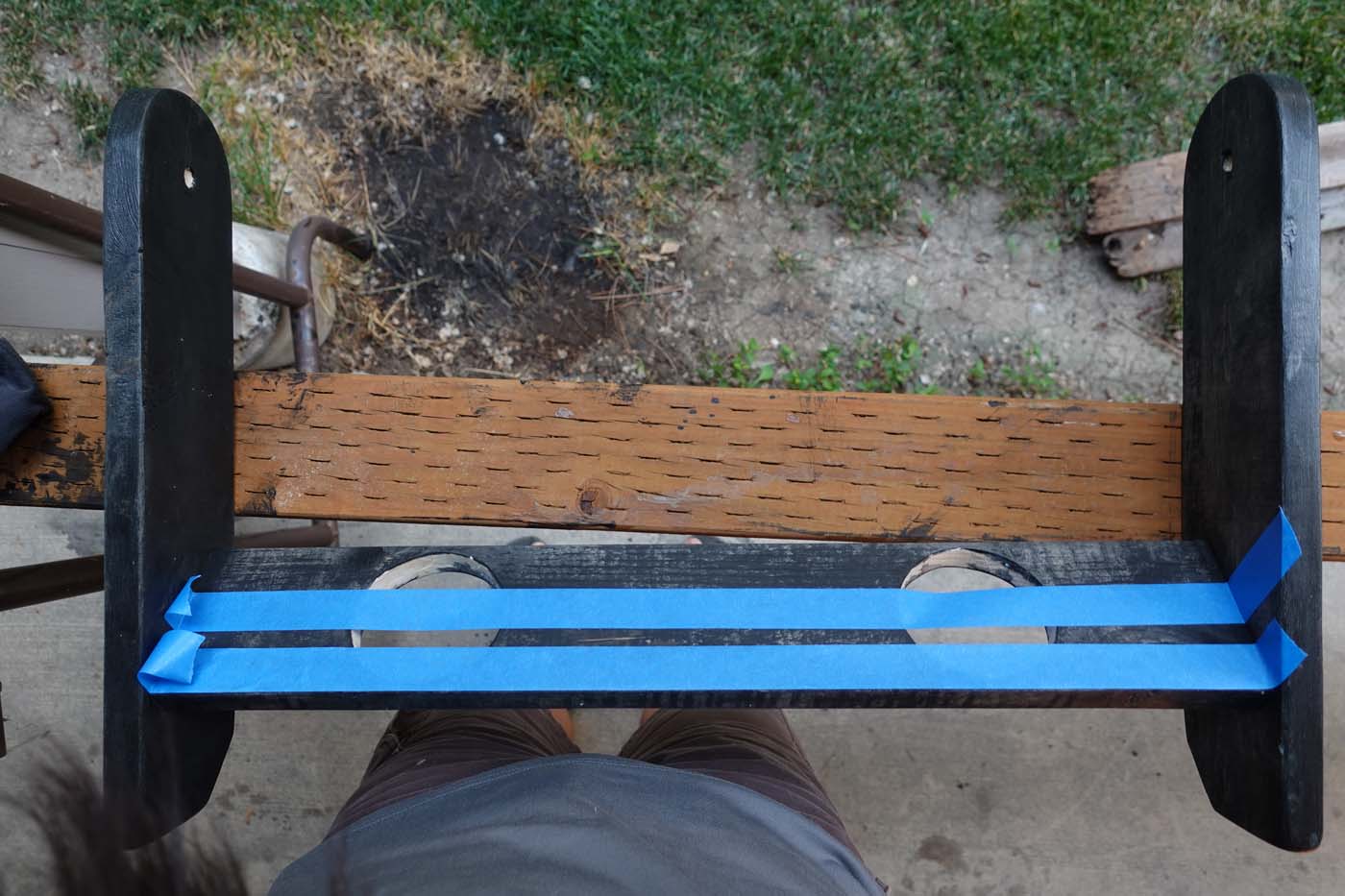 Stripes for accents: Using painter's tape, I created a line across the beverage holders on the legs for a glow accent. I also added accents to the tops of the legs, around the beverage circles, and the cornhole hole.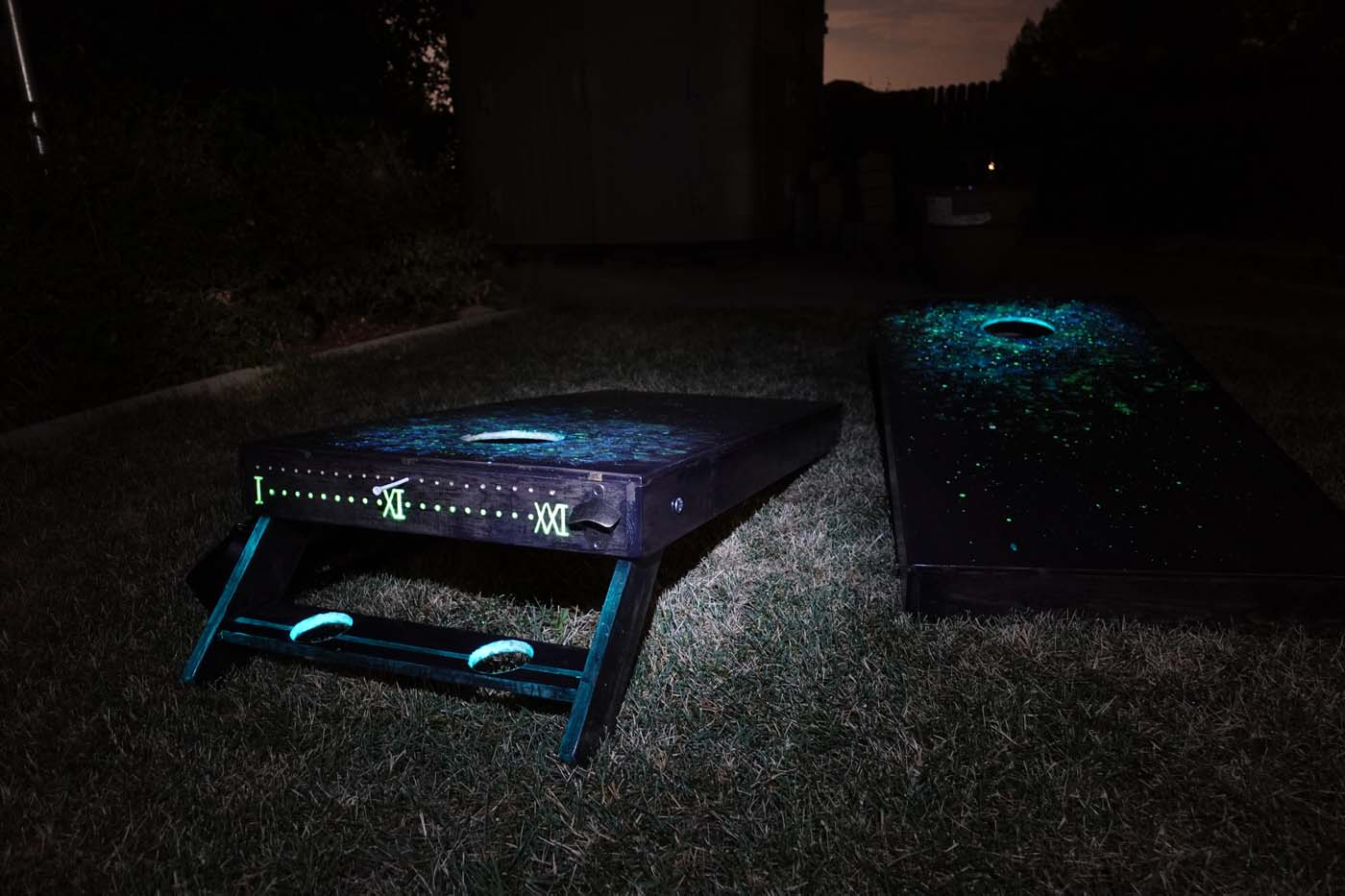 Step 8: Sealing the stain and decoration
Sealing and protecting all that hard work was a must for me. However, finding the poly finish that worked best with my project was a huge question mark. Just call me "Alice" because I fell into another rabbit hole when researching this.
Polyurethane vs. polycrylic
Basically, I found it's best to use water-based product on top of water-based product. It's possible to use water-based on top of oil-based and then maybe a little less so vice-versa, but I didn't want to chance this. Oil and water don't mix so I wanted to keep it simple(r).
My stain is water-based and I liked that it was easy cleanup, so I decided to stick with a water-based poly.
Polycrylic is water-based. A good majority of the CornholePlayers.com users finish with Minwax Polycrylic. My research showed that polycrylic was primarily used for interior products though. I'm clumsy and forgetful so I wanted something more durable.
Polyurethane comes in oil and water-based product. There's a lot of advice and information on polyurethane yellowing over time, especially the oil-based kind, so take it all in with a grain of salt. I will say that a lot of my research found that oil-based products did better with harder wear-and-tear environments.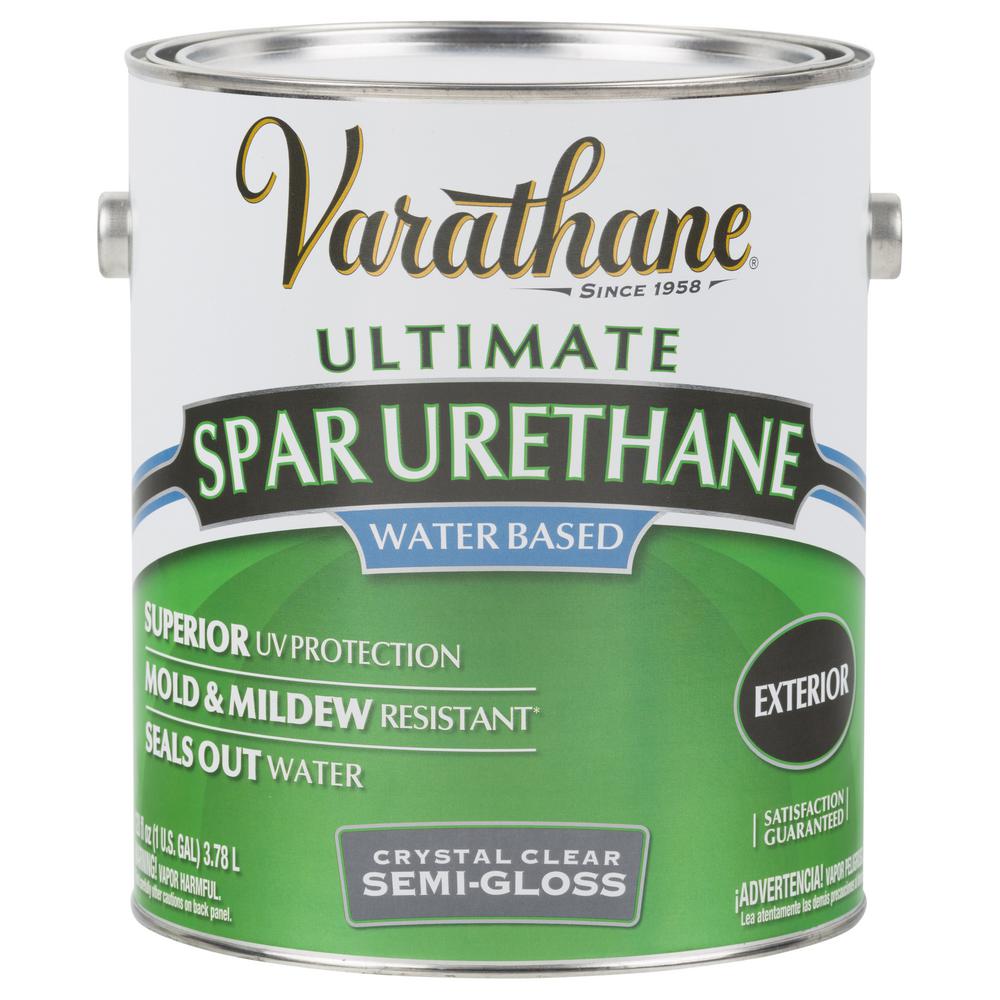 My project was pretty dark so yellowing didn't matter too much. And, aside from it being water-based to match my stain, I selected Varathane Outdoor Water-based Spar-Urethane mostly due to this comparison chart.
Spar-urethane is a type of varnish that's typical with marine finishes. "Spar" refers to to the spars of a ship, or the wooden poles that hold up the sails. It's a synthetic product that provides UV and water resistance. Perfect for the durability I wanted!
If you're still confused, Bob Vila has a great write-up between polyurethane vs. polycrylic and varnish vs. polyurethane.
---
My poly was painted on with my foam brush. I only painted the top and sides of the boards, mostly because I found it uncommon to paint the underside. This is purely personal preference.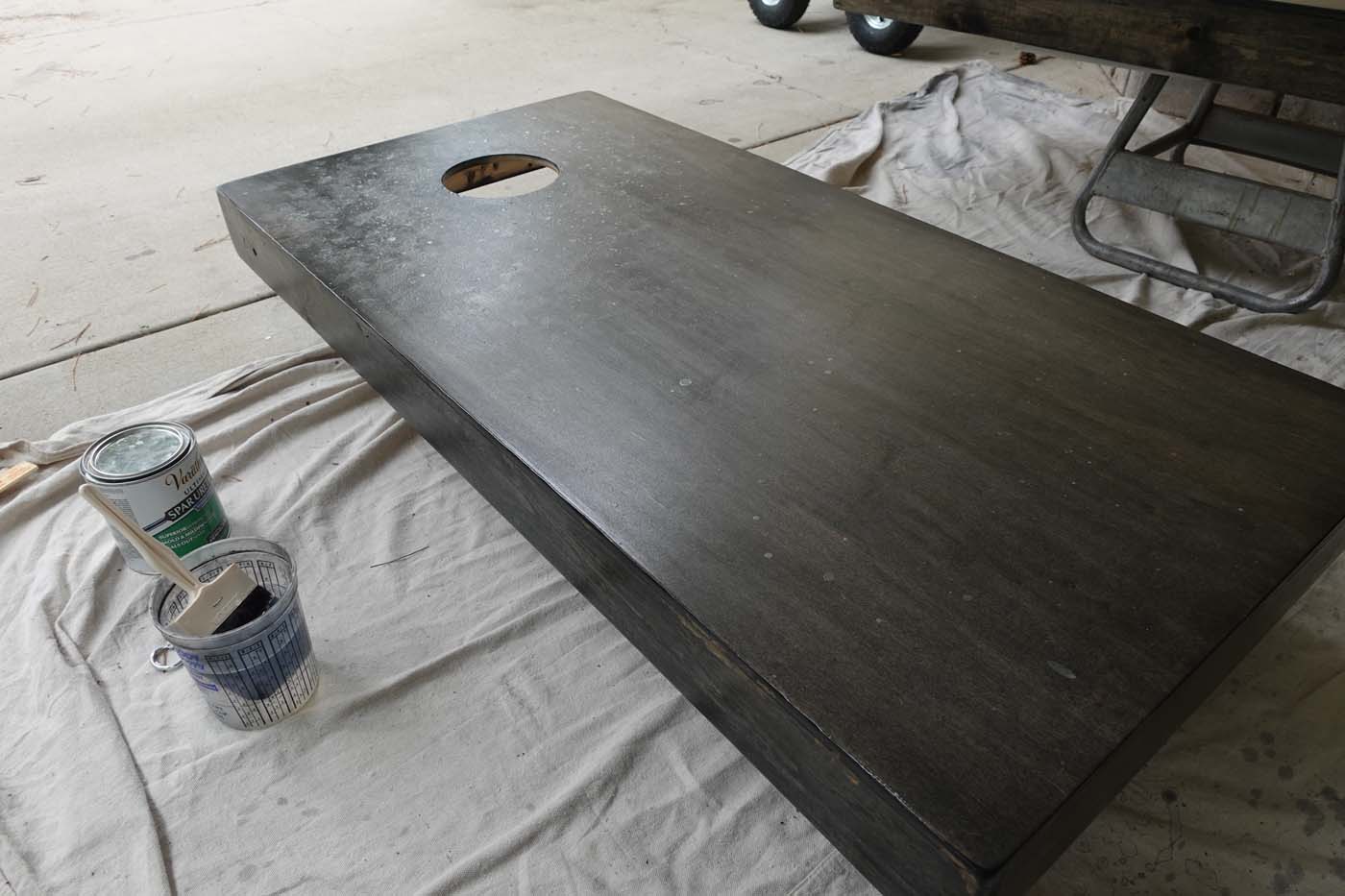 Stir the poly with a stick to keep bubbles from forming as they can when you shake the can. Then, brush with even strokes across the entire surface area. Feather the surface after the first pass-through without adding more poly to your brush. It'll help create a more even coat.
Before the poly dries, scan through to make sure there are no bubbles. Brush over to remove any bubbles or they will dry just as they appear on the surface. Wait for the layer to dry, and repeat for several more coats.
Try to work so that the foam brush is dry each time you apply a new coat. I found that a wet brush was more likely to create small bubbles.
If you find bubbles have dried in your poly coat: don't worry. Sand it down lightly with 120 grit or finer, then re-coat. I recommend finer, if you have it!
I completely lost track of how many coats I did, but it was one entire day of adding poly coating. The next day, I sanded it lightly with 400 grit (again, you can use 120 grit or finer) sandpaper before applying the last few coats. Sanding will smooth it out before you add the finish. All in all, I want to say, I did about 8-10 coats?
Adding hardware
This part is fairly straight-forward.
Drill holes as marked with the stencil earlier (this was where I marked with a red Sharpie).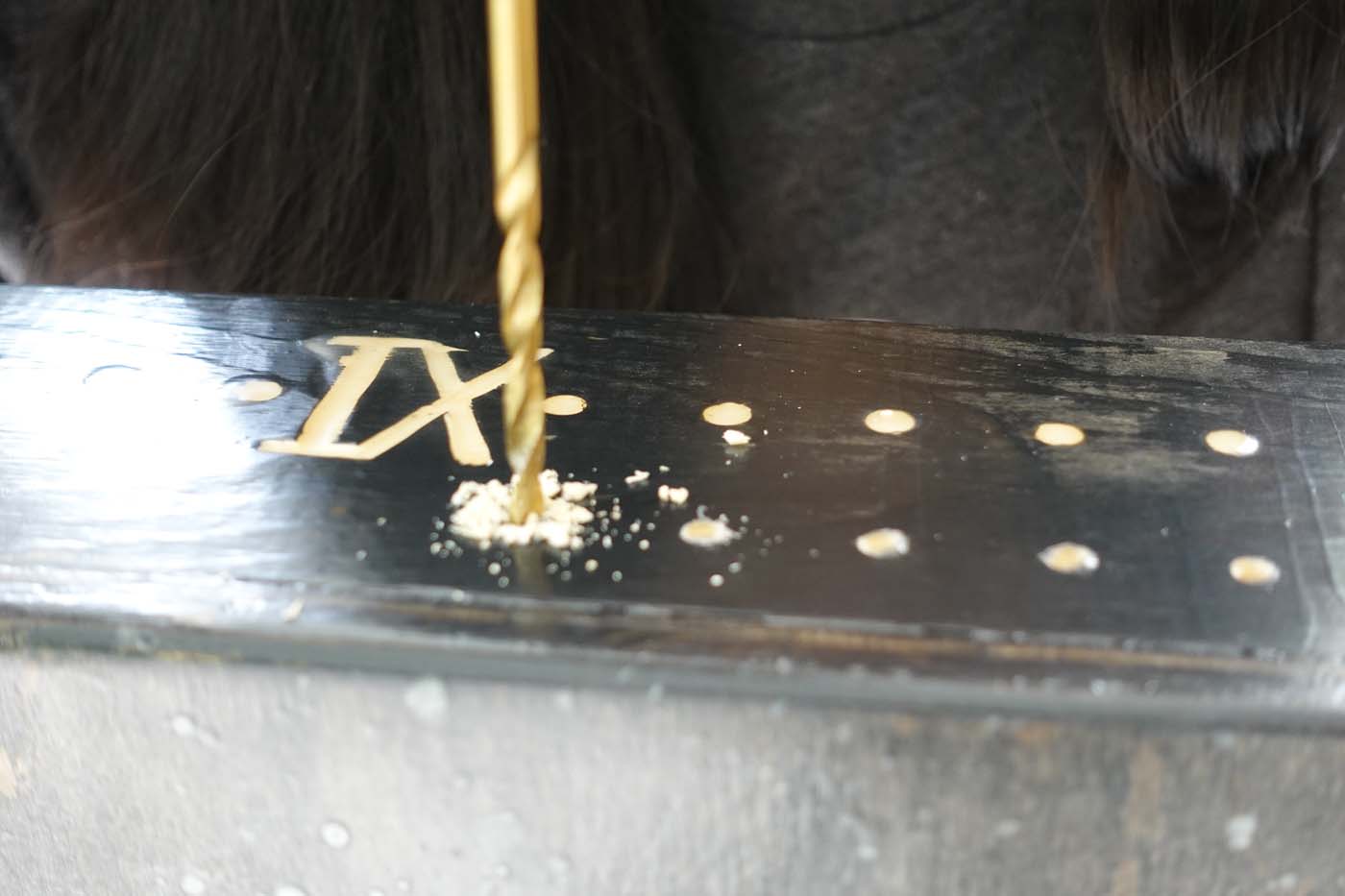 Make sure the holes fit the golf tee though… Then, drill holes and screw in the bottle opener.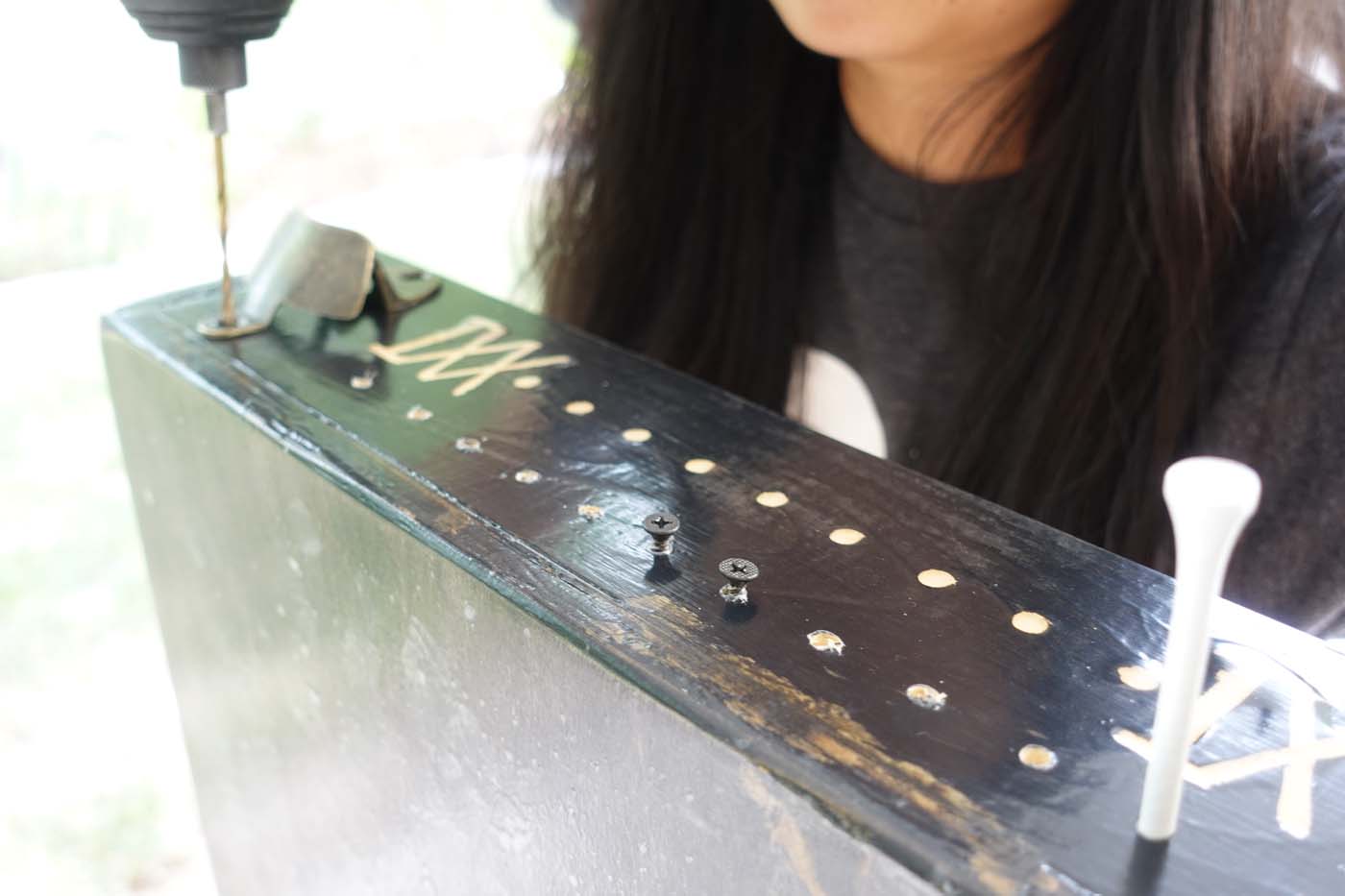 Attach the strap. But first, here's how you sew together the strap…
How to sew a tri-glide strap
Thread your webbing into the tri-glide and pull it under to sew it together.
Take the other end of the webbing and pull it through one swivel snap as you thread it back through the top of the tri-glide.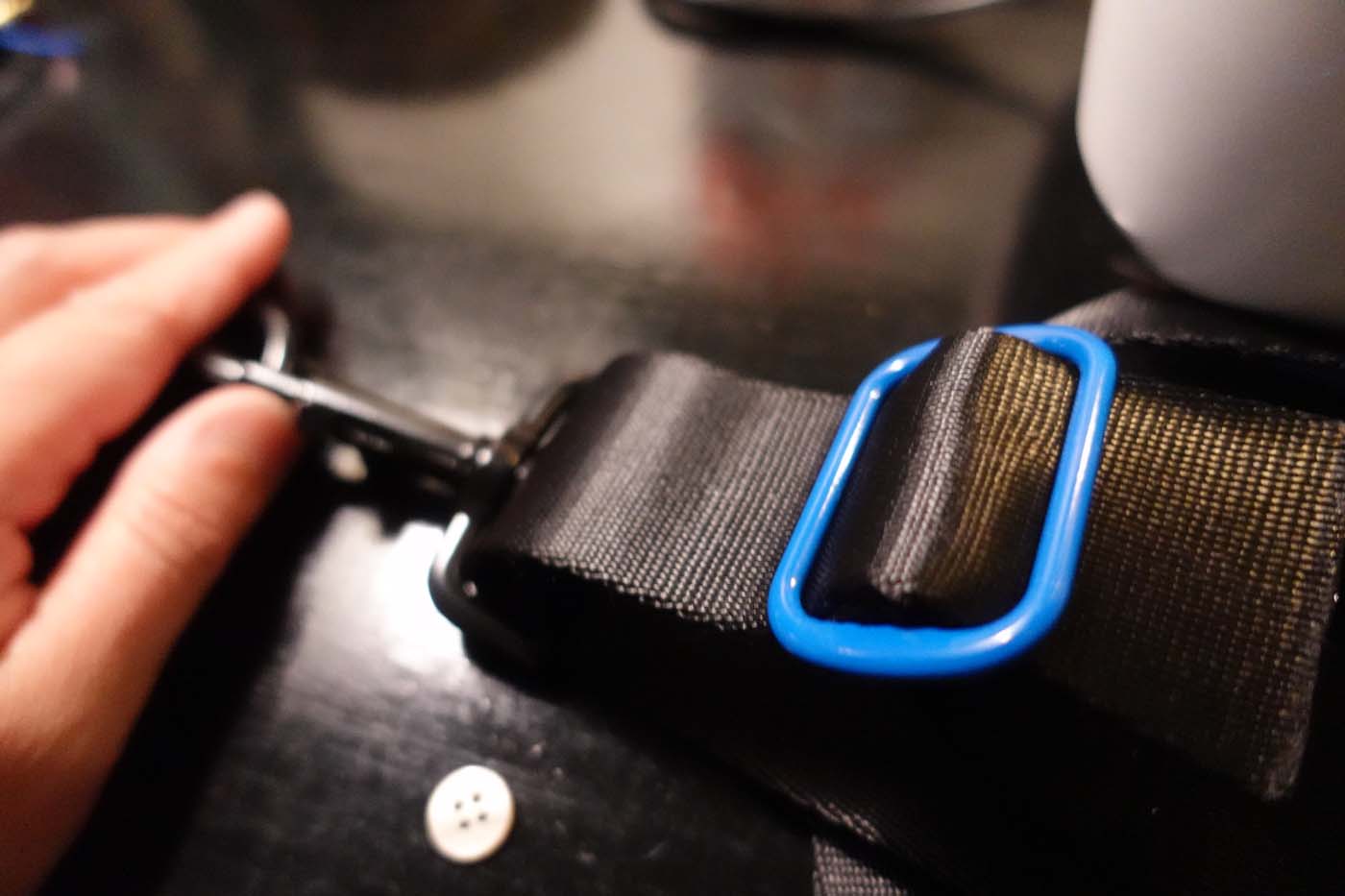 Continue threading the loose end into the second swivel snap. Pull it through and sew that together to secure it.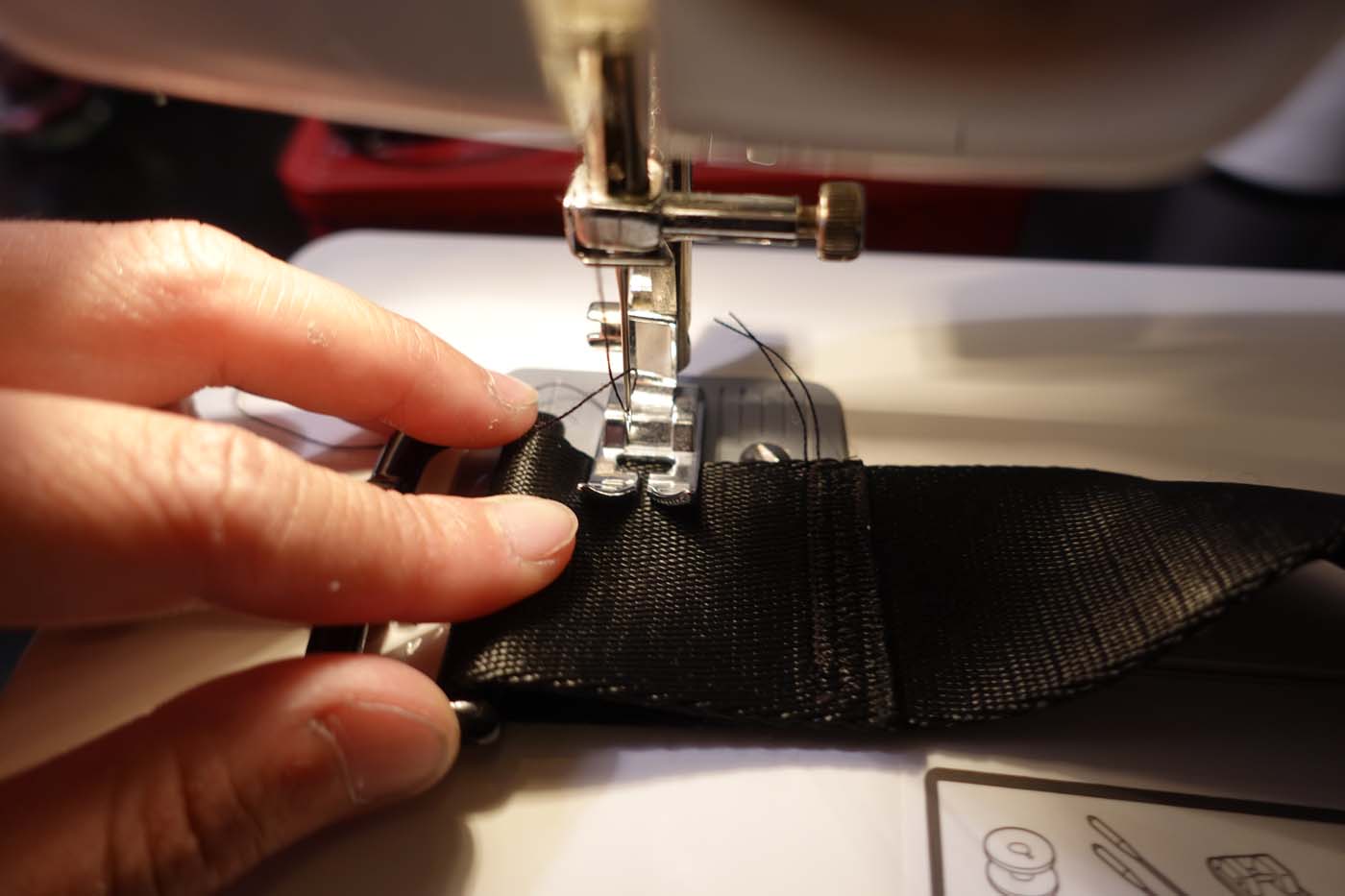 Putting the boards together, I put the d-rings on opposite sides of each board. I used the carriage bolt that secured the legs to measure placement.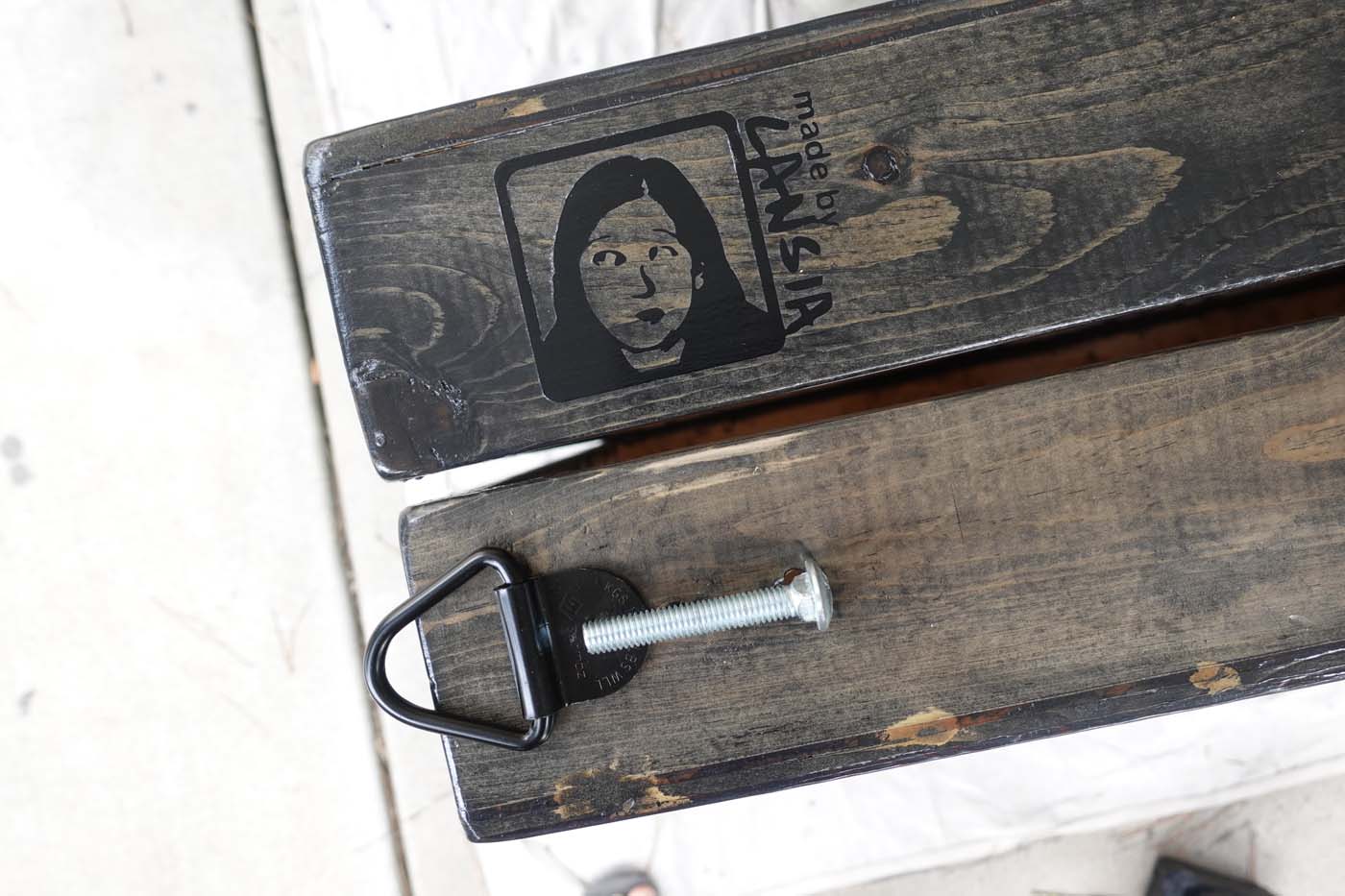 Then add the safety hasp in the middle of the boards where you placed the d-rings. On the opposite side of the boards, add two safety hasps: one to the right and one to the left. This will balance out the boards so that the straps will lift more evenly. See the photo below for reference.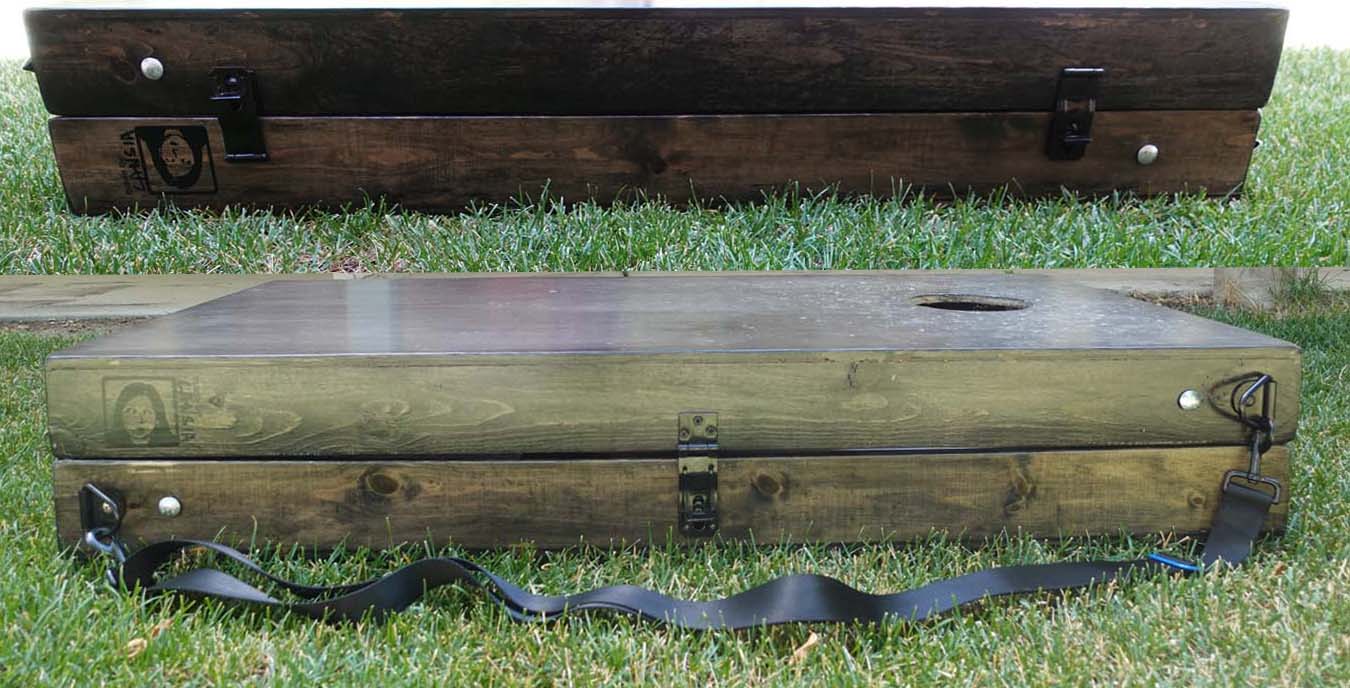 This took me several long days and a few evenings with Chris to make the boards. Though, I still need bags to play! Maybe I'll just buy those… But, that's the end! That's how I decorated my custom DIY cornhole boards.
Custom cornhole boards video tutorial
Here's a quick video tutorial so you can follow along as I decorated my cornhole boards.
Looking for more DIY home inspiration?
Return to the Cricut Guide to DIY Home Projects.
---