DIY crafts for mom and projects inspired by mom
Across the Cricut community, we've seen members creating projects that relate to the mom in their life.
There are crafts created for mom, crafts inspired by mom, and crafts made in memory of mom. Moms make an everyday impact and creative projects such as these have been visually showcasing that impact. Below are just a few community projects from members to provide a little inspiration for your own crafts for mom, or inspired by mom, as we approach Mother's Day.
---
Rhonda Atkins, paper animal figurines
Inspired by the Telus #SpreadTheLove campaign at work, Rhonda Atkins used a Cricut Explore Air 2 to help cut enough paper animals to "brighten the day of not only my mom but all the residents of the manor with a small token gift."
We began the pain-staking process of printing, hand cutting, building, and glueing each animal. It wasn't long after that we realized we would not meet our committed deadline of 100 animals by the end of February since some animals required 3 to 4 pages of cutting.
Although we didn't own one, (my sister-in-law) felt confident the Cricut would cut the PDF patterns that we were working with. We immediately went to our local Michaels and purchased the Cricut Explore Air 2. Within 24 hours the kids had it down pat and WOW, what a difference! We were now flying through the process of making them.

Thanks to the help of the Cricut, we were able to meet the deadline In the nick of time.
Rhonda mentions, "This gave us great satisfaction and joy and we are already thinking of what we can make them (and perhaps other senior locations) in the future, since a small token brought many smiles." Mom "was 'grinning ear-to-ear'" after learning that her grandkids made the animals.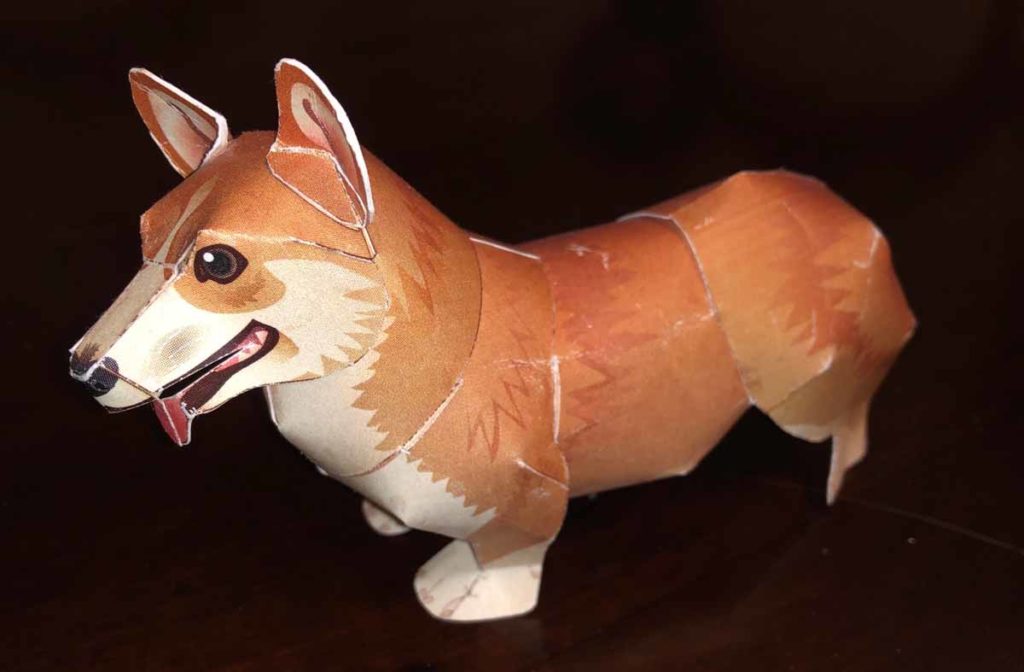 ---
Katie Lowe, Cheetah Greetings
Katie and her mom, Claudia, do lots of things together. They have been on many committees together. They have DJed together. Then, when Claudia bought her Cricut Explore Air machine and made explosion box cards, "Katie expressed an interest in making cards as well."
Last February, both Katie and her mom each purchased a Cricut Joy machine.
Not only do people love Katie's cards; she loves making them. Katie has learned how to use Design Space and she is able to search for and select the card(s) she would like to make. This may not seem like a big deal to most people, but it is a huge accomplishment for a woman with Down syndrome.
Each year on World Down Syndrome Day (WDSD), Katie has made an effort "to bring awareness to the abilities of individuals with Down syndrome." This year, Katie and Claudia came up with a card design "that would support friendship in honor of WDSD." These cards are sold online and all proceeds benefit The National Down Syndrome Society (NDSS); The National Down Syndrome Congress (NDSC) and the Global Down Syndrome Foundation.
---
Christine Johnson, calla lilies
Christine's mom is allergic to flowers, but using her Cricut Maker to make these lilies out of sculpting foam made it possible to gift her a present that Christine "was never able to give her before."
So, even though this was out of my comfort zone, since I've done mostly vinyl and cardstock projects, this was the perfect challenge for me… My mom's first reaction when I gave them to her was hesitancy; she looked at me a bit miffed. She originally thought that they were real and couldn't understand why I would give them to her since I well know about her allergies. Then she had a look of amazement when she realized that they weren't real.
Christine cut the 0.8mm foam stacked on top of transfer tape using a StandardGrip mat with the "lightweight cardstock" setting. The stamen was created with wire, glue, tissue paper, and rice. "I have to stay, I'm still finding little pieces of rice here and there in my craft area."
Find the same tutorial that Christine used here.
---
Jessica Welbourne, recipe board
Jessica made this recipe board for her mom as a thank you for coming from out-of-state to help with her 1-year-old. She uploaded her custom image to the Design Space software and cut it on permanent white vinyl to put onto the board sealed with decoupage glue. It was such a hit, Jessica is making additional boards for her grandmother and sister.
I had pictures of recipes from my great-grandmother Eleanor and also my great-grandmother Ida Mae… It was definitely a labor of love but was so worth it.
---
Nicol Corcoran, embroidery hoop
Nicol made an embroidery hoop for her sister on the 3-year anniversary of their mother's passing. Their mom was a single parent of two, and their "entire world." "We always thought we'd have more time with her," Nicol mentioned.
After my mom passed away, the clothes that she wore to the hospital sat, undisturbed, on the counter just waiting for me to turn them into something that would be treasured. The night before the 3rd anniversary of my mom's passing, I decided I was finally ready. I scanned a birthday card she gave me, cut her note out of HTV, and ironed it onto the jeans that had been sitting on my counter. I then stretched the jeans across an embroidery hoop and cut the excess. I took some yarn and sewed it around the hoop; it served as a decorative finish, a way to secure the jeans to the hoop and, of course, a way to hang it on the wall. The next day, I saw my sister, who I've had limited in-person contact with throughout the pandemic, and gave her the hoop. There were immediate tears – from both of us.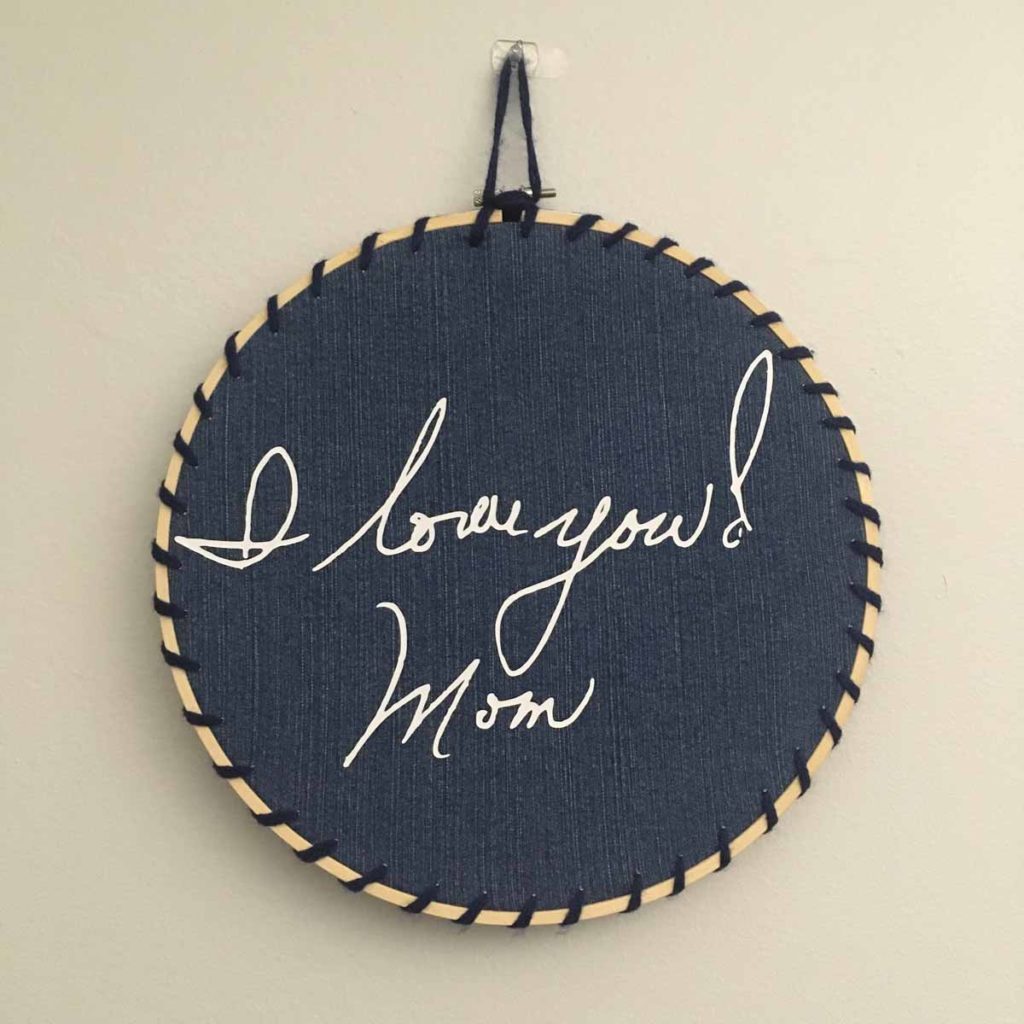 Nicol plans on making another embroidery hoop for herself to celebrate Mother's Day with her sister in honor of their mother.
---
Jill June, tote bag
Jill's grandmother was a "phenomenal woman." She was a single mother that baked pies to "sell in the streets of Pittsburgh during the Great Depression."
Grape Cake was her crowning glory. Virtually unheard of then and now. In the autumn of each year, we learned to depend on the arrival of her and a Grape Cake for Sunday dinner. Throughout the decades, her lips were sealed when we wanted to bake one for our own families. Finally, my sister received a hand written copy from her but misplaced it about 20 years after grandma died. Luckily I took a picture of it.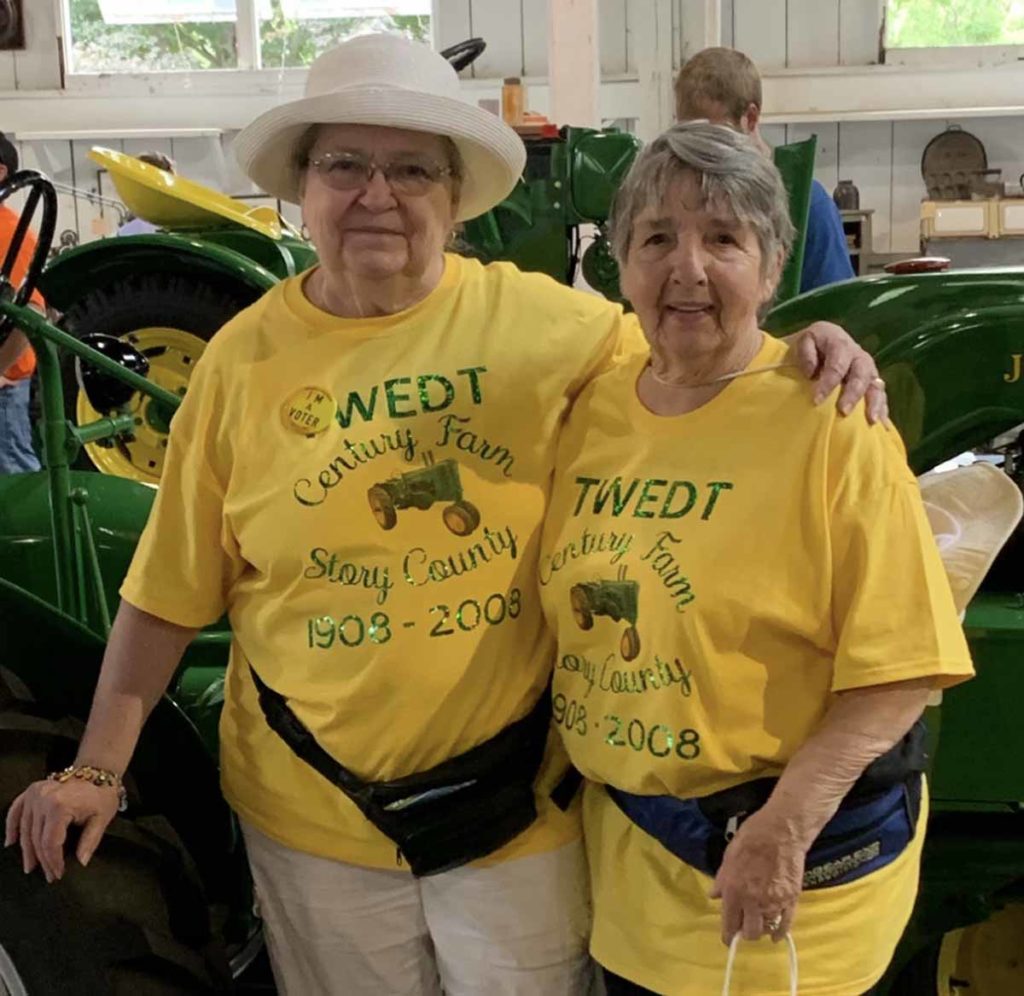 This spring, Jill's sister, Sandy (now 81-years-old), pleaded for the photo of the recipe. However, "because of the Cricut (machine), I was able to do much more than send just a copy," Jill noted. Jill turned the recipe into a tote bag in their grandmother's memory.
If you read the recipe you will find, in true grandma fashion, there are no grapes listed as an ingredient!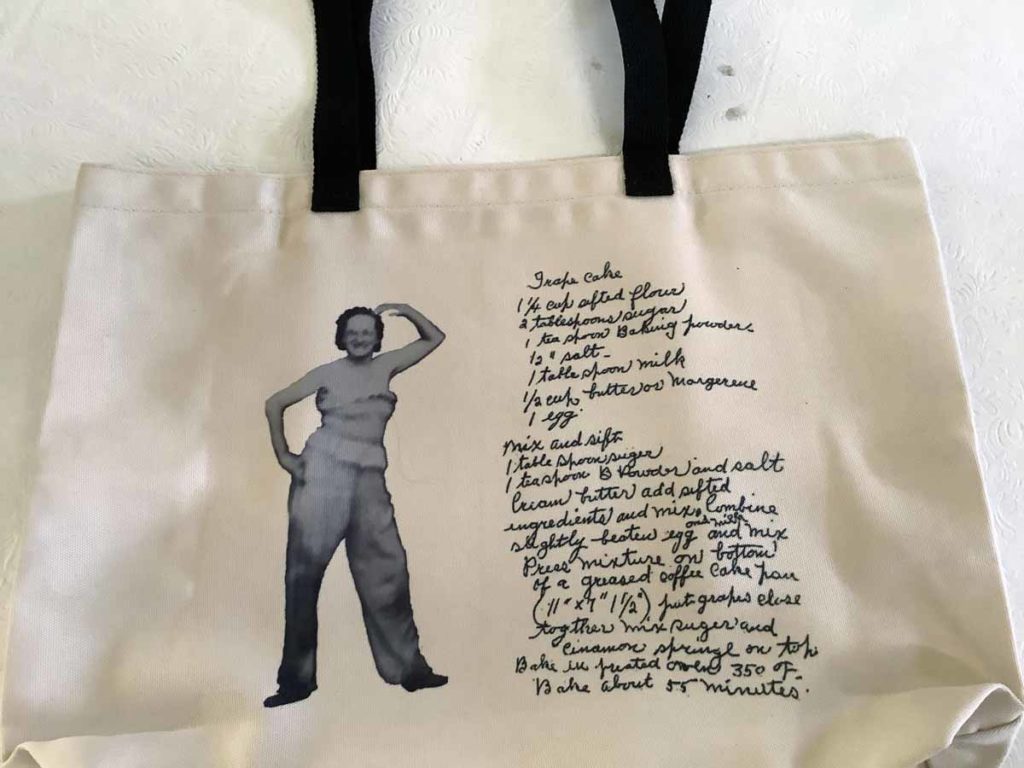 ---
Cindy De Glopper, mug
Cindy was always empowered by her mother's words. Her mom would repeat phrases like, "I have the smartest children" or "my children are the best behaved." Though, "we all knew her words were not true, that plenty of people we knew were smarter or better behaved," Cindy and her siblings felt the love, pride, and belief instilled upon them by their mother.
My parents had six children in eight years between 1954 and 1962 in an era when most men went to work and most women shouldered most, if not all, of the childcare and housework. I never realized what a workload this must have been for my mother until I became a mother myself. Despite the enormous amount of cooking, cleaning, laundry and refereeing constant fighting among us kids, her words were often of pride and praise… She passed away in 2007 but in the ensuring years I've heard her words in my head often and have confidently navigated myself through new responsibilities or situations believing I could do anything I set my mind to because my mother said so.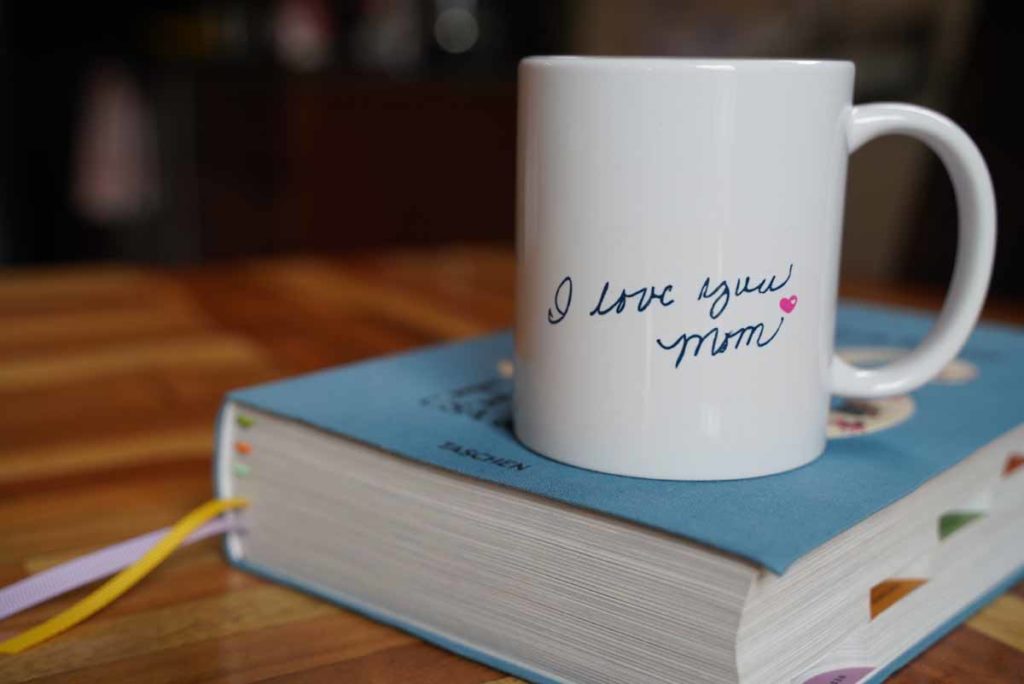 When the Cricut Mug Press was announced, Cindy couldn't wait to "drink from a mug that reminds me of my dear Mother and makes me smile every time I see it."
---
What gifts for mom or projects inspired for mom have you been making? Show us by tagging @OfficialCricut and #cricutmade.