7 ways to craft a spectacular graduation celebration
A pandemic has caused schools to cancel graduation. But, rather than foregoing the festivities and celebrations during this milestone, seniors everywhere are embracing alternative solutions. Parents, families, friends, and other loved ones are going all out for graduation. Here are a few of the ways they've crafted memories for the senior(s) in their life.
Simple graduation cap chocolate treats
Attach a square piece of cardstock and add a thin ribbon to a snack-size peanut butter cup for an easy graduation treat.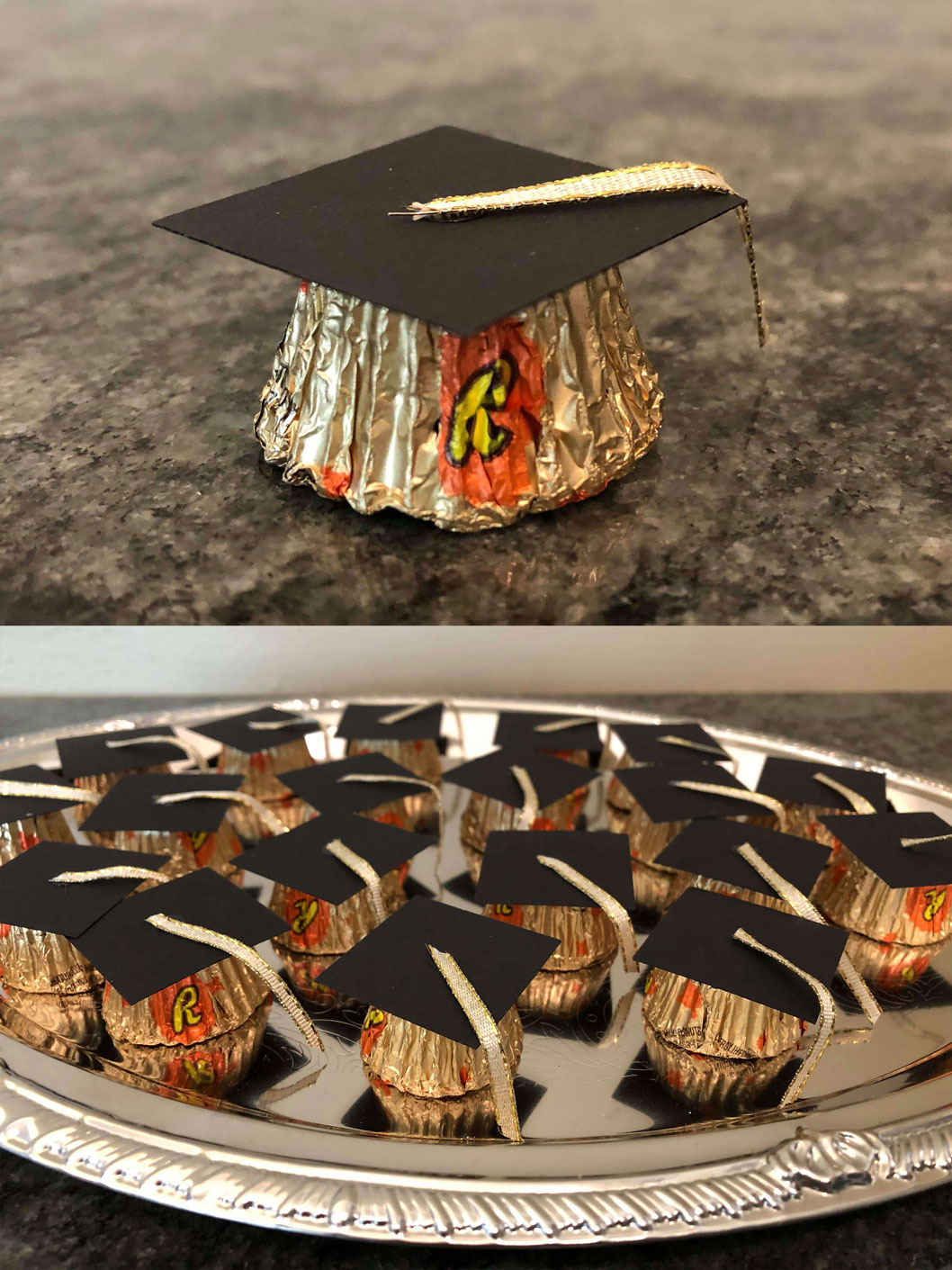 Meg Roe Bryant "used a 1.25 inch square punch to make the flat top of the hat and wired ribbon as the tassel."
Square shapes are also easily cut in Design Space by utilizing the shapes tool. Cut multiples of the same image by increasing the number of "project copies" when you "make it." Add the ribbon with wire (or perhaps a staple). Then, "put it together with glue dots," suggests Meg.
Her daughter, Emily, graduates from high school this year.
Creating a special "Congradulations" card
Karyl Patredis found that word spread about her creativity when her son's preschool teacher asked her to make a specially-crafted card for a Frisco High School graduate.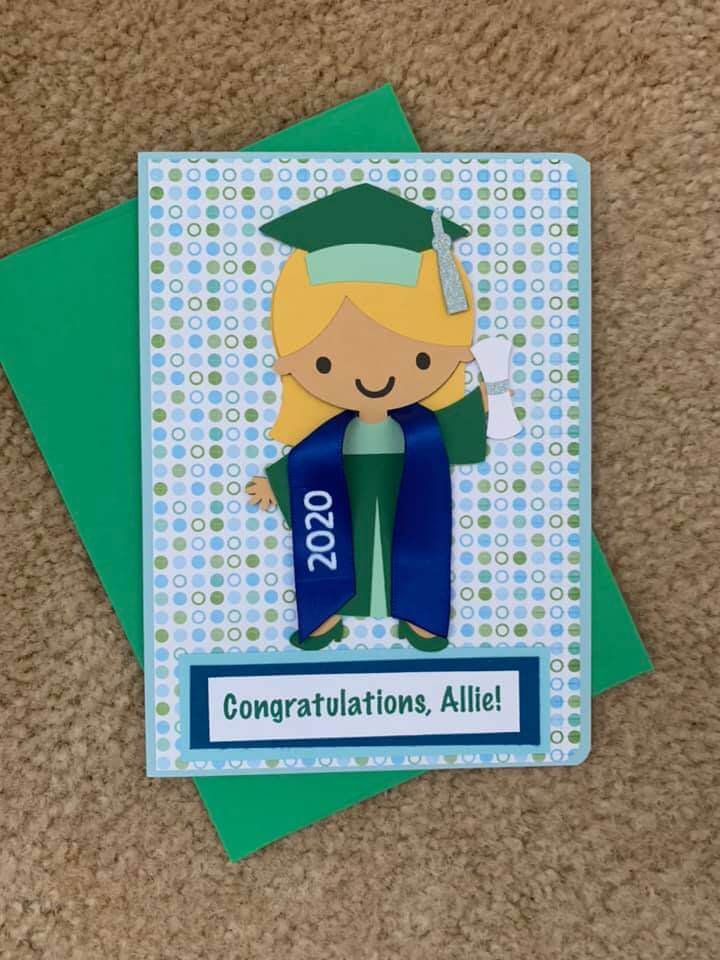 Karyl used the "Create a Friend" cartridge on Design Space to create a special graduation card. "People cards are one of my favorite things to make," she says.
Adopt-a-Senior gift baskets
The card for her son's preschool teacher wasn't the only thing Karyl made for a special graduate. Karyl's community allowed her to "adopt-a-senior," where she found Hayden, a future Ouachita Baptist University student. Messaging with her mother, Karyl got a few items that Hayden would like and "the little gift basket was born!"
Karyl "used all things Cricut to decorate." Vinyl was used for the bucket and little book inside while iron-on was used for the mask and T-shirt.
---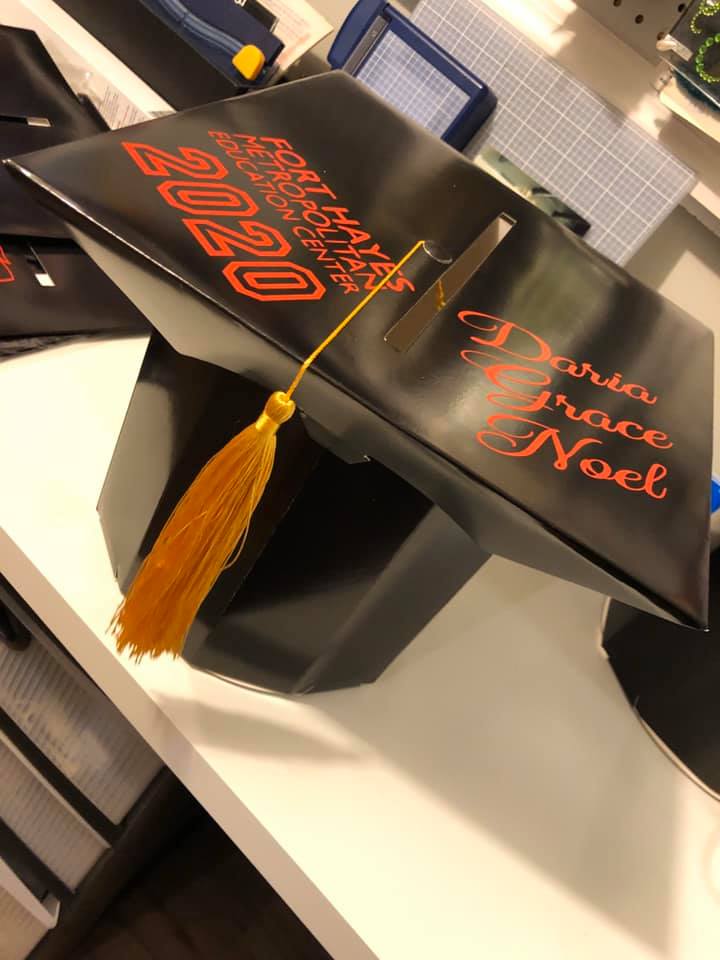 Mara Lee Ford designed her own gift basket in the shape of a graduation cap. Using thick black cardstock, she designed a custom box within Design Space and filled it with…
To make the gift box, Mara:
scored black cardstock eight times about 1.5 inches apart, lengthwise
rolled the scored cardstock into a circle and sealed the edges with double-sided tape to create the base
cut a circle of the same material for the bottom
scored a square about 1 inch along the edges to fold under for the top
cut a .25 inch wide rectangle for the card slot on top
then assembled together all the parts
and, decorate with vinyl lettering
Mara made two for seniors she adopted in her community and another for "a dear friend who has been struggling with the loss of her daughter's senior year." Made in one day, Mara struggled through trial and error but "found my Cricut to be cheaper than therapy." Looking for a simpler design? Here's a graduation gift box from Design Space.
Personalizing a standout graduation cap
Melayna Neupert from South Carolina crafted custom graduation caps for her and her sister, Deannah. They are celebrating their last year at Francis Marion University.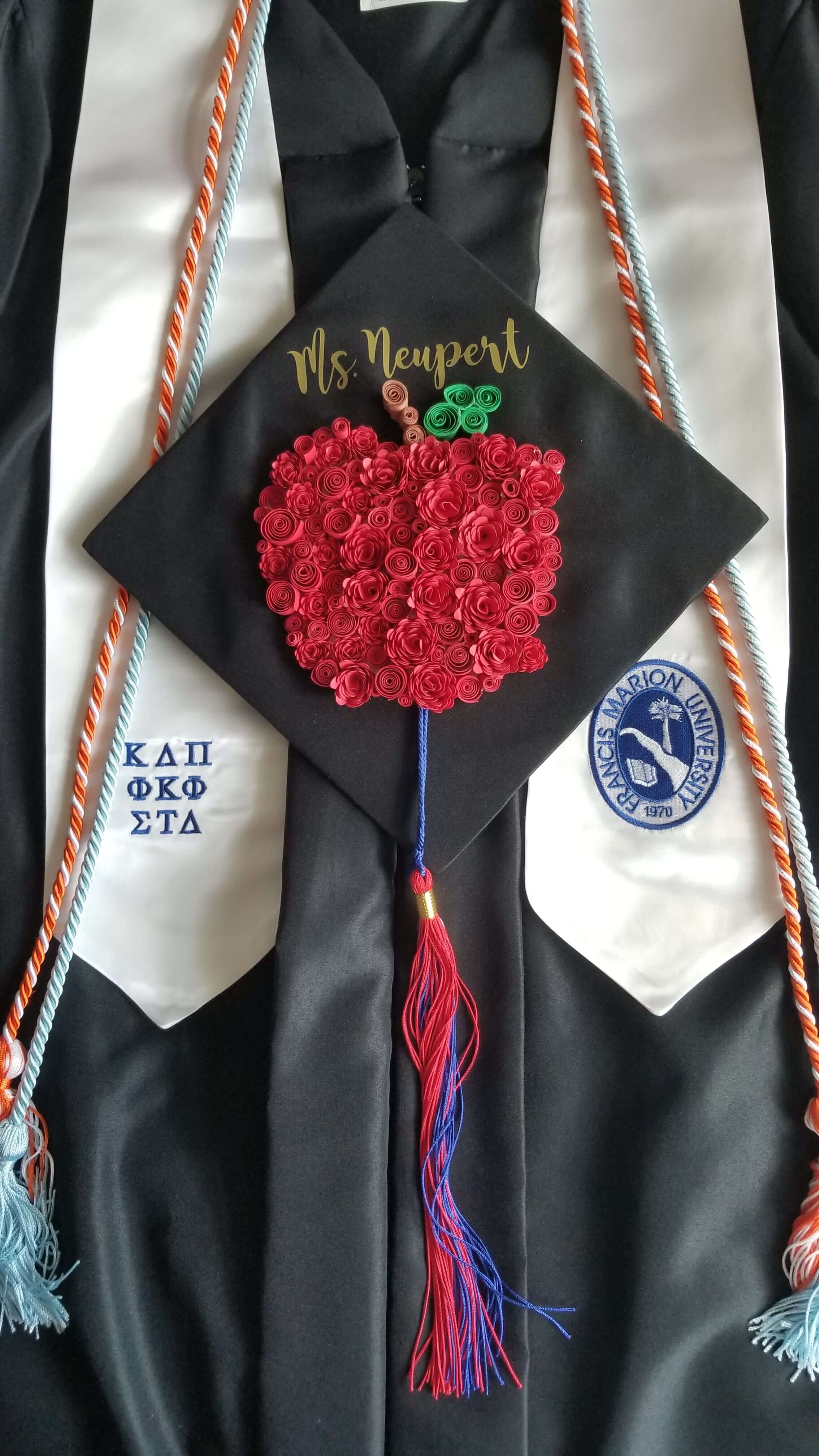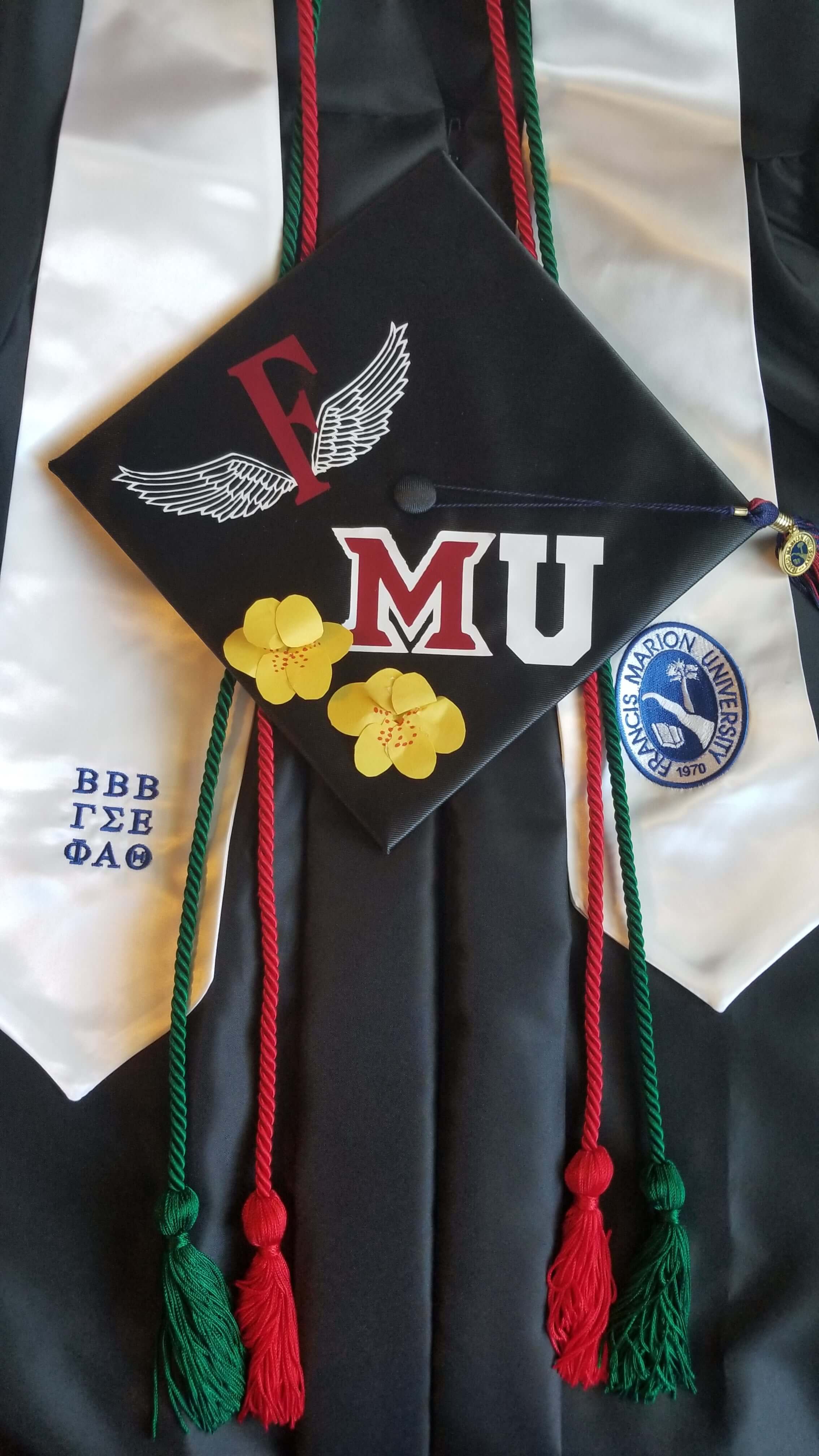 "I used my Cricut to cut out rolled flowers in a variety of sizes," says Melayna. As a graduate in Early Childhood Education, Melayna will be teaching second grade this fall. And, she's already crafted the names of her future students to post outside her very first classroom.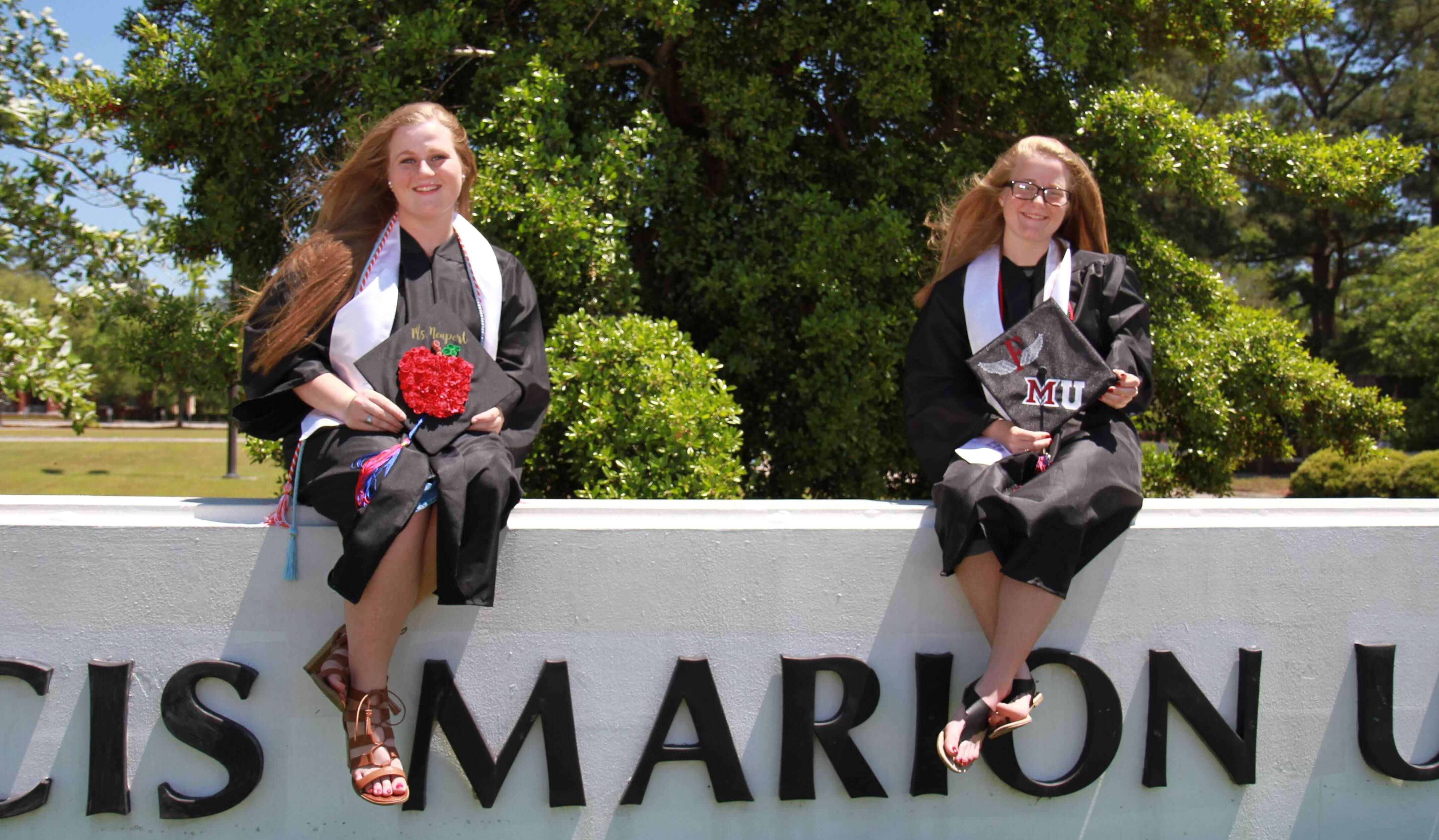 Deannah graduates from FMU this year in Biology and Chemistry to attend grad school at MU for her PhD in Ecology, Evolution, and Environmental Biology. On top of the creative play on words for her sister's cap, Melayna used a template for giant flowers and scaled them down to create the yellow flowers for decoration. Design Space has numerous 3D flower images for inspirational flowers fit for your personalized cap.
Need help with paper flowers? Check out these resources and tutorials:
DIY social distance graduation celebrations
Anna Villalobos cried for two weeks when she realized Angel, her youngest child, and his classmates would never have a high school graduation. Coincidentally, Anna and her husband purchased a storefront property earlier in the year where she knew "would be the place where I could do something for them."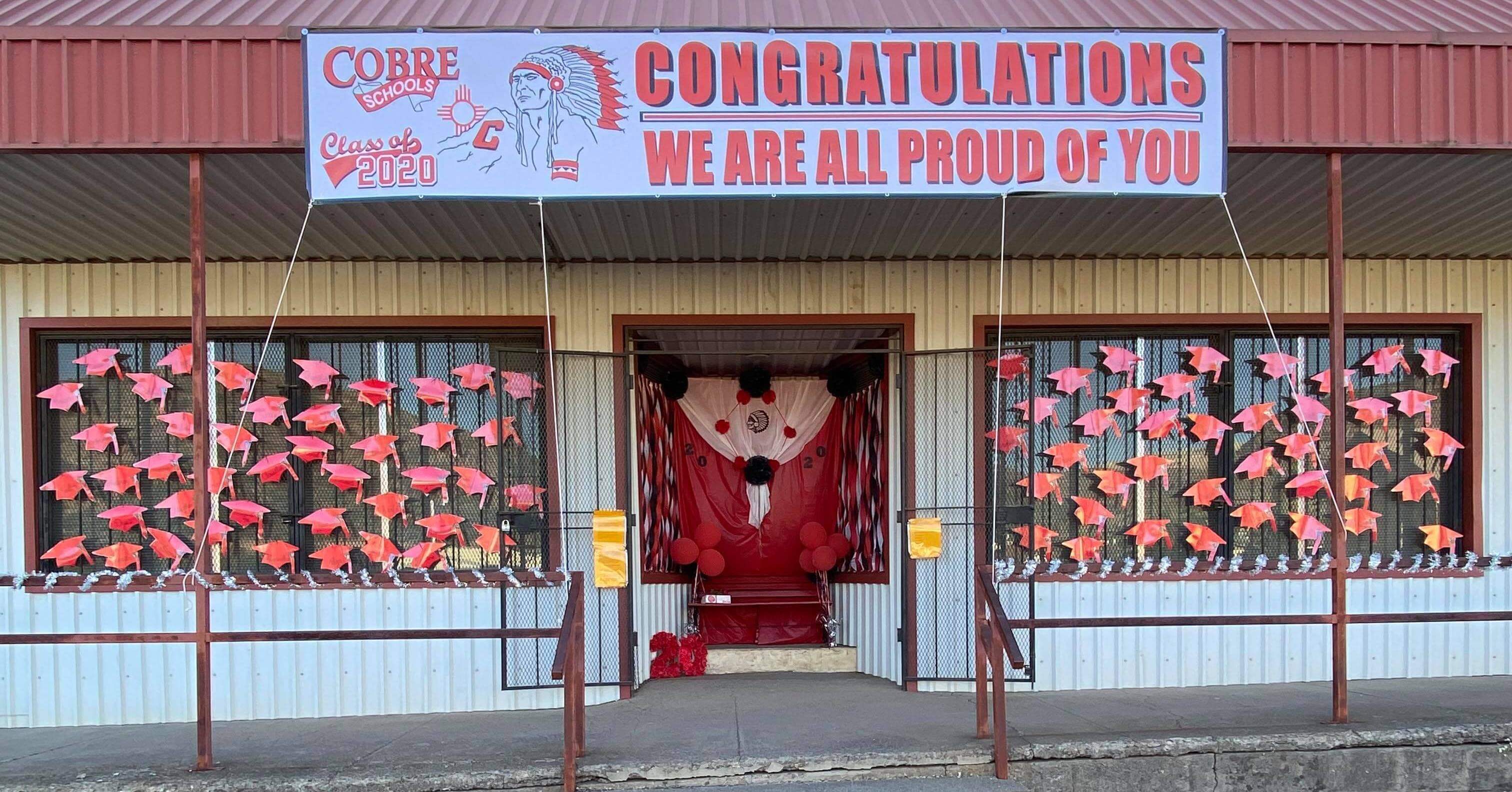 "When I realized this was something these young adults would never get back, I decided to dry my tears and do something for them," says Anna. Not only did she use her Cricut to cut out 83 individual graduation caps, Anna also cut out their names to honor each individual student.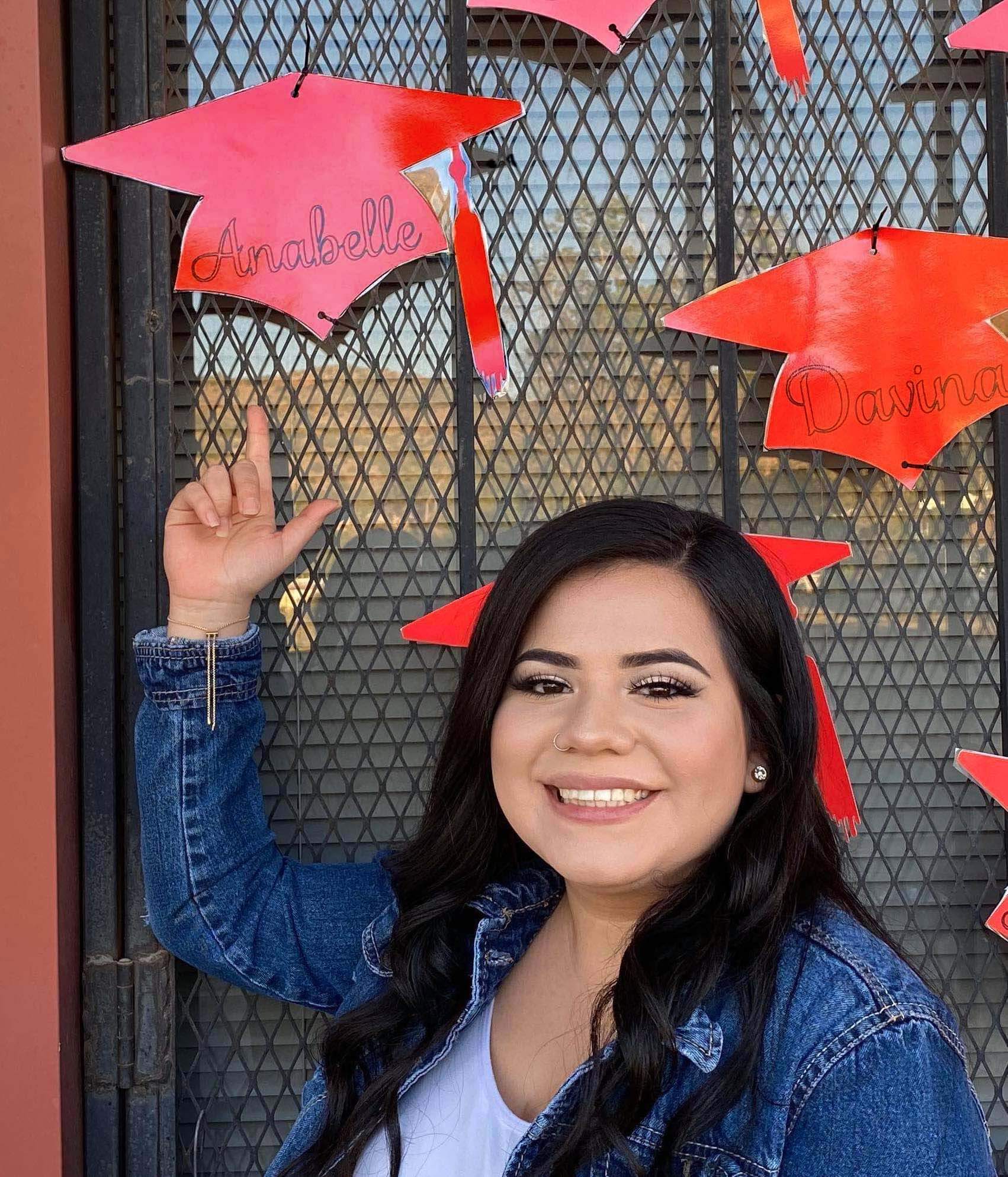 The backdrop was created with tablecloths decorated with images cut from black glitter and other cardstock. She created stencils to decorate the "books" on the bench.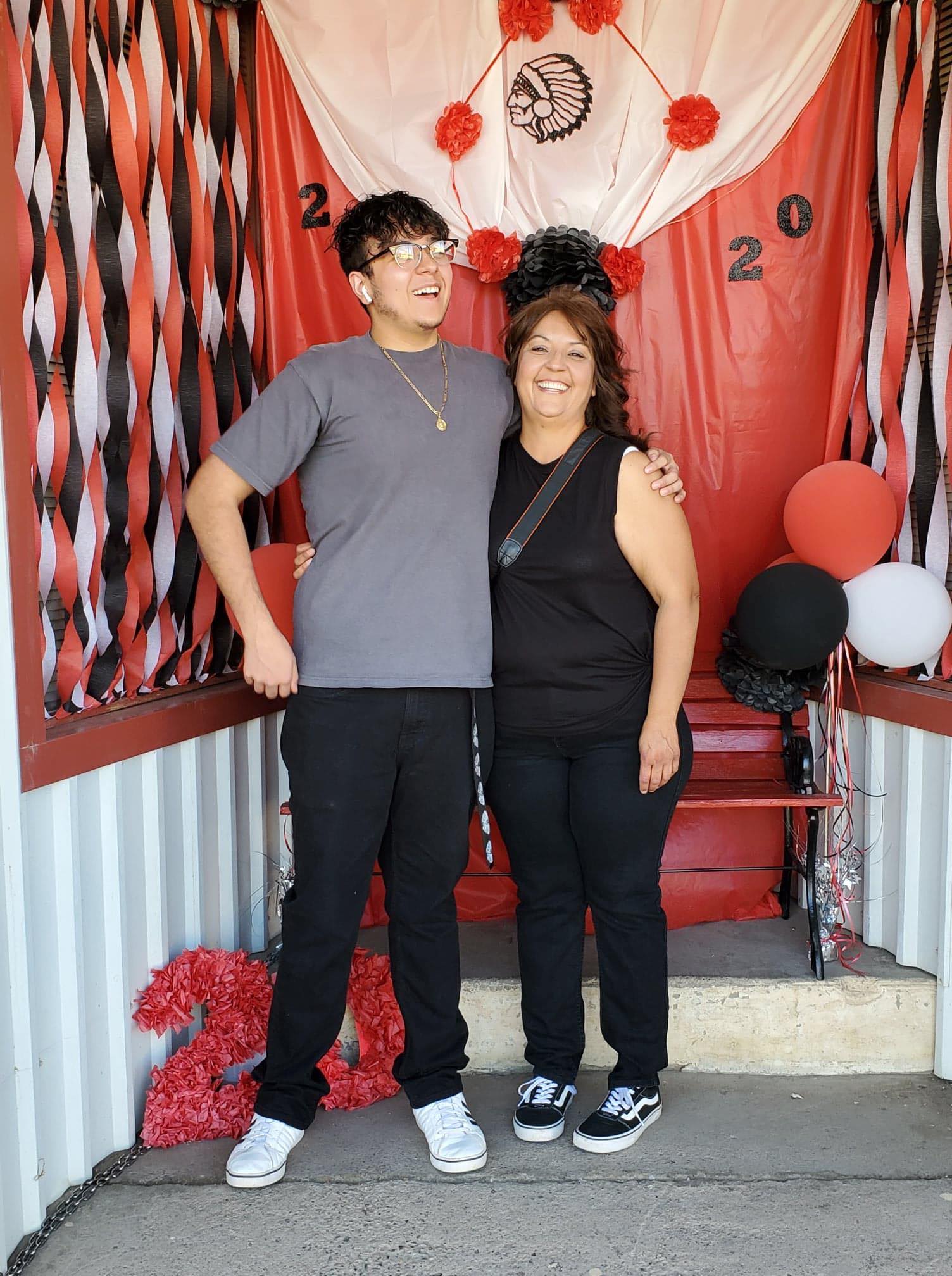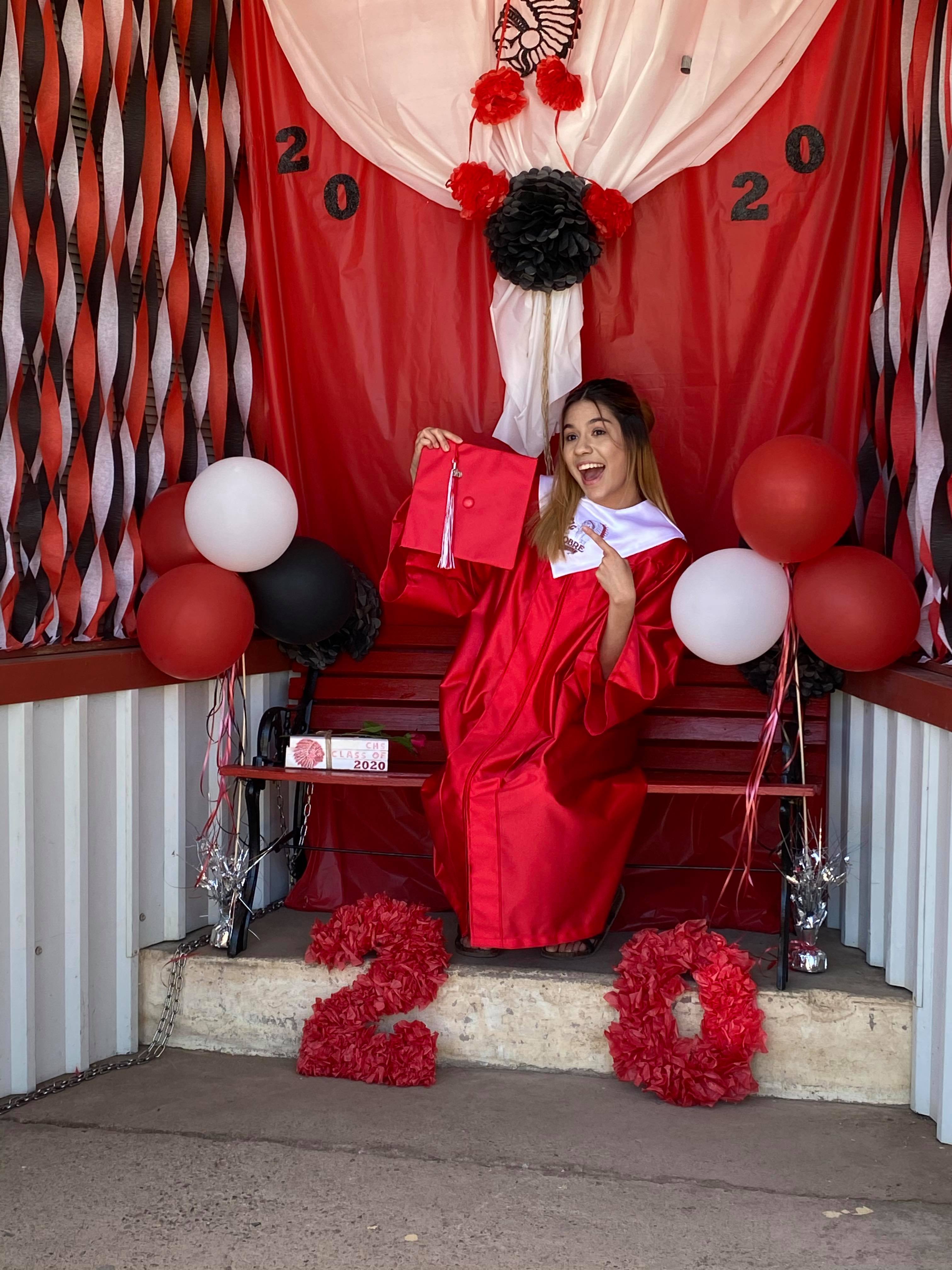 Learn about designing with your own images, stencils, and 3D decorations:
Graduation photo props and decorations
Tracey Bryant Roberts created props and custom decorations for graduation after seeing her nephew, Colton, "quarantined from his friends of 13 years."
Separated by 1100 miles, Tracey was determined to give Colton a special graduation somehow. "These graduation decorations were made to lift his spirits and to help my sister with his open house," she says. Tracey's graduation banners are available for the Design Space community. And, here are some ready-to-make graduation photo props.
---
Elysa Skousen made custom cut yard signs to celebrate her niece's graduation. "I started these so we could have them for her yard and not rely on a rental service," says Elysa. With a bit of research, she decided on corrugated plastic and vinyl.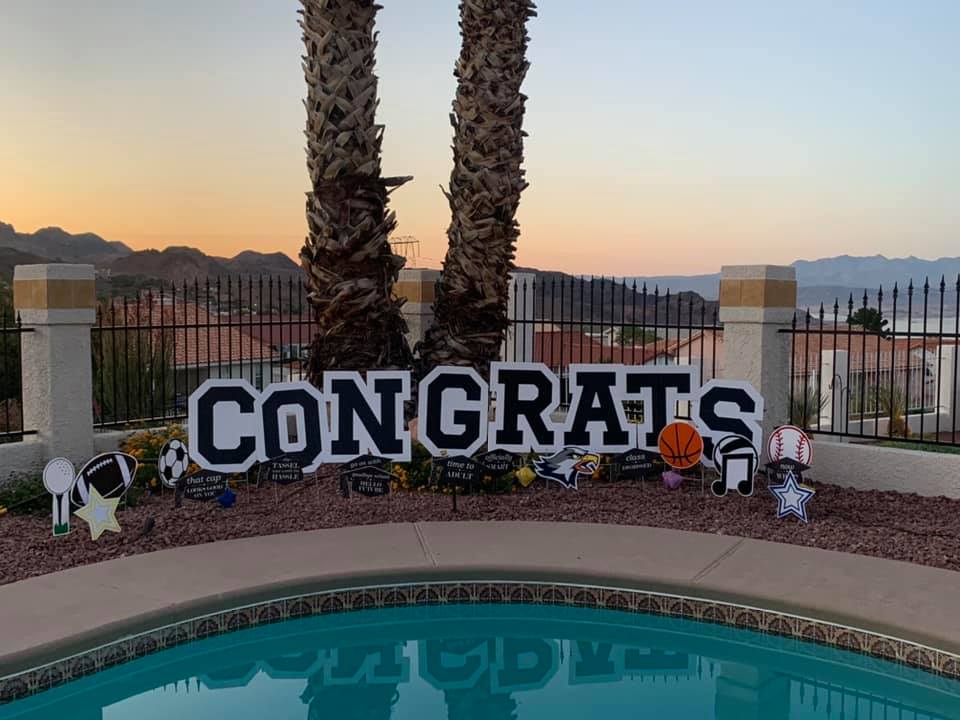 To make the letters, Elysa…
used the Extreme Font cartridge for her layered letters
sized and cut all the letters and graphics to fit her 12"-24" mat
made a plastic stencil for the back layer (white) and taped the pieces together to trace onto corrugated plastic boards
cut the letters with a knife tool, a self healing mat, and "lots of patience!"
then, cut the front layer (black) using vinyl before setting them onto the corrugated plastic with transfer paper
Her niece, Alexys, graduates from high school this year.
Graduation parades
Shelley Miller's oldest is a senior in high school, but he "hasn't been in an actual classroom since March 13th." As a small town with a graduating class of only 28 seniors, the high school celebrated with a convoy.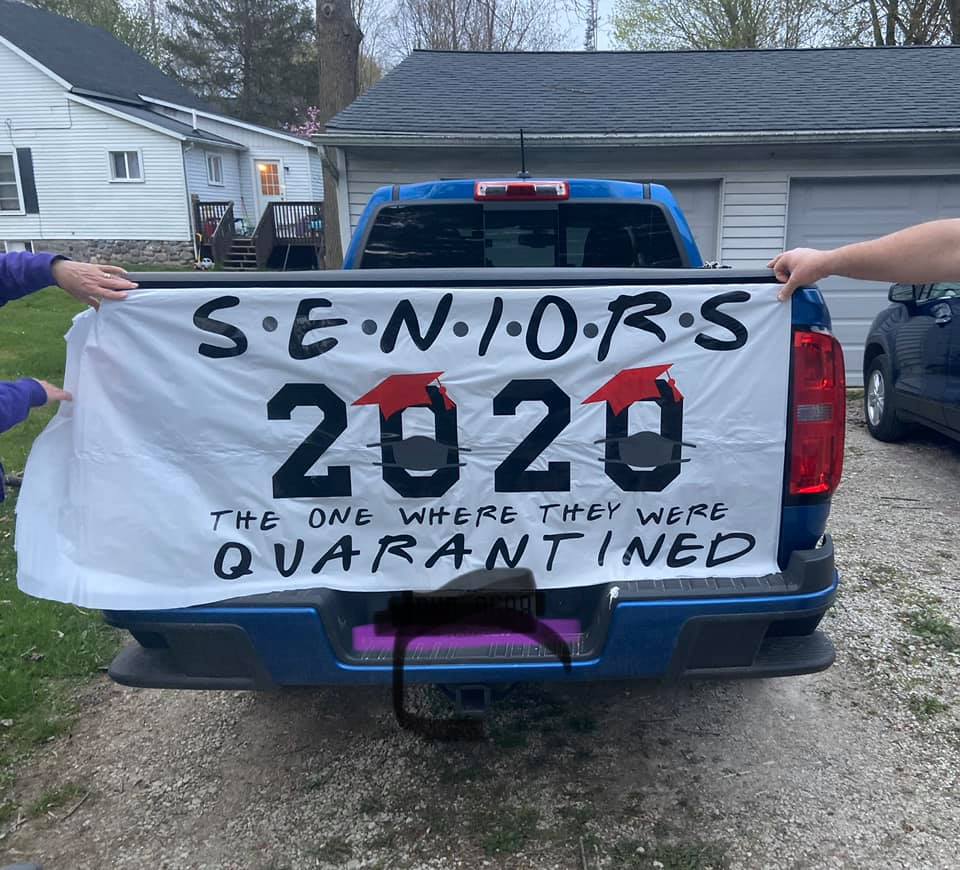 "Instead of them being able to walk the halls in their cap and gowns, they got to drive around in them," says Shelley. The banner is made from a Dollar Tree table cover sized to the tailgate. In Design Space, Shelley used a Friends font (being that it is one of her son's favorite shows) and "rearranged the letters to fit on 12×12 mats" for outdoor vinyl. Then, she transferred it to the banner very carefully with contact paper.
Did you celebrate a graduation this year? Please share what you made in the comments!