Skip to instructions
Riding the wave of the organic modern décor movement, "boho chic" bedrooms are another trending topic of conversation amongst modern design enthusiasts.
Like the organic modern style, these boho bedroom ideas pay homage to woodsy, natural elements. Neutrals dominate the palette, accompanied by pops of rich color and greenery. All elements work in harmony to create a serene and relaxing space, perfect for rest at the beginning and end of each day.
We all deserve a bedroom that represents the pinnacle of comfort and breathability. Once you've found the right furnishings, these Cricut-made boho bedroom ideas and projects will pay perfect complement to your new, natural design.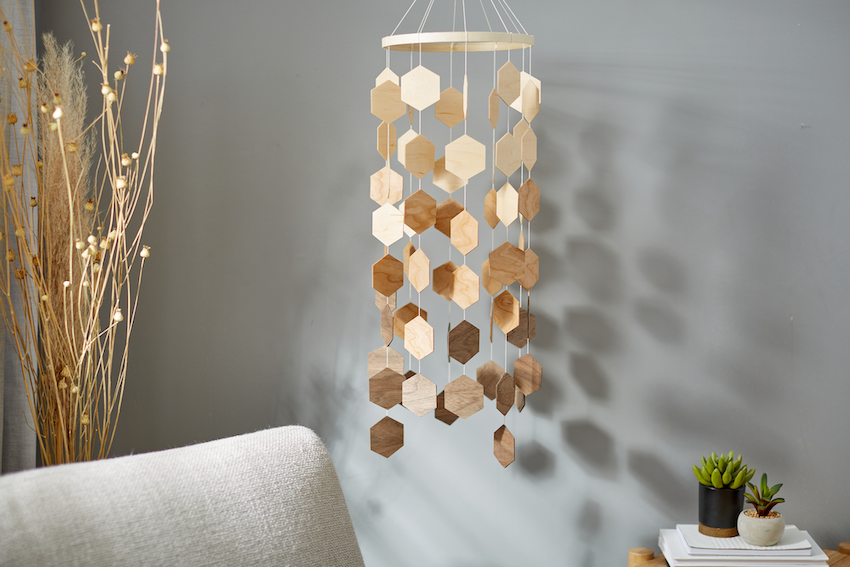 Out of the woodworks
Modern boho is all about embracing the environment that surrounds us, then adding an upscale twist. Wooden beds, nightstands, and dressers can be accessorized with metallic and neutral tones to add an entirely new look to your standard grain. Though primarily found on floors and in furniture, incorporating wood and tree-like elements to your walls and décor can elevate the scene.
Utilizing reclaimed wood in projects is a great way to make use of this material. Plus, it benefits the environment by repurposing something old into something new! Design Space is a treasure trove of wood décor projects, including reclaimed wood art, gorgeous wooden mobiles, and more. Bring them into your boho bedroom to accentuate its natural look and feel.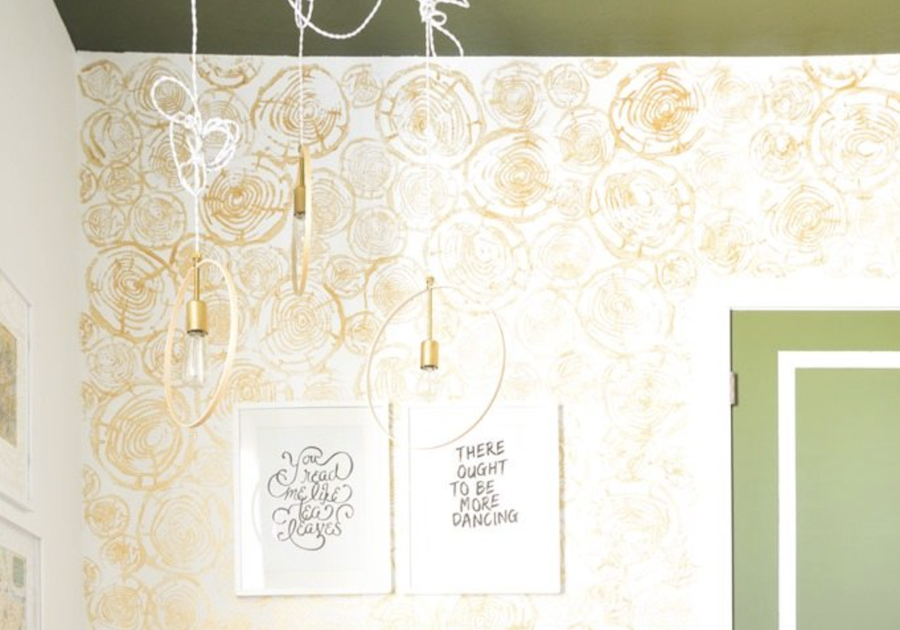 From paint to pines
Part of the boho bedroom aesthetic involves mostly neutral-colored walls and prints. That isn't to say that your walls still can't make a statement! Bold, woodsy textures and imagery can be added with vinyl adhesives, wallpapers, and stenciling. With graphic wallpaper making its way back into the zeitgeist, it stands to reason that the right prints can pair well with the boho aesthetic.
As mentioned, there are many methods to achieving this natural patterned look. We're partial to the gorgeous results of this wood log stamp created with Cricut. Simply adhere felt sheet cuts of various log sizes to foam board backings, roll in paint, and stamp away!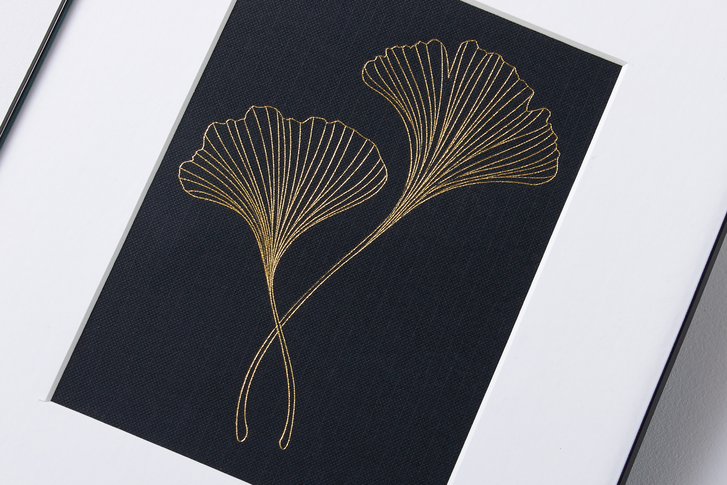 Botanical wall décor
If not using natural textures or materials, natural imagery is a great fit for boho chic spaces. Many of the trending boho bedroom ideas involve bringing the outdoors in, breathing life into your space with plant design. Selecting pieces with a clean, minimalist tone also offer an air of simple relaxation cohesive to a restful space.
Create a chic and green patterned moment with this palm leaf print, or a tree branch design that makes great use of negative space. Incorporate metallics into your art for an elevated, luxe look, as seen in these beautiful ginkgo leaf art and foil line art designs.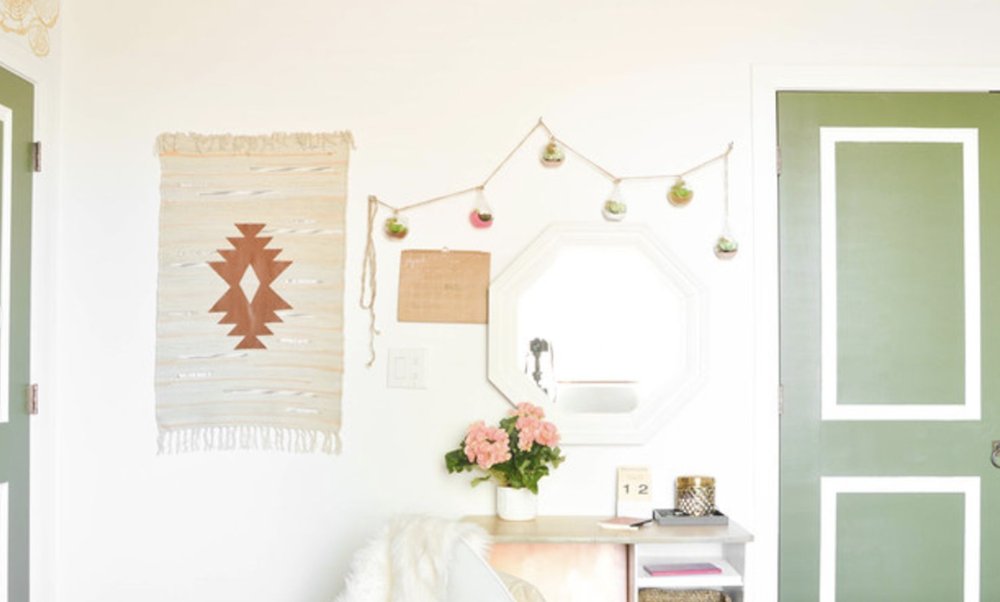 Test out textiles
Woven macrame and textile art can also add interesting texture and a rustic feeling to your boho bedroom space. These can bring warmth to your home with various stiches, knots, and materials. These pieces are also environmentally friendly, oftentimes crafted from reclaimed materials or made by hand.
Transform a blank textile into an inspired piece with decals that add shape and design, like this Aztec rug wall hanging. Creating designs with natural-looking materials like leather also help to maintain the organic essence of the modern boho aesthetic.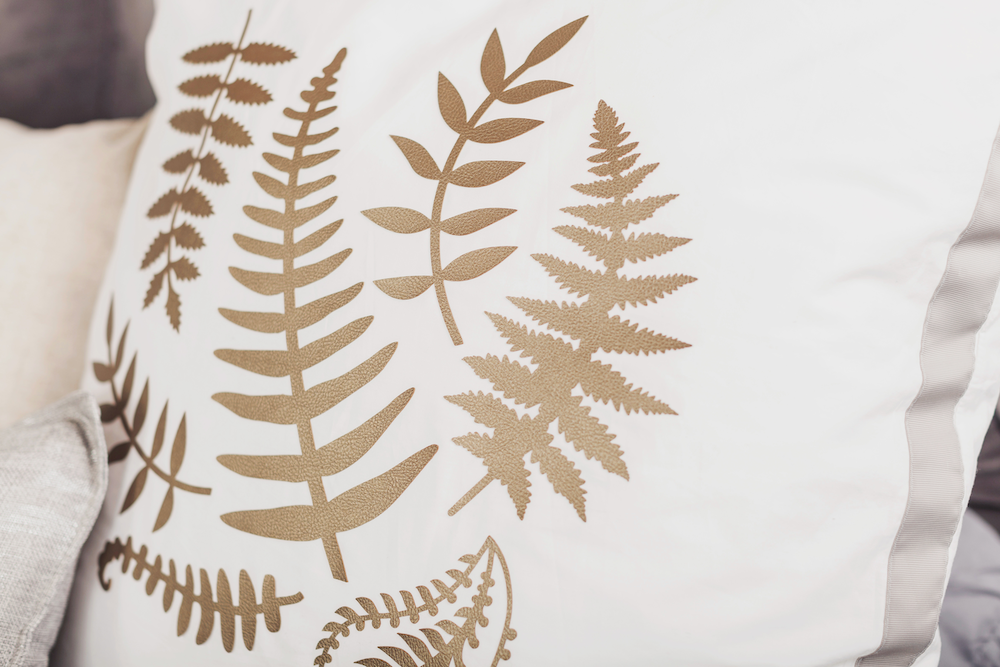 Boho bedding
Boho bedrooms definitely put an emphasis on comfort, so chunky throws and plush pillows are essential elements of the style. It's easy to carry a botanical theme through bedding, mixing plain neutrals with simple prints. Even one small, bold cushion can really add to a room!
Creating custom boho throw pillows is amazingly simple with help from iron-on materials. Opt for a geometric print pillow to break up surrounding solid colors, or a floral pillow to double down on earthy themes.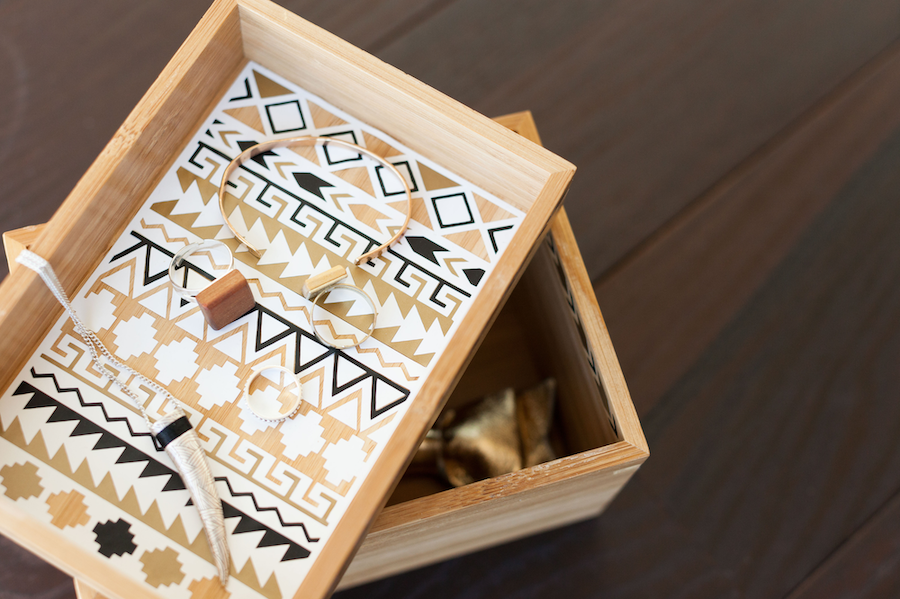 Organize with organic materials
Including organic materials like wood, leather, and stone in your bedroom accessories is a great way to continue the natural flow of the boho bedroom theme. Organizing with wooden trinket dishes, cubbies, and benches can optimize both the function and form of your space. Organic materials can also be adorned with vinyl accents for a unique touch. Embellishing wooden pieces, like this vinyl jewelry box, can bring personality to your favorite pieces.
Working together, we're confident these tips can help you build the boho bedroom of your dreams. Be sure to reference our article on organic modern décor for additional inspiration, or check out Design Space to find amazing biophilic projects to complement your natural spaces.
Search How-To
I want to make...