A birthday party for every kid
Falling into a multi-million dollar events business was completely coincidental, but starting a selfless nonprofit that celebrated birthdays was pure kismet for Paige Chenault, the founder of The Birthday Party Project.
Paige started her career, perhaps, like many of us do — unsure of a single path and interested in many things. At one point, she mentioned to her college guidance counselor that she "wanted to be Oprah." She wanted to make an impact on the world. She just wasn't sure what that looked like yet.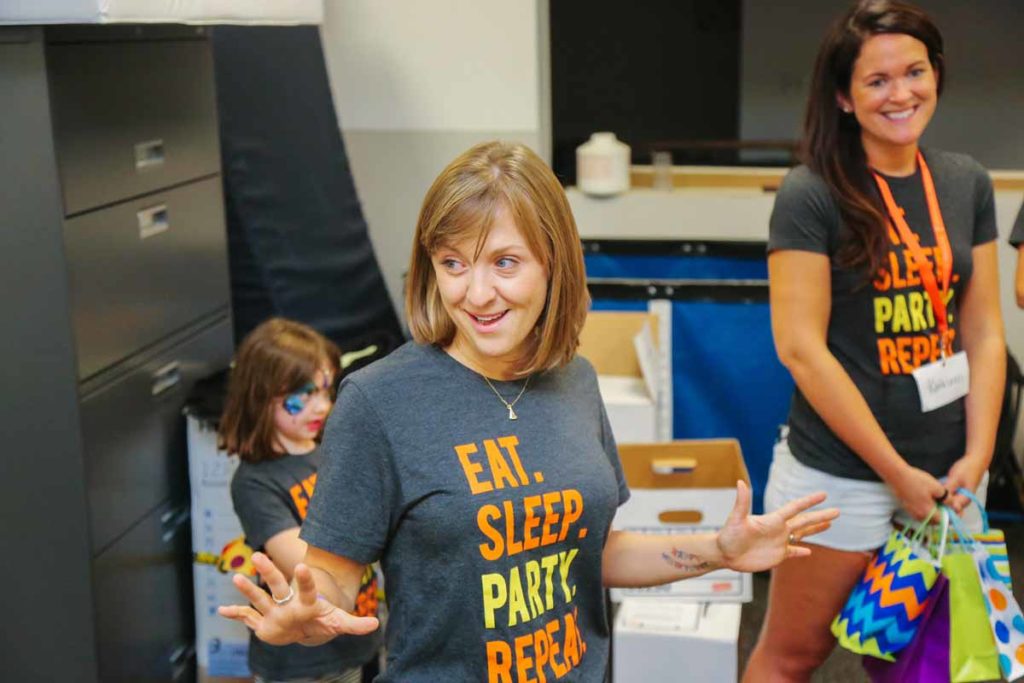 After Paige planned and executed her own wedding, her boss — impressed — introduced her to his neighbor, whose daughter was also getting married. It ended up being a referral to what would become many, many more event planning jobs. "By the time this wedding rolled around, I already had 11 weddings on the books," Paige mentioned.
I'm kind of the girl that always says yes to everything.
That wedding up-spiraled energy, excitement, and love for "being a part of people's celebrations." She noted, "Wedding planning led to birthday parties and bar and bat mitzvahs, and celebrations of all kinds."
So, Paige left her job and decided to be an event planner full-time.
[It] allowed me to be a part of people's meaningful celebrations all over the world. It allowed me to grow a business just from saying yes.
Her event business grew to become a multi-million dollar business and it kept her "busy for a decade." That was, until she was pregnant with her daughter, Lizzie, and came across the most unforgettable photo in a magazine.
In 2008, Paige was pregnant with Lizzie. Flipping through magazines on the plane, she got excited about the birthday parties she would be able to plan and the celebrations she'd be able to have with her. Then, she came across this photo of a boy, in front of a "mass of people in the middle of all this chaos and destruction."
"His eyes felt so lonely and so sunken in," she said. There was something about this boy in the photo and the juxtaposition to the anticipation of her own kid that struck a note she couldn't shake from her head.
When Lizzie turned 3, Paige saw her daughter experience incredible joy from celebrating her birthday. And, that was it. That was the defining moment. The defining moment for how she'd make an impact.
---
In January 2012, Paige started The Birthday Party Project. She had tested ideas, volunteered in the community, and visited various agencies for insight. She recalled that growing up, despite not having very much money, her parents always made birthdays special. This was her secret to making every celebration meaningful. She personalized each celebration with a custom badge, gift, and cake in addition to rotating monthly themes and curated guest lists for important people in each kid's life.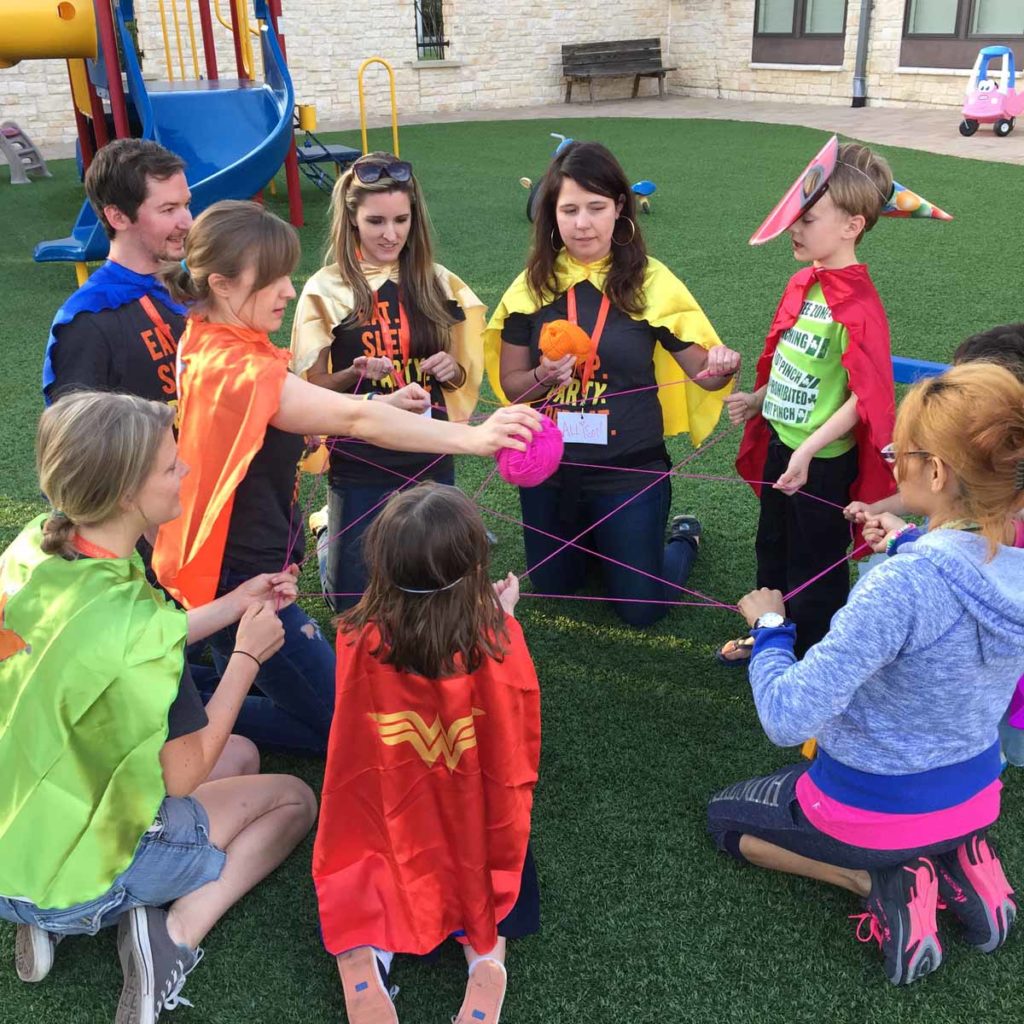 Paige shared a story of a boy and his sister that stumbled onto one of The Birthday Party Project's monthly celebrations at a domestic violence shelter. Paige recalled that he was timid and clung to his sister, but they exchanged greetings. When Paige found out that he had a birthday as well, she placed a birthday badge on him. Paige remembers how he stood a little more confident but still held tightly to his sister's hand as they visited each of the activity stations. Their mother was separately attending a counseling session as they had just arrived at the shelter the night before.
As it became time to sing happy birthday, Paige announced each kid's name individually. "Let's give it up for Eduardo," she announced looking at the little boy with his sister. "He's turning 8!" At that moment, Eduardo looked up at his sister with a huge smile.
Paige and the group from The Birthday Party Project continued to sing "Happy Birthday" and then later, "Feliz Cumpleaños." Though, there was noticeably a woman sobbing in the corner. Moments later, realization struck. It was Eduardo's mom.
Eduardo's mom had gotten out of her counseling session and tearfully shared with Paige that she completely forgot his birthday. She had been so consumed with keeping her kids safe that she didn't realize Eduardo's birthday until writing the date on the intake forms the night before. The shelter took notice and informed The Birthday Party Project about an hour before the monthly celebration event that day. An hour was all Paige needed to pick up another gift and another cake to create another special occasion. Times like these cemented what Paige knew from the beginning. Personalization, gifting, and celebrations make an impact.
This is what makes a partnership with The Birthday Party Project so natural for Cricut. Through our Make It Forward initiative, Cricut hopes to create 5,000 projects with our community over the course of 5 weeks for The Birthday Party Project.
When we're sending these [birthday celebration] bags off, they are all the same. What I like about the projects [the Cricut community] is taking on, is that… all of them will be unique. Something fun and different, and useful!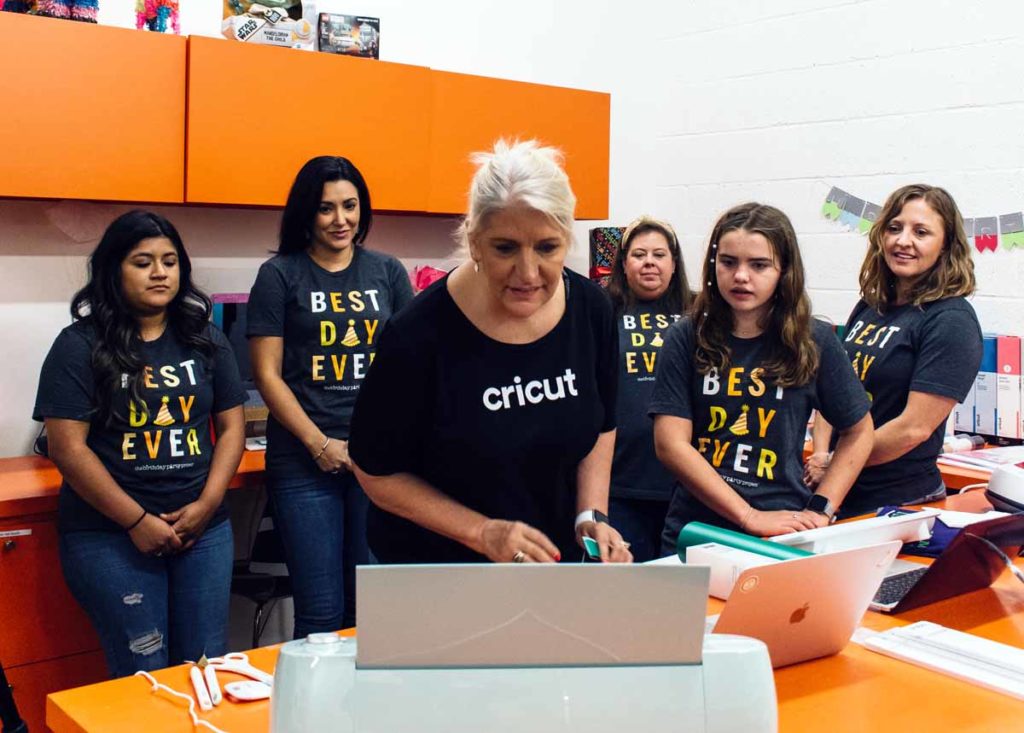 Paige, Lizzie, and the entire team at The Birthday Party Project is excited to "take it one step further" with Cricut. The Birthday Party Project sends approximately 600 gifts each month. "We've never really had the opportunity or the resources to be able to personalize to that level," Paige said.
Celebrating their upcoming 10th anniversary in January 2022, Paige hopes to see The Birthday Party Project in more cities and more activity across the nation. They are currently in 18 cities and have celebrated more than 65,000 individual birthdays for kids thus far.
So here's our call: Cricut community, let's Make It Forward with The Birthday Party Project!