How Ashley Nell Tipton transformed her business model during a pandemic
Ashley transformed her business model with Cricut, creating culturally-relevant goods in near real-time to drive and support growing demand.
Ashley Nell Tipton transformed her business model during the start of the pandemic to "help people through this process of the unknown." "It was scary," she mentioned.
On March 19, Ashley's manager pitched her the idea of creating a face mask. "I knew that us creating a mask had to be different than one you could just make at home or buy." It was a move to stay ahead of what was to come, a possible downturn for the industry. She knew she had to pivot her business "because clothing wasn't a priority, our health and safety became a priority." Her first batch of masks sold out overnight. It worked!
Our company has made more money this year than our (18-month) contract with JCPenney.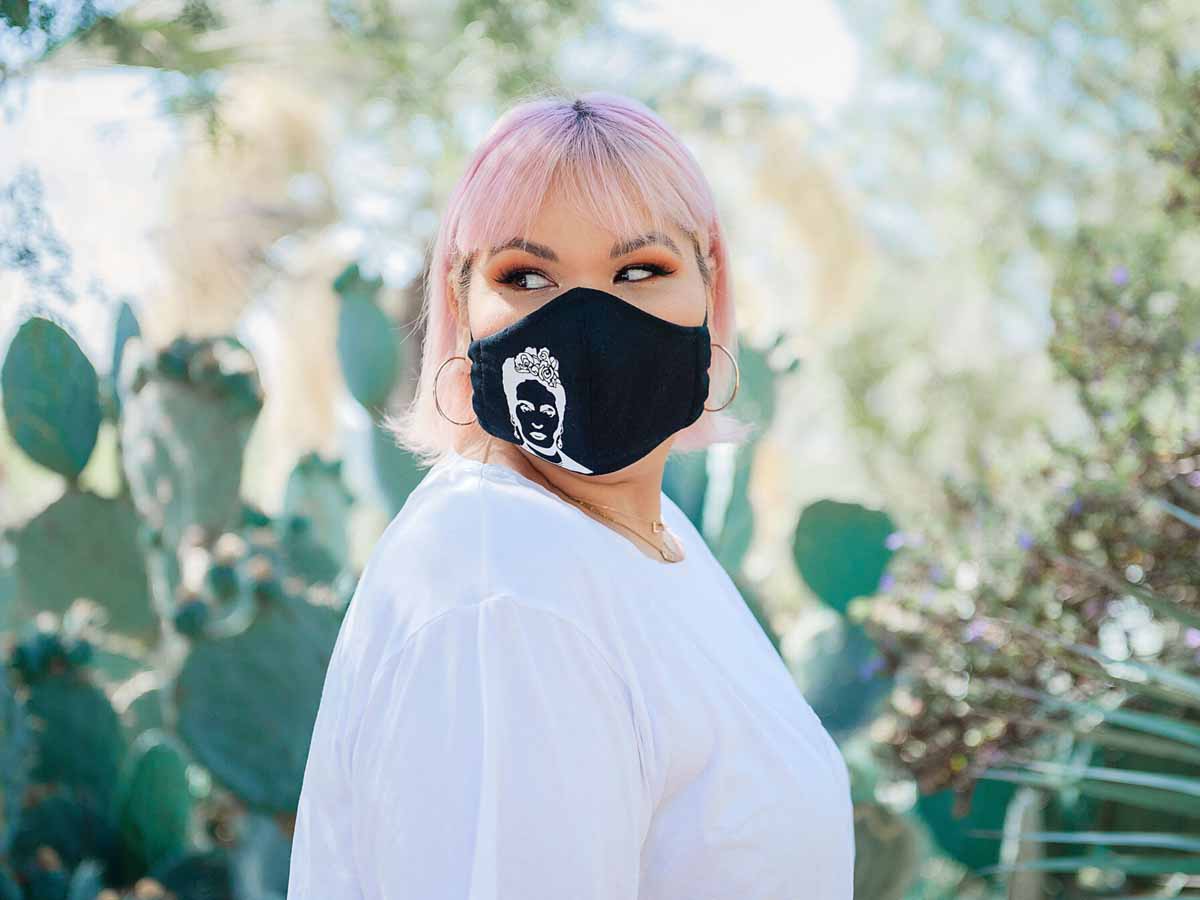 "Masks were not even in our vision," Ashley said. However, she halted her eponymous clothing line and began making 300 masks a day. Her workforce also tripled. Orders were pouring in.
Thinking four steps ahead
At a very young age, Ashley already knew she had to "train her mind to think four steps ahead." She has dyslexia. "I didn't understand it," she said, "and I felt that something was wrong with me."
As she got older, Ashley realized "just because I can't read and write, that doesn't stop me from expressing my designs in a visual way." She related it to her cousin, who is colorblind. "I remember thinking, 'this person is going to see color completely different.'"
Knowing that I'm dyslexic, I know I have the upper hand because I see things differently and put things (together) differently.
Journey to fashion and design
At 7, Ashley learned how to sew on her grandmother's sewing machine.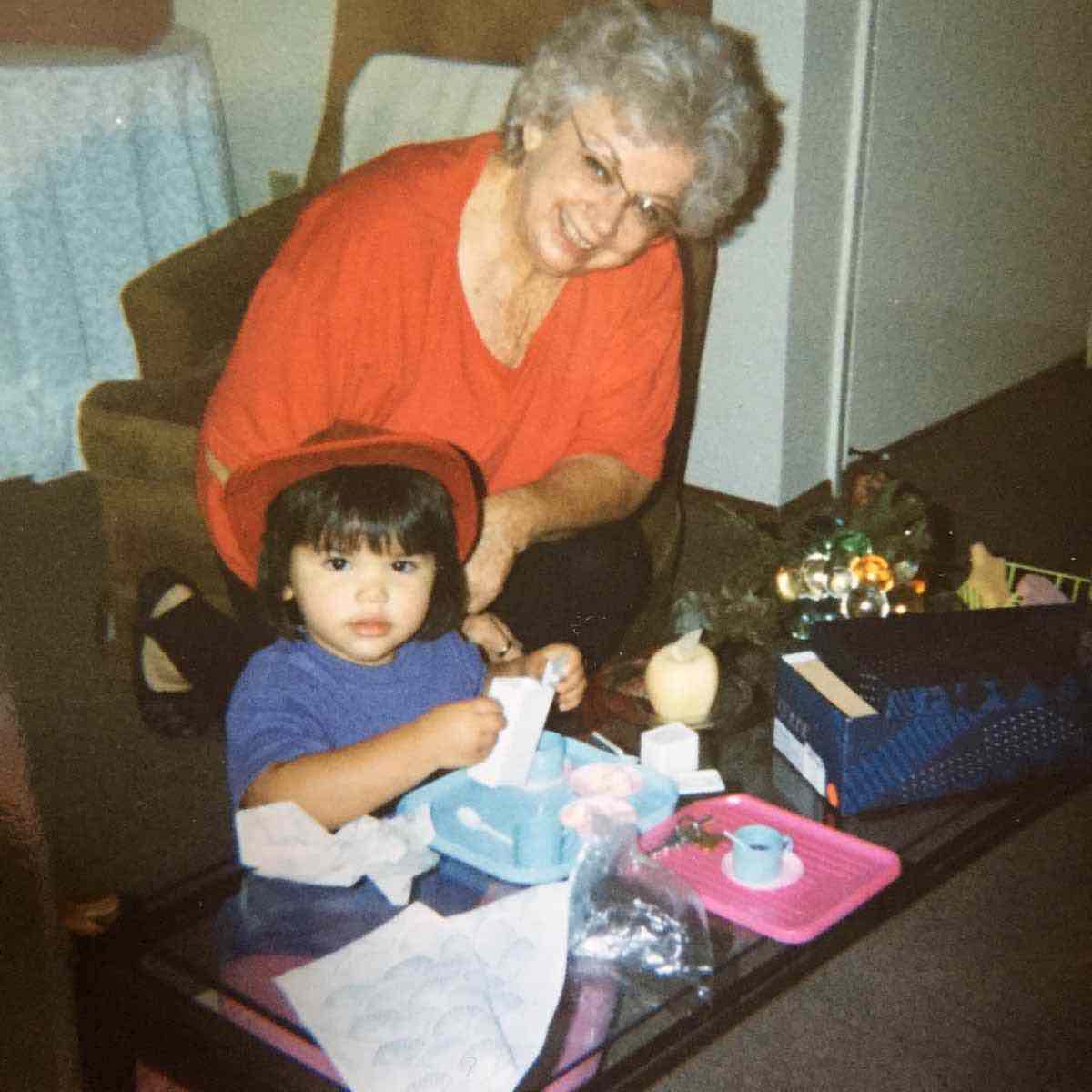 At 14, Ashley began to think about a career in fashion while working with her high school theatre's costume design team.
At 16, Ashley found a job at Torrid, where she gained retail experience.
At 19, Ashley, discouraged from pursuing cosmetology, attended Fashion Careers College for Fashion Design and Technology.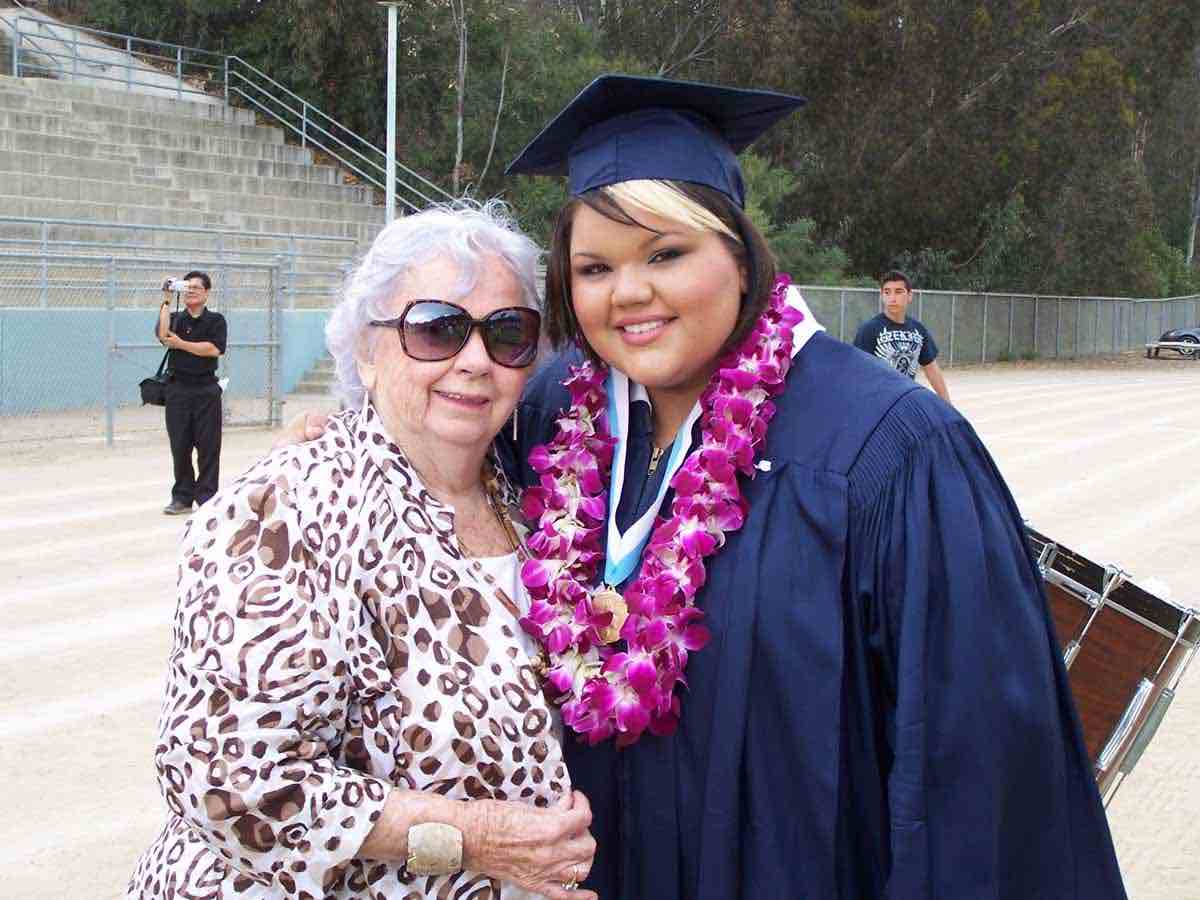 At 20, Ashley quit Torrid and started her own fashion business based out of her parents' home and then, her sister's garage.
At 21, Ashley was invited to show her collection at New York's Full Figured Fashion Week.
At 23, Ashley worked at Sephora, where she learned more about makeup and gained skills in cosmetology. She also worked at Gap, where she soaked in knowledge on seasonal trends.
At 24, Ashley was selected as a contestant for the Emmy-winning competition series, Project Runway, while working at Sephora. She won while exclusively featuring plus-size designs. It was a moment that went down in history and jump-started her professional career in fashion.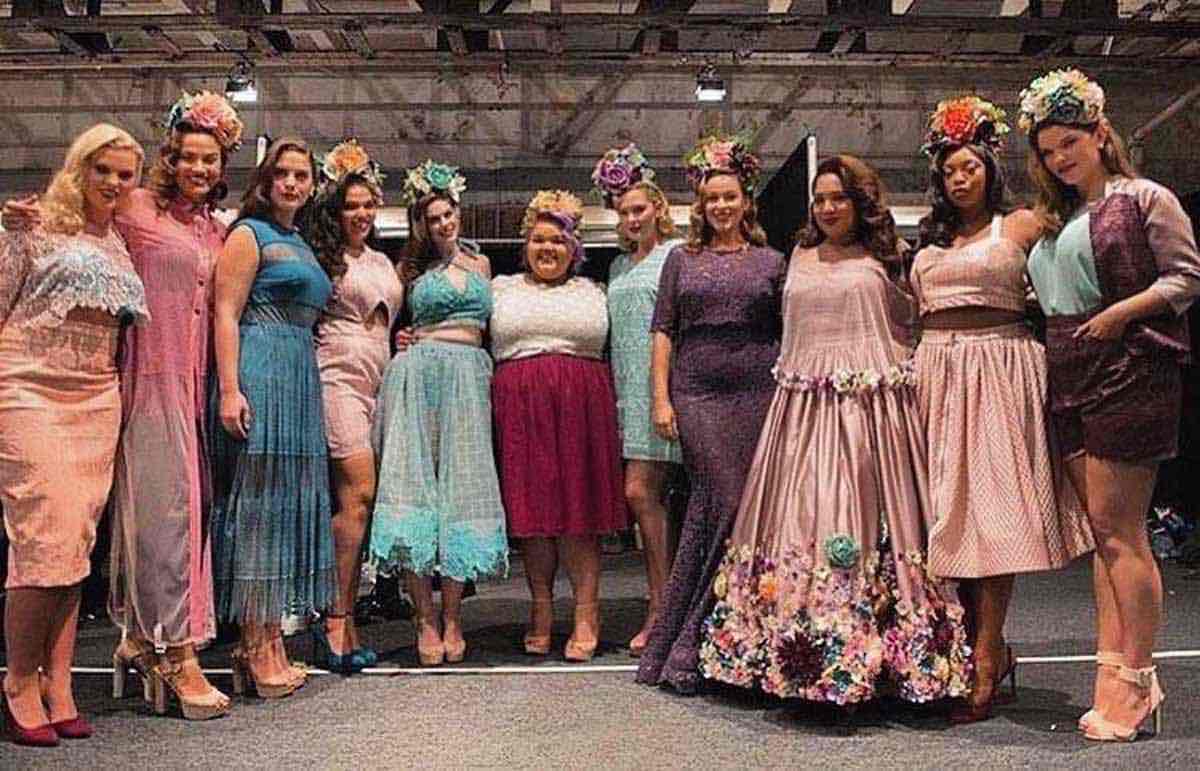 At 25, Ashley signed a contract to create four exclusive collections for JCPenney. She was also a brand ambassador for their Boutique+ line. In addition, she created a jewelry line for K+M Accessories.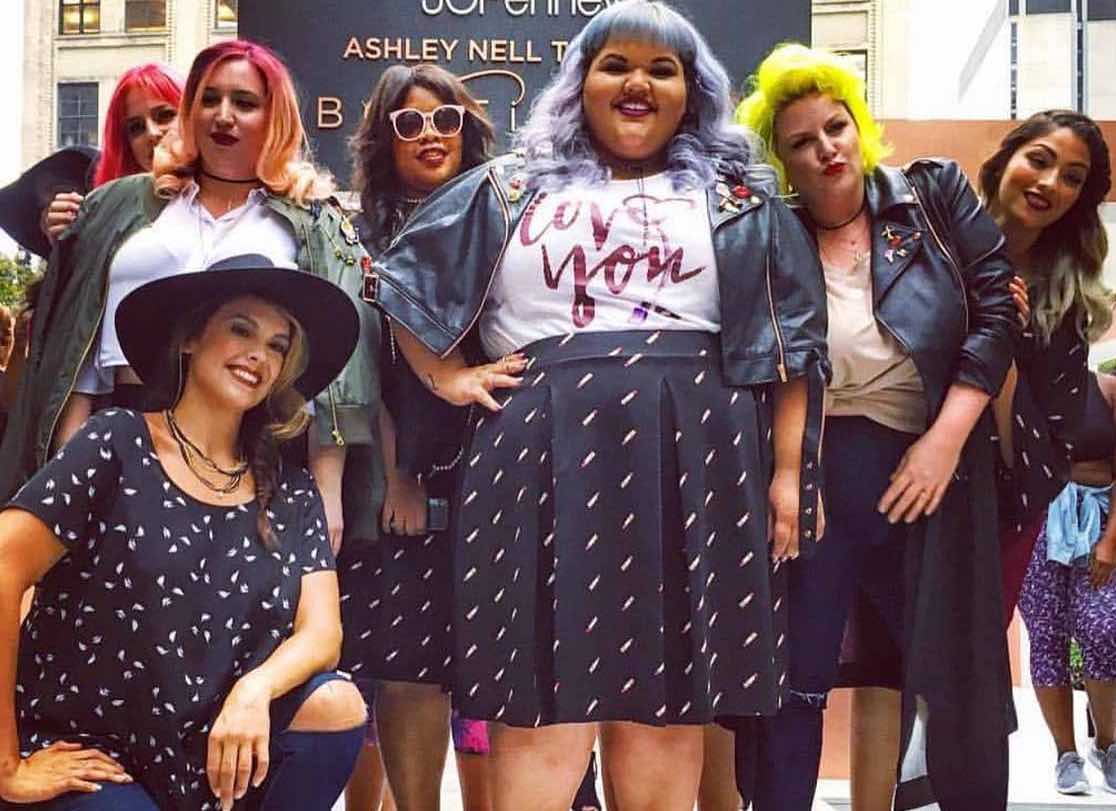 At 26, Ashley launched her own clothing line with accompanying eyewear. She also debuted a nail polish line at Sally Beauty and started consultation work.
While working with Sally Beauty, Ashley was challenged to create a piece inspired by the brand's Ion hair color. Enter: Cricut!
Ashley first used a Cricut machine to create an ombre-styled dress for Sally Beauty. She cut over 5,000 teardrop shapes from the new Ion packaging with the machine.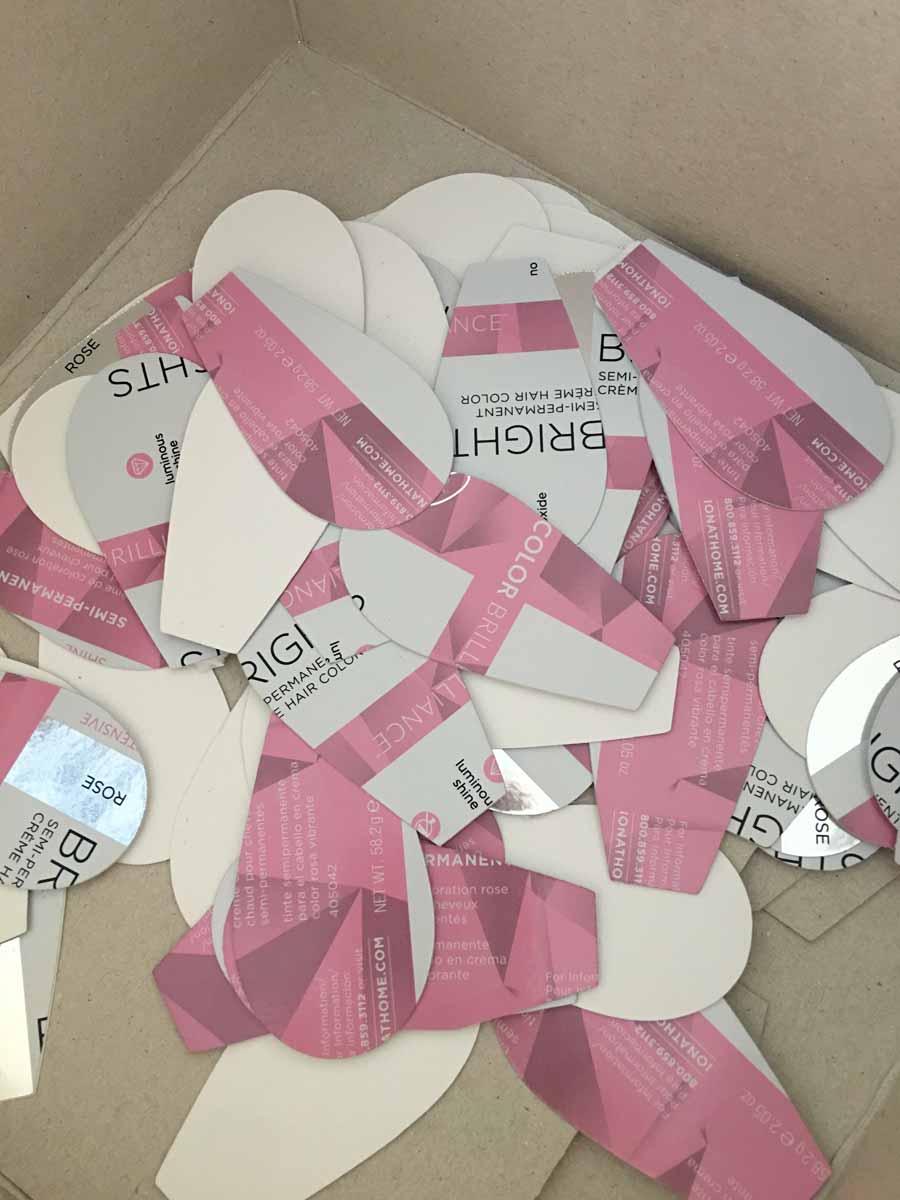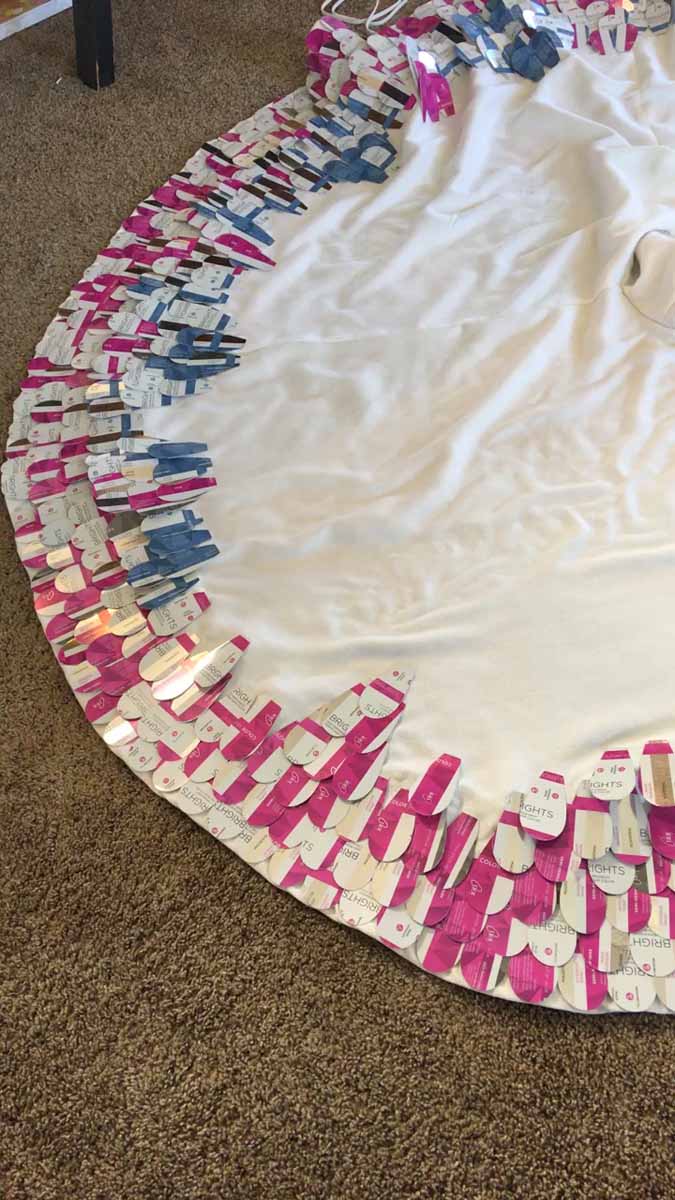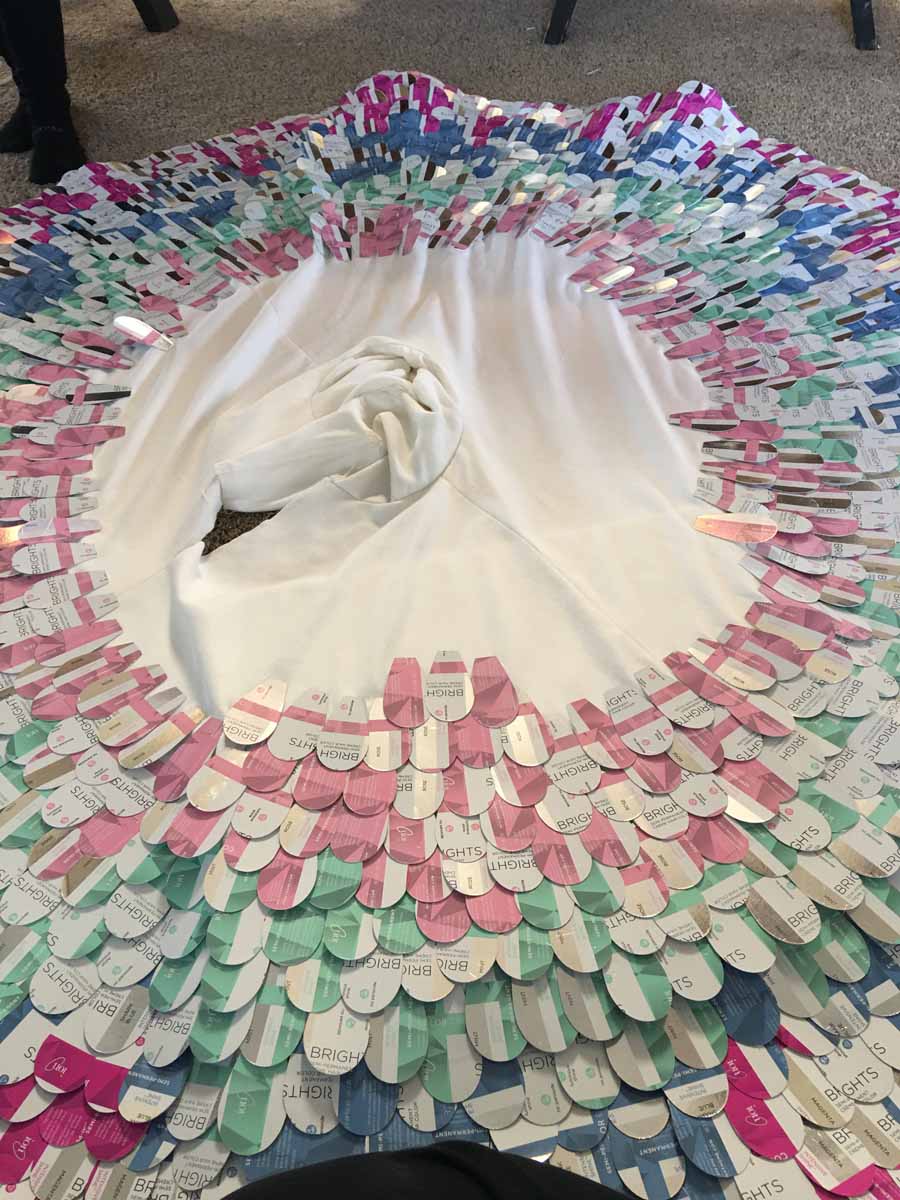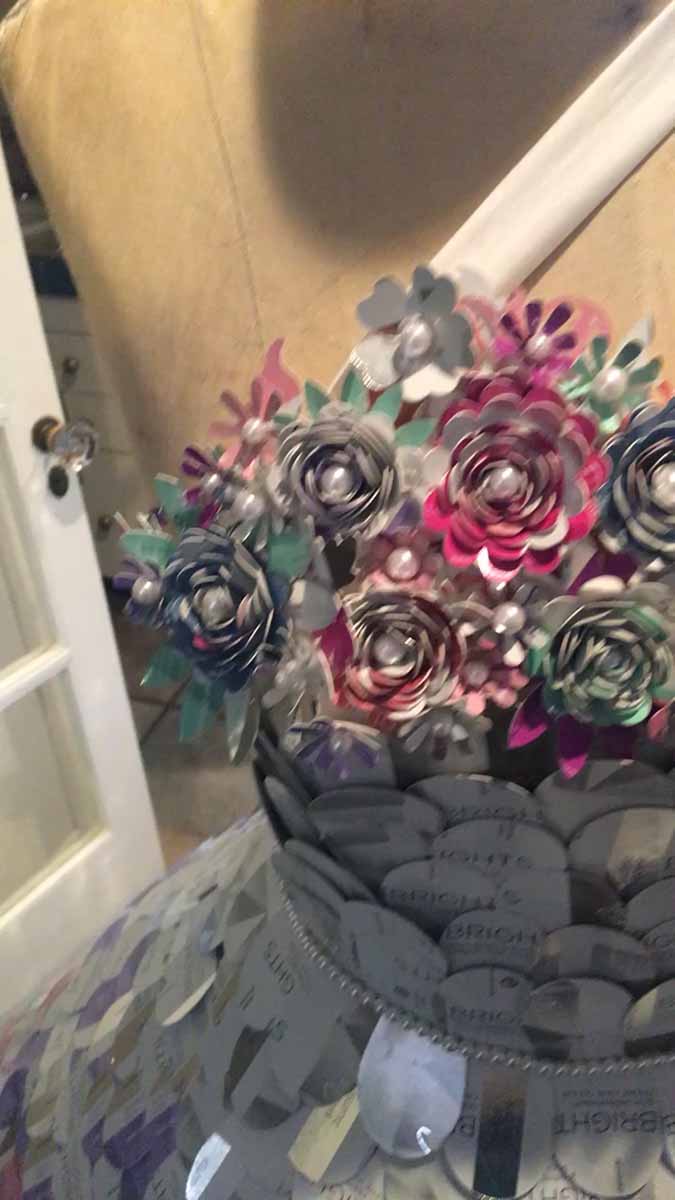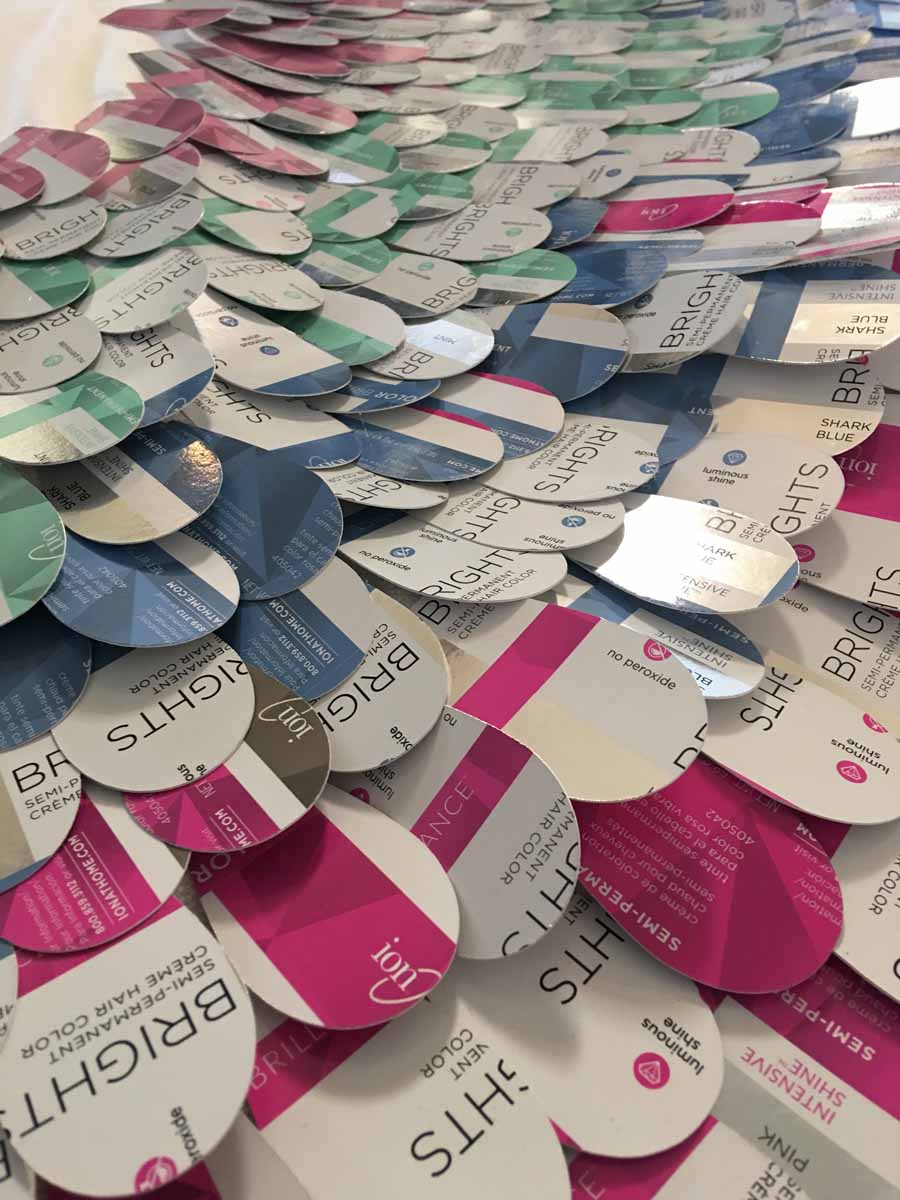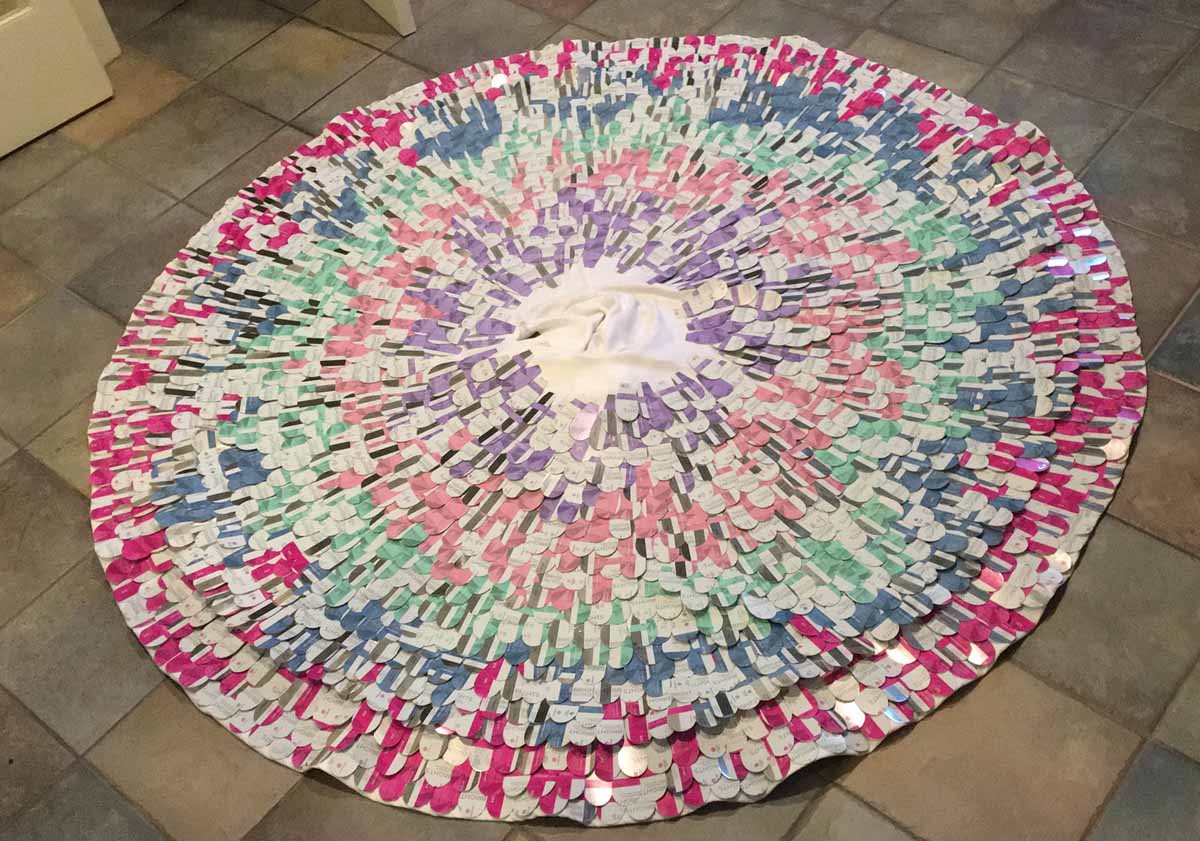 It was this experience that gave her the idea to take mask-making to the next level.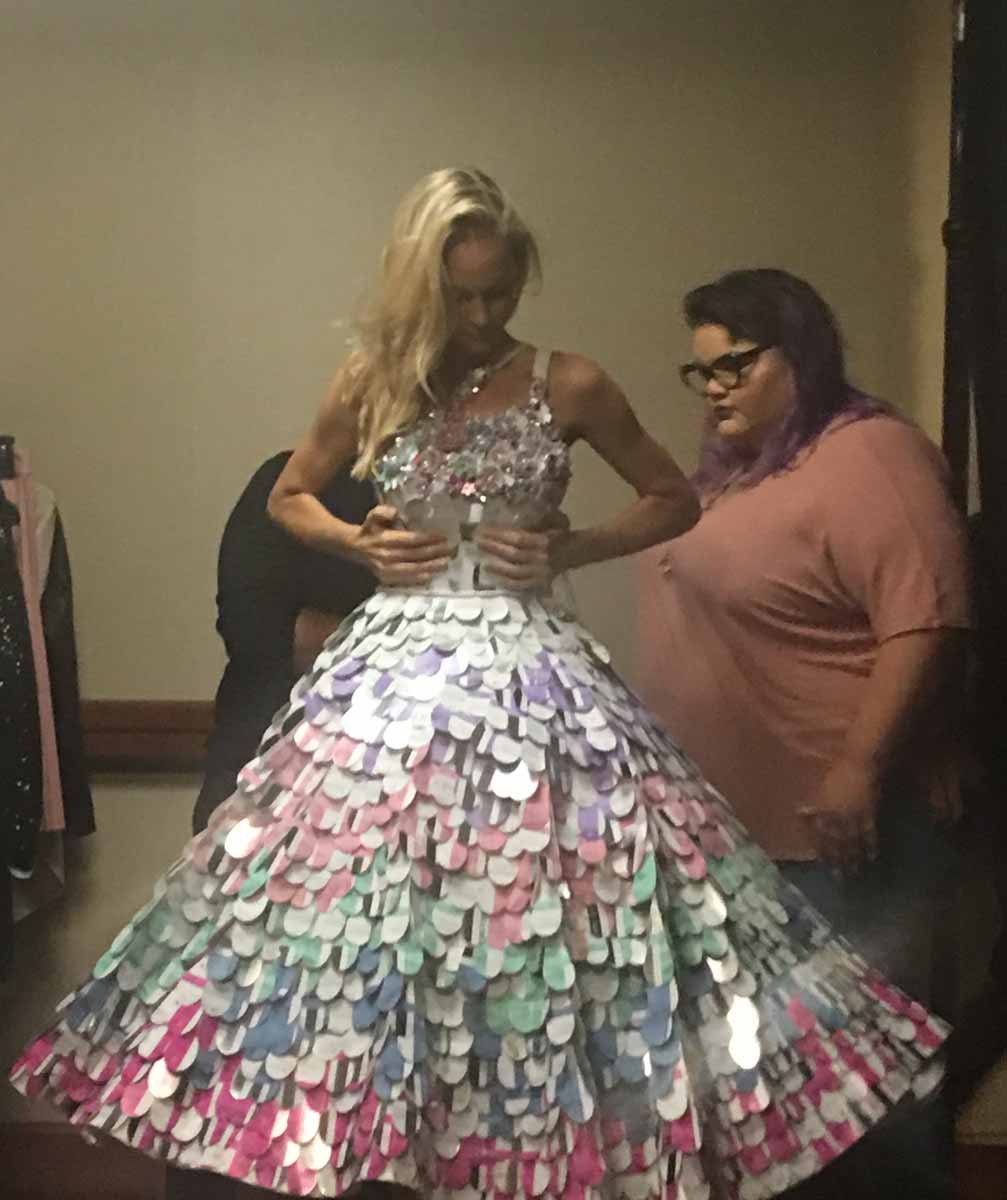 Bringing production up a notch
When Ashley converted her business model to making masks, "it got to the point where all we had were solid color fabrics, and people wanted more." It wasn't enough. Her customers wanted "more designs, more fun things," Ashley said. Except, "we were in a time of this pandemic where we had no access to anything." Supplies were becoming depleted everywhere, so, she thought to herself…
Why not make our own prints?
Why not make our own labels for our masks?
Ashley and her team turned to Cricut for creating new graphic designs, custom labels, and custom masks. They even used it to cut out fabric patterns. The Design Space software "just made everything so easy… to be able to create whatever you want and envision."
We were able to turn around designs because of the Cricut machine.
The machine eliminated their reliance on production for new designs, and customers were in awe. Comments poured in about how the company was able to keep up with current trends and events. Ashley designed masks to reflect what was happening in the moment and created them "in less than 24 hours" which "made us different than any other face (mask) company out there."
The Cricut machine has been something we have used everyday, throughout the day… leaving it to run throughout the night because we have such a huge workload.
Success by numbers
The demand for more designs showed in the sales. Numbers went up "because people saw that we were coming out with designs more frequently than anyone else." Customers began visiting her site daily just to see what new designs were popping up.
This capability also spurred businesses to turn to Ashley for custom orders. And, it all culminated into such a success that Ashley had to designate an employee for just "Cricut-ing." From cutting, weeding, and pressing to the final product, she joked that the "Cricut-er" would get "a new badge every time they learned something new."
Ashley and her team began "leaning on the Cricut machines to make everything." Adding custom designs to make a statement, promote a belief, or reflect an instance in history with such immediacy was "really eye opening." Similar items were unavailable in stores at such a quick turnaround, but "we were only able to do that because we had a Cricut machine," Ashley said.
Advice for new business owners
Lean on other experiences
Starting at a young age and having never gone to business school, Ashley leaned on her time in retail. It was the only place where she could "get free education on business, marketing, design, (and) sales."
She reflects on her "Torrid days" to remind her of sales strategies that boosted sales. She remembers experiences at work for marketing tactics. She researches other businesses to see tried and true methods of success.
I don't know what I'm doing when it comes to business but when it comes to clothing and production, I was taught about it in school… so I just try to put two and two together.
Don't be afraid to ask for help
…which leads Ashley to emphasize, ask for help! Ashley was taking on every facet of her business and drowning in a pool of responsibilities. "Don't think you can do it all," she said. And, even if you could, keep your head above water by getting someone to throw you a float every now and then.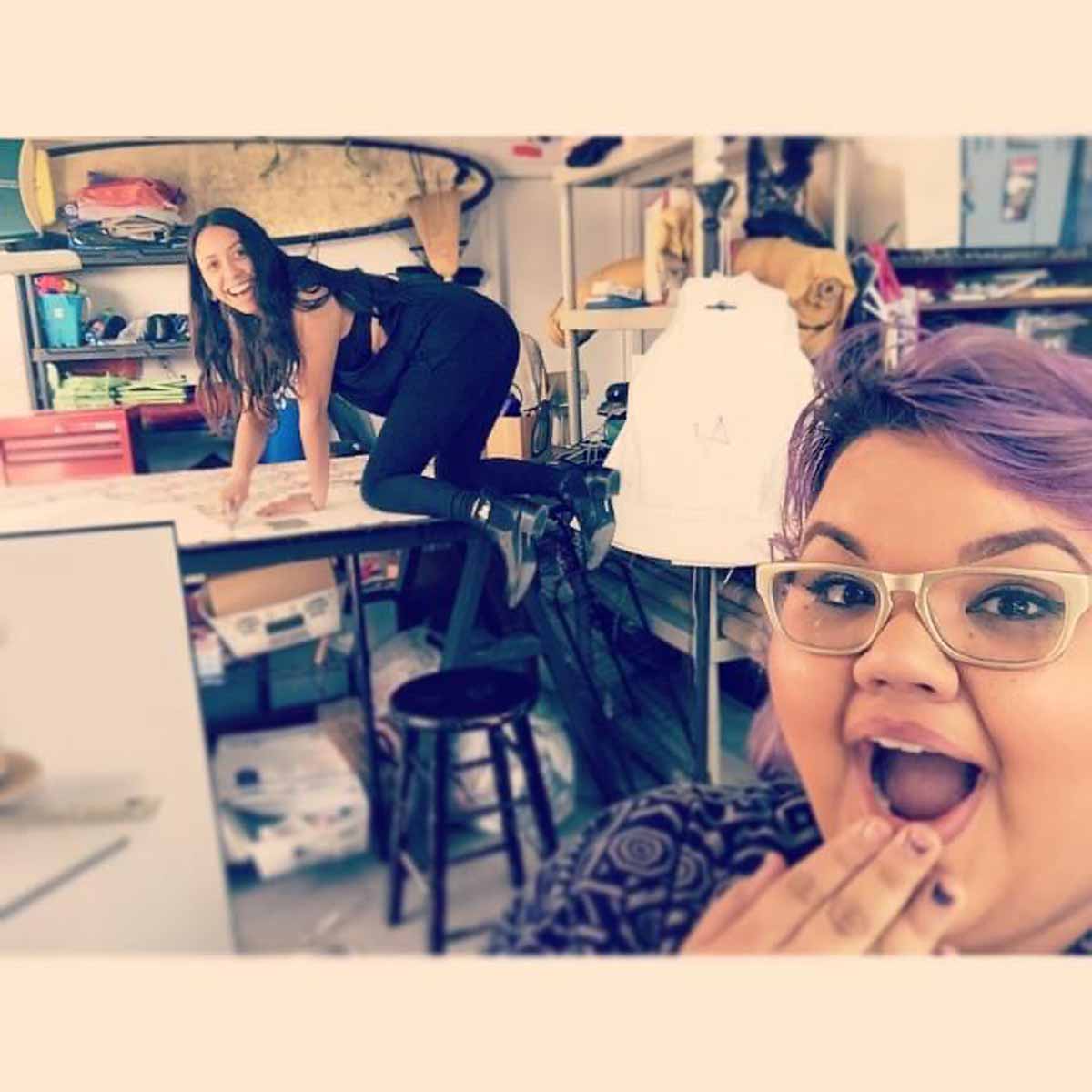 Listen to what they want
There was a need to create "this space where we (as plus-size individuals) could explore our personal style and our personality through clothing." Ashley wanted to be the designer that bridged that gap between the fashion and plus-size world, so they could "see that we can have style, that we can be fashion icons no matter what size we are." So, she made it her mission to highlight plus-size fashion on Project Runway.
Growing up, being a fat kid, I always felt uncomfortable in my clothes because either one, it was ugly, or two, I didn't like the cut or I was showing too much skin.
However, success included "not just learning (from) my own insecurities but also other women's insecurities… and how they shop, how plus size women shop." Ashley sought to "create clothing that doesn't make you think about what it is that you are wearing, (but what makes) you just feel good." She also asked… Who was offering plus sizes? Are the sizes inclusive? Is it what the plus size market wants? How do they shop? How do they want to feel? What is the style they want to reflect or the motivation that brings them to buy?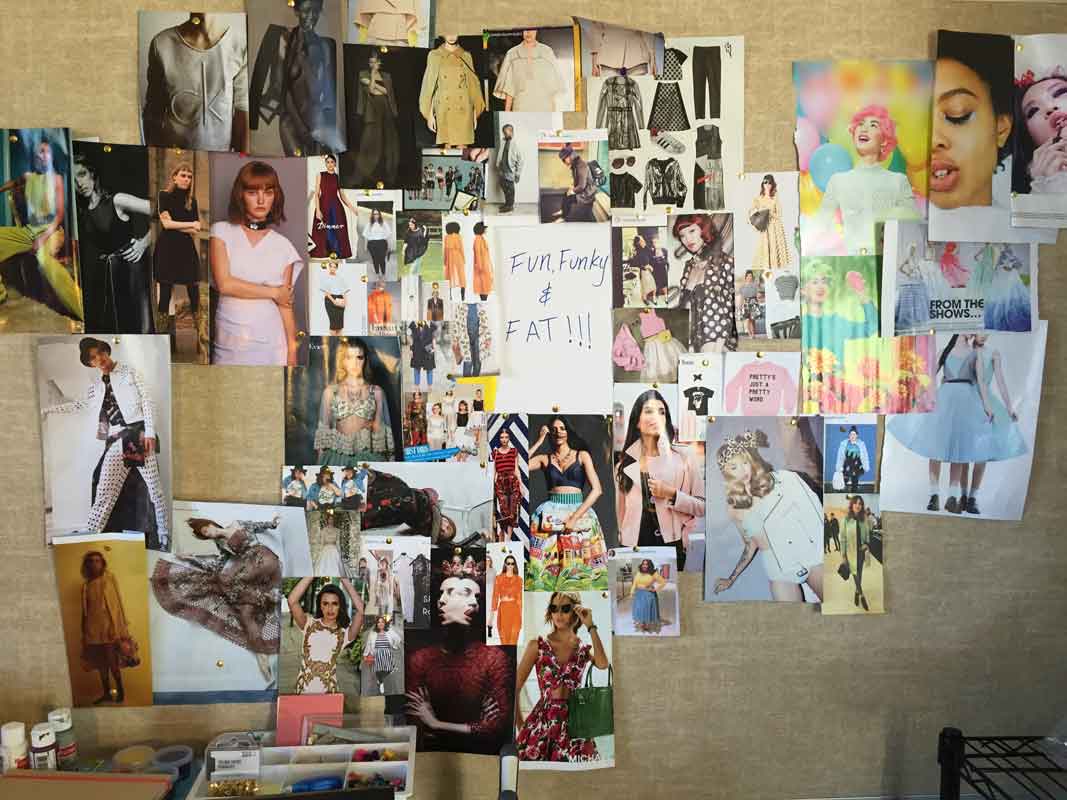 Bring the pieces together
Personal style makes you stand out from the crowd. Aside from incorporating fully flushed views of what her customers wanted as a design company, Ashley's success also stems from her individuality and ability to stand out from the competition. After all, that's how her Cricut machine helped differentiate her from others with mask designs, eh? And got her the win on Project Runway!
This was one of the hardest things—trusting yourself as a designer and creative person to still let your authentic self come through your work without losing who you are because of critiques.
Before she started filming Project Runway, Ashley studied every season of the show. How did the competitors react to the judges' comments? What did they do in the following challenges based on that feedback?
It was intimidating, at first. "I was definitely insecure and uncomfortable with myself," Ashley said about being on the show. Though, she learned to ignore the negativity and push herself "as a designer to the best of my abilities." She never let others convince her that her personal style didn't matter. "Just stay (true) to who you are and people will like you for that," she advised.
What's next for Ashley?
For now, Ashley is taking a break from fashion design (aside from the masks), but she "most definitely" plans on going back to it. Every time she's asked about her return to design, she asks, "Did Jay-Z stop being a rapper?" Then, she relates it to the example that "Jay-Z told us so many times that it was his last album, but it wasn't true."
Ashley has been focusing on herself, taking it easy, and planning (four steps ahead) for her next big splash. Passionate about colors and prints, she has been exploring ways of creating her own patterns. She has also been working on a YouTube series that shares matters close to her heart: Self-Love, Self-Care and Self Acceptance.
At 30, Ashley is hopefully going on a trip to Bali with fans. This milestone approaches in 2021.