5 easy tips for home organization
Organizing at home can feel extremely overwhelming. Take it from someone who has experienced it first-hand.
I hear professional organizers and home experts telling me I can do it, but what was holding me back? I'm going to share with you how I pushed through my fears of tackling home organization and found easy, manageable steps to declutter and destress.
Start with a small space.
My kitchen is small. I mean really small. With a growing family and not a lot of space, I have to find ways to get creative with organization. For a long time, my kitchen was a place of stress for me. I didn't want to cook there because I felt it was too cluttered. Then one day it hit me… maybe if I find the right organization solution, I can create a little more space. Rather than take on the whole kitchen, I decided to start small. Here is a look at what we consider "the pantry" in our kitchen. It's a tiny corner cabinet with two shelves.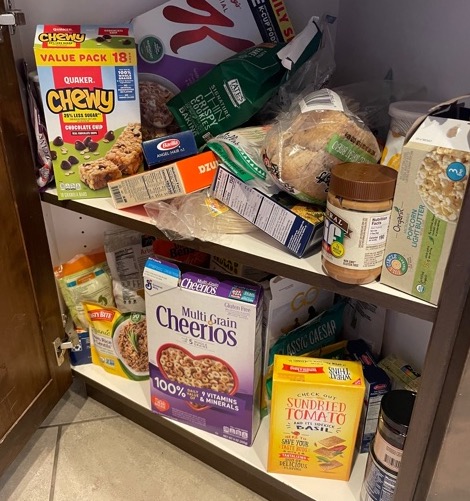 Does it scare you? It should. It scared me too. I decided that instead of boiling the ocean with an organization to-do list, I'd tackle this pantry space first… what's the worse that can happen?
Let me tell you that it was so therapeutic to focus in on one space. It was like I could push aside all the other mess and clutter, just to focus on this one area. It helped a lot to find that focus.
Find the right organization containers.
Once you've figured out what small space you want to tackle, its time to find your organization containers. I started Googling what organization containers were most popular. There were a number of resources I found and testimonials for people that use those solutions.
I decided that rather than shop online, I would (as safely as possible) head into The Container Store to see what I could find. Little did I know that within 15 minutes of shopping, I'd have a cart filled with unique containers and bins that I knew would fit perfectly in my tiny corner pantry.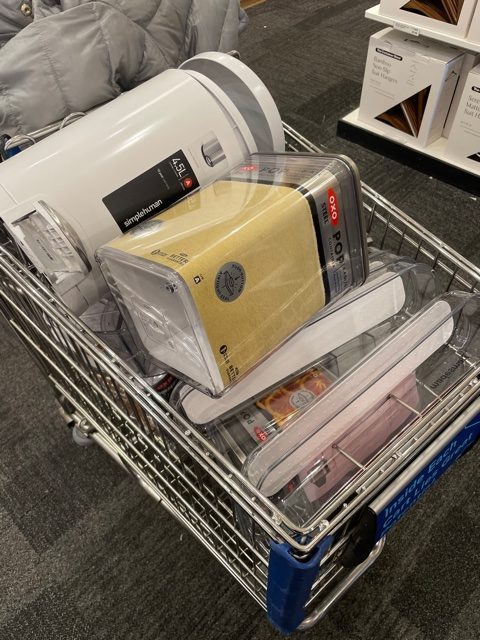 Take everything out and consolidate.
I rushed home to open all of my wonderful new organization containers. Before I could put anything in the containers, I had to take out everything from the corner pantry. Have you forgotten the picture above? Yeah, I haven't either. It was a bit of an undertaking but after 45 minutes, I finally had everything out of the small pantry. Looking at it empty already brought me more peace. I knew I could do this.
I wiped down the shelves with disinfectant, recycled old boxes and created a can donation for cans that had been sitting in that pantry for too long. Then I started consolidating like items: granola bars, crackers, cookies and other things. That way, I could figure out what would go in my new containers. I filled the containers and then took a step back to figure out how they'd all fit in the corner pantry.
Tackle it like a puzzle.
I decided that organization is very much like a puzzle or maybe like a game of Tetris (I love Tetris). Each piece needs to fit together to build a functional space. I started with one container then filled the other containers in piece by piece until my little pantry was looking more like a work of art.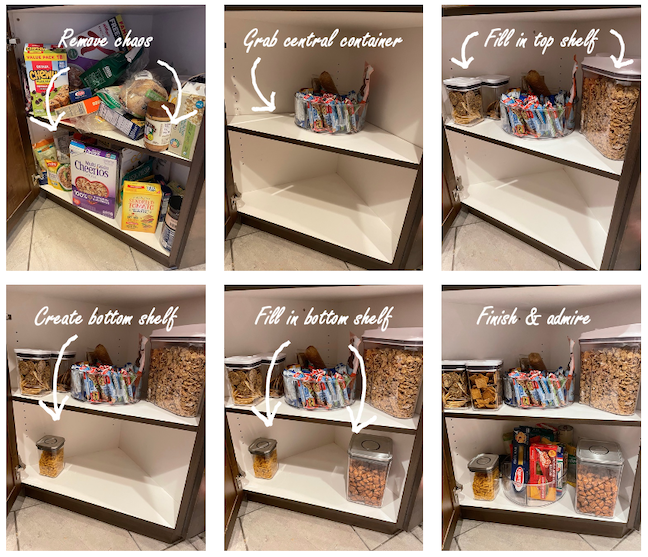 Add a little personalization.
If you're anything like me, you don't want a space to be just functional but also beautiful and reflect your personality. I've seen all of these amazing personalized labels and luckily for me, I have a Cricut that helps me make them in no time. Using my Cricut Joy, I simply choose a font (it's called "P.S."), typed out the labels I wanted for each container, and then cut them in under 10 minutes.
All you need is white vinyl, Transfer Tape, and a Weeding tool to get this project done quickly.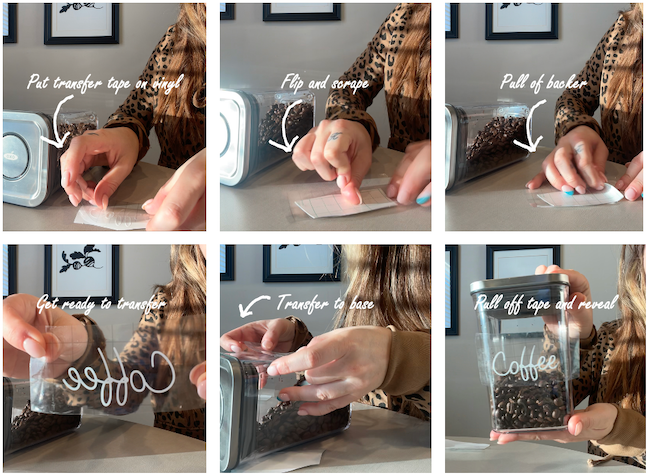 If you love my labels, you also have to check out how to make labels using our Cricut Joy app. It makes it even easier to draw and cut your labels in minutes. This video will give you a great demonstration.
Make Kitchen Labels with Circut Joy.
There you have it. If I achieved anything today, I hope I inspired you that you too, can take on an organization project you've been dreading for months. It doesn't have to be something big, it can be even smaller than this. Once I finished, I really felt proud and that it wasn't just another organized cabinet, it was designed in a way that celebrates my personal style.
Check out other great home projects we have here on the Cricut blog: